Tores del Paine, Chile
W-Trek from West to East
See the sunrise at the towers
Self Guided Hikes
West to East in Refugios & Full Board
Lodging
Hotels and Refugios
Price
$1,575 USD per person
Transport
Private Transport, Your Feet
Experience
Experience
Itinerary
Pygmy miles
Accommodation
Practical info
Gallery
Inquire!
Experience
Journey
Desolate and unforgiving yet beautiful and serene, Patagonia has mystified explorers since the days of Magellan. It only makes sense to explore this pristine wilderness ourselves.
On this journey, you will hike five days in Torres del Paine National Park hiking along the W-Trek. In total, you will hike 47 miles (76 km) and see the most famous formations of the Paine Massif. You will see icebergs on Lago Grey, Glaciers in Valle del Frances and marvel at the milky blue water of Lago Nordenskjöld. Perhaps the most stunning natural formation of all is saved for the last day - the towers of Paine. You will need stamina and resolve to tackle the hardest part of the W-Trek to see the Towers basking in the morning's golden light.

Pygmy Elephant has worked with several refugio operators, transfer companies and local guides to create this locally supported itinerary. This trip includes a Price Transparency guarantee.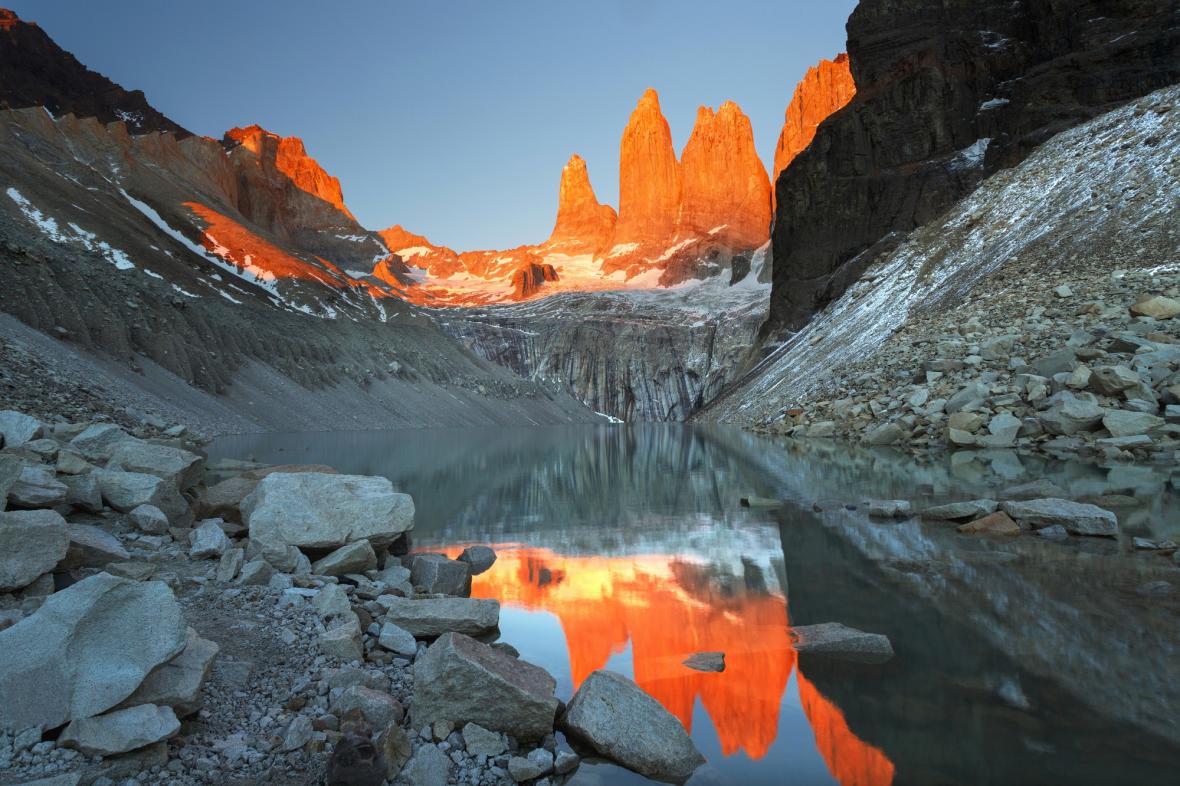 You will need stamina and resolve to trek the hardest part of the route to reach the towers
Activities

Trekking
Trek one of the most famous and beautiful hiking routes in the world.

Wildlife Viewing
You may see guanaco, rheas (a large ostrich-like bird), south Andean deer or foxes on your visit to Torres del Paine.

Boat
Glide across the waters of Lago Grey.

Gastronomy
Drink a Pisco Sour made from the ice of Glacier Grey.
And also
See the towers at sunrise—a powerful and awe inspiring experience.

Stay in local refugios that offer a chance to connect with travelers of a similar spirit.
Optional Extensions:
1 day extension for ice hiking, kayaking or horseback riding

2 day extension to Perito Moreno Glacier in El Calafate

5 day extension of Argentina—includes Perito Moreno Glacier and hiking to Cerro Torre and Fitz Roy in El Chaltén

Complete end to end vacation planning in Chile or Argentina
Place
Torres del Paine is a national park in the Chilean part of southern Patagonia. The park is located 70 miles (112 km) south of Puerto Natales and 194 miles (312 km) from Punta Arenas, the largest city in the region and where most travelers arrive. The peaks of the Paine Massif, the centerpiece of the park, reach up to 9,462 feet (2,884 meters). Several different species of wildlife can be found in Torres del Paine, including guanaco, rheas(a large ostrich-like bird), south Andean deer and foxes. The weather is unpredictable and it's often possible to experience four seasons in a single day. Especially remarkable is when snow that is produced above the mountains is pushed down to lower altitude, where the temperature is warm enough for a t-shirt. Quite a rare experience.
Itinerary
Itinerary
Day-1
Transfer to Torres del Paine
You will be picked up at Puerto Natales airport and transferred via private shuttle to Hotel Lago Grey in Torres del Paine National Park (we can also arrange pick-up from Punta Arenas or El Calafate). The trip takes approximately 2 hours and there are plenty of opportunities to spot wildlife along the way. You have the rest of the day and evening to enjoy Hotel Lago Grey. (Overnight at Hotel Lago Grey)
Day-2
Navigation on Lago Grey, Hike from Refugio Grey to Paine (3.5 hours - 10.5 km / 6.5 mi)
After breakfast, glide across the waters of Lago Grey on your catamaran (Check in at 09:00). Once you reach Refugio Grey, you will disembark and start your hike along the lake's shore. You'll pass by floating ice bergs on this easy, yet undulating hike. After 3.5 hours, you will reach Paine Grande, your accommodation for the evening.
Day-3
Paine Grande to Dome Frances via Valley Frances (7 hours - 19.6 km / 12.1 mi)

Today you will hike along Lago Skottsberg and then up into Valley Frances. It take about 2.5 hours to reach Campamento Italiano and another 1.5 hours to reach the first lookout, high above Lago Nordenskjold. On your left hand side you will see Glacier Frances, where frequent small avalanches take place. The noise booms throughout the valley, although the ice that breaks away seems much smaller than it should considering the noise. After ducking in and out of the forest, with sporadic views of Rio Frances below, you will eventually reach Campamento Britanico. In another 25 minutes, you will reach the lookout point, which is a highlight of the trek. Return via the same track and then take a 30 minute trek to Dome Frances along Lago Nordenskjold.
Day-4
Dome Frances to Refugio Chileno (5.5 hours - 15.9 km / 10 mi)
After leaving the refugio, you'll encounter an undulating, with some steep sections, all they way to Refugio Los Cuernos. Once there, the path becomes easier to handle. Shortly after the refugio, the mighty Los Cuernos will open up to your left hand side. Halfway through the hike, you will have the opportunity to take a shortcut that goes directly to Refugio Chileno, or your can continue on to Hotel Los Torres for one of the better lunches available along the trek. From Hotel Los Torres, its a 2 hour uphill slog skirting Rio Ascencio to reach Refugio Chileno.
Day-5
Refugio Chileno - Mirador Base Las Torres - Hotel Las Torres (5 hrs - 13 km / 8.1 mi)
A highlight of the trip, you will need to wake up at least 2.5 hours before sunrise (ask for sunrise times when you inquire). It's also the most difficult hike of the W-Trek. You will need to do a bit of light scrambling up some rocky areas, and if it's been raining (which it does a lot), then things can get very slippery. Take your time, travel with a hiking partner and bring a flashlight. But it's all worth it once you reach the towers. The morning hues of purple, pink and blue paint the three towers in a fantastic light. A tip: Bring a sleeping bag up to the top so you can stay warm—the weather is especially brutal up here. After seeing the towers, head back to Refugio Chileno for breakfast and then down to Hotel Las Torres, where your private transport will be waiting to take you on to your next destination (Breakfast - Recommendation to have lunch at Hotel Las Torres).
Pygmy miles
Pygmy Miles Total

Challenge

Hiking

Bicycle

Sustainability

Miscellaneous
Base Sustainability
Traveling in Patagonia requires a certain level of responsibility. By visiting the park and learning of Leave No Trace and fire prevention, you will help with conservation efforts to keep the park pristine for future travelers. Many of the refugios inside the park source electricity from off-the-grid methods and have implemented many green initiatives.
Hiking Distance
For every mile that you hike, you will receive 10 Pygmy Miles. Specifically you will receive 480 Pygmy Miles for hiking 48 miles in 5 days.
See the Sunrise
We believe in spicing things up during a trip. Conquer a challenge or two. If you can wake up (as early as 3:30 am) and make the trek to see the towers during sunrise, we will award you with 250 Pygmy Miles. Take a picture and send it to us after your trip as proof, and we will credit your account.
Accommodation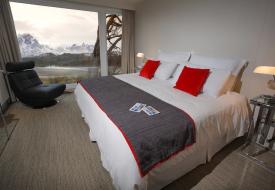 1st Night: Hotel Lago Grey
Lago Grey, Torres del Paine
Lago Grey Hotel is situated on the eponymous lake, from which you can enjoy amazing panoramic views of Grey Lake and beautiful floating icebergs. Glacier Grey is part of the Southern Patagonian Ice Field, the third largest freshwater ice field in the world. There are 60 rooms available in the hotel, all with comfortable spaces, heating, Wi-Fi, safe for valuables, direct dial national and international calling, and most importantly, all of which are surrounded by nature and beautiful scenery that can only be found in the Torres del Paine National Park.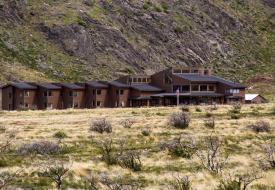 2nd night: Refugio Paine Grande
Torres del Paine
Paine Grande is located at the drop-off point of the catamaran on Lago Pehoé. The building can accommodate 100 hikers in 22 dormitory rooms with bunk beds for 2, 4, or 6 people. The refugio has a restaurant, bar, lounge and shop with camping supplies. This refugio is a good overnight option if you choose to do an ice hike early on day 2.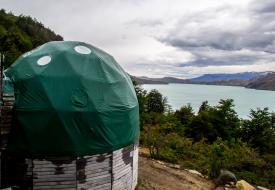 3rd Night: Domos Frances
Torres del Paine
Domos Frances is located approximately an hour west of Refugio Los Cuernos. It features 3 recently constructed domes with private bathroom for 8 people each (a shared bathroom and a dome). A nice feature of the domes are the individual outlets and reading lights attached to each bunk. Also, the view of Lago Nordenskjöld is perhaps the best view from any of the refugios.
Services available: Breakfast, Packed lunch and dinner.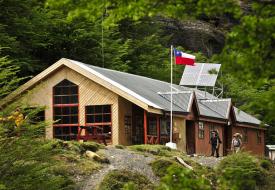 4th Night: Refugio Chileno
Torres del Paine
Located 2.5 hours from the base of the towers and 2 hours from Hotel Las Torres, Refugio Chileno is ideally located for those that would like to see the towers at sunrise, yet would like some creature comfort as well. The food is surprisingly good and there is quite a bit of it. There is capacity in the refugio for 32 people (four shared and mixed dorms of 8 people each) and plenty more camping spots.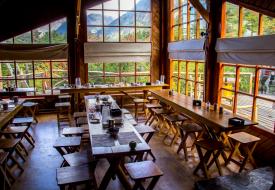 (substitute for Dome Frances): Refugio Los Cuernos
Torres Del Paine
Probably the most popular and busy of all the refugios, Refugio Los Cuernos is located not far from the beach of Lago Nordenskjöld. It has a capacity for 36 people. Four shared, mixed dorms hold 8 people each. For hikers looking for private accommodation, there are 8 double cabins that provide access to a hot tub. There are also camping pitches available here. All bathrooms are shared by guests in each category, meaning cabin guests share a bathroom with other cabin guests, refugio guests share with refugio guests and campers share with other campers. Dinner is served at communal tables in two shifts.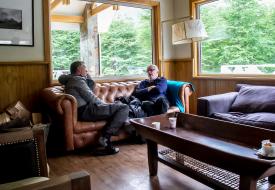 Refugio Grey (Optional)
Torres del Paine
One of the newest refugios, Refugio Grey has one of the nicest lounge areas on the whole trek; wood floors, comfortable leather couches and a bar that will serve you a pisco sour using ice from Glacier Grey. The rooms are 4 to 6 person mixed dorms with shared bathrooms with a total capacity of 60 people. Camping facilities available as well. If your muscles are aching, there is also a massage therapist on staff.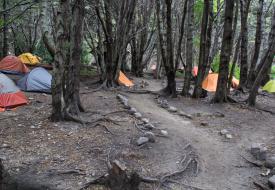 Campamento Italiano (Optional)
Torres Del Paine
Free camping site with limited facilities. There are toilets and a small warming hut, but no showers available.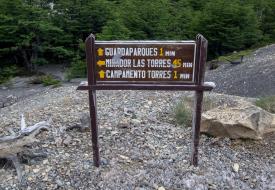 Campamento Torres (Optional)
Torres del Paine
Free Camping site with limited facilities. There are toilets and a small warming hut, but no showers available.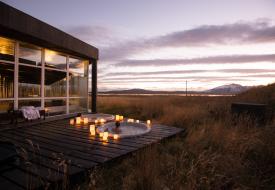 Remota (Optional)
Puerto Natales
Before or after the W-Trek, Remota is an upscale option located near Puerto Natales. All of Remota's rooms invite guests to rest body and soul. The relaxing aroma of the lenga wood together with the light radiating from the heat-reflecting windows and the magnificent views of the fjord of Last Hope create perfect setting for comfort. Remota offers 72 wonderfully appointed, spacious rooms, all en suite, which measure 360 square feet / 34 square meters.
Read more
Practical info
When
not available
average
optimal
Most people complete the trek during the spring through fall months (it is possible to complete the trek in winter, but a guide is recommended). Peak travel is in January and February. Expect rain almost daily, along with sun, possible snow and high wind. In fact, just expect all four seasons in one day.
Self-guided
This is a self-guided itinerary, but we can also arrange private guides. Let us know in your inquiry if you are interested in having a guide.
Pygmy Itinerary
Pygmy Elephant Itinerary Includes:
Customization of Itinerary: Add, change, switch, choose, attach, remove,modify and customize EVERYTHING. We design your trip entirely around your needs, fitness and preferences.
Briefing and Pre-departure support: iAsk all the questions you like! We provide a pre-hike briefing before you go via video conference. We also include you in our "Before You Go" email series that answers frequently asked questions.
Price Transparency: WWe know how frustrating it is when you don't know where your money is going. That's why we break down your price per line item. It's only fair.
Premium Gaia GPS membership plus GPX file: GNavigate the trails with your free premium membership to Gaia Gps. We also provide a corresponding GPX file of your trek. You can download the maps on App to use for offline use, so don't worry about cell coverage!
Personalized Travel App: Combined with your Gaia App, you'll be armed to the teeth with tech to take on your trek.
Customized Handbook: For those who are old school, we've got you covered with elevation profiles, maps and daily hike summaries.
24 hour customer service:

if something goes wrong, we've got your back.

Pygmy Miles: R

eceive discounts off future travel with us.

Never Lose Your Deposit Guarantee: If you must cancel for any reason, we will waive the deposit on any future Pygmy or From Scratch Itinerary of equal value.
Inclusions and Exclusions
In addition to the Pygmy Itinerary, the base Itinerary includes:

Private transfers to the park and back to Puerto Natales Airport

3 nights accommodation in refugios (dormitory of 4 to 8 people)

1 night accommodation at Hotel Lago Grey

3 dinners, 4 breakfasts and 3 box lunches

Navigation across Lago Grey

This trip does not include:

Guide

Porters

Torres del Paine entrance fee (about $35 USD)

Internal transfer to Laguna Amarga (about $5 USD)

Incidentals

Any alcohol

We suggest adding travel insurance. We can provide you with a quote as well.
Customization Options
We customize the tour to fit your budget and preference. We can customize the tour by:
Transport type - It's possible to take a bus from Puerto Natales to Torres del Paine.
Transport location - We can change the pick up and drop-off locations as well. The prices will be different, however we can arrange a pick-up from Punta Arenas or El Calafate as well. There is a shared transfer to El Calafate that is relatively economical.
Accommodation in Torres del Paine - We can also substitute in a private cabana at Refugio Los Cuernos for the dormitories at Dome Frances. Additionally, we can substitute in Hotel Las Torres for Refugio Chileno. Furthermore, camping with all equipment is possible throughout the park, which is also a more economical option.
Number of hiking days - we can increase or decrease the number of hiking days, depending on your fitness and motivation.
Add on activities in Torres del Paine, Punta Arenas or Puerto Natales. - We organize a range of activities in the region including kayaking on Lago Grey, Ice Hiking on Glacier Grey, Navigation to Balmaceda and Serrano Glaciers, Navigation to Isla Magdalena to see the penguins and more.
Add on additional locations - We work extensively in El Calafate and El Chalten. We can add self guided hikes to see Fitz Roy and Cerro Torre as well as an ice hike on the Perito Moreno Glacier. Furthermore, we can help you organize a complete vacation in Chile (Atacama, Santiago, Lakes District, etc) or Argentina (Buenos Aires, Mendoza, Bariloche, Ushuaia, Puerto Madryn, etc).
Hire a

porter -

The

porter

can carry up to 15 kg (33 pounds). They meet you on the first day and will transfer the contents of your bag into one of their own and then strap your bag(s) onto theirs. Normally, one

porter

is sufficient for two people.
Challenges Levels
Technical Ability
Level : Low
Mental Strength
Level : Medium
Physical Conditioning
Level : Medium
Path is well marked, however previous hiking experience recommended as terrain is rocky and uneven. Those without experience may be more comfortable in a guided hike.
Mental strength is rated at medium because of lack of creature comforts, snoring from fellow guests (bring earplugs!) and waking early for the ascent to the towers.
The hiking is challenging, however only treks into Valle del Frances and to the towers have much elevation change. Only those in good physical health should book this trip.
Optional Extensions
1 day extension for ice hiking, kayaking or horseback riding

2 day extension to Perito Moreno Glacier in El Calafate

5 day extension of Argentina—includes Perito Moreno Glacier and hiking to Cerro Torre and Fitz Roy in El Chaltén

Complete end to end vacation planning in Chile or Argentina