Torres del Paine
W-Trek East to West - In Lux and Style
Patagonia
East to West in 4 Hiking Stages
Lodging
4 Star Hotels, Private Cabin and Refugios
Price
$2,335 USD per person
Transport
Private Transport and Baggage Transfers
Experience
Experience
Itinerary
Pygmy miles
Accommodation
Practical info
Gallery
Inquire!
Experience
Journey
Desolate and unforgiving yet beautiful and serene, Patagonia has mystified explorers since the days of Magellan. It only makes sense to explore this pristine wilderness ourselves. On this journey, you will hike five days in Torres del Paine National Park, the resting place of the W-Trek and its extension, the O-Trek. In total, you will hike 44 miles (70 km) and see the most famous formations of the Paine Massif without vehicle transfer, relying on your own strength to get you home each evening. You will be experiencing the W-trek in its entirety, catching a view of the eponymous Torres del Paine, Paine Massif horns, and a panoramic view of the Glacier Valley.
This is a great adventure for those looking for extra comfort and privacy and will allow you to fully immerse yourself in the W-Trek experience. The tour maximizes your time in the park with five total nights, rather than the traditional four of most self-guided tours. You will stay three nights in four star hotels (two nights at Hotel Las Torres and one night at Hotel Lago Grey), one night at a private cabana at Refugio Los Cuernos and one night at Paine Grande in a shared dormitory. This itinerary keeps you on the trail each evening, while most other "luxury" W-Trek tours transport you back to a hotel each evening.
On your last hiking day, you will take a boat trip on Lago Grey. By heading East to West, the second navigation on Lago Grey allows you the opportunity for an up close view of Glacier Grey. Taking this navigation also avoids backtracking to Paine Grande, which is another advantage compared to standard itineraries.
This tour includes private transfers to and from the park. This allows much more flexibility than taking the bus. If you are looking to transfer directly from one of the regional airports to the park, the private transfers are much more flexible, especially if you are arriving in the afternoon..
Finally, a porter service is included to keep you trekking light. Your bags will be carried from each location and will be waiting for you when you arrive in the afternoon.
Staying in some more luxurious accommodation does not mean you will not be headed for a challenge.
Itinerary options
Adjusting the hike to your budget and preferences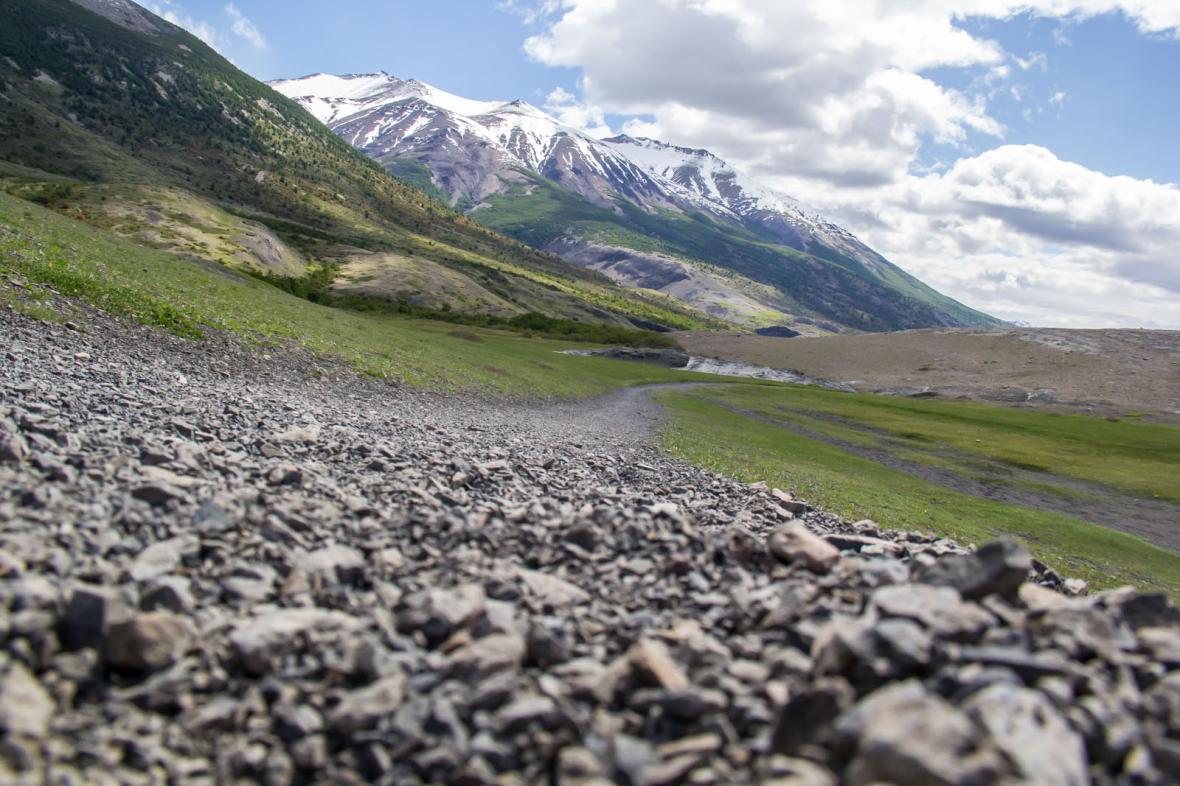 This itinerary is great for adventurous couples looking for extra comfort and privacy.
Activities

Trekking
Conquer the W-trek hiking from East to West

Boat
Glide across the waters of Lago Grey to see Glacier Grey up close and personal.

Wildlife Viewing
Spot guanaco and other flora and fauna.
And also
Soothe your tired muscles in a hot tub looking up at the imposing Los Cuernos.

Enjoy the camaraderie of fellow hikers staying at Refugio Paine Grande on your last night.
Optional Extensions:
1 day extension for ice hiking, kayaking or horseback riding

2 day extension to Perito Moreno Glacier in El Calafate

5 day extension of Argentina—includes Perito Moreno Glacier and hiking to Cerro Torre and Fitz Roy in El Chaltén
Place
Torres del Paine is a national park in the Chilean part of southern Patagonia. The park is located 70 miles (112 km) south of Puerto Natales and 194 miles (312 km) from Punta Arenas, the largest city in the region and where most travelers arrive. The peaks of the Paine Massif, the centerpiece of the park, reach up to 9,462 feet (2,884 meters). Exploring this remote region will bring you into the heart of Chilean's unique biome, a mix of Magellanic subpolar forests, Patagonian steppe and Pre-Andean shrubland. The region is also the lair of a large set of mammals like guanacos, rheas(a large ostrich-like bird), south Andean deer and foxes, and big birds such as the Andean condor. The weather is unpredictable and it's often possible to experience four seasons in a single day. Especially remarkable is when snow that is produced above the mountains is pushed down to lower altitude, where the temperature is warm enough for a t-shirt. Quite a rare experience.
Itinerary
Itinerary
Day-1
TRANSFER TO TORRES DEL PAINE
You will be picked up at Puerto Natales airport and transferred via private shuttle to Hotel Las Torres in Torres del Paine National Park (we can also arrange pick-up from Punta Arenas). The trip takes approximately 2 hours and there are plenty of opportunities to spot wildlife along the way. You have the rest of the day and evening to enjoy Hotel Las Torres. (Overnight at Hotel Las Torres).
Day-2
DAY-2 SEE THE TOWERS (7 TO 9 HOURS, 11.25 MILES)
Start your first trekking day off with a bang. Today you will be hiking to see the iconic Towers—the ones that the park is named after. It's a challenging hike, as you will need to do a bit of light scrambling up some rocky areas. If it's been raining, which it does a lot, then things can get very slippery. Take your time and travel with a partner (ask about private guides or groups when you inquire). But it's all worth it once you reach the towers, which rise magnificently into the cold, Chilean sky. After seeing the towers, head back down through Ascencio valley to Hotel Las Torres (Breakfast, Overnight at Hotel Las Torres).
Day-3
DAY-3 LAGO NORDENSKJÖLD (3.5 TO 4.5 HOURS, 7 MILES)
This will be the easiest hike of your trip. After a filling breakfast, you will head out across the stretching pampas, skirting the southeast side of the Paine Massif. To your left are the milky waters of Lago Nordenskjöld, and to the right the mighty Los Cuernos displays its horns, jagged peaks and dreamy waterfalls. Once you reach your cabin next to Refugio Los Cuernos, take pause to enjoy your surroundings. Perhaps a quick soak in the hot tub is what the doctor ordered. Tomorrow will be a long day, so rest up. (Overnight at Cabins of Los Cuernos, Breakfast, Packed Lunch, Dinner)
Day-4
DAY-4 VALLEY FRANCES (7 TO 9 HOURS, 14 MILES)
Today you will tackle Valle del Frances. It take about 3.5 hours to reach the first lookout, high above Lago Nordenskjöld. On your left hand side you will see Glacier Frances, where frequent small avalanches take place. The noise booms throughout the valley, although the ice that breaks away seems much smaller than it should, considering the noise. After returning down the valley, you will hike 2.5 hours through undulating terrain, stopping briefly at a lookout point above Lago Skottsberg, to arrive at Refugio Paine Grande. (Overnight at Refugio Paine Grande, Breakfast, Packed Lunch, Dinner)

Day-5
GLACIER GREY (3 to 4 HOURS, 7 MILES)
Today you will hike along the icy blue waters of Lago Grey. An easier hike than yesterday, there is still some elevation change, so you are not out of the woods yet. The mirador of Glacier Grey is thirty minutes past Refugio Grey. After lunch at Refugio Grey, head there to see the expansive and imposing wall of ice that feeds the lake of the same name. Afterwards, you will board your boat to navigate the waters of Lago Grey. Not only will you enjoy the view of the powerful glacier, but also views of the mountain Cerro Paine Grande, the Paine Massif, forests along the edge of the lake, hills made of stratified rocks and snow-covered peaks that reach up to the clouds. The navigation ends at Hotel Lago Grey, where you will be picked up and transported to the airport or on to your next destination.
Pygmy miles
Pygmy Miles Total

Challenge

Hiking

Bicycle

Sustainability

Miscellaneous
Base Miles
We reward you with 1 Pygmy Mile for every one dollar you spend with us.
W-Trek distance
You will hike approximately 49 miles on the W-Trek. We reward you with 10 Pygmy Miles for every mile you hike.
Sustainability Bonus
Traveling in Patagonia requires a certain level of responsibility. By visiting the park and learning of Leave No Trace and fire prevention, you will help with conservation efforts to keep the park pristine for future travelers. Many of the refugios inside the park source electricity from off-the-grid methods and have implemented many green initiatives.
Accommodation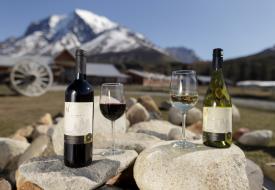 1st & 2nd Night: Hotel Las Torres (Superior Room)
Torres del Paine
Situated close to the trailhead of the famous Towers Trek, Hotel Las Torres is a 4-star hotel in the heart of Torres del Paine National Park. The bar and lounge area is perfect for resting weary muscles after a day's hike, as is the onsite spa. Rooms range in size from 160 to 410 square feet (15 to 38 square meters). The view of the massif from the hotel will surely surprise even the most well traveled visitor.
Read more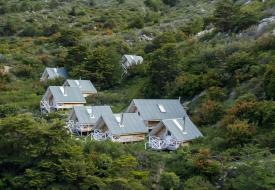 3rd Night: Private Cabin at Los Cuernos
Torres del Paine
Los Cuernos is located not far from the beach of Lago Nordenskjöld. There are 8 double cabins that include access to a hot tub. Dinner is served at communal tables in two shifts. All bathrooms are shared by guests in each category, meaning cabin guests share a bathroom with other cabin guests, refugio guests share with refugio guests and campers share with other campers.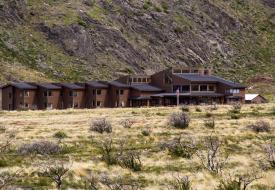 4th Night: Paine Grande Refugio
Torres del Paine
Paine Grande is located at the drop-off point of the catamaran on Lago Pehoé. The building can accommodate 100 hikers in 22 dormitory rooms with bunk beds for 2, 4, or 6 people. The refugio has a restaurant, bar, lounge and shop with camping supplies.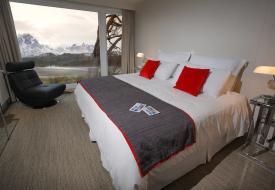 Hotel Lago Grey
Torres del Paine
Lago Grey Hotel is situated on the eponymous lake, from which you can enjoy amazing panoramic views of Grey Lake and beautiful floating icebergs. Glacier Grey is part of the Southern Patagonian Ice Field, the third largest freshwater ice field in the world. There are 60 rooms available in the hotel, all with comfortable spaces, heating, Wi-Fi, safe for valuables, direct dial national and international calling, and most importantly, all of which are surrounded by nature and beautiful scenery that can only be found in the Torres del Paine National Park.
Practical info
When
not available
average
optimal
Most people complete the trek during the spring through fall months (it is possible to complete the trek in winter, but a guide is recommended). Peak travel is in January and February. Expect rain almost daily, along with sun, possible snow and high wind. In fact, just expect all four seasons in one day.
Service categories
This is a self guided itinerary. But, we can also arrange private guides - let us know in your inquiry if you are interested in having a guide.
Service categories
Pygmy Elephant Itinerary Includes:
Customization of Itinerary: Add, change, switch, choose, attach, remove,modify and customize EVERYTHING. We design your trip entirely around your needs, fitness and preferences.
Briefing and Pre-departure support: Hike briefing before you go via video conference, plus our "Before You Go" email series.
Price Transparency: we will breakdown the price so you know where your money is going
Premium Gaia GPS membership plus GPX file: Gaia is accessible via an App on your phone with offline capabilities.
Personalized Travel App: Combined with your Gaia App, you'll be armed to the teeth with tech to take on your trek.
Customized Handbook: For those who are old school, we've got you covered with elevation profiles, maps and daily hike summaries.
24 hour customer service: if something goes wrong, we have your back.
Pygmy Miles: receive discounts off future travel.
Inclusions and Exclusions
This trip includes:

Local support in Puerto Natales

Round-trip private transfer from Puerto Natales to Torres del Paine (providing ultimate flexibility)

2 nights accommodation at Hotel Las Torres

1 night accommodation in private cabin

1 night accommodation in refugio (either 2, 4 or 6 person dorm)

2 dinners, 4 breakfasts and 2 box lunches

Navigation across Lago Grey

Consultation, packing and preparation support

Travel App with your complete itinerary, contacts and travel documents

Personalized W-Trek Handbook with info on the park and your itinerary

This trip does not include:

Guide

Torres del Paine entrance fee (about $35 USD)

Internal Transfer to Lake Amarga (about $22 USD)

Incidentals

Alcohol

We suggest adding travel insurance. We can provide you with a quote as well.
Customization Options
We customize the tour to fit your budget and preference. We can customize the tour by:
Transport type - It's possible to take a bus from Puerto Natales to Torres del Paine.
Transport location - We can change the pick up and drop-off locations as well. The prices will be different, however we can arrange a pick-up from Punta Arenas or El Calafate as well. There is a shared transfer to El Calafate that is relatively economical.
Accommodation in Torres del Paine - For those on a budget, we can also substitute in dormitories at Refugio Central for Hotel Las Torres and the dormitories at Los Cuernos for the cabanas. Furthermore, camping with all equipment is possible throughout the park, which is also a more economical option.
Number of hiking days - we can increase or decrease the number of hiking days, depending on your fitness and motivation. For example, it's possible to transfer directly back to Puerto Natales after the navigation on Lago Grey, rather than staying an extra night at Hotel Lago Grey.
Add on activities in Torres del Paine, Punta Arenas or Puerto Natales. - We organize a range of activities in the region including kayaking on Lago Grey, Ice Hiking on Glacier Grey, Navigation to Balmaceda and Serrano Glaciers, Navigation to Isla Magdalena to see the penguins and more.
Add on additional locations - We work extensively in El Calafate and El Chalten. We can add self guided hikes to see Fitz Roy and Cerro Torre as well as an ice hike on the Perito Moreno Glacier. Furthermore, we can help you organize a complete vacation in Chile (Atacama, Santiago, Lakes District, etc) or Argentina (Buenos Aires, Mendoza, Bariloche, Ushuaia, Puerto Madryn, etc).
Hire a

porter -

The

porter

can carry up to 15 kg (33 pounds). They meet you on the first day and will transfer the contents of your bag into one of their own and then strap your bag(s) onto theirs. Normally, one

porter

is sufficient for two people.
Challenge Level
Technical Ability
Level : Low
Mental Strength
Level : Low
Physical Conditioning
Level : Medium
The hiking is challenging, however only treks into Valle del Frances and to the towers have much elevation change. Only those in good physical health should book this trip. Previous hiking experience recommended as terrain is rocky and uneven. Path is well marked. Those without experience may be more comfortable in a guided hike. Mental strength is rated low because of creature comforts provided at Hotel Las Torres and the private cabin at Los Cuernos.
Optional Extensions
1 day extensions for ice hiking, kayaking or horseback riding

2 day extension to Perito Moreno Glacier in El Calafate

5 day extension of Argentina—includes Perito Moreno Glacier and hiking to Cerro Torre and Fitz Roy in El Chaltén

Complete end to end vacation planning in Chile or Argentina