Scottish Highlands
West Highland Way
Scotland
Milngavie to Fort William in 9 Stages
Price
From $2,050 USD per person
Transport
Trekking with Baggage Transfers
Experience
Experience
Itinerary
Pygmy miles
Accommodation
Practical info
Gallery
Inquire!
Experience
Journey
The West Highland way traverses the lowlands and highlands of Scotland between Milngavie and Fort William. Officially, the trek is 95.5 miles (153.2 km). The trail was completed in 1980 under the Countryside Scotland Act and is the first, and also most popular, long distance hiking trail in Scotland. And for good reason. Along the way, you will see stunning lochs, imposing mountains and tranquil valleys.
Pygmy Elephant's standard itinerary is 10 nights, with 9 stages of hiking. This allows for a comfortable walk, averaging around 10 miles per day. For those traveling overseas, this is allows you to immerse yourself in the country while still completing the trek within a two week holiday. Of course, for the experienced hiker looking for a challenge can complete this tour in as little as 6 days. To lighten the load, we have included baggage transfers to keep you trekking light.
Of note is the incredibly comfortable accommodation along the way. You are never far from a warm bed, hot meal and a cold pint. We've chosen our accommodation based on their charm and hospitality. You'll have a taste of wonderfully hospitable B&Bs, charming Inns with a bustling restaurant and pub and grand hotels plopped down in the middle of nowhere.
Included in your itinerary is a customized handbook, all reservations, baggage transfers, travel app, premium GPS membership and GPX file, Before You Go email series and virtual trek briefing.
Itinerary options
Adjusting the hike to your budget and preferences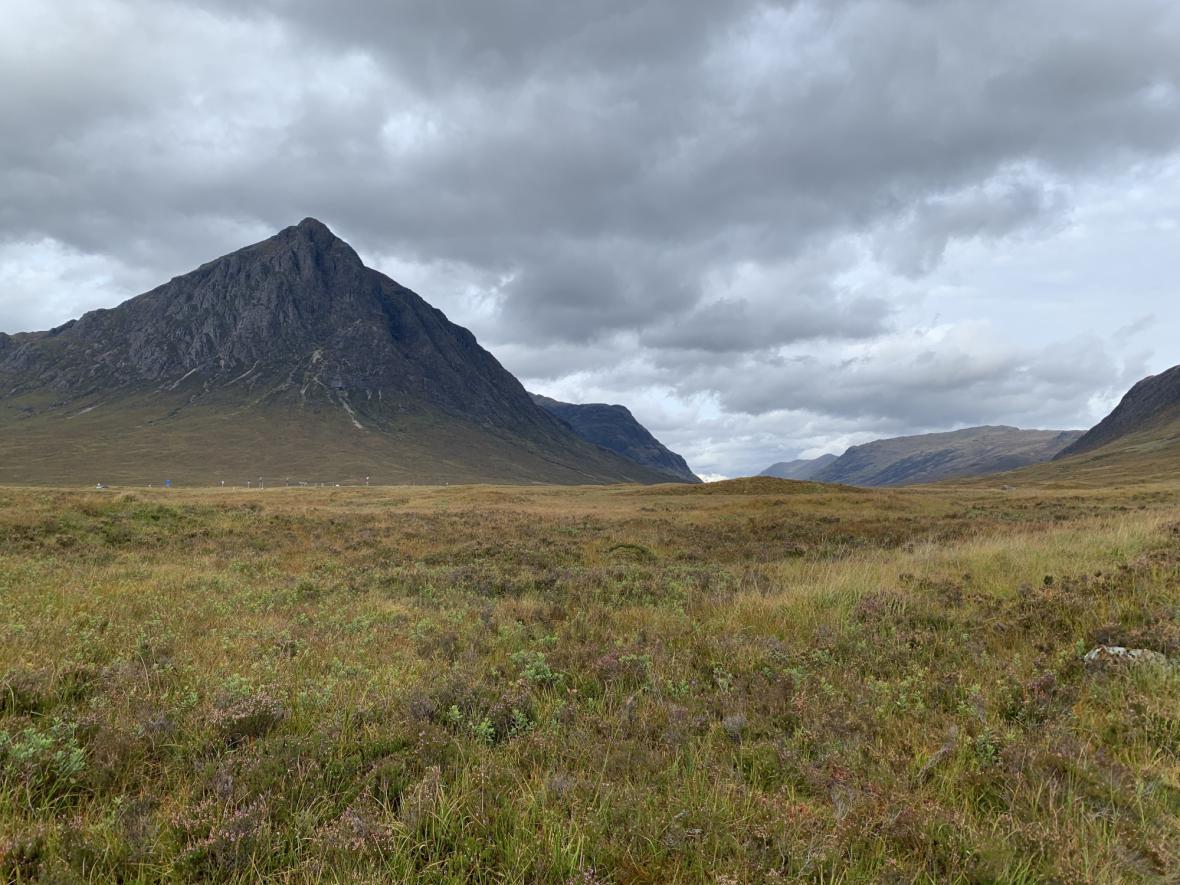 The Iconic "Buachaille Etive Mor"
Activities

Trekking
Walk 95.5 miles across stunning Scottish Highlands.
Place
The West Highland Way touches many quaint villages, remote hotels and ends in the bustling city of Fort William. Make sure your itinerary includes a stop at the Drover's Inn, an iconic pub and inn located in Inverarnan. Its inception dating back 300 years, the inn and pub was a key stopping point for drovers bringing their livestock down from the highlands to the markets located near Loch Lomond. It has seen it's share of notable guests, including the infamous Rob Roy. To add to the mystique of the inn, there are plenty of ghost stories to fill your mind with doubt as your head hits the pillow. Come on a weekend and enjoy some live music and craic with some locals.
Kinlochleven, on the other hand, is a relatively modern village, although you wouldn't guess it when you arrive. Stuck in the middle of nowhere, seemingly surrounded by large hills on all sides, it appears to be an old hill community that was lost by the sands of time. Upon further inspection, you realize that no building dates before the 20th century. It was nicknamed the "Electric City", as it was the first town in Scotland to have all houses linked to electricity. The reason for this modernization, was the aluminum plant that actually gave birth to the city in 1907 when a dam was erected to supply the Aluminum plant with power.
Fort William is the home to Ben Nevis, the largest mountain in Scotland. Standing at 4,413 feet (1,345 m) above sea level, this giant of Scotland draws locals and tourists alike to its lofty peak. There is a tourist trail that one can take to the top, however it is still not an easy journey and should be done in fair weather. The city of Fort William is located at its foot and caters to the adventurous souls that come to its ranks via the West Highland Way or those that wish to spice up their holiday with a trip up or around the famous mountain.
Itinerary
Itinerary
The following itinerary is our standard, however it is just the starting point. This 10 night / 9 stage itinerary will be adapted to your preferences and budget. One of unique selling points is our ability to customize the tour to fit you!
Day-1
Arrival in Milngavie
If arriving internationally, the easiest port of entry is Glasgow. We can optionally include a private transfer to Milngavie (pronounced "Mull-guy"), or you can easily arrange a taxi or even an Uber quite cheaply. Settle in and get ready for your grand adventure through the Scottish Highlands.
Day-2
Milngavie to Drymen (12 mi / 19.2 km)
Your first day remains on relatively flat terrain. It is an introduction to the Scottish Lowlands and will frame your journey with respect for the highlands. You'll traverse a mainly pastoral setting, interspersed with woods and lakes. If you're up for a short detour, make your way for a wee dram at the Glengoyne Distillery.
Day-3
Drymen to Balmaha (7 mi / 11 km)
Today is a short, however that allows the views from Conic Hill to be savored. There is elevation gain, obviously, as you will be heading to the top of a hill. Still, it is not much, only around 1280 feet (390 m). There is a slight diversion to a higher viewpoint from the trail. Make sure to travel to the top and have a grand sweeping view of Loch Lomond and the surrounding hills and cities. Afterwards, head down to Balmaha, which has lovely accommodation and a decent pub.
Day-4
Balmaha to Rowardennan (7.5 mi / 12 km)
Another short day sees you swiftly along the shores of Loch Lomond. You will alternate between views of the loch and the forest that encapsulates it. The route is undulating, even if you do not gain much height overall. Prepare accordingly.
Day-5
Rowardennan to Inverarnan (14 mi / 22.5 km)
Your day starts out with a walk through a forrest. You should have little trouble reaching Inversaid, however there, the route takes on a more difficult pitch. Many believe that this is one of the more difficult sections of the tour. It flows up and down and can make the knees sore. The views here are worth the effort, with dreamy views onto the loch. Once at Inverarnan, hop across the ricer and double back to the ever popular "Drovers Inn" for a well deserved pint.
Day-6
Inverarnan to Tyndrum (11.5 mi / 19 km)
You'll start the day off much easier than you finished yesterday. The route is now better maintained, following the course of an old military road. In 2.5 hours, you will reach Crainlarich, where refreshments and civilization can be found. Here, you can pat yourself on the back for reaching the half way point of the West Higland Way. Afterwards, march onwards and upwards, eventually reaching a pretty balcony path before reaching Tyndrum.
Day-7
Tyndurm to Inveroran (9 mi / 14.5 km)
Today, you will head away from civilization. It's important to remember that Tyndrum is the last major town until Kinlochleven. There will not be any general stores until then. Your day starts hiking through a glen, skirting the Beinn Odhar. In the distance, you will see the pyramid of Beinn Dorain, which will keep you company until the Bridge of Orchy. From there, you will start an ascent using an old military road. Once you reach the cairns, signifying the top of the ascent, you will have a view of Loch Tulla and the Black Mount. It's then a steady descent to Hotel Inveroran for one of the best meals on the tour.
Day-8
Inveroran to Kingshouse (10 miles / 16 km)
This stage offers some of the best views of the tour. You will stray farther from civilization and the feeling of wilderness intensifies. As you head out of Inveroran, you will find imposing peaks on your left hand side, and sweeping views of lakes and stretching moors to your right. You'll reach the half way point at BA Bridge. Not far away are the ruins of Ba cottage, one of the only places for shelter along this route. From there you'll continue to the Glencoe ski resort and Kingshouse, which serves as an oasis on this stage. Cozy up at the bar or restaurant and enjoy the simple luxury of the hotel.
Day-9
Kingshouse to Kinlochleven (9 mi / 14.5 km)
You will begin the trek with Buachaille Etive Mor looming large on your left hand side. Probably the most iconic mountain on the West Highland Way outside of Ben Nevis, the mountains name roughly translates to "The Great Herdsman of Etive". After hiking parallel to the highway with fantastic views of the surrounding hills and moors, you will reach the Devil's Staircase, which will lead you to the highest point of the trek at 550 meters. Splendid views abound and you will shortly forget the hard slog up to the viewpoint. It's then a steady but not to be underestimated descent to Kinlochleven.
Day-10
Kinlochleven to Fort William (16 mi / 24 km)
The final stage is long and your rest well deserved when you reach Fort William some 16 miles away. The day starts with an ascent of Kinlochleven to reach a viewpoint that looks down upon the "electric village", so named as it was one of the first villages in the world to have every house connected to electricity thanks to the aluminum plant that was built at the turn of the century. You'll then continue through the Lairigmor (the great pass), which slices through the surrounding mountains giving walkers an easier, but meandering route, to Fort William. Congratulations! You've conquered the West Highland Way.
Pygmy miles
Pygmy Miles Total

Challenge

Hiking

Bicycle

Sustainability

Miscellaneous
Base Miles
One Pygmy Mile for every dollar spent
Hike Miles
10 Pygmy Miles for every mile hiked
Accommodation
Premier Inn
Milngavie
A 3-star hotel that offers a comfortable night's stay before you begin your trek.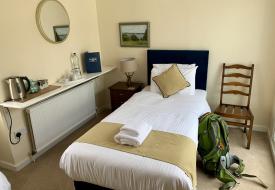 Clachan Inn
Drymen
A lively pub doubles as a charming Inn. Clean, modern and spacious rooms with shared bathrooms on the floor.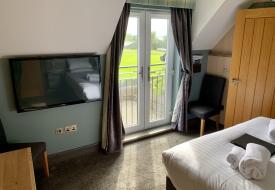 Oak Tree Inn
Balmaha
After coming down from Conic Hill, treat yourself to a stay at Balhama Inn. On their vast complex, they have a restaurant, coffee shop and general store. The rooms are located in independent chalets with views of the loch behind them.
Rowardennan Hotel
Rowardennan
A secluded and family run hotel, the hospitality and location will surely impress.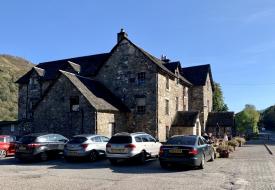 The Drovers Inn
Inverarnan
The Inn dates back to the 18th century, replete with ghost stories. Locals from Glasgow come up and stay the weekend and most weekend nights there is live music. A must on the West Highland Way!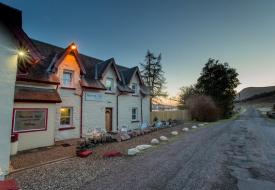 Inveroran Hotel
Inveroran
This family-run hotel features a small pub for guests and spacious rooms. The real draw of the hotel is the chef. The hotel restaurant is somewhat of a hidden gem. This might be your best meal of the tour.
Kingshouse Hotel
Glencoe
An oasis. This 4-star hotel features stellar service, modern rooms and a fantastic restaurant. A favorite among West Highland Way walkers.
Highland Getaway Inn
Kinlochleven
Another pub that doubles as an inn. The food is good and the rooms well equipped with en suite facilities. No need to wander far for dinner or a pint!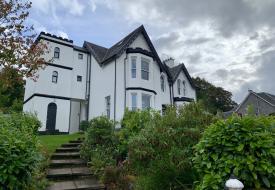 Ashburn House
Fort William
A 4-star bed and breakfast, this family-run establishment has stylish rooms with en suite facilities. Breakfast is lavish and the hosts spoil you!
Practical info
When
not available
average
optimal
The hiking season generally runs from the beginning of April to the middle of October. From November to March, snow is possible, which makes navigation more challenging. Furthermore, some of the guest houses close down during the winter. Midges - annoying biting flies - are worst during the summer months, especially after heavy rains.
How
Self guided does not mean you are alone. We help you coordinate and plan your trip beforehand. Once you are on the trail, we provide 24-hour customer service in case there are any urgent issues with your bookings.
Service Category
PYGMY ITINERARY BENEFITS
Price Transparency:

see where your money is going with line-item pricing

Never Lose Your Deposit Guarantee

: 50% refund, 50% credit to future trip

Customized Handbook with Journey Details

: maps, elevation profiles, tips and more

Destination Book Digital Travel App

: everything in your handbook, in digital form

One Year Premium GAIA GPS Membership

: your GPS routes, on your phone

Complete Itinerary Customization

: build the trip you want to take

Special Meal Requests

: we'll help you stick to your diet of choice

Before-You-Go Email Series

: helpful emails to get you prepared for your trek

Transportation Options Information

: timetables, routes and contact info

24/7 Phone Support for Urgent Issues

: give us a call if anything goes wrong

WhatsApp Support (9 AM to 5 PM, ET)

: rapid response to your inquiries

Email Support (24-hour turnaround)

: answers for not-so-urgent questions

Virtual Pre-Hike Briefing

: one-on-one briefing with your travel consultant

Baggage Transfers (where applicable)

: your bags, delivered to your accommodation
Challenge Level
Technical Ability
Level : Low
Mental Strength
Level : Low
Physical Conditioning
Level : Medium
Price
Starting at $2,050 per person, based on double occupancy
After initial consultation, we will customize your itinerary to meet your fitness level, budget, accommodation wishes and schedule. Depending on the journey, it might be possible to skip stages, rearrange their order, substitute accommodations, and add or subtract transfers. Find more information on the base itinerary and possible customizations below.
Base itinerary
10 nights accommodation
Breakfast at all locations
Optional Add-ons
Travel insurance
Rest days and free days in Fort William
Extension to the Great Glen Way
Transport between Glasgow and Fort William
Not included
Airfare
Airport transfers
Lunches
Dinners
In-situ transport fees
Transport to Milngavie