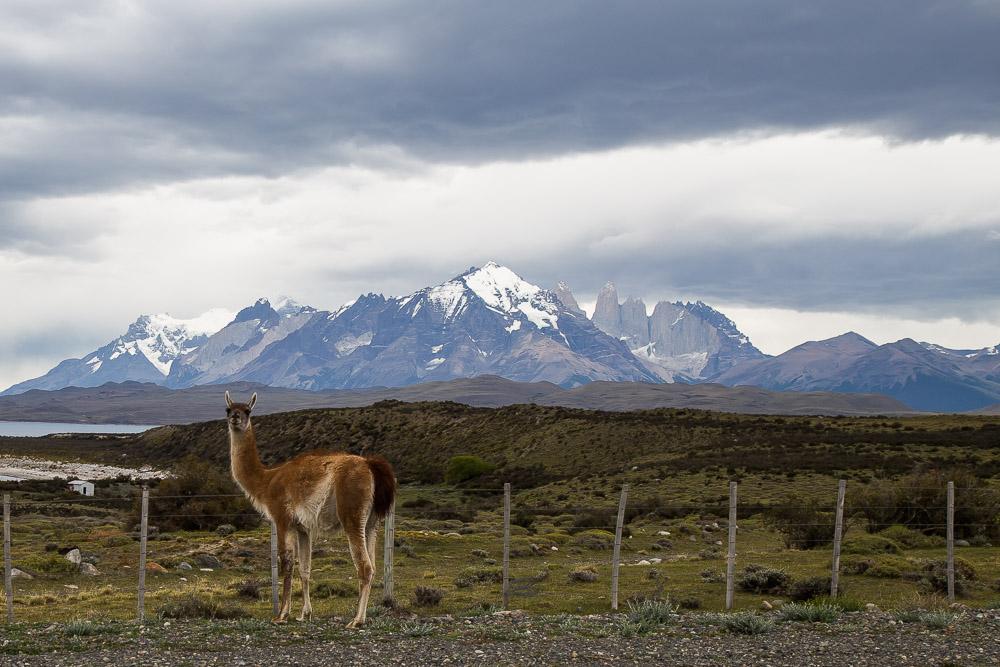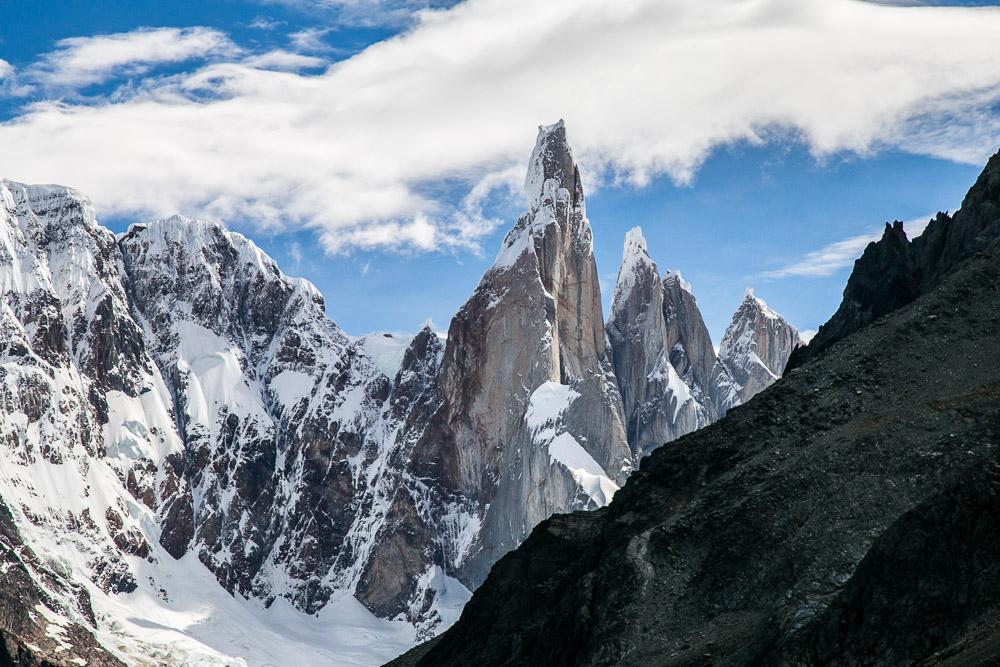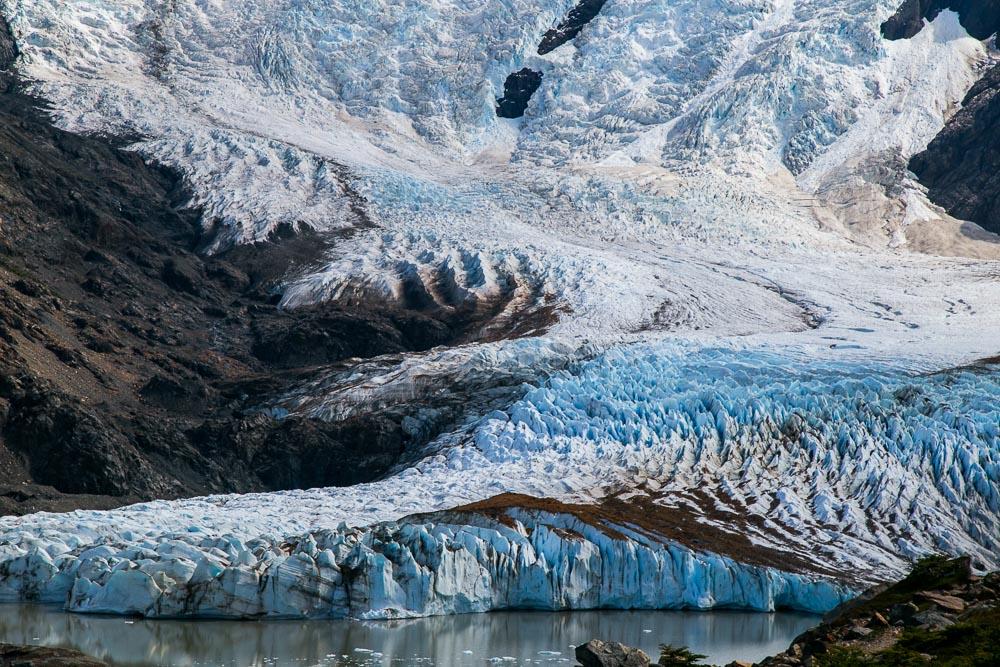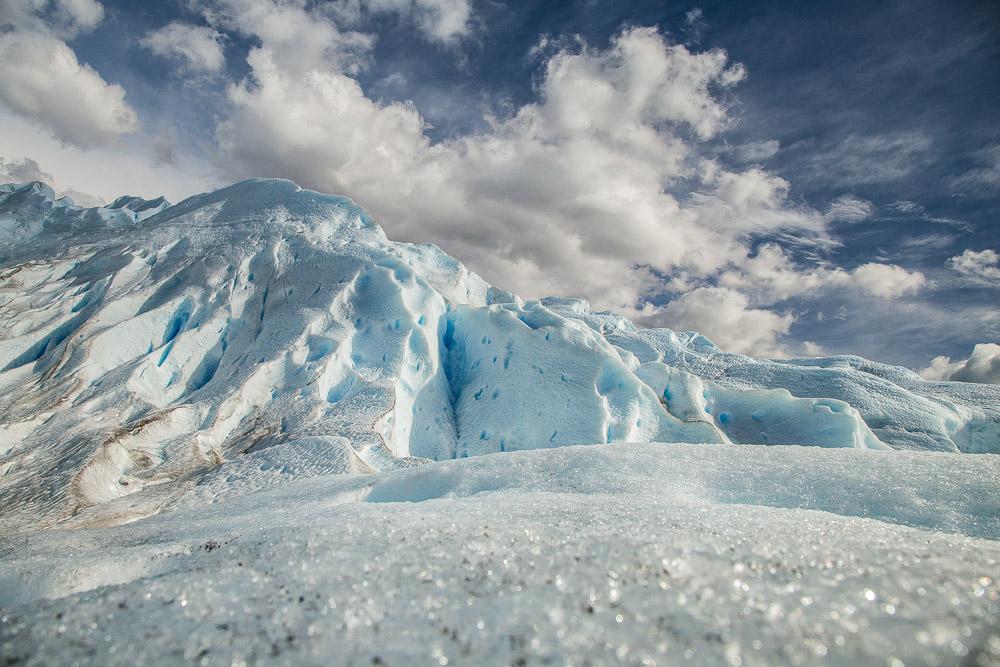 Chile and Argentina
The Great Self Guided Treks of Patagonia - W-Trek and El Chaltén
Patagonia
Hike the W-Trek, Visit Perito Moreno Glacier and Explore El Chaltén
Lodging
Hotels and Mountain Huts
Price
$3,285 USD per person
Transport
Private Transport, Your Feet
Experience
Experience
Itinerary
Pygmy miles
Accommodation
Practical info
Gallery
Inquire!
Experience
Journey
Patagonia is a hiker's paradise; impressive granite towers form a skyline of jagged peaks, milky-blue water roars below in rivers that carry lonely icebergs calved from imposing glaciers. Patagonia is so unspoiled, hikers can even drink water directly from rushing streams. It's that pristine! This itinerary features the two best-known hikes in the region: the four day W-Trek in Torres del Paine and a two day trek to see Fitz Roy and Cerro Torre in El Chaltén. In between, you will see the Perito Moreno Glacier in El Calafate. Pygmy Elephant covers your transfers, hotels, refugios, 12 meals, a guided ice hike on Perito Moreno Glacier and planning for your self-guided hikes in Torres del Paine and El Chaltén.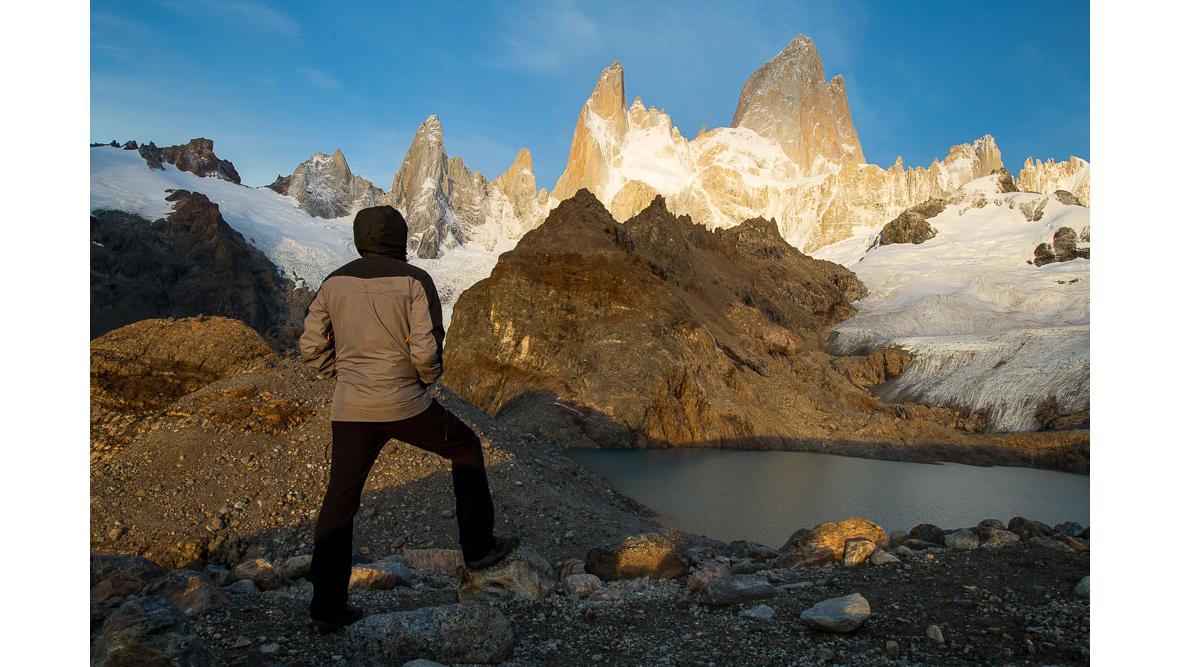 Hike to See the Iconic Cerro Torre in El Chalten at Sunrise
Activities

Trekking
Explore Argentina's trekking capital of El Chalten. Hike the two "Traditionals" to see Cerro Torre and Fitz Roy.

Tackle the W-Trek, hiking over 41 miles (66 km) in the course of 4 days.



Wildlife Viewing
Spot wildlife including guanaco(a llama-like species), condors and possibly the elusive puma.

Boat
Glide across the ice-blue waters of Lago Grey.

Mountaineering
Strap on your crampons and explore the crevasses, caves and pools of Perito Moreno Glacier.
Place
Torres del Paine is a national park in the Chilean part of southern Patagonia. The park is located 70 miles (112 km) south of Puerto Natales and 194 miles (312 km) from Punta Arenas. The peaks of the Paine Massif, the centerpiece of the park, reach up to 9,462 feet (2,884 meters). Several different species of wildlife can be found in Torres del Paine including guanaco, rheas (a large ostrich-like bird), south Andean deer and foxes. The weather is unpredictable and it's often possible to experience four seasons in a single day. Especially remarkable is when snow that is produced above the mountains is pushed down to lower altitude, where the temperature is warm enough for a t-shirt. Quite a rare experience.
El Calafate is the jump-off point to the Perito Moreno Glacier. Its trendy shops, restaurants and downtown area will make you question whether you are truly in isolated Patagonia. Yet, just miles away is Lago Colorado, whose waters are fed by various glaciers in the area. Perito Moreno Glacier is located a 2 hour drive north in Los Glaciares national park. With an area of 97 square miles (250 square km), it is the most famous glacier in the Southern Patagonian Ice Field, the third largest reserve of fresh water in the world. The glacier is unusual in that it is one of the only advancing glaciers in the world. Several times a day, ice will calve, sending waves and thunderous booms throughout the area.
El Chaltén is often considered the trekking capital of Argentina, but it was originally designed to define the borders of Argentina. The town provides fantastic access to hiking trails, Cerro Torre and Fitz Roy. In stark contrast to El Calafate, the town is more remote and has a frontier feel to it. Still, well, there is an eclectic mix of travelers and locals in the area.
Itinerary
Itinerary
Day-1
TRANSFER TO EL CALAFATE
You will be picked up from El Calafate Airport and transported to your hotel in El Calafate. Originally a town for wool traders, today it is the jump-off point for numerous activities in Patagonia. After arriving, you can enjoy the downtown area's quaint shops and bustling restaurants. (Overnight at Alto Calafate (B))
Day-2
TRANSFER TO TORRES DEL PAINE
Today, you will catch a bus to Torres del Paine in Chile. Expect a 5 hour ride plus time at the border for customs. You will be dropped off at Laguna Amarga, where you will take an internal shuttle (3,500 CLP) to the Las Torres Base area. Torres del Paine is a national treasure of Chile. It boasts some of the most spectacular views of Patagonia. Tomorrow you will begin your W-Trek. Highlights include the trek to the Towers, hearing small avalanches in Valle del Frances and seeing the massive Glacier Grey. (Overnight at Hotel Las Torres (B))
Day-3
SEE THE TOWERS (7 HOURS - 11.25 MILES)
Start your first trekking day off with a bang. Today you will be hiking to see the iconic Towers—the ones that the park is named after. It's a challenging hike, since you will need to do a bit of light scrambling up some rocky areas. If it's been raining, which it does a lot, then things can get very slippery. Take your time and travel with a partner (ask about private guides or groups when you inquire). But it's all worth it once you reach the towers, which rise magnificently into the cold, Chilean sky. After seeing the towers, head back down through Ascencio valley to Hotel Las Torres (Breakfast, Overnight at Hotel Las Torres).
Day-4
LAGO NORDENSKJÖLD (4 HOURS, 7 MILES)
This will be the easiest hike of your trip. After a filling breakfast, you will head out across the stretching pampas, skirting the southeast side of the Paine Massif. To your left are the milky waters of Lago Nordenskjöld, and to the right the mighty Los Cuernos unfolds its horns, jagged peaks and dreamy waterfalls. Once you reach your cabin next to Refugio Los Cuernos, take pause to enjoy your surroundings. Perhaps a quick soak in the hot tub is what the doctor ordered. Tomorrow will be a long day, so rest up. (Overnight at Cabins of Los Cuernos, Breakfast, Packed Lunch, Dinner)
Day-5
VALLEY FRANCES (8 HOURS, 14.5 MILES)
Today you will tackle Valle del Frances. It takes about 3.5 hours to reach the first lookout, high above Lago Nordenskjöld. On your left-hand side you will see Glacier Frances, where frequent small avalanches take place. The noise booms throughout the valley, although the ice that breaks away seems much smaller than it should, considering the noise. After returning down the valley, you will hike 2.5 hours through undulating terrain, stopping briefly at a lookout point above Lago Skottsberg, before arriving at Refugio Paine Grande. (Overnight at Refugio Paine Grande, Breakfast, Packed Lunch, Dinner)
Day-6
GLACIER GREY (3.5 HOURS, 7 MILES)
Today you will hike along the icy blue waters of Lago Grey. An easier hike than yesterday, there is still some elevation change, so you are not out of the woods yet. The mirador of Glacier Grey is thirty minutes past Refugio Grey. After lunch at Refugio Grey, head to the glacier to see the expansive and imposing wall of ice that feeds the lake of the same name. Afterwards, you will board your boat to navigate the waters of Lago Grey. Not only will you enjoy the view of the powerful glacier, but also views of the hill Cerro Paine Grande, the Paine Massif, forests along the edge of the lake, hills made of stratified rocks, and snow-covered peaks that reach up to the clouds. The navigation ends at Hotel Lago Grey, where you will be picked up and transported to El Calafate. (Overnight at Alto Calafate (B))
Day-7
PERITO MORENO ICE HIKE
The excursion begins in the embarking pier located in "Bajo de las Sombras" port, about 3.5 miles (6 km) before the glacier Balconies, where you embark for a 10 minute navigation across the Rico Arm, enjoying breathtaking views of the Perito Moreno Glacier's front walls. After the fitting of your harnesses and crampons, you will start the ice trekking. During the walk, you will be introduced to a number of features within the ice: huge moulins, crevasses, caves and above all the special feeling of exploring the middle of the ice. Expert bilingual mountain guides will always lead you, looking after your safety and teaching you the "ways of the ice." You will hike for about 3.5 hours, and spend some time having lunch somewhere on the glacier. Back on the moraine, you will start your descent back to the port, then take the boat and navigate for 20 minutes very close to the southern wall. (Overnight at Alto Calafate(B))
Day-8
TRANSFER TO EL CHALTÉN
Today, you will take a shared bus to El Chaltén where you have a free day to enjoy the small town atmosphere. Rest up, because tomorrow you will trek to the imposing Cerro Torre. (Overnight at Don Los Cerros (B))
Day-9
CERRO TORRE HIKE (5.5 HOURS, 11 MILES)
You gain most of your height at the beginning of your trek. After around 2 miles (3.2 km), the path levels out and becomes undulating until you reach Laguna Torre. The hike from El Chaltén to Laguna Torre takes approximately 2 hours and 45 minutes. Here you can relax on the rocky shores and stare contemplatively at the mighty peak of Cerro Torre, which stands at 10,177 feet (3,102 meters) high. There is an optional hike to Mirador Maestri, which takes 2 hours round-trip. Afterwards, descend back to El Chaltén and enjoy the evening in town. (Overnight at Don Los Cerros (B))
Day-10
LAGUNA DE LOS TRES HIKE (7 HOURS, 14.5 MILES)
Today you set out for the magnificent Laguna de los Tres and the Fitz Roy Massif. From the town of Chaltén, it takes around 1 hour and 45 minutes to reach your first waypoint at Laguna Capri. From there you will ascend to Camp Poincenot for a quick rest. Then it's off to tackle the most difficult part of the day. To reach Laguna de los Tres, it will take about 1.5 hours. The ascent is challenging; you will ascend over 1,600 feet (487 meters) in less than 2 miles (3.2 km). After taking in the scenery, head back to El Chaltén. The return should only take around 2.5 hours. (Overnight Don Los Cerros(B))
After a leisurely breakfast, you will take a private transfer to the El Calafate airport. It's time to say goodbye to Patagonia. Remember to get a window seat to see the rugged landscape from 30,000 feet.
Pygmy miles
Pygmy Miles Total

Challenge

Hiking

Bicycle

Sustainability

Miscellaneous
Base Miles
You earn 1 Pygmy Mile for each $1 you spend with us.
Hiking Distance
For every mile that you hike, you will receive 10 Pygmy Miles. Specifically you will receive 630 Pygmy Miles for hiking 63 miles in 5 days. Furthermore, you will receive 1,000 miles for hiking on Perito Moreno Glacier.
Sustainability and Responsible Travel
Traveling in Patagonia requires a certain level of responsibility. By visiting the parks and learning of Leave No Trace and fire prevention, you will help with conservation efforts to keep the area pristine for future travelers. Some of the hotels and refugios you visit will source electricity from off-the-grid methods and have implemented many green initiatives
Accommodation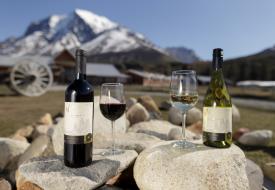 Hotel Las Torres
Torres del Paine
Situated close to the trailhead of the famous Towers Trek, Hotel Las Torres is a 4-star hotel in the heart of Torres del Paine National Park. The bar and lounge area is perfect for resting weary muscles after a day's hike, as is the onsite spa. Rooms range in size from 160 to 410 square feet (15 to 38 square meters). The view of the massif from the hotel will surely surprise even the most well-traveled visitor.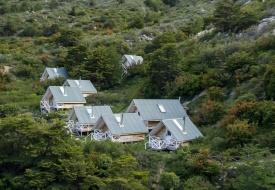 Cabanas at Los Cuernos
Torres del Paine
Los Cuernos is located not far from the beach of Lago Nordensköld. There are 8 double cabins that include access to a hot tub. Dinner is served at communal tables in two shifts. All bathrooms are shared by guests in each category, meaning cabin guests share a bathroom with other cabin guests, refugio guests share with refugio guests and campers share with other campers.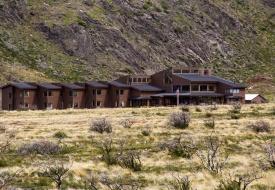 Refugio Paine Grande
Torres del Paine
Paine Grande is located at the drop-off point of the catamaran on Lago Pehoé. The building can accommodate 100 hikers in 22 dormitory rooms with bunks for 2, 4, or 6 people. The refugio has a restaurant, bar, lounge and shop with camping supplies.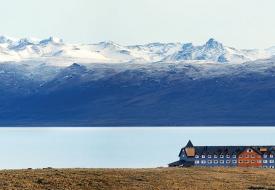 Alto Calafate
El Calafate
Overlooking the stunning blue-green waters of Lago Argentina, Alto Calafate is a 4-star hotel that has sweeping views, excellent food and an onsite spa. A free shuttle will whisk you to the city center in around 10 minutes.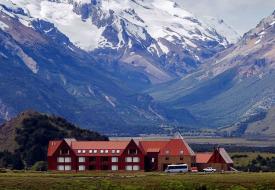 Don Los Cerros
El Chaltén
Don Los Cerros is a 4-star boutique hotel and spa. Strategically located on a natural balcony, it allows a view of the Chaltén Valley below. The rooms feature large windows, making the landscape a key decorative element in the rooms.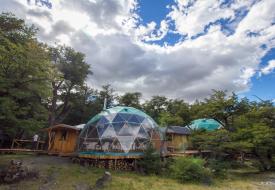 Patagônia Eco Domes
El Chaltén
Patagonia Eco Domes is a beautiful self-sustainable eco lodge built in the middle of the silent forests of Lenga on the outskirts of El Chaltén. Almost all domes have a great view of the Fitz Roy Massif, wildlife and the Andes chain. One of the best features is their customer service and the option of vegetarian meals.
Practical info
When
not available
average
optimal
Most people hike in Patagonia during the spring through fall months (it is possible to complete the treks in winter, but a guide is recommended). Peak travel is in January and February. Expect rain almost daily, along with sun, along with possible snow and high wind. In fact, just expect all four seasons in one day.
Self-guided
This is a self-guided itinerary, but we can also arrange private guides. Let us know in your inquiry if you are interested in having a guide.
Service Categories
This is a Pygmy Elephant itinerary and can be altered to meet your needs. It is completely customizable.
Pygmy Elephant also provides:
Pre-departure support:

what to pack, arranging travel insurance and informing on travel advisories

24 hour customer service:

if something goes wrong, we have your back

Price Transparency: we will breakdown the price so you know where your money is going
Pygmy Miles: receive discounts off future travel
Travel App: with your complete itinerary, contacts and travel documents
Customized Handbook: with info on the park and your itinerary
This trip includes:

Local support and briefing in Puerto Natales

Private transfers to the park and back to Puerto Natales Airport

Ten nights accommodation: eight nights at 4-star hotels, one night at the Cabanas of Los Cuernos and one night Refugio Paine Grande

Private Transfer from Calafate Airport to Alto Calafate Hotel

Shared bus from Calafate to Laguna Amarga

Private transfer from Lago Grey to Alto Calafate Hotel

Shared bus from El Calafate to El Chaltén

Private transfer from El Chalténto El Calafate airport

Two dinners, two box lunches and eight breakfasts

Navigation across Lago Grey

Consultation, packing and preparation support

Travel App with your complete itinerary, contacts and travel documents

Customized Handbook with info on the park and your itinerary

This trip does not include:

Guide

Torres del Paine entrance fee (about $30 USD) and Perito Moreno entrance fee.

Internal Transfer to Lake Amaraga (about $5 USD)

Incidentals

Any alcohol

We suggest adding travel insurance. We can provide you with a quote as well.
Challenge Level
Technical Ability
Level : Low
Mental Strength
Level : Low
Physical Conditioning
Level : Medium
Paths are well marked, however previous hiking experience recommended as terrain is rocky and uneven. Those without experience may be more comfortable in a guided hike.
Mental strength is rated at low because of the high level of comfort involved in this itinerary.

The hiking is challenging, however only treks into Valle del Frances, the towers and Fitz Roy have much elevation change. Still, only those in good physical health should book this trip.