Chile
Skorpios Cruises -- Chonos Route
Patagonia
Skorpios Cruise - Patagonia Chonos Route
Lodging
MV Skorpios II Cruise ship
Price
$2,000 to $2,300 per person double occupancy
Transport
Air and auto arrival
Experience
Experience
Itinerary
Pygmy miles
Accommodation
Practical info
Gallery
Inquire!
Experience
Journey
M/V Skorpios II sails from the Skorpios Terminal in Puerto Montt, a town located 1,000 km south of Santiago, that can be reached by road or air. The 5 day cruise covers 800 miles, sails every Saturday to return on Thursday between the months of September and May. The cruise offers a magical encounter with the age-old ice formations of the Glacier San Rafael, sailing through breathtaking archipelagos, channels and gulfs. The tour includes incredible territory with towns like Castro and the fishing village of Puerto Aguirre. Guests will witness the natural wonders of a vigorous landscape and wildlife that is best appreciated at Fiordo Quitralco with its hot springs and excursions to its vast island-peppered sea.
Activities

Wildlife Viewing
Magellanic Penguins, possible Humbacks, Southern Rights and Blues

Boat
Cruising via MV Skorpios II built in 1988 at the Skorpios shipyard,

Cultural immersion
Guests should expect fellow cruisers to be primarily South Americans with a few English speaking guests. Translators will be available to insure your understanding.

Gastronomy
The cruise offers all inclusive meals with exceptional cuisine. Services include: bar (always open, and at no extra cost); total access to every corner of the ship (from engine room to the bridge, and even the kitchens). Top-level gastronomy, with Patagonian-international fusion cuisine, the best and most varied wines all included.
Place
Southern Patagonia ice fields are made for photographers and is a tourist attraction unparalleled for its beauty. Elegant peaks, awe-inspiring mountains of ice, and spectacular scenery await at every turn of the cruise. Cruisers will witness the largest mass of ice in the southern hemisphere outside of Antarctica. The show is never-ending as ice blocks of different sizes break and roar and turn into floating icebergs. The region has been described as "having an effect on the imagination something like the moon." The landscape is other world like with amazing colors of aqua, teal, mauve, and azure.
Itinerary
Itinerary
Navigation Programme
6 day /5 night cruise
CRUISE:
Sailing Saturday/Arrival Thursday
FRIDAY: optional additional night. (additional cost). Offered on Friday before the ship sets sail. lncludes: welcome drink, dinner on board, lodging on board, breakfast. At 18:00 hours on Friday, you are welcome on board.
Day-2
Set sail from Puerto Montt
SATURDAY: 12:00 hrs. noon, Weigh anchor from Skorpios Terminal in Puerto Montt. Sailing through the Llanquihue archipelago, catch sight of Calbuco city and Ancud Gulf, 16:30 hrs. arrival at Quemchi, Chiloe lsland and disembark on boats for picturesque Chilote village. Guests can visit the handicraft market, streets and coffees shops, or the museum house of the Chilean writer Francisco Coloane. 18:30 hrs. continue sailing to the South through the Archipelago of Chiloe and Corcovado Gulf crossing.
Day-3
Puerto Aguirree, Punta Pescadores and San Rafael Glacier
SUNDAY: 08:00 hrs. Navigation through the Moraleda and Ferronave channels. Arrival at the fishing village of Puerto Aguirre at 11:00hrs. Disembark at the fishing village enclosed at the Chonos/s archipelago. Continue on the excursion by walking the streets, lookouts and the path of a rainforest that is typical of the region. 13:00 hrs. set sail through the Ferronave, Pilcomayo and Costa channels. 17:30 hrs. arrival at Punta Pescadores then disembark onto the beach of little stones walking 2 km to the south while enjoying the natural environment of fauna and patagonic flora. At 20:00hrs. weigh anchor to the South and at 22:00 hrs. arrive at Caleta Quesahuen or Punta Leopardos, 20 nautical miles from the San Rafael Glacier.
Day-4
San Rafael Lagoon, Quitralco Fjord and Iceberg viewing
MONDAY: 07:30 hrs. Cross the San Rafael Lagoon entrance and enter Tempanos channel. At 09:00 hrs. the ship enters the Lagoon and anchors 2 kms far from the Glacier. Boat excursions among multicolored icebergs will take place if the weather allows. At 15:30 hrs. the ship gets closer to the Glacier and at 17:00hrs set sail to the Quitralco Fjord.
Day-5
Quitralco Pier, Hot Spring Baths and motor boat inside the Fjord
TUESDAY : At 08:00 hrs. berth at the Quitralco pier. After breakfast, passengers can take hot springs baths where the water temperature rise up to 32º C and 38º C, in covered and outside pools. lf the weather allows boat excursions in motor boats through the inside of the fjord will take place. At 17:00 hrs. sail towards Chiloe, navigating through the Moraleda and Perez Norte channels.
Day-6
Leucayec Channel, possible whale watching and farewell party
WEDNESDAY: At 08:00 hrs. sail through Leucayec channel and get partial view of Melinka in the Chonos1 archipelago, that once was a shelter for fearsome pirates. Continue on to the Corcovado Gulf crossing. If the conditions allow there is a possibility of watching humpback whales and blue whales or Alfaguaras. Continue to sail through the oriental coast of the Chiloe lsland, arriving at 11:00 hrs. to lslote Conejos located at Queilén channel. Disembark on boats to see the surrounding area Magellanic penguins and numerous birds. At 13:00 hrs. set sail between Lemuy and Chelín islands arriving at Dalcahue at 17:00hrs. and disembark to visit the town. We recommend to visit the handicraft market, the Church, and walk along the promenade. At 23:00 hrs. set sail towards Puerto Montt. Farewell party, Captain's dinner and dance.
Day-7
Dock and depature Skorpios Terminal in Puerto Montt
THURSDAY: 08:00 hrs. Docked at the Skorpios Terminal pier in Puerto Montt. 09:30 hrs. Breakfast, disembarkation.

End of our services.

Note: The program and timetables may vary according to climate conditions. Likewise, debarkation and duration will depend on the authorization of the skipper, who will evaluate safety and ice conditions in each place.
Track Navigation



Download Itinerary CHONOS Route (PDF)

Pygmy miles
Pygmy Miles Total

Challenge

Hiking

Bicycle

Sustainability

Miscellaneous
Total Pygmy Miles
Pygmy Miles can be redeemed in 5,000 mile increments for a $25 discount off another trip with Pygmy Elephant or a $25 donation to a charity of your choice.
Accommodation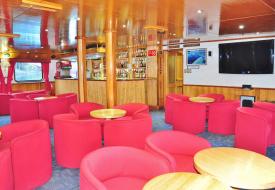 MS Skorpios II
Game rooms, reading rooms, bars for games, karaoke or reading, bilingual travel information with simultaneous translation of theme lectures, satellite telephones (consult cost); open television (when we have a signal); closed circuit television; and every possible comfort offered by a hotel service based on excellence.
Practical info
Pricing & Cancellation Policy
DECKS
ATENAS
ACROPOLIS
PARTHENON
OLYMPO
ATHOS
CABINS
SEASON
Pax Base Doble
Pax Base Doble
Pax Base Doble
Pax Base Doble
Pax Base Doble
SINGLE
LOW
3,000
HIGH
3,300
DOBLE
LOW
2,000
2,100
2,150
HIGH
2,200
2,300
2,350
TRIPLE
LOW
1,600
1,700
1,750
HIGH
1,700
1,800
1,850
DOBLE MATRIMONIAL
LOW
2,250
2,250
HIGH
2,450
2,450
CUADRUPLE
LOW
1,400
1,500
1,550
HIGH
1,500
1,600
1,650
SUITE JUNIOR
LOW
2,350
HIGH
2,600
SUITE MASTER
LOW
2,500
HIGH
2,800
Sailing Dates 2016-2017
LOW SEASON
HIGH SEASON
September 2016
17/09/2016
December 2016
24/12/2016
24/09/2016
31/12/2016
October 2016
01/10/2016
January 2017
07/01/2017
08/10/2016
14/01/2017
15/10/2016
21/01/2017
22/10/2016
28/01/2017
29/10/2016
February 2017
04/02/2017
November 2016
05/11/2016
11/02/2017
12/11/2016
18/02/2017
19/11/2016
25/02/2017
26/11/2016

The passenger may cancel and modify his voyage in accordance with the following fines and payments:

120 days before the cruise, no fine and 100% refund.
Between 120 and 60 days, USD 200 per person.
Between 59 and 50 days, 20% fine over the value of the ticket per person.
Between 49 and 40 days, 40% fine over the value of the ticket per person.
Between 39 and 30 days, 60% fine over the value of the ticket per person.
Between 29 and 16 days, 80% fine over the value of the ticket.
Between 15 and 0 days, 100% fine over the value of the ticket.

The above cancelation should be informed by e-mail, fax or telephone and confirmed in writing by registered mail on the same date of the communication, by means of a letter signed by the passenger which is the only valid cancelation document. The corresponding reimbursement will be made effective within 30 working days of the cancelation date.

December 2016
03/12/2016
10/12/2016
17/12/2016
March 2017
04/03/2017
11/03/2017
18/03/2017
25/03/2017
April 2017
01/04/2017
08/04/2017
15/04/2017
22/04/2017
29/04/2017