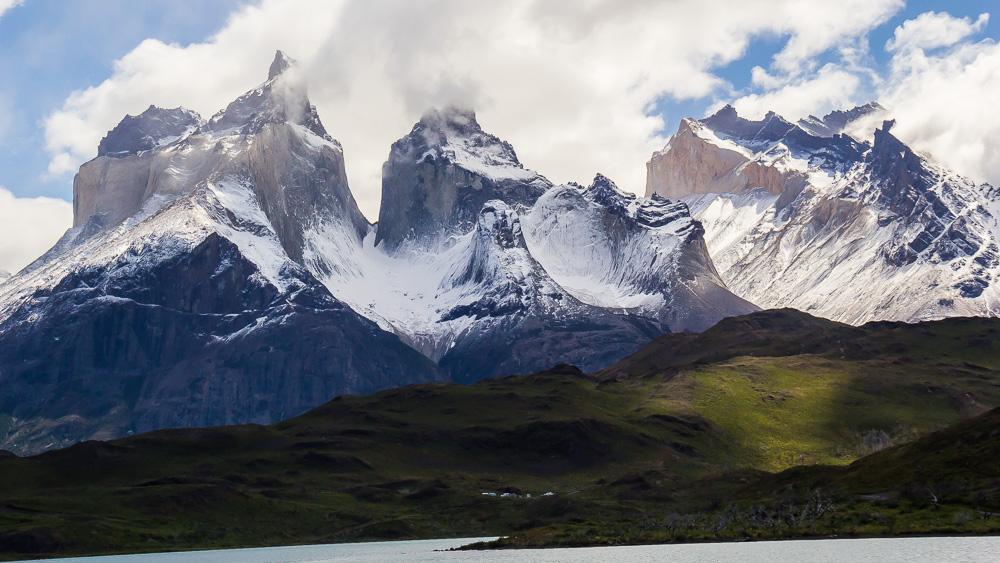 Punta Arenas, Puerto Natales and Torres del Paine, Chile
W-Trek and Multi-Sport Adventure in Patagonia
Patagonia
Self Guided W-Trek and Highlights of Magellan
Trip Details
Self-Guided Hiking and Guided Excursions
Price
From $2,600 to $3,600 USD per person
Experience
Experience
Itinerary
Pygmy miles
Accommodation
Practical info
Gallery
Inquire!
Experience
Journey
This tour combines hiking the self-guided W-Trek with other exhilarating activities in the area.
You'll navigate a kayak through icebergs, don crampons to tackle a glacier, sail amongst thousand year old glaciers, witness stunning wildlife and nature, and jump on the back of a trusty steed to explore the area around Puerto Natales.
We have a range of accommodation options - from camping and inns to private cabanas and 5-star hotels. As with all of our trips, we customize it to fit your budget, fitness and taste.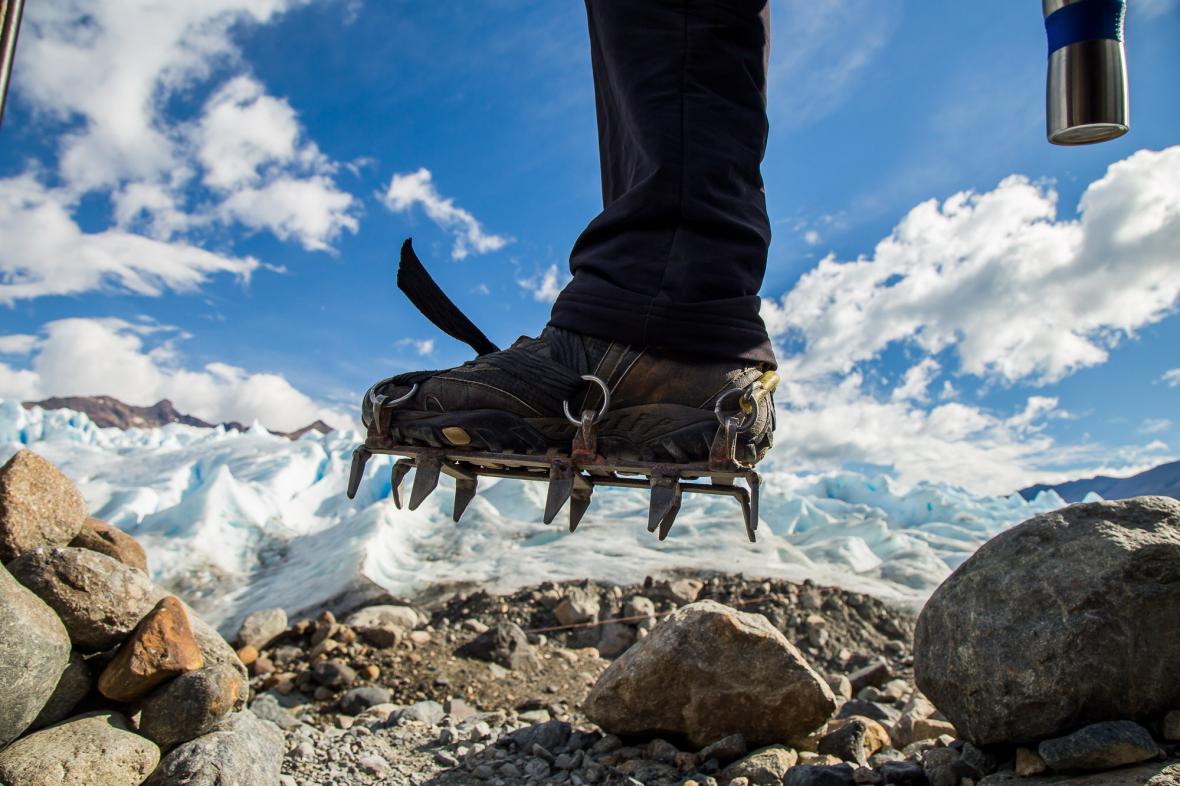 Activities

Trekking
You'll hike the W-Trek in it's entirety. See the Towers of Paine, Valley Frances and "Los Cuernos".

Kayaking
Navigate around icebergs on Lago Grey.

Horseback Riding
Hop on and ride to the top of Cerro Dorotea for a fantastic view of Puerto Natales and Last Hope Sound.

Wildlife Viewing
Depart Punta Arenas in search of sea lions and penguins. Hop off at Isla Madalena and walk amongst the penguin colony.

Mountaineering
Strap on your crampons and explore the gullies, rivers and ice caves of Glacier Grey.
And also
For the anglers, there is an opportunity to add fly fishing to the itinerary.
Place
Torres del Paine is a national park in the Chilean part of southern Patagonia. The park is located 70 miles (112 km) south of Puerto Natales and 194 miles (312 km) from Punta Arenas, the largest city in the region and where most travelers arrive. The peaks of the Paine Massif, the centerpiece of the park, reach up to 9,462 feet (2,884 meters). Several different species of wildlife can be found in Torres del Paine, including guanaco, rheas(a large ostrich-like bird), south Andean deer and foxes. The weather is unpredictable and it's often possible to experience four seasons in a single day. Especially remarkable is when snow that is produced above the mountains is pushed down to lower altitude, where the temperature is warm enough for a t-shirt. Quite a rare experience.
Puerto Natales is the closes city to Torres del Paine. Located on the Last Hope Sound, this small city allows access to it's own jewels including stretching pampas, glacier filled waters and look out points.
Punta Arenas is further south and is often the port of entry to Magellan Region. Here you can take several boat navigations to explore the wildlife at the end of the world.
Itinerary
Itinerary
During your time in Patagonia, you will hike the W-trek in its entirety, catching views of the eponymous towers, Paine Massif horns, panoramic of Valley Frances and icy waters surrounding Glacier Grey. Additionally, you will see the penguins of Isla Magdalena, Ice Hike on Glacier Grey, kayak on Lago Grey and horseback ride to Cerro Dorotea.
Day-1
Arrival in Punta Arenas
Today you arrive to the Magellan Region. You'll be picked up and transferred from the airport to your hotel in a private vehicle. Depending on when your flight arrives, there is an opportunity for a half day excursion. Otherwise, relax and get ready for your adventure tomorrow.
Day-2
Isla Magdalena Tour
Today, you will navigate though the Strait of Magellan to Magdalena and Marta Island. Magdalena Island hosts more than 150,000 penguins every year and Marta Island hosts around 1000 sea lions. Both islands form an interesting ecosystem. In addition to sea lions, Marta Island counts Cormorants, Skuas, Austral seagull, Antartic pigeon and Sea elephants among its inhabitants. Duration of tour 4:30 hrs. Afterwards, you will be transported to Puerto Natales.
Puerto Natales is located at the opening of Ultima Esperanza sound, this port city is the largest in the region. The morning is at your leisure. In the afternoon, your driver will pick you up at 14:30 and drive you to your excursion at the base of Cerro Dorotea. The excursion will last three hours; you will be back to the hotel shortly before dinner.
Day-4
Transfer, Navigation and Kayaking on Lago Grey
After a leisured breakfast, your private transfer will pick you up at you Hotel at 9:00 am. The transfer to the park will take approximately 2.5 hours. Once at the park, you will need to buy your entrance fee (21,000 CLP) and go through a short briefing. You'll then carry on to Lago and check in for your boat navigation on Lago Grey at noon (13:00 departure). You will sail for around 45 minutes and then disembark near Refugio Grey. After checking in at Refugio Grey, you will head down to base camp for your kayaking adventure. You will then kayak on Lago Grey in search of ice bergs and pristine nature. Afterwards, you will return to refugio grey for a restful evening.
Day-5
Ice Hike, then Hike from Refugio Grey to Paine Grande
After breakfast, you'll head back to Base Camp for your Ice Hike excursion. The Ice hike lasts approximately 5 hours. You will fist walk on the island called Islatak for about one hour. There, your guide will help you to adjust your equipment correctly. Prepared with an ice axe, crampons, helmet and harness you can start your ice hike adventure, walking for around 2.5 hours onto the Grey Glacier. There you will observe cracks, rivers, lagoons and tunnels. After your ice hike, you can have a quick bite to eat, however do not delay too much. You still have to hike to Paine Grande. You'll pass by floating ice bergs on this easy, yet undulating hike. After 3.5 hours, you will reach Paine Grande, your accommodation for the evening.
Day-6
Paine Grande to Dome Frances via Mirador Britanico
Today you will hike along Lago Skottsberg and then into Valley Frances. It takes about 2.5 hours to reach Campamento Italiano and another 1.5 hours from there to reach the first lookout, high above Lago Nordenskjold. On your left, you will see Glacier Frances, where frequent small avalanches take place. The noise booms throughout the valley, although the ice that breaks away seems much smaller than it should considering the noise. After ducking in and out of the forest, with sporadic views of Rio Frances below, you will eventually reach Campemento Britanico. In another 25 minutes, you will reach the lookout point, which is a highlight of the trek. Return via the same track to Campamento Italiano; Dome Frances is another 30 minutes from there.
Day-7
Dome Frances to Las Torres Base Area
After yesterday's difficult hike, today starts off much easier. After leaving the refugio, to your right are the milky waters of Lago Nordenskjold, and to the left, the mighty Los Cuernos unfolds it's horns, jagged peaks and dreamy waterfalls. Depending on your pace, you should arrive to Refugio Los Cuernos in around an hour and a half. From there, you'll continue skirting the lake and in a little over three hours, you will reach the Las Torres Base Area. Perhaps take a load off at Hotel Las Torres in some comfy leather sofas, whilst you sip one of their signature cocktails using ingredients from the region. Whatever you do, make sure to relax, as you have the hardest hike of your trip tomorrow.
Day-8
Trekking to Towers, Transfer to Puerto Natales or Punta Arenas
Today you will be hiking to see the iconic Towers (the ones that the park are named after). It's a challenging hike, since you will need to do a bit of light scrambling up some rocky areas. If it's been raining, then things can get very slippery. Take you time and be purposeful with your steps. But it's all worth it once you reach the towers, which rise magnificently into the cold, Chilean sky. After seeing the towers, head back down through Ascenscio valley to the las Torres Base Area. Your transfer is at 17:00. The transfer will depart from the Welcome Center, which is about 15 minutes from Hotel Las Torres.
Thanks for traveling with us. Make sure to grab a window seat on the flight to take in the magnificent Southern Patagonian Ice Field from a bird's eye perspective.
Pygmy miles
Pygmy Miles Total

Challenge

Hiking

Bicycle

Sustainability

Miscellaneous
Base Miles
You receive 1 Pygmy Mile for every $1 USD you spend with Pygmy Elephant.
Hike Miles
You receive 10 Pygmy Miles for every 1 mile hiked with Pygmy Elephant.
Challenge
Conquer the famed W-Trek and take part in exhilarating activities in Patagonia, including kayaking, horseback riding, and mountaineering.
Accommodation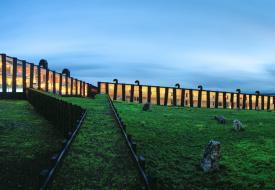 Remota Hotel
Puerto Natales
Our preferred four star partner in Puerto Natales, Remota is an upscale option located on the banks of the Ulimate Esperanza Sound. All of Remota's rooms invite guests to rest body and soul. The relaxing aroma of the lenga wood together with the light radiating from the heat-reflecting windows and the magnificent views of the fjord of Last Hope create perfect setting for comfort. Remota offers 72 wonderfully appointed, spacious rooms, all en suite, which measure 360 square feet / 34 square meters.
Read more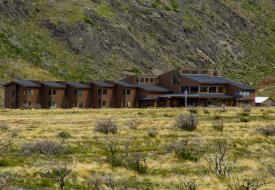 Paine Grande
Torres del Paine
Paine Grande is located at the drop-off point of the catamaran on Lago Pehoé. The building can accommodate 100 hikers in 22 dormitory rooms with bunk beds for 2, 4, or 6 people. The refugio has a restaurant, bar, lounge and shop with camping supplies. This refugio is a good overnight option if you choose to do an ice hike early on day 2.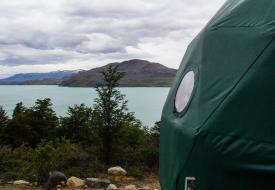 Dome Frances
Torres del Paine
Domos Frances is located approximately an hour west of Refugio Los Cuernos. It features 3 recently constructed domes with private bathroom for 8 people each (a shared bathroom and a dome). A nice feature of the domes are the individual outlets and reading lights attached to each bunk. Also, the view of Lago Nordenskjöld is perhaps the best view from any of the refugios.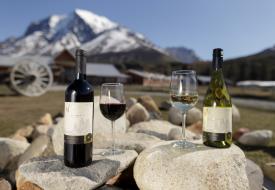 Hotel Las Torres
Torres del Paine
Situated close to the trailhead of the famous Towers Trek, Hotel Las Torres is a 4-star hotel in the heart of Torres del Paine National Park. The bar and lounge area is perfect for resting weary muscles after a day's hike, as is the onsite spa. Rooms range in size from 160 to 410 square feet (15 to 38 square meters). The view of the massif from the hotel will surely surprise even the most well traveled visitor.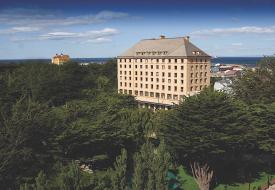 Hotel Cabo des Hornos
Punta Arenas
Located in the heart of the historic town of Punta Arenas, Chile, Cabo de Hornos Hotel blends avant-garde interiors, cozy ambiance and stylish guest rooms with marvelous views of the Punta Arenas cityscape and the Strait of Magellan
Practical info
When
not available
average
optimal
Most people complete the W-Trek during the southern hemisphere's spring through fall months, between October and March. It is also possible to complete the trek in winter, but a guide is recommended. Peak travel is in January and February. Expect rain almost daily, along with sun, possible snow and high wind. In fact, just expect all four seasons in one day.
How
Self guided does not mean you are alone. We help you coordinate and plan your trip beforehand. Once you are on the trail, we provide 24-hour customer service in case there are any urgent issues with your bookings.
We can also arrange private guides for this itinerary.
Service categories
PYGMY ITINERARY BENEFITS
Price Transparency:

see where your money is going with line-item pricing

Never Lose Your Deposit Guarantee

: 50% refund, 50% credit to future trip

Customized Handbook with Journey Details

: maps, elevation profiles, tips and more

Destination Book Digital Travel App

: everything in your handbook, in digital form

One Year Premium GAIA GPS Membership

: your GPS routes, on your phone

Complete Itinerary Customization

: build the trip you want to take

Special Meal Requests

: we'll help you stick to your diet of choice

Before-You-Go Email Series

: helpful emails to get you prepared for your trek

Transportation Options Information

: timetables, routes and contact info

24/7 Phone Support for Urgent Issues

: give us a call if anything goes wrong

WhatsApp Support (9 AM to 5 PM, ET)

: rapid response to your inquiries

Email Support (24-hour turnaround)

: answers for not-so-urgent questions

Virtual Pre-Hike Briefing

: one-on-one briefing with your travel consultant

Baggage Transfers (where applicable)

: your bags, delivered to your accommodation
Challenge Level
Technical Ability
Level : Low
Mental Strength
Level : Low
Physical Conditioning
Level : Medium
Paths are well marked, however previous hiking experience recommended as terrain is rocky and uneven. Those without experience may be more comfortable in a guided hike.
Mental strength is rated at low because of the high level of comfort involved in this itinerary.
The hiking is challenging, however only treks into Valle del Frances, the towers and Fitz Roy have much elevation change. Still, only those in good physical health should book this trip.
Price
Starting at $2,600 to $3,600 USD per person based on season, accommodation and transfer type
Please ask for a quotation for an exact price!