Puerto Natales, Chile
Remota Patagonia Lodge
Patagonia
A Lodge to Set your Mind Adrift
Trip Details
Group Excursions
Price
From $235 (B&B) to $850 (All inclusive) per person, per night
Experience
Experience
Itinerary
Pygmy miles
Accommodation
Practical info
Gallery
Inquire!
Experience
Journey
Remota is a luxury lodge that incorporates the Patagonian environment into its concept. The lodge is designed to both mimimize the impact on the eco system and blend aesthetically within the patagonian pampas. You may even notice a sheep or two grazing pastorially outside the vaulting windows. Additionally, all of their 30 daily excursions are structured sustainably. Tours can be done by vehicle (4x4), horseback, bicycle, or walking, sailing the fjords; it all depends on the guests preference and the area they would like to visit. The rooms are large at 334 sq. feet with modern furnishings. Remota also features spacious and comfortable common areas, heated indoor pool, sauna, outdoor hot-tubs and spa. A perfect stay for those that wish to explore more than Torres Del Paine and see parts of Patagonia that few tourists have visited. Conveintly located on the outskirts of Puerto Natales.
Activities

Trekking
There are a number of trekking opportunities, from leisured walks to difficult scramble - a hike through the Valle of Ascencio and up to the Base of Las Torres is without a doubt a challenge to anyone that likes trekking.

Mountain Biking
There are also a few different mountain biking excursions -Balmaceda Lake, Obstruction Sound . and Torres Del Paine to name a few. Be ready to cross great Patagonian ranches (estancias), peat-moors, old lenga forests and blue lagoons.

Horseback Riding
A trip to Patagonia wouldn't be complete without jumping on the back of a trusted stead.

Kayaking
There are two different kayaking excursions available. Choose between navigating between icebergs on Grey Glacier or through the historic Los Pioneros Fjord.

Boat
There are two different boating excursions available. One to the Last Hope Sound inside of Bernardo Higgins National Park and one Lake Grey, where you may see a glacier calf.
Climbing
For those with a taste for adrenaline, you will have the opportunity to summit Cerro Castillo (Castle Mount) from where we will have a panoramic view of a great part of the province. One of the most challenging excursions but at the same time rewarding, of the Remota experience.
Place
Remota is located near the Southern Patagonian ice field in Puerto Natales, Chile. Puerto Natales is the largest town in the area and the jumping off point for many excursions into Patagonia including Torres Del Paine, approximately 2 hours away. One of the advantages of staying at Remota is that it offers not only trips into Torres Del Paine, but also activities of a wider nature like trips to the Milidon Caves, visits to Gauchos at Estancias and excursions to Bernando Higgins National Park.
Itinerary
Itinerary
Remota offers guests a variety of ways to enjoy their hospitatlity. The right option depends on your budget, time contraints and actvitiy level. Below a brief summary of their options:
Bed and Breakfast option (Double, per room per night): $270 April to September $350 October to March
Half board includes Breakfast and choice of Lunch or Dinner (Double, per room per night): $380 April to September $450 October to March3
Soft Adventure Program (all inclusive tours, transfers, food and drinks): From 3 nights $1,800 per person
Hard Adventure Program (all inclusive tours, transfers, food and drinks): From 3 nights $2,250 per person
Fly Fishing Programme (all inclusive tours, transfers, food and drinks): From 3 nights $2,350 per person
Soft Program Includes:
Accommodation in our superior rooms.
Daily excursions with english speaking Guide (A choice of one full day excursion or two half day excursions from our SOFT excursion menu).
1 boat trip excursion during your stay.
Daily transfers from Punta Arenas to Remota in our own vans at 2 pm.
Daily transfers from Remota to Punta Arenas in our own vans at 9 am.
For other arrival and departure times we offer transfers on scheduled bus services (information provided upon request).
Transfers from and to El Calafate will be provided on regular bus services at 7 am. daily.
Daily meals (Breakfast, Lunch, Snacks and Dinner a la carte).
Unlimited beverages ( Includes: a selection of Chilean Wines and house spirits, mineral water, fruit juices and soft drinks).
Access to all our common areas, swimming pool, sauna and Jacuzzis.
Adventure programme includes:
Hard Adventure Program includes all the above, plus:
You can choose from one of the many full and half day excursions from our SOFT & ADVENTURE excursion menu.
Daily transfers from Remota to El Calafate at 9 am.
Daily transfers from El Calafate from 9 am until 2 pm.
Additional nights are possible. Download the Hard Adventure Program excursions below.
Pygmy miles
Pygmy Miles Total

Challenge

Hiking

Bicycle

Sustainability

Miscellaneous
Base Miles
We give you one Pygmy Mile for every dollar you spend. That's 2,250 Pygmy Miles for the three night Hard Adventure Program.
Transfer from Punta Arenas to Puerto Natales
Most people will fly into Punta Arenas and transfer to Puerto Natales via private van or bus (another alternative is via El Calafate in Argentina). We give you 1 Pygmy Mile for every mile driven.
Trekking
There are 30 different excursion available for you to take. We estimate that you will trek approximately 10 miles a day. We give you 10 Pygmy Miles for every mile you hike.
Sustainability and Responsible Tourism Bonus
All of Remota's buildings are in perfect harmony with the environment and the local culture, from its well-recognised sustainable architecture, to the way that all the more than 30 excursions –offered daily - are restructured and created so that they cause minimum impact to the local ecosystem.
Accommodation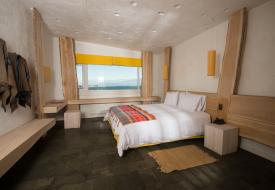 Remota Patagonia Lodge
Puerto Natales, Chile
All of Remota's rooms invite guests to rest body and soul. The relaxing aroma of the lenga wood together with the light radiating from the heat reflecting windows and the magnificent views to the fjord of Last Hope are the perfect setting for perfect comfort. Remota offers 72 wonderfully appointed, spacious rooms. All en-suite that measure 34m2 / 360 ft2 .
Practical info
When
not available
average
optimal
Most people complete the W-Trek during the southern hemisphere's spring through fall months, between October and March. It is also possible to complete the trek in winter, but a guide is recommended. Peak travel is in January and February. Expect rain almost daily, along with sun, possible snow and high wind. In fact, just expect all four seasons in one day.
How
You will join other Remota Patagonia Lodge guests on daily excursions.
Service Category
Pygmy Elephant will help you understand Remota's product offering and can combine Remota with other activities, transfers, tours, hotels and lodges.

Pygmy Elephant also provides all clients booking Remota with:
24-hour customer service
Best Price Guarantee
Expert Consultation
Pygmy Miles
Challenge Level
Technical Ability
Level : Low
Mental Strength
Level : Low
Physical Conditioning
Level : Low
Remota Patagonia Lodge offers a range of activities, from boat tours to pulse-pounding bike rides.