Icelandic Highlands
Laugavegur: In Lux and Style
Iceland
Across the Icelandic Highlands in 4 Stages
Lodging
Hotel, Mountain Huts
Price
From $3,350 USD per person
Transport
Private Transfers, Public Transfers
Experience
Experience
Itinerary
Pygmy miles
Accommodation
Practical info
Gallery
Inquire!
Experience
Journey
The Laugavegur Trail in the wilds of Iceland is without question the country's most popular hiking trail, each summer attracting thousands of foreigners and locals alike. Laugavegur, literally "pool road", has been in continuous use since the mid-1970s, when the Ferðafélag Íslands (Iceland Touring Association, or FÍ) combined a number of already-popular trails into a multi-day trek. The trail runs north to south from Landmannalaugar to Thórsmörk, cutting a meandering line through some of the most breathtaking natural displays of beauty in the Icelandic highlands: mountains of every color, verdant valleys, pounding waterfalls, rushing rivers, high glaciers, bubbling hot springs, ice caves, and more.
In comparison to other multi-day hikes, like the Camino de Santiago and Tour du Mont Blanc, the Laugavegur is short at a mere 34 miles (55 km). Daily stage lengths are reasonable, and the elevation change is manageable. This hike is not to be underestimated, however. The otherworldly beauty of Iceland's highlands is matched only by its rugged trail conditions and wildly unpredictable weather. You will have to reckon with sharp, volcanic rock, steep descents, gusting wind, and pea-soup fog that obscures the trail. But if the sun is out and snow is sparse, hiking conditions might even be described as "easy" (a relative term).
Though the standard itinerary is a short 4 nights, it can easily be extended. The huts at the starting and ending points in Landmannalaugar and Thórsmörk are both large and comfortable and access a number of fantastic day hikes that will up your total distance traveled. The valleys around Thórsmörk in particular are some of the most beautiful we've seen, though they are yet more rugged than the main trail. Some hikers even choose to continue south to the Fimmvörðuháls hut and then on to Skógar, home of the famed waterfall Skógafoss.
No matter how you choose to hike the Laugavegur, FÍ has this advice for you: "Hope for the best, prepare for the worst, and try to enjoy the trip regardless of how it turns out."
Itinerary options
Adjusting the hike to your budget and preferences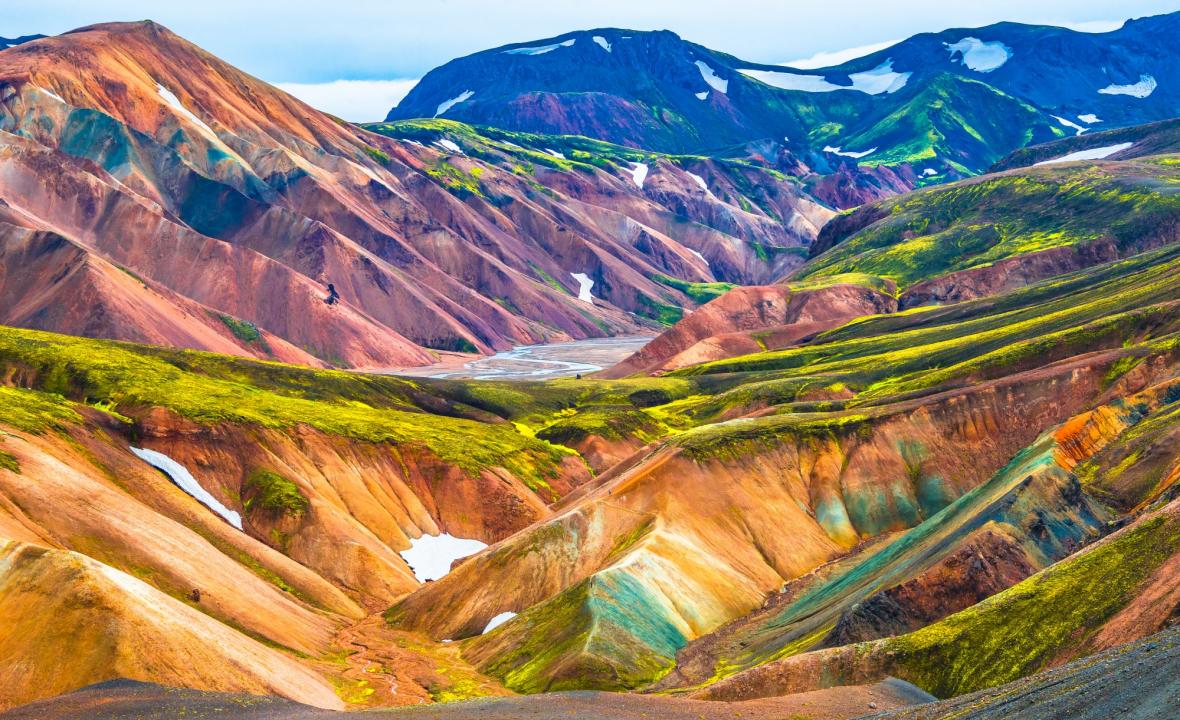 Some of the world's most alien terrain, including technicolor mountains
Activities

Trekking
Hike 34 miles (55 km) across Iceland's rugged highlands.
And also
View some of the world's most alien terrain, including technicolor mountains, rough lava fields, and steaming hot springs.
Place
The island of Iceland sits on the Mid-Atlantic Ridge, where the Eurasian and North American tectonic plates are pulling apart from each other. It is one of the most volcanically active places on Earth and home to a few dozen live volcanoes, with eruptions occurring every four years on average. This volcanic activity, together with Iceland's proximity to the Arctic Circle and the high altitudes of its inner reaches, are what makes Iceland's Highlands so rugged. They are mostly an uninhabitable volcanic desert, where precipitation runs off too quickly for any plant life to take hold, except in certain oasis-like pockets. Indeed, 80% of the island is uninhabited, with most Icelanders choosing to settle on the fertile lowlands and coast, where conditions are relatively mild. The result is huge plains, valleys, and mountains of rough, volcanic rock and ash -- mostly grey, black, or brown, but punctuated with flashes of blue, green, orange, and red. Volcanoes still penetrate through to the surface here, which is why you'll see plenty of steam and bubbling springs on the Laugavegur. And in fact, you'll pass right by the volcano Torfajökull, which hasn't erupted in over 500 years but is still active!
Itinerary
Itinerary
Pick up at airport and transfer to your hotel in downtown Reykjavik.
Day-2
Day at Leisure in Landmannalaugar
Start your day with a private transfer from Reykjavík to Landmannalaugar. Once you arrive, you'll have a few hours to explore the area and prepare yourself for your trek the following day. Consider hiking one of the excellent, shorter trails in the area, or take a dip in the small hot springs a short walk away from the main lodge.
Day-3
Landmannalaugar to Hrafntinnusker (5.1 hours | 10.6 km / 6.6 mi | elevation ⇅ - 648 m / 2,126 feet)
The first day of hiking is the shortest in terms of distance, but is often ranked as the hardest because of ascent and weather: you will climb about 500 meters over the course of 10 km in an area with notoriously unstable conditions. The trail first crosses the rough lava field of Laugahraun, which allows for nice views of the surrounding countryside in its technicolor beauty, and then turns left and skirts the lava field as it climbs the side of Brennisteinsalda to a magnificent viewpoint. About 2 km later you will reach a 3-km long plateau, from which you can see numerous ravines that have been cut out of the soft bedrock by water. Stórihver marks the end of the plateau and the beginning of the final, moderate climb up to Hrafntinnusker, which is about 3 km long.
Day-4
Hrafntinnusker to Álftavatn (4.9 hours | 11.3 km / 7 mi | elevation ⇅ - 705 m / 2313 feet)
This stage is usually ranked as the easiest, though the total descent is significant and at times quite steep. If you have time, consider exploring the hot springs in the gorge between the hut and Hrafntinnusker mountain. The main trail starts into a valley at the foot of Reykjafjöll; take caution, as the ravines here are often filled with snow. A steep climb out of the valley puts you at the foot of the Kaldaklofsfjöll mountains. For about the next 2.5 km, you will descend and ascend several ravines before finally coming to the edge of Jökultungur, where vegetation increases significantly. You might want to tie your boots tight here, as the trail down Jökultungur descends about 240 meters in less than 1 km. After reaching and crossing Grashagakvísl river, the trail levels out (mostly) for the remaining 3.5 km to the Álftavatn hut.
Day-5
Álftavatn to Emstrur (5.8 hours | 16.2 km / 10.1 mi | elevation ⇅ - 426 m / 1398 feet)
This section first heads east from Álftavatn before turning south and meandering over Brattháls and down to Bratthálskvísl, the first of today's two required river crossings. Your reward is 80 meters of ascent to a beautiful panorama, then a descent to the Hvanngil Hut, where you can use the facilities. About 1 km later you'll cross Kaldaklofskvísl via bridge, and 0.5 km after that, Bláfjallakvísl by foot. The next 3.5 km are mostly flat, with a short ascent and descent before Innri Emstruá. The bridge here occasionally experiences some water overflow, which might require wading. A small climb later you will see the twin mountains called Útigönguhöfdar; the trail passes between them. Another 3 km of hiking brings you to the cliff overlooking the Botnar huts at Emstrur. The final descent to the huts is steep but short.
Day-6
Emstrur to Thórsmörk (7.2 hours | 16.6 km / 10.3 mi | elevation ⇅ - 931 m / 3054 feet)
Today's stage is the longest of the tour, both in time and distance. The day starts with a detour east to a suitable crossing point over the Sydri-Emstruá gorge. Take your time when approaching and crossing the bridge here, as the descent is quite steep. The trail then heads west for about 2 km along the Sydri-Emstruá until it joins the Markarfljót river, and then turns southwest in the direction of Langidalur. About 2 km later you will cross the Slyppugil ravine, and less than 1 km later, the Bjórgil ravine. You will then descend moderately for the next 5 km to the beautiful Ljósá river gorge before a steep, 1-km ascent to Kápa, the last steep slope of the Laugavegur. Descend for the next kilometer until you reach Thröngá, the trail's final river crossing. You will come out into a very pleasant wooded area, which you will get to enjoy for a short 30 minutes before reaching your destination at Langidalur.
Day-7
Day at Leisure in Thórsmörk
Start with a hike to the top of one of the many surrounding mountains, offering stunning panoramic views of the surrounding glaciers, valleys, and rivers. After the hike, relax and enjoy a picnic lunch while taking in the peaceful and serene surroundings. Explore the area's many hiking trails, each with its own unique features, such as waterfalls and lava formations. Thórsmörk is also home to a variety of wildlife, including birds and reindeer, which can be spotted throughout the day. In the evening, visitors can relax and enjoy the peaceful atmosphere while taking in the beauty of the starry night sky, a perfect end to a day spent in the wilderness of Thórsmörk.
Pick up and private transfer back to Reykjavik on your schedule.
Pygmy miles
Pygmy Miles Total

Challenge

Hiking

Bicycle

Sustainability

Miscellaneous
Base Miles
You earn 1 Pygmy Mile for each $1 you spend with us.
Hiking Distance
Earn 10 Pygmy Miles for every mile that you hike. Get fit and get rewarded.
Accommodation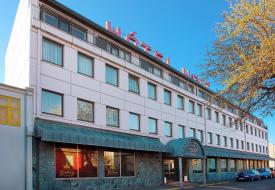 Hotel Holt
Reykjavík
Hotel Holt is a boutique hotel located in the heart of Reykjavik. It is known for its elegant and sophisticated décor, with an extensive collection of artwork and antique furniture displayed throughout the building. The rooms are spacious and luxurious, featuring comfortable beds, stylish furnishings, and modern amenities. The hotel also offers an excellent dining experience, with a renowned restaurant serving Icelandic cuisine made from locally sourced ingredients.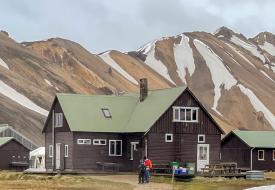 Skáli Ferðafélags Íslands
Landmannalaugar
Whether you're spending the night here or just stopping by, the Landmannalaugar hut is a great introduction to the contrasts of the Laugavegur trail. The hut, the largest and one of the most developed on the trek, is perched on a small patch of green where Norðurbarmur mountain to the east and the Laugahraun lava field to the west squeeze the wide alluvial plain of the Jökulgilskvísl. The vegetation around the hut is watered by the hot spring Brennisteinsalda, which also warms a nearby creek where hikers like to take a relaxing dip. Landmannalaugar hut has a kitchen equipped with hot and cold running water, a big charcoal grill outside, and a large, separate toilet and shower house.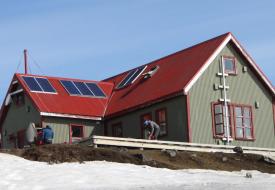 Höskuldsskáli
Hrafntinnusker
Of all the words that come to mind when describing the setting of the Hrafntinnusker hut, "scenic" is probably not one of them. Still, there is a certain raw beauty to the rolling, rocky hills and mountains in the nearby landscape, which only adds to Iceland's "otherworldly mystique". At 1,100 meters in elevation, it is the highest hut in the Laugavegur network by a factor of two. It is purpose-built to withstand the harsh conditions at this altitude; it's not uncommon to see the hut buried to its eaves in snow into June. The hut provides gas stoves and cold, running water in the kitchen, but you will find no showers here, and only latrines in an adjoining toilet hut.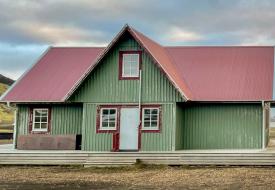 Skálarnir við Álftavatn
Álftavatn
What's this, a restaurant, a bar? In this wilderness? No, your eyes do not deceive you; the Álftavatn trailhead is the only location on the main Laugavegur trail with a restaurant that serves hot meals and refreshing drinks (run by the Volcano Trails company). The two FI huts nearby house a total of 72 people, with kitchens in both buildings, equipped with gas stoves and cold, running water. Like the hut at Landmannalaugar, the Álftavatn huts are located on a wide, flat plain, walled by mountains, and terminating at Lake Álftavatn. In summer the valley floor and walls are covered with grass and moss, a pleasant change from the pure rocky highlands at Hrafntinnusker.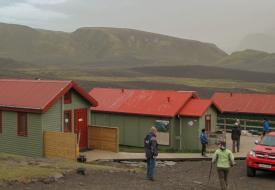 Botnaskáli
Emstrur
The Botnar hut on Emstrur marks a transition in the Laugavegur from high plateau to the rolling hills and canyons that take you to Thórsmörk. Botnar is actually three identical huts linked by walkways, each outfitted with a kitchen and able to accommodate 20 people on double bunk beds, for a total of 60. The adjoining toilet house is where you'll find the showers. The views from the Botnar huts are good but not spectacular, as the cliff behind them and the hills in front of them obscure the scenery. But just a short walk away there are spectacular viewpoints into the colorful canyon carved by the Markarfljót river.
Volcano Huts
Thórsmörk
The Volcano Huts are a collection of cozy and rustic cabins located in the heart of the stunning Icelandic wilderness. They provide a comfortable base for hikers and outdoor enthusiasts looking to explore the natural beauty of the area. The cabins are designed to blend in with the natural surroundings and offer a unique and authentic experience for guests. The huts offer a range of accommodation options, a communal kitchen and dining area, and a variety of activities, including guided hikes, horseback riding, and glacier walks.
Practical info
When
not available
average
optimal
The Laugavegur trek is possible only in the summer months, when the Icelandic Road and Coastal Administration has opened the roads to Landmannalaugar and other huts on the trail. In general, this means from late June to mid September. At this time, the huts are open and the trail is less covered by snow and ice, but snowstorms are still possible early or late in the season. July to mid August is the most popular time to hike the trail, when temperatures are at their warmest and the sun shines nearly 24 hours a day.
How
Self guided does not mean you are alone. We help you coordinate and plan your trip beforehand. Once you are on the trail, we provide 24-hour customer service in case there are any urgent issues with your bookings.
Service Category
PYGMY ITINERARY BENEFITS
Price Transparency:

see where your money is going with line-item pricing

Never Lose Your Deposit Guarantee

: 50% refund, 50% credit to future trip

Customized Handbook with Journey Details

: maps, elevation profiles, tips and more

Destination Book Digital Travel App

: everything in your handbook, in digital form

One Year Premium GAIA GPS Membership

: your GPS routes, on your phone

Complete Itinerary Customization

: build the trip you want to take

Special Meal Requests

: we'll help you stick to your diet of choice

Before-You-Go Email Series

: helpful emails to get you prepared for your trek

Transportation Options Information

: timetables, routes and contact info

24/7 Phone Support for Urgent Issues

: give us a call if anything goes wrong

WhatsApp Support (9 AM to 5 PM, ET)

: rapid response to your inquiries

Email Support (24-hour turnaround)

: answers for not-so-urgent questions

Virtual Pre-Hike Briefing

: one-on-one briefing with your travel consultant

Baggage Transfers (where applicable)

: your bags, delivered to your accommodation
Challenge Level
Technical Ability
Level : Medium
Mental Strength
Level : High
Physical Conditioning
Level : Medium
Technical ability is rated as medium because the path is generally well marked and easy to follow. Previous hiking experience is strongly recommended, however, as loose, ashy sand predominates throughout the trail. There will also be a few river crossings that cannot be avoided, and, though the water is generally shallow, it can still be a slog to get through.
Mental strength level is difficult to estimate because it depends so much on the weather, which is unpredictable and extreme. We've rated it as high because it's possible to experience wild storms in the middle of summer, pea-soup fog that obscures the trail, and multiple feet of packed snow at higher altitudes. There is also a lack of creature comforts in the huts, like bedding and fresh food.
Physical conditioning is rated as medium: though there are steep ascents and descents that can be challenging, the stages are on the shorter side and are often flat for long distances, offering a chance to catch your breath. However, there are no stage-to-stage baggage transfers on the Laugavegur, so you must be capable of carrying your gear for the entire trek.
Price
Starting at $2,150 per person, based on double occupancy
After initial consultation, we will customize your itinerary to meet your fitness level, budget, accommodation wishes and schedule. Depending on the journey, it might be possible to skip stages, rearrange their order, substitute accommodations, and add or subtract transfers. Find more information on the base itinerary and possible customizations below.
Base itinerary
Private airport transfers
Private transfers to Landmannalaugar and back to Reykjavík
Extra day in Landmannalaugar to enjoy the hotsprings
Extra day at leisure in Thorsmork to explore
Three nights accommodation in highland huts
One night private accommodation in Reykjavík
Two nights private accommodation in Volcano Huts in Thórsmörk
Customizations
Increase or decrease number of hiking days, depending on fitness and motivation
Side hikes throughout itinerary, depending on fitness and motivation
Optional Add-ons
Blue Lagoon entrance
Day tours from Reykjavík
Not Included
Meals
Airfare
Incidentals
Alcohol
Travel insurance