Camino de Santiago
León to Santiago de Compostela in 13 Stages
Price
From $2,000 USD per person
Transport
Private Transport, Baggage Transfers, Your Feet
Experience
Experience
Itinerary
Pygmy miles
Accommodation
Practical info
Gallery
Inquire!
Experience
Journey
The Camino de Santiago harks back to a different era—a pilgrimage that has captivated the hearts and souls of walkers for a millennium. In the past , the Camino started and ended at the doorsteps of pilgrims. Today, the most popular route is along the "Camino Francés".
The complete Camino Francés takes a month to complete. We know it's hard to find that much time in today's busy world. That's why we created this tour to fit nicely into a 2-week holiday. Our itinerary begins in León, the halfway point between the border of France and Santiago de Compostela.
Still, do not be fooled by the 13 stages—you will have a challenge in front of you! You'll be hiking 195 miles (312 km) self-guided and need to be both physically and mentally fit.
You will be welcomed at charming guest houses, 4-star properties, albergues and, to cap it off, the 5-star Parador in Santiago de Compostela. The parador is a treat that you deserve after completing the tour. You'll connect with people from around the world and enjoy the rich culture and food of Northern Spain.
As with all of Pygmy Elephant's self-guided itineraries, it is completely customizable to fit your preferences.
Buen Camino!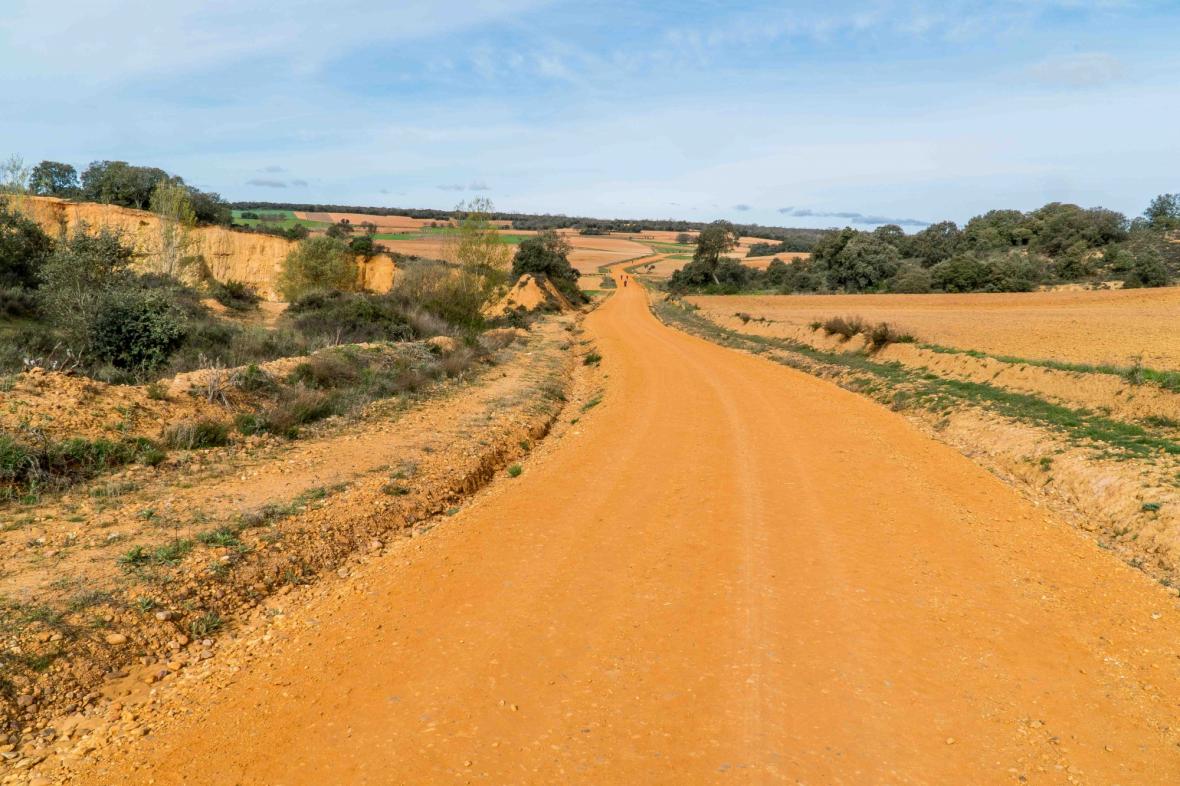 Activities

Trekking
You'll walk 195 miles (312 km) from León to Santiago de Compostela.

Gastronomy
Typical dishes include pulpoá feira, empanada, tarta de Santiago and many seafood dishes!

Cultural Immersion
The Camino intertwines with history, the landscape of the region and the international composition of its pilgrims.
Place
The Way of St. James
El Camino de Santiago refers to any pilgrim road to Santiago de Compostela that culminates at the Cathedral of Santiago de Compostela, a church in the city center. Traditionally, pilgrims make this by non-motorized means, either hiking, biking or even by horseback. There are many roads all over Europe that can be taken; some marked paths start as far as Italy and Austria. Some pilgrims still start their trek from the doorstep of their homes as ancient pilgrims did. This is made possible by the network of roads which is much more like a river system, where smaller roads meet up to form larger ones. Still others decide to make their way to the border between Spain and France and start their journey there. The most popular route starts at St John Pied-de-Port and runs 497 miles (800 km) through the Pyrenees, the vineyards of Rioja, the Castilian meseta and the mountains of Galicia. The last 217 miles (350 km) of the Camino Francés is featured in this itinerary.
Itinerary
Itinerary
Welcome to Spain! You will spend your first night in the Hotel Real Colegiata San Isidoro, built in the 11th-century San Isidoro Colegiate complex in the historic center of León. Take a moment out of your day to collect your Credencial in the adjoining Museum of St. Isidoro, without which you won't be able to collect your Compostela.
Day-2
Léon to Villar de Mazarife (21.3 km)
You'll start your pilgrimage passing the elaborate Cathedral of León and then continue your hike to the outskirts of the city. Once in the scrubland of the páramo, you will soon leave the bustle behind. After leaving the city, there will be few facilities. Make sure to fill up on water and take some snacks with you before departing.
Day-3
Villar de Mazarife to Astorga (28.5 km)
Today, you should get into the swing of the Camino. Enjoy a tortilla pincho before setting out, perhaps at Tío Pepe and in around 3.5 hours you'll hit Hospital de Orbigo, a great place to stop for lunch. Power up, because you'll then hike another 3 hours to Astorga. Shortly before reaching the city, make sure to say hi to David, who runs a small, open air bodega of free food (you can contribute as well). He also has beds in the back and it's a good place to chat with other pilgrims.
Day-4
Astorga to Rabanal del Camino (20.6 km)
Take time in the morning to enjoy the Gaudí masterpiece of Palacio Episcopal, as the sun paints it golden in the morning. Afterwards, start your slow climb to Rabanal del Camino. In the evening, you can hear the Gregorian chants of the Benedictine monks at San Salvador del Monte Irago.
Day-5
Rabanal del Camino to Molinaseca (25.6 km)
Today will be a memorable day. You'll be heading over Cruz de Ferro, which sits at 4,938 feet (1,505 meters), and Alto Altar 4,970 feet (1,515 meters), the highest point of the pilgrimage. At Cruz de Ferro, a monument of cairn stones will await your contribution, so make sure to bring a rock to place nearby. You'll notice pictures, notes and other keepsakes that commemorate loved ones lost who found solace in the Camino. Take pause and connect with your own journey here.
Day-6
Molinaseca to Cacabelos (23.5 km)
Today does have some road walking, so why not make use of the plethora of small bars and cafes you'll find along the way? Stop often for a coffee or fresh-squeezed orange juice. You're in no hurry. Once you reach your hotel in Cacabelos, enjoy the zero km offering of food sourced locally.
Day-7
Cacabelos to Las Herrerías (28 km)
Today is relatively flat. Enjoy it, for tomorrow will be a steep uphill climb that will challenge you. The star of the day, however, you'll find at the end. Your accommodation overlooks a wide pasture and the restaurant received a Michelin recommendation.
Day-8
Las Herrerías to Triacastela (28 km)
Take your time today, as the first section is quite steep. Your reward sits in O Cebreiro, an ancient town with round, thatched roof buildings. If you've made an early start, it's not unusual to see fog blanket the surrounding area like a sea of cotton. The end of the day will be a descent to the town of Triacastela.
Day-9
Triacastela to Sarria (18.7 km)
Today, you have two paths to choose from. You can either head to Samos, to see one of the oldest and largest Benedictine monasteries in Spain, or go via the more direct, nature driven route with more elevation gain to San Xil. If you decide to take the detour to Samos, add on an additional 4 miles (6.4 km) to your day's hike.
Day-10
Sarria to Portomarin (22.7 km)
Today, you will cross the important, but somehow arbitrary, 100 km mark to Santiago. The hike is pleasant, with elevation gain at the beginning and elevation loss at the end. Most of the trek is on a forested path. A good number of hamlets can be found along the way to power up with tortilla pinchos and assorted Spanish fare.
Day-11
Portomarin to Palas de Rei (24.6 km)
A peaceful day, with ample refreshment stops along the way. A short, 1 km detour is recommended at Castromaior. There, old roman ruins dating back to the 4th century BC can be found. Another point of interest is at Vilar de Donas, a 14th century church with stone effigies of knights and unique frescoes with peculiar and somewhat haunting expressions.
Day-12
Palas de Rei to Arzúa (29.4 km)
There are several river valleys to be crossed today, however do not fear the elevation gain—It is minimal. A highlight of the day will surely be in Melide, where pulpo is a staple. Our favorite pulperíais Ezequiel. Grab a seat at the communal tables and be on the lookout for the cook with an octopus tattoo.
Day-13
Arzúa to O Pedrouzo (20.8 km)
The second to last day of your Camino will take you to the outskirts of Santiago de Compostela. The path is good and there is very little road walking. We enjoy staying in Pedrouzo, a small and quiet hamlet, before entering Santiago. Santaia is a perfect respite before the modern world crashes down in Santiago de Compostela.
Day-14
O Pedrouzo to Santiago de Compostela (20.1 km)
The first part of your last day is pleasant enough. A rolling hill or two can be found as you pass by the airport. Once you reach Monte do Gozo, it's all asphalt from there to the city center. Try to free your mind from the hustle of the city. Perhaps take time for reflection. How far have you come? What have you learned? Are there thoughts that still swirl around unanswered? Maybe you haven't found all the answers, but hopefully you know what the important questions now are. Ponder these questions and more in the gorgeous Hostal de los Reyes Católicos, your accommodation for the night.
Pygmy miles
Pygmy Miles Total

Challenge

Hiking

Bicycle

Sustainability

Miscellaneous
Base Miles
You earn 1 Pygmy Mile for each $1 you spend with us.
Hiking Distance
You earn 10 Pygmy Miles for every mile that you hike. Get fit and get rewarded.
Compostela
Completing the hike and gaining your Compostela is a reward in itself, however will throw a little on top just to make it that much sweeter.
Accommodation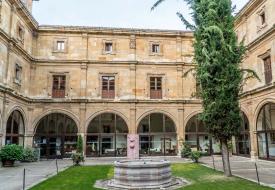 Hotel Real Colegiata San Isidoro
León
Centrally located, this restored convent enchants its visitors with endless hallways, original masonry and spacious courtyards. It is not only a hotel but also features a museum and temple. It's a unique property sure to frame your perspective correctly from the very first night!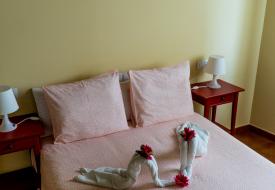 Albergue San Antonio de Padua
Vila de Mazarife
A small and intimate albergue, it still has the added benefit of private rooms. A great place for your second night to enjoy the company of other walkers on the camino. Meals are served in a communal setting and half board can be included.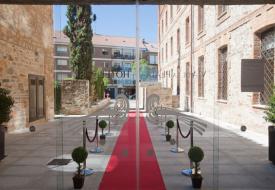 Hotel via de la Plata
Astorga
Located centrally in downtown, this 4-star hotel sits on top of roman ruins. it features a spa with an assortment of water treatments, sauna and steam room. If your muscles ache, get a massage therapist to work out the kinks. Rooms are modern and spacious. A good way to treat yourself after two days on the Camino!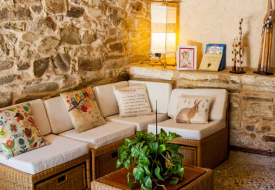 Casa Indie
Rabanal del Camino
Charm is what Casa Indie is all about. The inn is located in a 17th century Maragata House that belonged to a renowned doctor. Your host, Alba and Israel, has worked in hospitality since he was a teenager and has further refined his skills with schooling in Madrid.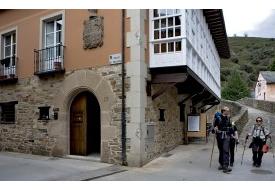 Hotel Palacio
Molinaseca
A small inn located in the heart of Molinaseca, Hotel Palacio has 16 rooms with contemporary design that also feature air conditioning, a rarity in the region. A guest lounge area is available along with a wine cellar.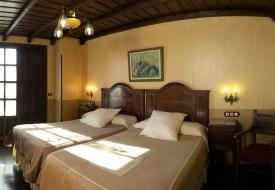 Moncloa de San Lazaro
Cacabelos
A small and intimate posada, Moncloa de San Lazaro is a special location on the trail. The cottage shop has spices, scents, wines and locally produced products. The restaurant also features products grown on the estate.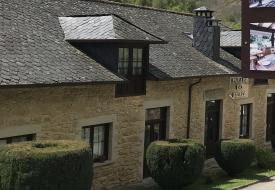 Paraiso del Bierzo
Las Herrerías
Before the long hike up to O Cebreiro sits an enchanting hotel overlooking green pastures. The restaurant is Michelin recommended and the rooms elegant without losing the rustic feel.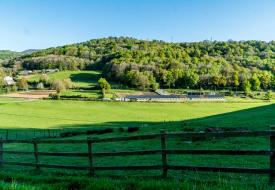 Casa Pacios
Triacastela
Located in a quiet rural setting, Casa Pacios is housed in a manor dating back to 1674. The manor oozes history, from the thick stoned walls to the local cave, where prehistoric remains of neanderthals were found.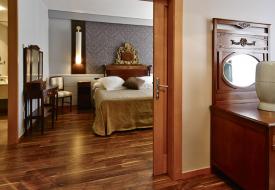 Hotel Alfonso IX
Sarria
All the comfort you need can be found at Hotel Alfonso IX. One of the larger hotels you'll find on the Camino, Hotel Alfonso is a 4-star property located in Sarria. "The hotel has a total of 57 rooms, 2 Junior Suites and 1 Luxury Alfonso IX Suite, spread over 3 floors... The café (with internal and external service from the hotel) and its own restaurant: "A Ponte Ribeira.""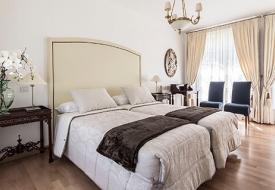 Pazo de Berbetoros
Portomarin
A sophisticated gem located in the heart of Portomarin, this "two" star hotel outshines its star ranking with smart interiors and gracious hospitality. A garden, cafe and reading room are available to guests, along with a generous breakfast.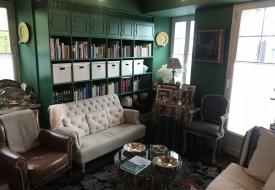 Casa Leopoldo
Palas de Rei
In an unassuming building, hidden away, a secret center of hospitality awaits. The hosts at Casa Leopoldo offer professional, warm and caring hospitality. Inside, you will be surprised by the refined furniture, stylings and aesthetics.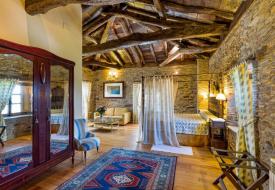 Pazo Santa María
Arzúa
Built in 1742, this manor house retains the charm of yesteryear. Painstakingly renovated in 2004, the major architectural and historical elements have been retained, while modern amenities and class have been introduced. There are a number of buildings located on the estate, enough for a small village. The rooms are located in the main building and other small buildings in the "village." Large spacious rooms of 20-35 square meters greet guests, along with an en suite bathroom.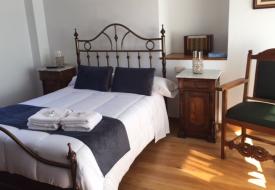 Santaia
Pedrouzo/o Pino
Set in the restored Galician farmhouse, Santaia is a lovely respite from the hurried everyday life. Begona is a fabulous host, with an eye for design and style. The rooms are sophisticated. The furnishings are from a bygone era, however with modern touches. A true delight on the Camino.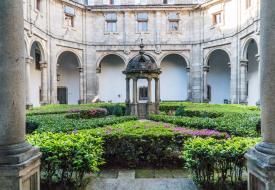 Santiago de Compostela
Hostal de los Reyes Católicos
The Parador that other paradors look up to. Sensuous bedding, sprawling and open courtyards, regal dining—this 5-star establishment is a treat to reward you for your epic achievement.
Practical info
When
not available
average
optimal
The Camino Frances can be hiked all year round, however Pygmy Elephant's season runs from March to October. Our favorite time of year to make the hike is in April (avoiding Easter), and September. The weather is cool and the camino is not bulging with pilgrims. July and August can be particularly hot, so take this into consideration when choosing your departure date.
How
Self guided does not mean you are alone. We help you coordinate and plan your trip beforehand. Once you are on the trail, we provide 24-hour customer service in case there are any urgent issues with your bookings.
Service Category
PYGMY ITINERARY BENEFITS
Price Transparency:

see where your money is going with line-item pricing

Never Lose Your Deposit Guarantee

: 50% refund, 50% credit to future trip

Customized Handbook with Journey Details

: maps, elevation profiles, tips and more

Destination Book Digital Travel App

: everything in your handbook, in digital form

One Year Premium GAIA GPS Membership

: your GPS routes, on your phone

Complete Itinerary Customization

: build the trip you want to take

Special Meal Requests

: we'll help you stick to your diet of choice

Before-You-Go Email Series

: helpful emails to get you prepared for your trek

Transportation Options Information

: timetables, routes and contact info

24/7 Phone Support for Urgent Issues

: give us a call if anything goes wrong

WhatsApp Support (9 AM to 5 PM, ET)

: rapid response to your inquiries

Email Support (24-hour turnaround)

: answers for not-so-urgent questions

Virtual Pre-Hike Briefing

: one-on-one briefing with your travel consultant

Baggage Transfers (where applicable)

: your bags, delivered to your accommodation
Challenge Level
Technical Ability
Level : Low
Mental Strength
Level : Medium
Physical Conditioning
Level : Medium
No technical skills are needed to hike the Camino. The road is very well marked with arrows that point the way.

Hiking 13 stages in a row requires some mental fortitude. When your muscles ache, you'll need to push yourself and carry on, and you'll feel like having a cheat day.

There are few elevation gains and losses, but for the most part the Camino Francés is flat. It's not like hiking in the Alps. However, what the Camino lacks in height, it makes up for in distance. From León to Santiago de Compostela, you'll hike approximately 312 km or 195 miles. It's still a challenge!
Price
Approximately $2,000 per person, based on double occupancy
Approximately $2,800 for single travelers
After initial consultation, we will customize your itinerary to meet your fitness level, budget, accommodation wishes and schedule. Depending on the journey, it might be possible to skip stages, rearrange their order, substitute accommodations, and add or subtract transfers. Find more information on the base itinerary and possible customizations below.
Base itinerary
14 nights accommodation, as outlined in itinerary

Breakfast at all locations
Optional Add-ons
Lunches and Dinners

Private Transport to León

Private Transport from Santiago de Compostela to airport

Rest days or free days
Not Included
Airfare

Travel insurance

In-situ transportation fees