Are you looking for information on what to pack for the W-Trek? Or are you looking for how to arrange christmas tree lightning in suburban Milwaukee in the winter? If it's the first, we've got you covered! If it's the second, I suggest you simply don't or move to a warmer climate (just kidding, I love my Milwaukee peeps!)
Get your docs in order
First things first. Make sure you have all of your travel documents in order. Without those, you won't even make it to the park. It's also important to keep you Chilean immigration paper with you to present at the refugios, otherwise you will be asked to pay Chilean tax, which is 19% on top of what you've already paid. Lastly, remember to take cash (Chilean Pesos) with you, as there are no ATMs inside the park.
Travel documents
Travel insurance details

Cash, credit cards

Passport

Immigration paper that you receive upon arriving in Chile

Itinerary and contact numbers

Vouchers with confirmation numbers from Refugios
Pack for four seasons
What clothing to pack for the W-Trek in Torres del Paine requires a little bit of forethought. I know, that's the worst! For one thing, the weather is unpredictable and requires the use of layers, even in the summer time. That means you have to make sure you are prepared for weather from 0 degrees to 80. During the summer time, Torres del Paine can get quite hot, especially at lower elevation. Having some hiking shorts can help keep you cool. If you're planning on staying in the refugios, it is imperative to have earplugs, lest you suffer a night of chainsaw snoring from a fellow hiker. You should avoid cotton at all costs as it tends not to dry quickly. Choose a base layer that is made of synthetic material. Layering is the most effective way to keep your temperature regulated correctly. A mid-layer fleece should always be kept handy, especially when trekking through Valley Frances and to The Towers. Lastly, the weather is unpredicatble in Torres del Paine. It can be snowing and / or raining at higher elevation while near sea level, it's actually quite warm. Bringing a water resistant jacket is a good idea.
Clothing
Technical pants

Shorts

Earplugs and Eye mask

Moisture wicking base layer shirts and underwear- should be non cotton (synthetics are best when it's warmer, merino wool or silk for when it's colder)

Mid Layer Fleece

Light, wind proof Jacket during summer months, spring / fall should be heavier.

Rain Jacket

Waterproof gloves

Synthetic hiking socks

T-shirts and Hoody / sweatshirt for refugios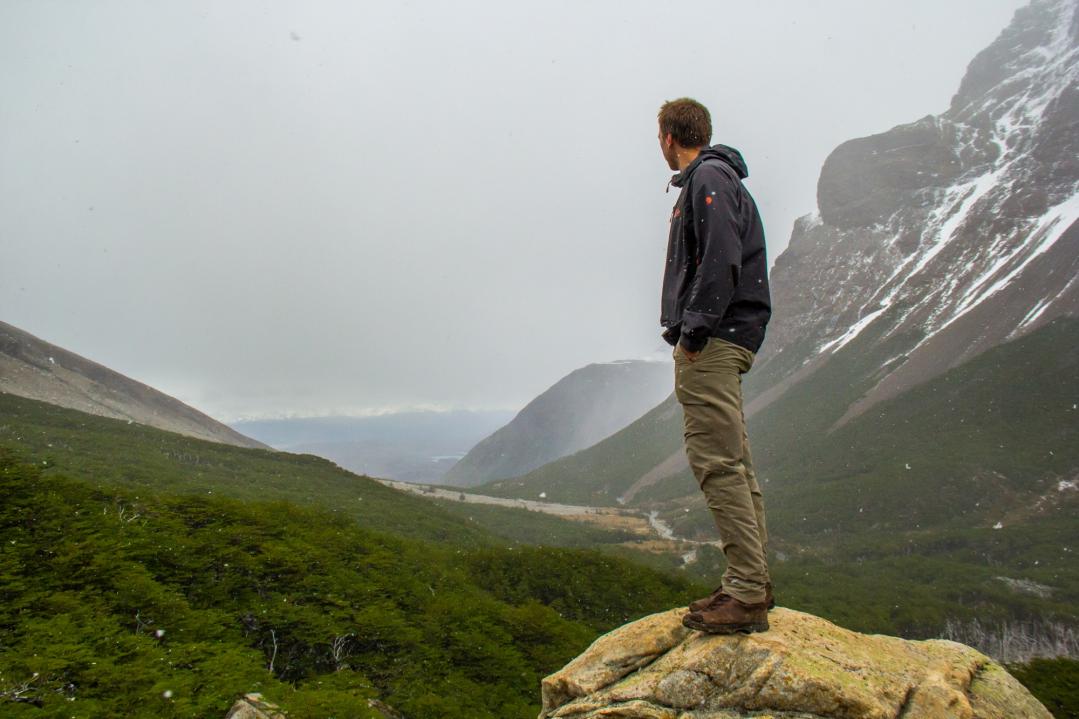 Keep it down, the weight that is
If you plan at staying at the refugios, you should look for a backpack with between 30 - 50 liters capacity, depending on how heavy of a packer you are. The lighter your bag, the better. I also recommend that you boots be worn in before arriving. New and unbroken in boots are notorious for giving hikers blisters. A flashlight comes in quite handy at night in the refugios, especially when you need to make a run to the bathroom and don't want to bang into 4 other beds in the process.
Accessories / Footwear
Backpack

Hiking Boots

Flip Flops - for the shower.

Hats (wool and with sunbill)

Gloves

Towel

Sunglasses

Dirty clothes plastic bag

Knife

Camelback or waterbottle (1 - 2 liters)

Flashlight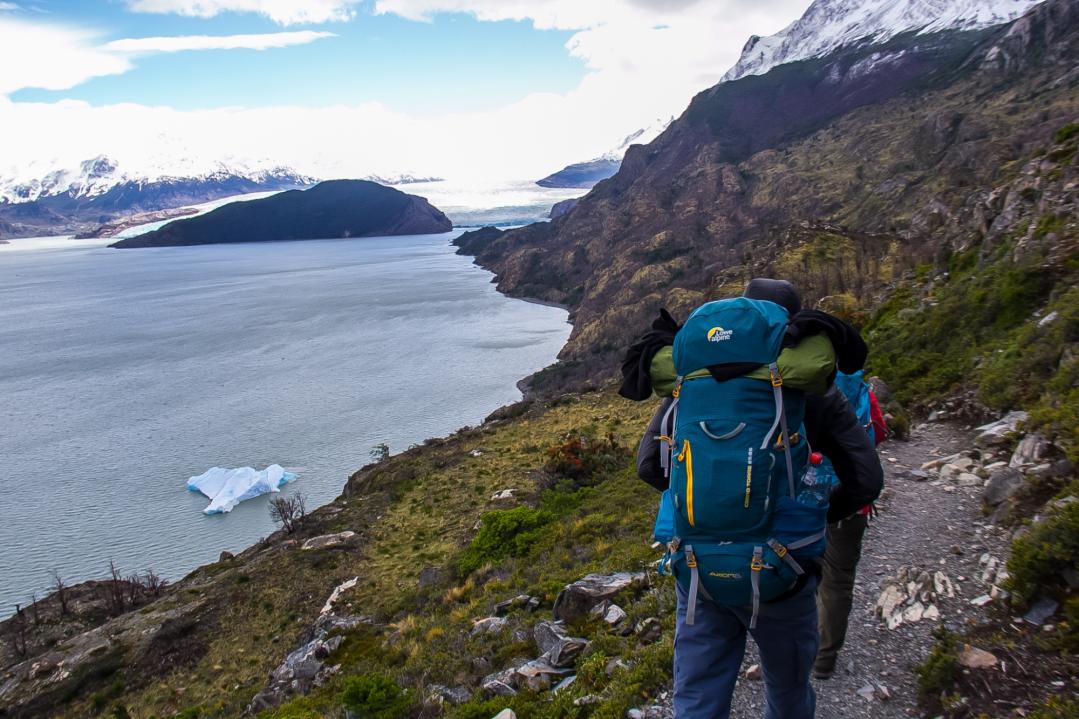 Trust me, bring sunscreen
Sunscreen is one of the most important elements in a hiker's arsenal. Because of the angle of the sun, hikers get sunburned quite easily, even though that might not immediately notice any adverse effects. Better to buy it before hand as well, as prices inside the park will make you question whether your skin is worth that much money.
Hygiene
Sunscreen

Toothbrush, toothpaste, floss, etc

Shampoo, soap

Insect repellent

Anti-diarrhea

Band aids

Blister plaster or moleskin

Pain Killers
To map or not to map?
Generally, the hiking trail is quite well marked. In the high season, you should encounter other hikers on the trail more often than you may wish. Still, a map is helpful in planning out the logistics of the day, as it lists hiking times and distances. For those with knee problems, hiking poles can be particularly helpful as are knee braces. Even for those without knee problems, hiking poles can still provide a benefit and lower stress on joints.
Optional extras
Playing cards

Binoculars

Sewing kit

Topographical map

Hiking poles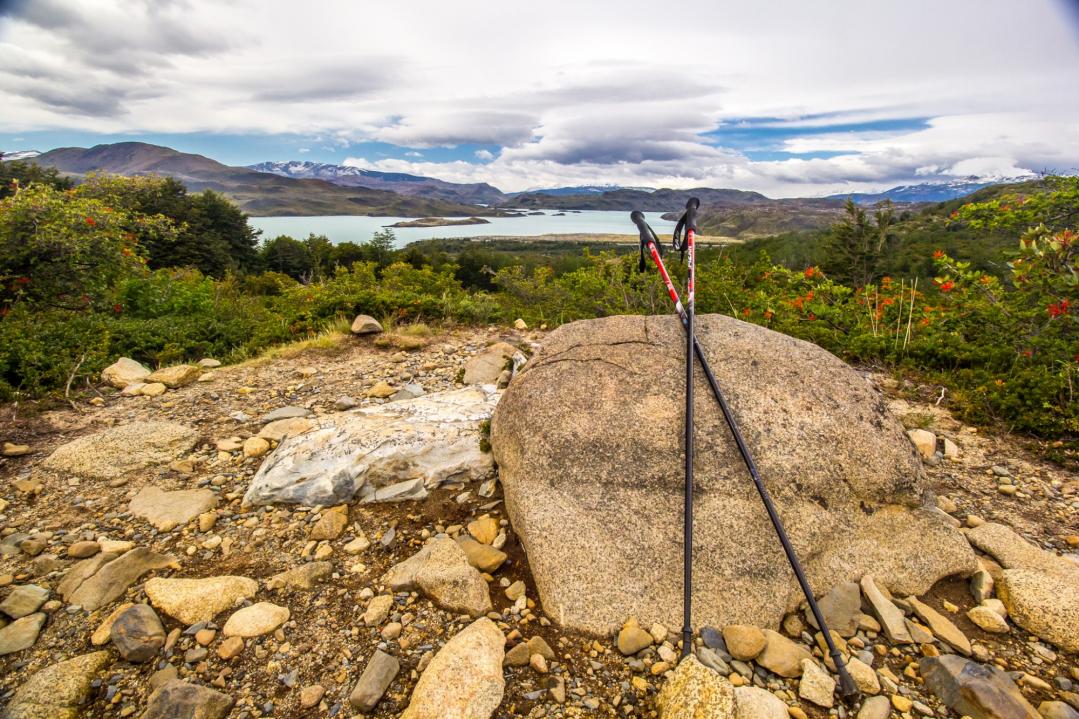 A bit about electricity
At some refugios, charging plugs can be in short supply. It's a good idea to bring along a little of your own energy. A 10,000 mAh portable charger should get you 3 to 5 charges on a normal phone, if not more. Plugs in Chile are type C or L. The type C socket is similar to what is used in Europe, with two round plugs. 220 volt / 50 hz.
Electronics
Camera

Portable charger

Universal Adapter
Camping vs. Refugios
There are multiple ways to complete the hike, each of them requiring a slightly different set of gear. The packing list above assumed that you will be through hiking the trail and staying at refugios. There is, however, a disclaimer. Refugios provide two types of booking options, one where the sleeping bag and sheets are included and one where you you will need to bring your own. So if you book a "Simple Bed", remember to bring a sleeping bag with you and adjust the size of your backpack accordingly.
For those on a budget, or those that would like to be closer to nature, camping is another option. For camping, you can choose to pitch your tent at paid camping spots that provide you with all gear that you need - tent, pad and sleeping bag - and also full board, meaning breakfast lunch and dinner. Or you could choose to bring your own tent and camping gear and save on those costs. Bear in mind though, if you stay at any of the refugios in the east of the park including Los Cuernos, Central, Norte or Chileano, then you will need to buy full board if you are camping (it is not compulsory, however, to rent a tent. Lucky you!) The one exception to the above is Dome Frances that will not allow campers to eat at the Refguio, because, well, it's super small. If you stay at the free campsites of Campamento Italiano or Campamento Torres, you will need to bring a tent and sleeping bag with you (and food), as they do not have any available to rent. At Paine Grande and Refugio Grey, it is not necessary to buy full board, and both have a selection of dehydrated food that you can cook yourself if you would rather not eat inside the refugio. If you plan on carrying your food and a tent, you will also need to beef up your backpack, at least to 50 litres.
IF CAMPING
Mess kit

Tent

Sleeping bag

Warmer clothes for sleeping

Food

Lots of deodorant, as there are no showers at Campamento italiano or Campamento Torres.