The Tour du Mont Blanc (TMB) is a demanding trek that passes through the Alps of three countries. To walk beside towers of granite formed some 15 million years ago and to gaze down on valleys strewn with houses so small they seem to be plucked from a monopoly board, is to venture into another world. Preparing for this hike correctly will allow you to absorb the experience with minimal stress and worry.
Get your docs in order
Europe is friendly to tourists. All three countries visited on the tour belong to the Schengen Zone of the EU. Included here are the countries who do not need a visa to enter EU to enter the EU and those countries who do need a visa to enter EU. The list was taken from the EU Immigration Portal. During high season, you should make reservations at Refuges (mountain huts) and hotels. The peak time to hike the TMB is from Mid July to the end of August. During this time, some refuges will be filled to capacity. Furthermore, if you want private rooms or rooms that have only 4 - 7 people, you will want to reserve your accommodation far ahead of time. Otherwise, you will spend the night in dortoirs, which have between 10 - 30 people sleeping in the same room. It's also a good idea to take out comprehensive travel insurance. Bad weather in the higher elevations of the alps can lead to missed reservations. In addition to a visa, you should also take with you the following documents.
TRAVEL DOCUMENTS
Travel insurance details.
Euros and Swiss Francs - most of the mountain huts will only accept cash.
Passport.
Itinerary and contact numbers of alternative accommodation along route in case of bad weather or injury.
Picture: Looking into Italy from Switzerland on the Grand Col Ferret.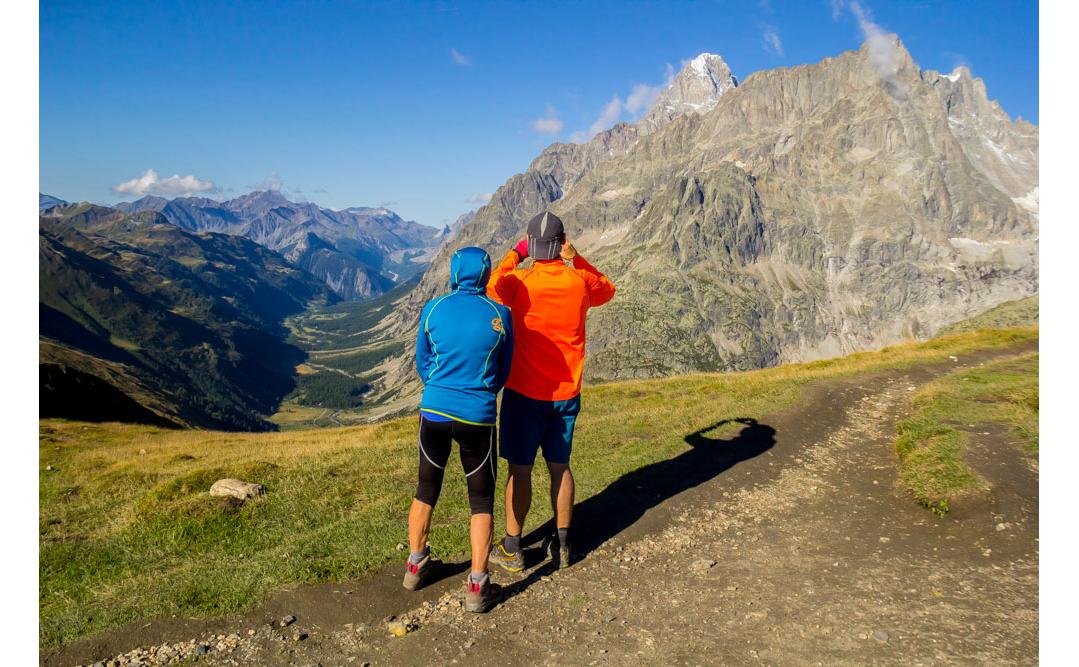 Pack for four seasons
The tour de Mont Blanc ranges in elevation from 2,200 feet in the valleys to 8,800 feet on the passes. Even in the summer, you will have to deal with alpine conditions and it is not unusual to find snow on some of the passes. In the valleys, you will be comfortable hiking in shorts and a t-shirt. When the weather is bad, however, you will want long underwear, fleece and a jacket. Bringing layers here is important so that you can adjust to the temperature, wind and precipitation. You should avoid cotton at all costs as it tends not to dry quickly. Choose a base layer that is made of synthetic material. A mid-layer fleece should always be kept handy, especially when hiking over passes like Col de Seigne and Col de Fours. Also, If you're planning on staying in the refugios, it is imperative to have earplugs, lest you suffer a night of chainsaw snoring from a fellow hiker.
CLOTHING
Technical hiking pants
Shorts
Earplugs and Eye mask
Moisture wicking base layer shirts and underwear- should be non cotton (synthetics are best when it's warmer, merino wool or silk for when it's colder)
Long sleeve shirt made of synthetic material
Mid Layer Fleece
Light, wind proof Jacket
Waterproof Rain Jacket
Waterproof gloves
Synthetic hiking socks
T-shirts and Hoody / sweatshirt for refugios
Long underwear tops and bottoms
Hiking socks
Gaiters, especially if hiking in June
Hiking Boots that are worn in (important)
Flip Flops - for the shower.
Hats (wool and with sunbill)
Gloves (waterproof recommended)
In the picture on the left, the man in the foreground is on a day hike. Notice his backpack is extremely lightweight and meant only to carry water bottles and a few essentials. On the other hand, the hiker in the background is camping on an extended multi day hike.
The second pictures was taken 2 days later on the TMB near Col de Fours. Here you can see the difference in clothing worn at higher elevation.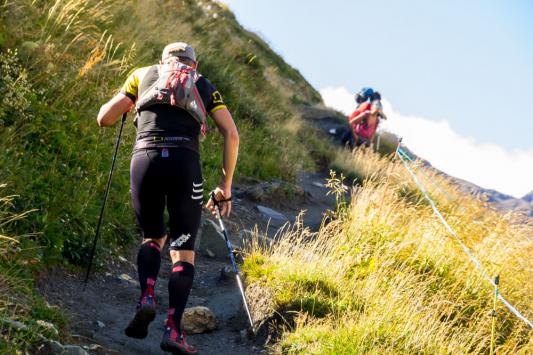 Keep it down, the weight that is
If you plan at staying at the refugios and carrying all your gear with you, you should look for a backpack with between 50 - 70 liters capacity, depending on how heavy of a packer you are. Some self guided tours include the option to have your bags transported for you from hut to hut. If you will be having your bags transported for you, you should then choose a smaller day bag, between 30 - 50 liters and another bag that will be transported each day. The lighter your bag, the better. A flashlight and headlamp comes in quite handy at night in the refugios, especially when you need to make a run to the bathroom and don't want to bang into 4 other beds in the process. The route is well way marked, still when the weather is bad or the clouds are hanging low, a compass and map can be extremely helpful.
ACCESSORIES / FOOTWEAR
Backpack (30 - 50 liters for day bag, 50 - 70 liters if carrying all belongings and staying in the mountain huts rather than camping)
Duffle Bag (only if having bags transported - max 15 kg for many transport companies)
Towel (quick dry)
Sunglasses
Dirty clothes bag
Knife
Camelback or waterbottle (1 - 2 liters)
Flashlight / headlamp
First-aid Kit
Compass
IGN Maps (3630OT and 3531ET)
Guidebook (The Tour of Mont Blanc by cicerone recommended)
Hiking Poles (recommended)
The first picture shows a typical sign for the Tour De Mont Blanc (TMB). The second picture shows a hiker that has packed light for the TMB.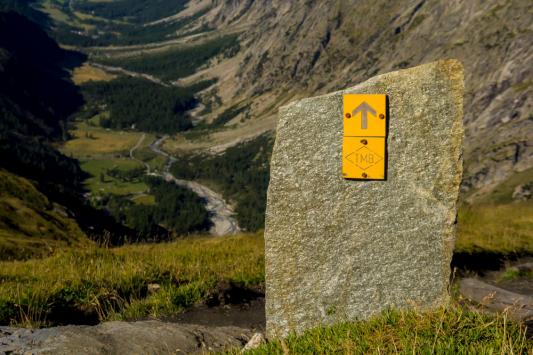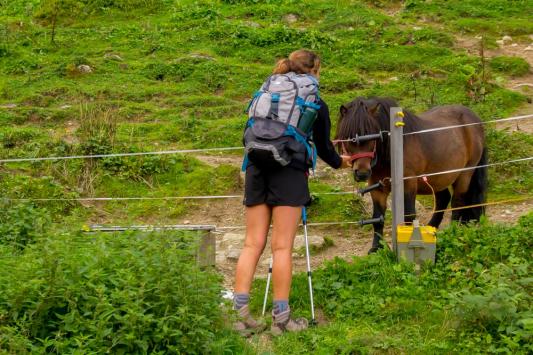 What about food?
If you are staying at the refugios, there is no need to carry food with you with the exception of snacks or lunch for the day. The Mountain Huts provide a half board service that consists of dinner and breakfasts. The dinner is usually quite good and a 3 course affair. The breakfast, on the other hand, is nothing special. Just something to provide you calories for the days hike. What many people do is get the halfboard with the Huts and then stop somewhere along route for lunch. On the route, you are seldom more than 10 km from some accommodation or a store.
Popular snacks:
Chocolate (especially dark chocolate as it contains more calories per ounce)
Trail mix
Sausage / cheese from the region (charcuterie)
Fresh fruit (you can pick some up almost daily)
Granola
Energy bars
Blueberries found along the path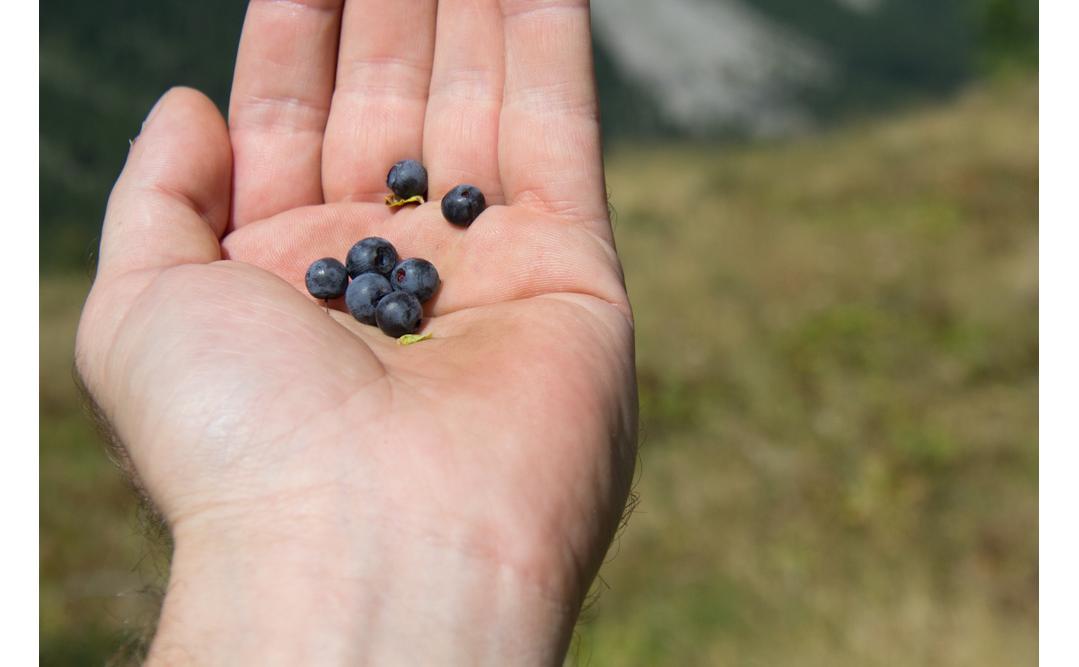 Bring some change
Most Mountain huts will provide you with showers, however a few will charge you for hot water like Rifugio Elisabetta in Italy. The showers are generally of good quality, but don't expect luxury. If you plan on staying in some communal dorms or dortoirs, it is imperative to have earplugs, lest you suffer a night of chainsaw snoring from fellow hikers. You will also need to leave your hiking boots in a mud room, so make sure you have either a lightweight pair of shoes or slippers for the evenings.
HYGIENE
Sunscreen
Toothbrush, toothpaste, floss, etc
Shampoo, soap
Insect repellent
Anti-diarrhea
Band aids
Blister plaster or moleskin
Pain Killers
Earplugs and Eye mask
Slippers or light weight shoes.
TIP: Stuffing some newspaper inside of your hiking boots can help soak up moisture from your hiking boots.
A bit about electricity
At some Huts, charging plugs can be in short supply. It's a good idea to bring along a little of your own energy. A 10,000 mAh portable charger should get you 3 to 5 charges on a normal phone, if not more. Plugs in Europe are type C. 220 volt / 50 hz.
ELECTRONICS
Camera
Portable charger
Universal Adapter