As with any long-distance hike, the Camino de Santiago requires a good deal of planning regarding what to bring with you. Walking 195 miles across the high plains and rolling hills of northern Spain is no Alpine trek, but it's also no walk in the park. When planning out your itinerary on the Camino Francés, refer back to this post to make sure you have everything you need.

The Camino originated as an endurance hike that tested the devotion of religious Catholics, and is different in character from our other treks. This packing list reflects that. Though many things remain the same, you'll be able to scale down on gear and necessities because you can find them along the way. Central to the question of what to pack for your Camino is the season when you'll be hiking. Weather is much less variable than on Alpine hikes, and you'll be able to focus your clothing and gear to fit the season.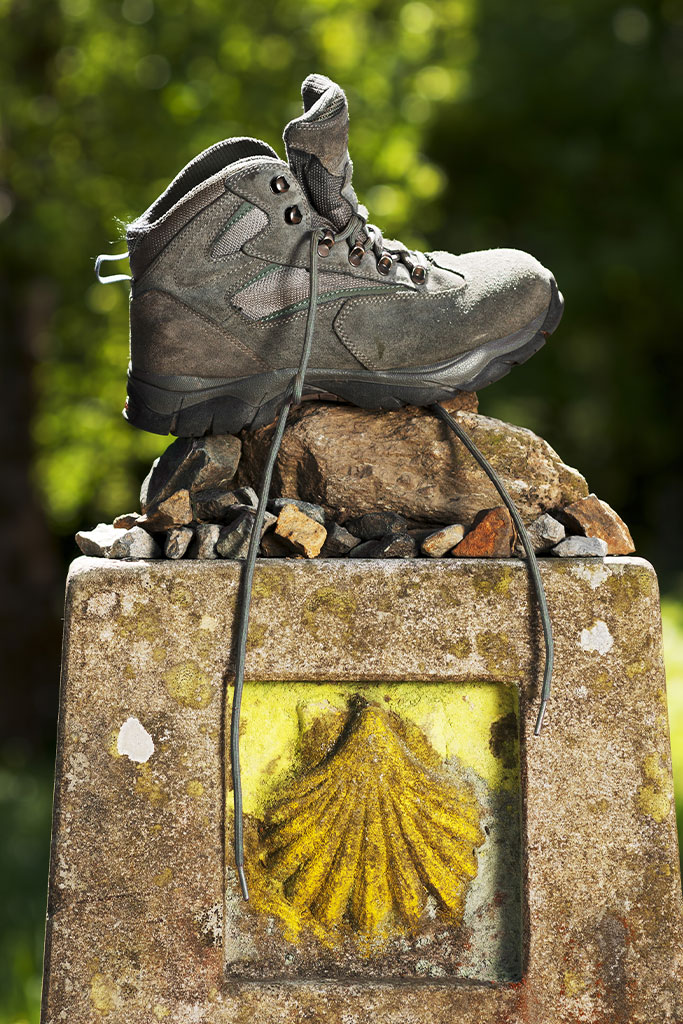 Get your docs in order
You know the drill. Get those documents in order well before you leave. Luckily, Spain is in the Schengen Zone, which doesn't require visas for visitors from quite a few nations. Check the EU Immigration Portal here for requirements, or with the travel authority from your country. You might also consider getting travel insurance for the hike. Granted, the Camino doesn't present the same sort of technical challenges and possible dangers as the W-Trek or Tour du Mont Blanc, but it's good to have all your bases covered. We work in partnership with Travel Guard to provide insurance options to our customers—ask us about in your inquiry for more information.
In addition to your normal documents, make sure you get a Credencial, known as the Pilgrim's Passport. If you want to get one of the certificates of completion at the Cathedral in Santiago de Compostela, you will need one of these. Read more about the Credencial and how to get one here.
TRAVEL DOCUMENTS
Travel insurance details

Passport

Cash (Euros) and credit cards

Itinerary and contact numbers

Booking details

Credencial
Pack for your season
Mercifully, weather on the Camino is pretty consistent. Shoulder seasons bring mild temperatures and occasional rain; summer is hot and dry; winter is cold and wet, with a high likelihood of mud and chances of snow. We have a short guide to weather on the Camino Francés that you might want to consult.
As always, base layers made of synthetic materials are recommended, especially for the warm months. If hiking in the cooler months, you might opt out for wool or silk base layers, but they're not a requirement. Comfortable cotton layers are OK in the evening when you're just checking out the city.
Hiking boots are always a good choice for footwear; you will be hiking, after all. But conditions on the Camino aren't especially technical, and some pilgrims prefer to walk the Camino in a good pair of trail shoes or even hiking sandals like Keens or Chacos. Consider the season and consider your feet. You don't want rain-soaked shoes in the shoulder season, and you don't want heavy-duty, foot-cooking boots in the warmer months. If your feet or ankles have special needs (read: previous injury), take those into consideration. One thing remains true: you should take shoes that are comfortable, broken in, and good for road walking. Bring a pair of sandals or flip flops to wear when you're not on the trail.
CLOTHING/FOOTWEAR
Technical/zip-off pants or shorts

Moisture-wicking, non-cotton base layers

Season-appropriate mid layer

Season-appropriate jacket

Hiking boots, trail shoes, or hiking sandals

Synthetic hiking socks

T-shirts and comfortable post-hike layers (3 pieces each)

Sandals or flip flops

Rain Jacket (optional)

Gaiters (optional, only in wet months)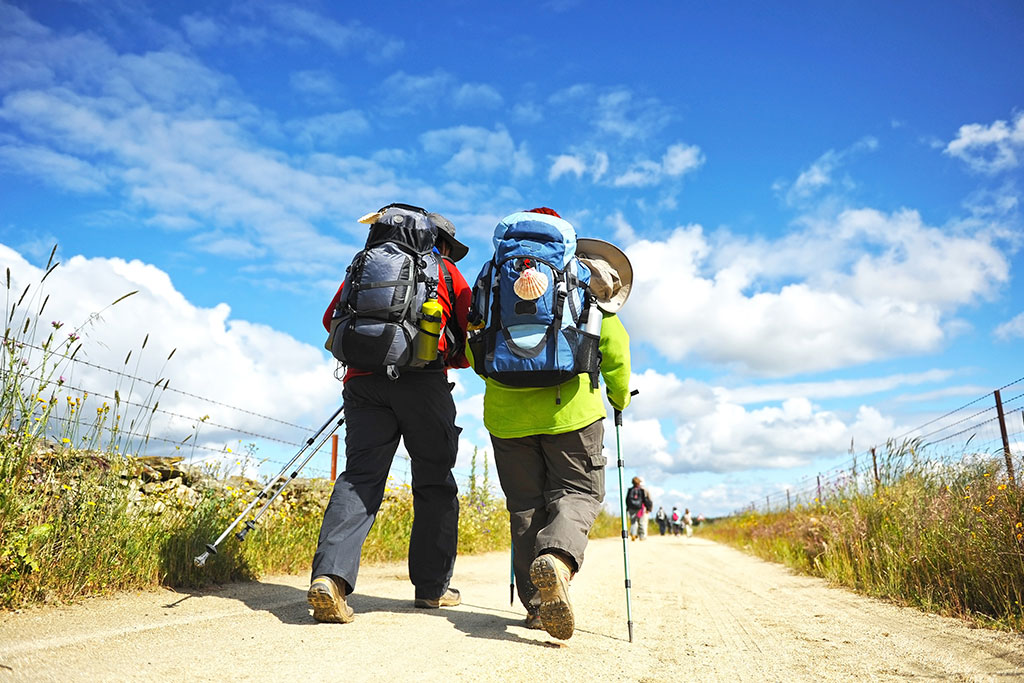 Keep it down, the weight that is
There's a saying among pilgrims on the Camino: "The Camino provides." That's good news for those who like to pack light. The Camino and its many routes winds its way through hundreds of cities, towns, and villages across Spain, so finding supplies along the way is not that difficult. We include baggage transfers in our itinerary, so you could hike with a light day pack and meet your extra baggage at your nightly accommodation. For those not using luggage transfer, a medium-sized backpack should suffice. If you plan on sleeping in public albergues, you'll need some extra space for a sleeping bag and bed liner. Read more about accommodation in our post here.
The sun is a big concern on the Camino, and you should be prepared for it. Sunglasses and a hat are a must, as is sunscreen, which we'll include in toiletries. A raincoat is important, even if you're hiking in summer months. There's nothing worse than trudging miles and miles in soaking wet clothing. And though they're (technically) optional, hiking poles are vital for some pilgrims, especially those who may have prior injuries they don't want to aggravate. Good old collapsible aluminum poles are great, or you can go "old fashioned" and pick up a wooden pilgrim's staff.
However you decide to pack, the rule of thumb on the Camino is to keep your backpack at or below 10% of your body weight. Do a practice run before you leave for Spain and go for a short hike or walk while wearing your full backpack. If the backpack isn't comfortable on your practice hike, it definitely won't be comfortable on the Camino.
GEAR/ACCESSORIES
Backpack (30-50 liters)

Duffel bag for luggage transfer

Sunglasses

Hat

Raincoat

Plastic poncho (optional, for rain)

Knife

First-aid kit

Maps

Guidebook

Hiking poles or Pilgrim's Staff (optional)

Towel (optional, for albergues)

Sleeping bag (optional, for albergues)

Bed liner (optional, for albergues)
What about food?
Once again, the Camino provides.
Food is something you almost never have to worry about on the Camino. Our standard itinerary includes breakfast at every hotel or albergue, and lunch and dinner can be added on. Another option: pack a lunch or get a bocadillo for a picnic on the trail. For those customizing their accommodation, we can help you find hotels and albergues that offer meals or cooking facilities.
Water can be found at almost any stop along the Camino. However, you should still bring carry plenty of water with you; Spain is a dry climate, and you'll need to stay hydrated. If filling up at a public fountain, of which there are many, look for a sign that says agua potable. If you're skeptical of the water quality, some local hostels, bars, or restaurants might fill you up. Otherwise, water to purchase won't be too far away.
On a long trek like the Camino de Santiago, proper nourishment is key to staying and strong and healthy on the trail. Remember to keep your diet varied on your trek: good carbs and fats will power you through the day, and protein will replenish your muscles after hike. Make sure you compliment your nightly glass (or two) of wine with plenty of water to aid protein digestion. If you have any questions about planning your diet, we'd be happy to answer them in your consultation.
Pro-tip: Keep an eye out for the traditional foods that make a great snack on the trail: cecina, the cured, smoked beef in León; the chocolate of Astorga; and the many cheeses of Arzúa. This blog post has a bit more information about food on the way.
FOOD/WATER
Camelbak or water bottles (at least 1-2 liters)

Local cheese and charcuterie

Fresh, leafy greens and vegetables

Healthy grains and legumes

Nuts and trail mix

Energy bars

Fruits and juices (bananas, orange juice)

Chocolate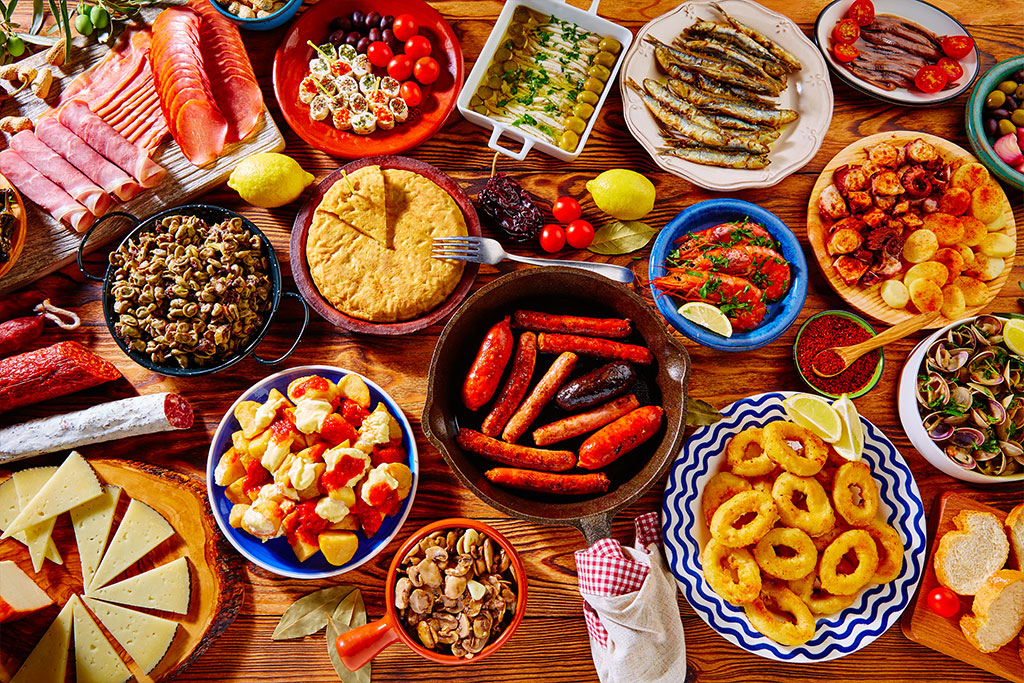 No Camino is complete without tapas.
Wear. Your. Sunscreen.
The Camino is forgiving in many senses, but this is not one of them. The Spanish sun will punish you if you don't treat it with the respect it deserves. Long-distance hiking and painful sunburn is not a pleasant combination. Besides a high-quality sunscreen that can withstand some sweat, bring along your normal toiletry bag, but remember that you can easily resupply on almost any toiletries on the hike.
TOILETRIES
Sunscreen

Toothbrush, toothpaste, floss

Shampoo, soap

Adhesive bandages

Blister plaster or Moleskin

Pain killers

Earplugs and eye mask (optional, for albergues)

Plastic bags (for trash or keeping belongings dry)
A bit about electricity
Fights over electrical sockets are probably seen only in the albergues, and at most hotels you should have at least one socket all to yourself. Spain uses the type C (220 volt / 50 hz) plug, so bring an adapter if you need it. As always, it's a good idea to bring a 10,000 mAh portable charger to keep your electronics going out on the trail.
ELECTRONICS
Camera

Portable charger

Universal power adapter

Spanish SIM card

Earbuds/headphones
Bring something to leave behind
Normally we'd tell you "Take only memories, leave only footprints," but on the Camino we'll make a small exception. On day four you will reach the highest point of the Camino on top of Mount Irago. At the summit you'll find one of the top destinations on the way, the Cruz de Ferro, an iron cross set in a tall wooden pole that disappears into a mound of stones at its base. These stones have been brought from around the world by pilgrims for centuries, and symbolize the shedding of a spiritual burden or sin that was weighing the pilgrim down. Like all things Camino-related, what was once a ceremony for the faithful is open to every pilgrim, religious or not. Consider participating in this time-old tradition and bring along a stone to leave in the pile.
We want you to have the best Camino experience possible. That's why we're always happy to answer any questions you might have about your future Camino experience, whether it's where to find the best pulpo, which shoes are right for you, or how to find the perfect rock for the Cruz de Ferro. Feel free to give us a call at 1-414-377-3555 for a free consultation, or send us an email whenever you'd like. We look forward to hearing from you.
Buen Camino!