Tour dU mont blanc BASICS
Before we dive into what a classic Tour du Mont Blanc itinerary looks like, let's first get through some basics of the tour. That will better help you understand the tour and how you would like to tweak it to fit your preferences. The Tour du Mont Blanc, or the TMB, is a long distance hiking trail that circumnavigates the Mont Blanc Massif. In a classic itinerary of the TMB, you pass through 3 countries, France, Switzerland and Italy, and is approximately 110 miles in length. Although most people with good physical health can undertake the trek, it is still a challenging trek. There is over 6 miles of both elevation gain and loss. People that attempt the tour by themselves should have previous experience in Alpine conditions and be comfortable using a compass and map.
Where is Mont Blanc?
It depends if one is asking about the highest point of the mountain or the entire massif (i.e. mountain range). The summit of Mont Blanc lies on the border of Italy and France. An 1860 act signed by Napoleon III places Mont Blanc squarely on the border of both countries. The administration and responsibility for the mountain is shared largely between Courmayeur, Italy and Chamonix, France. Both villages have a rich history of mountaineering on Mont Blanc and are iconic spots in and of themselves.
If one is referring to the Mont Blanc Massif, the inclusion of Switzerland should be considered. The massif is 46 kilometers long (28.75 miles) and extends from Val Montjoie, containing the town of Les Contamines, France to its northeastern section located in the Val Ferret of Switzerland. At it's widest point, it extends 20 km (12.5 miles). The Tour du Mont Blanc is a trek that circumnavigates the entire Massif. The total hiking distance is 170 km or 110 miles.
How do you get to Mont Blanc?
Most international travelers arrive into Geneva airport in Switzerland and take either a train or shuttle to Chamonix in France. There are a few popular places to begin the tour including Chamonix, Les Houches, Courmayeur and Champex. The classic route starts in Les Houches and travels counter clockwise.
Is Mont Blanc the tallest mountain in Europe?
There is some debate on whether Mont Blanc is the tallest mountain in Europe. The summit's elevation is 4,808.73 metres (15,776.7 ft). It is the highest point that is west of the Caucasus. The Caucasus straddle Europe and Asia. Central to the debate is where one places the geographic border between Asia and Europe. The majority of authorities place the continental boundary of Europe and Asia at the Caucasus watershed, although this is not universally accepted. That would mean that Mount Elbrus, at 5,621 meters (18,442 ft), is the highest mountain in Europe. If you consider the Kuma-Manych Depression as the border, then Mont Blanc is considered the tallest mountain in Europe. In either case, Mont Blanc is tall.
Weather on Tour du Mont Blanc
As you will be traveling from around 3,200 feet to 8,800 feet in elevation, you will experience several different temperatures and weather systems. During the summer months, it does snow on rare occasions, leaving a layer of snow on the ground that doesn't dissipate for a day or two, sometimes longer. On the flip side, the valleys can be 80 to 90 degrees Fahrenheit. Layering is important to adapt to the changes of weather.
What is the trekking like?
The route is undulating, with a good degree of elevation change. As you are making your way around the Mont Blanc Massif, you cross over several saddles, or cols - the lowest pass in between two peaks. The elevation of the hike stays roughly between 3,200 feet and 8,800 feet, not high enough to cause altitude sickness. During the early part of the season, Alpine conditions will be more prevalent and snow can be found at the higher elevations and cols. Crampons may be necessary, or you one may need to take lower route alternatives to avoid snowy sections. In a few places, ladders and metal stairs have been placed into the rock, for example, in between Tre Le Champ and Refuge le Flegere. However, there is an alternative route that goes around this section. Additionally, there are few sections of exposure that those with vertigo may find a bit unnerving.
For more information on getting fit and the difficulty of the tour, check out this post.
Questions to ask when deciding on how to formulate your Itinerary
Should I go Clockwise or Counter-Clockwise?
The classic itinerary starts in Les Houches and travels counter clockwise. This way saves the views of the Mont Blanc Massif from Le Brevent, which many argue are the best of the tour, until the end. Additionally, there will be more hikers going counter clockwise, so if you are solo trekker, and you want to find some hiking partners, this could be the better option. Conversely, going counter clockwise will allow you to meet different people every night at the refuges (mountain huts). Furthermore, early in the morning you can find yourself alone on parts of the mountain, able to quietly take in the alps in isolation.
When is the best time to hike the Tour du Mont Blanc?
Your itinerary depends on the time of year you will be hiking. Earlier in the season, there are still patches of snow on the passes into mid June. If you are hiking at this time, days tend to be longer and thus, hiking a fast TMB (less than nine stages), becomes more difficult. Generally, tour operators suggest waiting until July 1st to start the trek (however there has been snow on the passes well into July as well). Generally, you will not need crampons or an ice axe in July, however you may need them in June or opt for lower routes that are free of snow or bypass sections entirely. The peak season is from July 15th to August 30th, when many French and Europeans are going on vacation. A good time to go is late August to early September when all of the snow has melted on the passes and the crowds have died down a bit. Most of the huts will be open from Mid June until mid September. If you interested in more details on the best time of year to hike check out this link.
How many days does the hike take?
The classic itinerary features 11 days hiking, with one day rest in the middle of the trek. If you are fit, you can reduce the itinerary to seven or eight days. Once you get into the range of five stages, you will need to be trail running or fastpacking. To that end, every year, the toughest mountain runners gather for an ultra-marathon and conquer the entire trail in less than 24 hours. I've been told that their knees are made out of titanium and their lungs are the size of weather balloons.
11 stage itinerary averages:
Average distance: 16 km / 10 miles per day.
Average Daily Elevation Gain and Loss: About 3,000 ft
9 stage itinerary averages:
Average distance: 19.5 km / 12 miles per day.
Average Daily Elevation Gain and Loss: About 3,600 ft
7 stage itinerary averages:
Average distance: 25 km / 16 miles per day.
Average Daily Elevation Gain and Loss: About 4,600 ft
The rest of this post is dedicated to providing a thorough description of a classic 11 stage itinerary.
Route description of 11 stage Itinerary
Below is an itinerary that we use at Pygmy Elephant for a 11 stage self guided tour, with one rest day in Courmayeur included. Like the classic route, the itinerary circumnavigates the massif counter clockwise, however, rather than starting the tour in Les Houches, the hike begins by taking a gondola to Le Brevent and hiking to Les Houches. This is done for two reasons. First, to enable the hiker to have two opportunities to see the Mont Blanc massif from Le Brevent, which many believe is the best viewpoint on the tour. Sometimes clouds or bad weather can obscure the summit and having two chances increases your odds of seeing it with clear visibility. Secondly, this itinerary reduces the length of the final stage, which normally goes from Refuge le Flegere back to the beginning of the trek at Les Houches. That is a long and tiring day with a lot of elevation gain and loss. Instead, you will only have to hike to Le Brevent on the last day and take the cable car back down to Chamonix. There are ways to make the tour more budget friendly, or up the luxury quotient to make it even more comfortable.
Day 1: Le Brevant to Les Houches
Distance: 3.5 to 4.5 hours / 6 Miles
Height gain: minimal / Height loss: 5,072 feet
Transport: Gondola to Le Brevant, Train to Les Houches is also possible from Chamonix (optional)
You will first take the gondola up to the Le Brevant view point (8,287 feet) from the village of Chamonix. After taking in the scenery, start the long and continual descent down to Les Houches. This descent is often combined with another steep ascent to Le Brevant, however you will choose whether you would like to complete this section when you return 11 days later (this is the section from Le Flegerie to Le Brevant). Although the day will be a bit tough on the knees, the short distance makes this section much easier to handle.
Accommodation along Route: Refuge Bellachat
Recommended Accommodation: Hotel Du Bois, Les Houches
Left: View of Chamonix Valley on the descent to Les Houches
Right: Trail along hike from Le Brevent to Les Houches
Center: Mont Blanc range with the famous peak "pointed" out.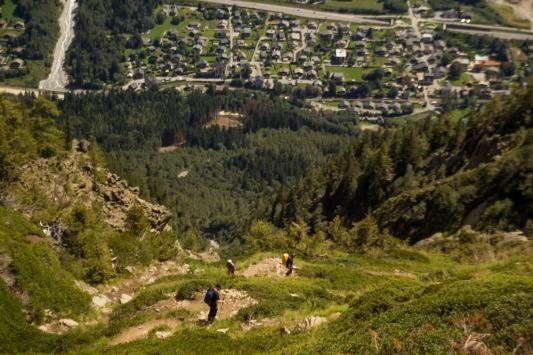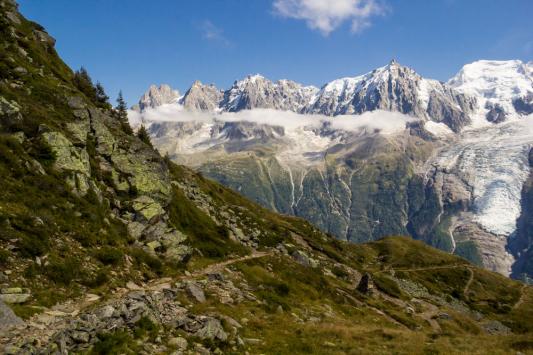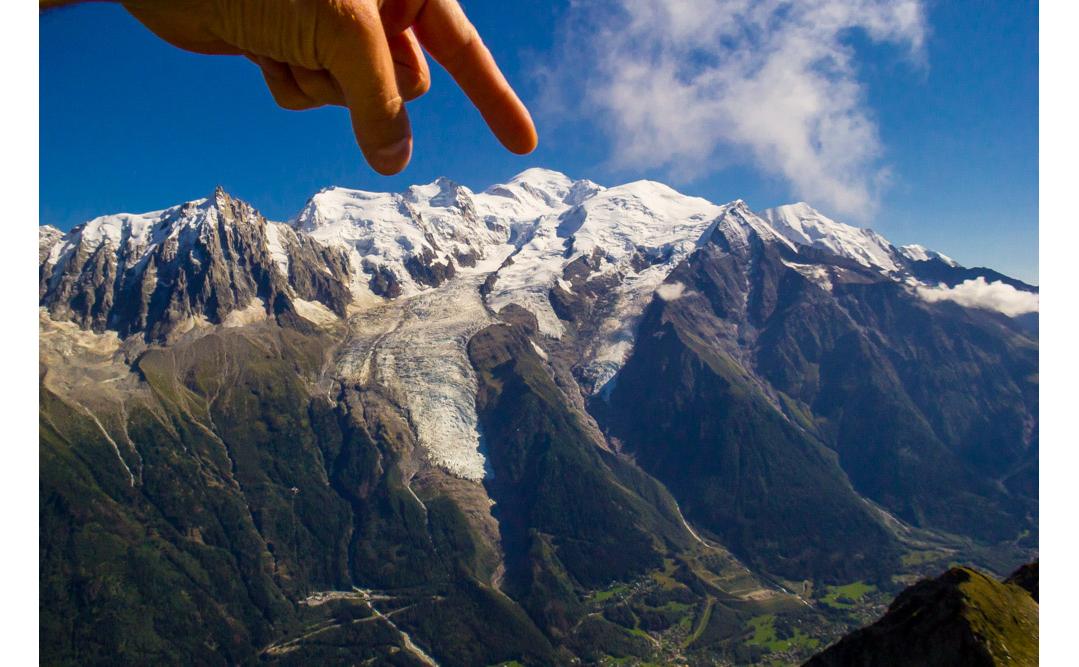 Day 2: Les Houches – Bionassay – Les Contamine
Distance: 5.5 hours / 10 Miles (Main route)
Height gain: 2,120 feet / Height loss: 2,076 feet
Transport Options: Cableway Les Houches to Bellevue (halfway up first ascent), Train from neighboring St. Gervais to top of first ascent (Col de Voza), Bus from Tresse to Les Contamine
Traveling along the main TMB route, there is more road walking than other stages. Still, there are some descent views to be had, especially at Col de Voza. From there, you can see the Dome du Gouter and Aiguille de Bionnassay and the glacier that splits them in two. From Les Houches, it's about 2.5 hours to Col de Voza (Col = saddle), which is also the high point of the trek at 5,423 feet. It's then a relatively slow descent down again to Tresse and finally onto Les Contamine. Not a particularly demanding day, however multiple transport options are available to make this trek easier in case your knees are feeling rough from the day before. There is an alternative to the Main Route which provides better views and reaches higher altitude, but you will pay for it in effort. It's 2.5 hours longer and has over 2,400 feet more of elevation gain.
Accommodation on (Main) Route: Refuge de Fioux (24 beds/ 2 hours), Auberge de Bionnassay (20 Dortoir places, 18 beds / 3 hours), Gite du Champel (8 dortoir places, 34 beds / 3.5 hours)
Suggested Accommodation: Le Chemenaz, Les Contamine. Hotel with private rooms. 5.5 hours from Les Houches. Good for families looking for separate rooms for children.
Left: Les Houches Main Street
Right: Notre Dame de la Gorge
Center: Leaving Les Houches - looking back on Christ Roi des Houches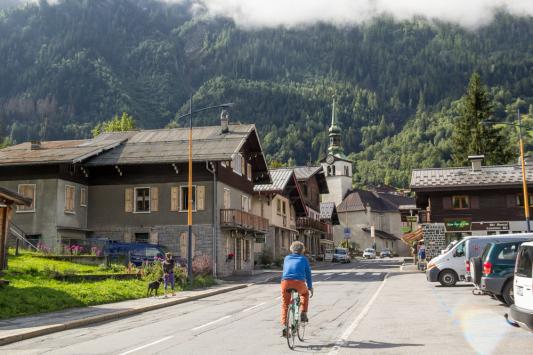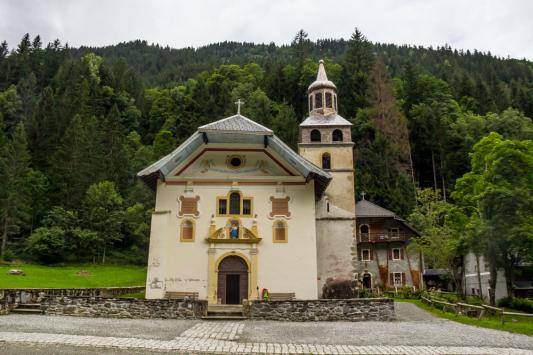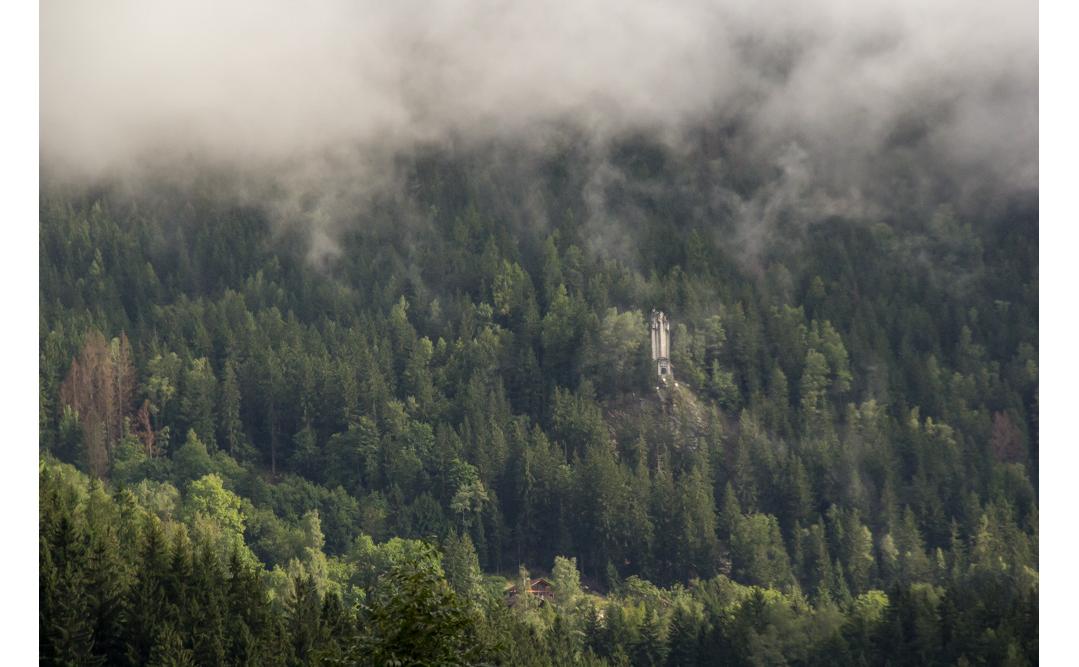 Day 3: Les Contamine – Col de la Croix de Bonhomme – Refuge de Mottets
Distance: 7.5 hours / 11 miles
Height Gain: 4,317 feet / Height Loss: 3,046 feet
Transport Options: Bus Les Contamine to Notre Dame de la Gorge, Shuttle or taxi from Les Chapieux to Refuge les Mottets
This hike will be tougher than either of the first two days. There are two options, one which goes directly to Refuge les Mottets through a higher pass, and one that goes through a slightly lower pass to Les Chapieux. If there is bad weather, or snow on the passes, it is recommended to take the lower route to Les Chapieux and take a shuttle or taxi close to Refuge de Mottets. Both routes start at Les Contamine and pass by the Notre Dame de la Gorge. From there, it is a steep ascent of 850 feet to the refuge Nant Borant. Afterwards, the trail becomes less steep and you steadily climb up past Refuge de la Balme and Col du Bonhomme, before reaching Col de La Croix. The view hiking to the Col involves beautiful panoramas of Plan Jovet. When you finally reach the col, there is a stunning view back into Val Montjoie, from whence you came. Finally, the two paths diverge at Col de la Croix, the high route alternative climbing upwards to Col des Fours (8,743 feet), one of the highest spots on the TMB, while the main route immediately descends to Les Chapieux. The higher route avoids a section of road between Les Chapieux and Refuge de Mottets. If there is bad weather, you can take a taxi or shuttle from Les Chapieux to Refuge les Mottets, saving about an hour of road walking.
Accommodation along route: Refuge Nant Borrant (35 dortoir places / 1.5 hours), Refuge de la Balme (48 dortoir places, 14 beds / 2.5 hours), Refuge de la Croix du Bonhomme (113 dortoir places / 5.5 hours), Les Chapieux (35 dortoir places, 35 beds / 7.5 hours),
Suggested Accommodation: Refuge les Mottets. 8 hours via Col de Fours or main route with road transfer. Although one of the more expensive refuges on the Tour du Mont Blanc, Refuge les Mottets offers a rare combination of comfort and seclusion on the TMB. For those who book early, the Refuge has double rooms with ensuite shower facilities (€100 per person with half board). The hut itself is located in the picturesque "vallée des Glaciers" and feels more isolated than the Gite in Les Chapieux.
TIP: To reduce hiking distances without sacrificing great views (Main Route)
You can reduce wear and tear by taking the cableway on Day 3 to Bellevue and then taking a shuttle on Day 4 from Les Chapieux to Refuge Les Mottets. The route up to Bellvue isn't incredibly beautiful as it goes up the side of a ski hill and the hike from Les Chapieux to Les Mottets is along a tarmac road anyways, so you might as well make use of it.
Left: Near Refuge Nant Borrant
Right: Ascending through the Val Borrant and Val Montjoie to Col du Bonhomme
Center: The view from Refuge de la Croix du Bonhomme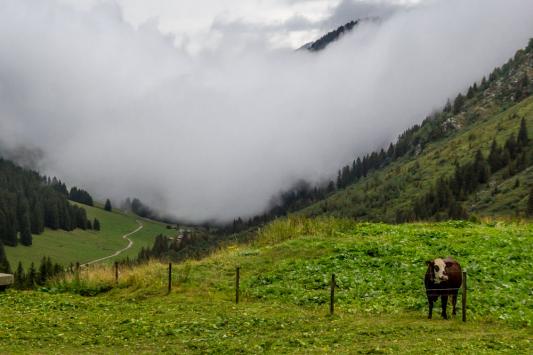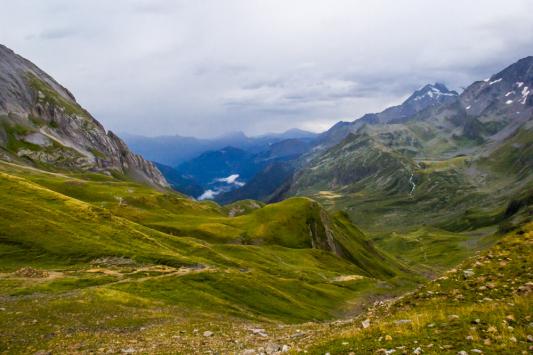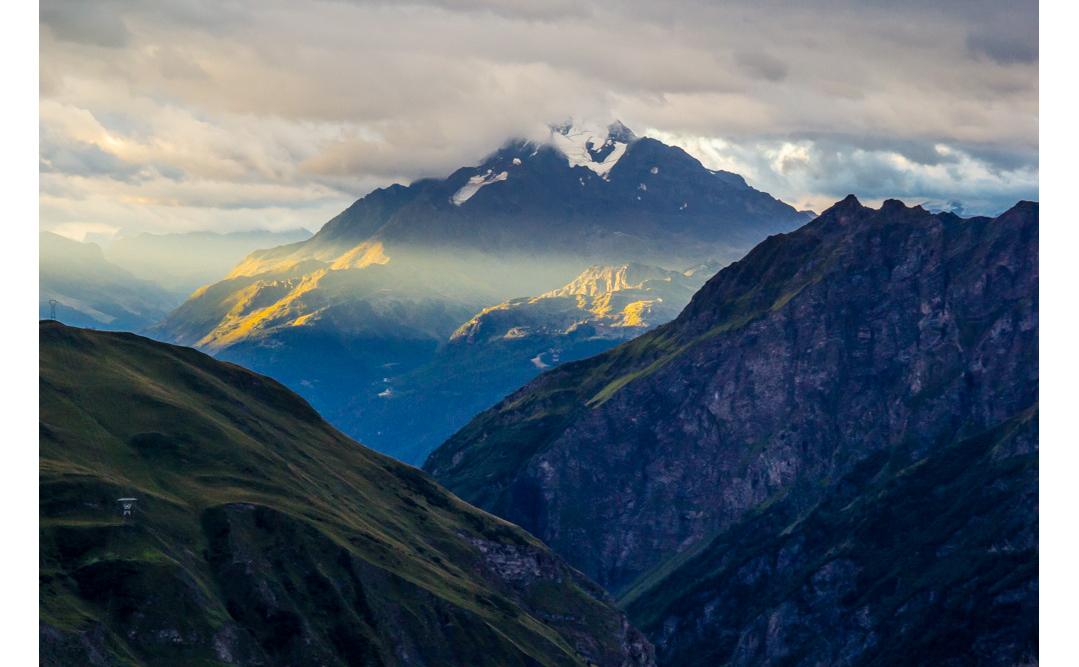 Day 4: Refuge de Mottets– Col de la Seigne – Refugio Elissabetta
Distance: 4 hours / 6 Miles
Height gain: 2,952 feet / Height loss: 846 feet
Transport Options: none
Today you will leave France and enter Italy via Col de la Seigne. Although a short day, there is still a lot of elevation gain as you will be passing over Col de la Seigne, which has a height of 8,254 feet. Not very long or hard, there are a few steep sections on the way to the Col. At the top, you will have a view of both France and Italy, quite stunning! In Italy, you will gaze onto the Val Veni It's then a steady descent down to Refugio Elisabetta, which sits at 7,200 feet above sea level on the side of a mountain.
Accommodation: Refugio Elisabetta. Great atmosphere. Some travelers are turned off by the large dortoirs. Reserve a spot in a 4 - 7 dormitory room early, or if you plan really well, the only double room they have. Dinner is done in an early and late shift. Food is some of the best on the TMB and there is a good selection of beer and wine. Davide and Marta run the hut, so be friendly and they are sure to return in kind.
Left: Looking back after conquering Col de la Seigne
Right: Marmots located on stretch before Elisabetta
Center: Refugio Elisabetta from below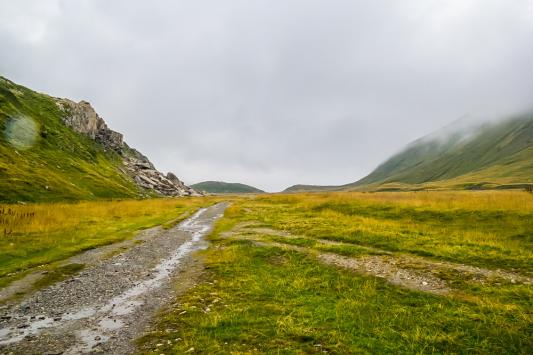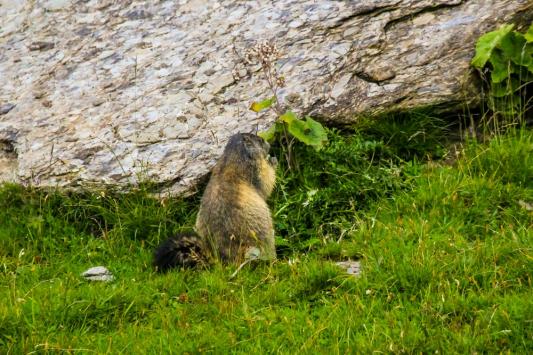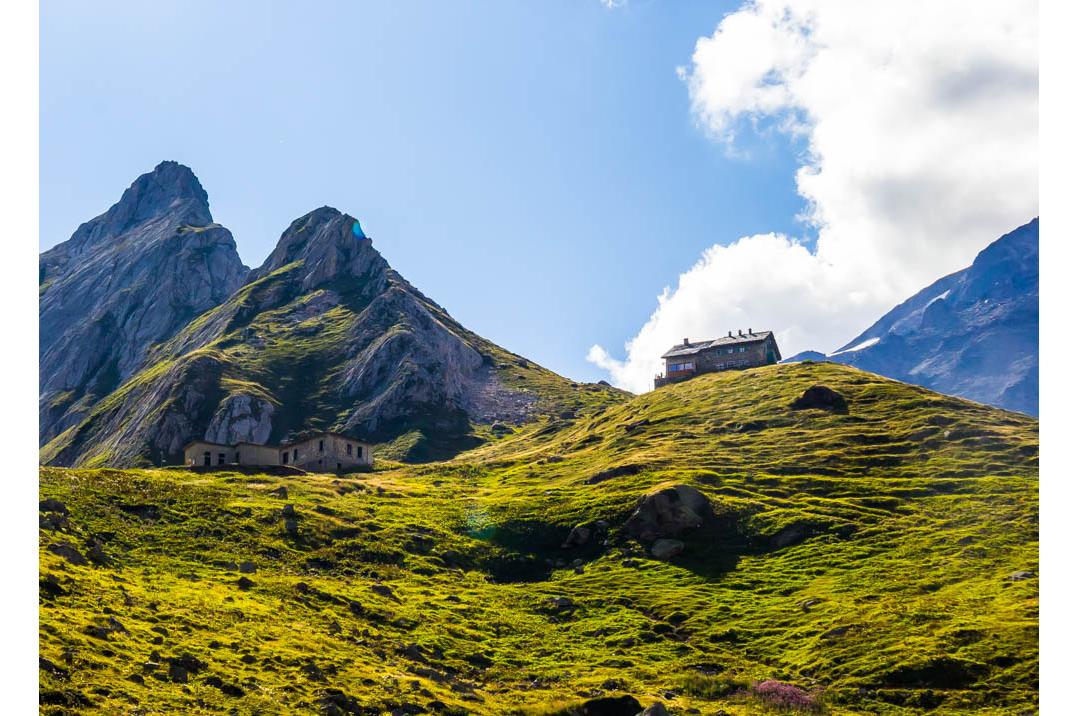 Day 5: Refugio Elisabetta to Courmayeur
Distance: 5.5 hours / 11.1 miles

Height Gain:

1,509 feet / Height Loss: 5,118 feet

Transport Options: Bus from La Visaille to Courmayeur (bad weather alternative), Cable car from Plan Checrouit to Courmayeur
This is also a short day, however with a lot of elevation loss towards the end of the day when you descend down into Courmayeur. The day starts with a descent from Elisabetta to Lake Combal situated below. After the lake, if the weather is bad, then it is advised to descend into Val Veni and continue walking the valley. There are buses available in the valley to take you to Courmayeur. If the weather is good, you can climb to the Mont Favre spur, the highest point of the trek at 7,972 feet and then continue on the high route, which has some really nice views of Mont Blanc and the surrounding peaks from the opposite side of the mountain you saw on the first day. Once you reach Plan Checrouit, if your legs are a bit worn out, you can take a cable car down to Courmayeur. The cable car can save about 1,900 feet of elevation loss.
Accommodation along route: Rifugio Maison Vieille (50 dortoir places / 3.75 hours), Rifugio le Randonneur (25 Dortoir places and some beds, 4 hours), Courmayeur (from high end hotels to low end pensions, Courmayeur has a wide range of accommodation - a good value for money is Hotel Crampon)
Accommodation: La Scoiatollo is a four star hotel in the heart of town. As you have been roughing it on a few occasions to get to Courmayeur, why not treat your self.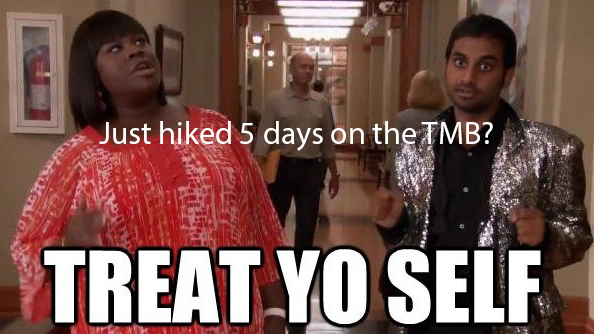 Left: Courmayeur
Right: Lake Combal
Center: Looking into Val Veni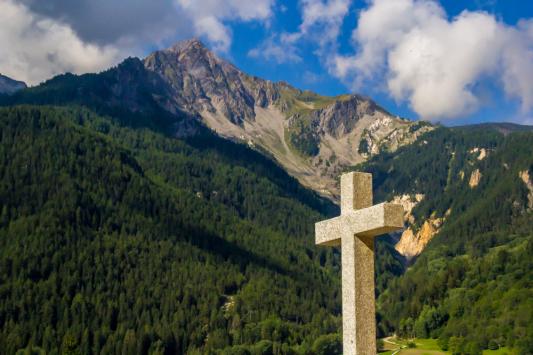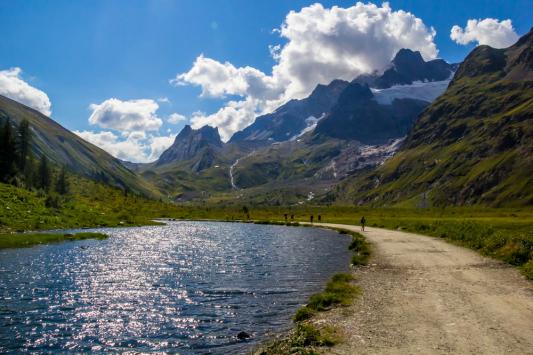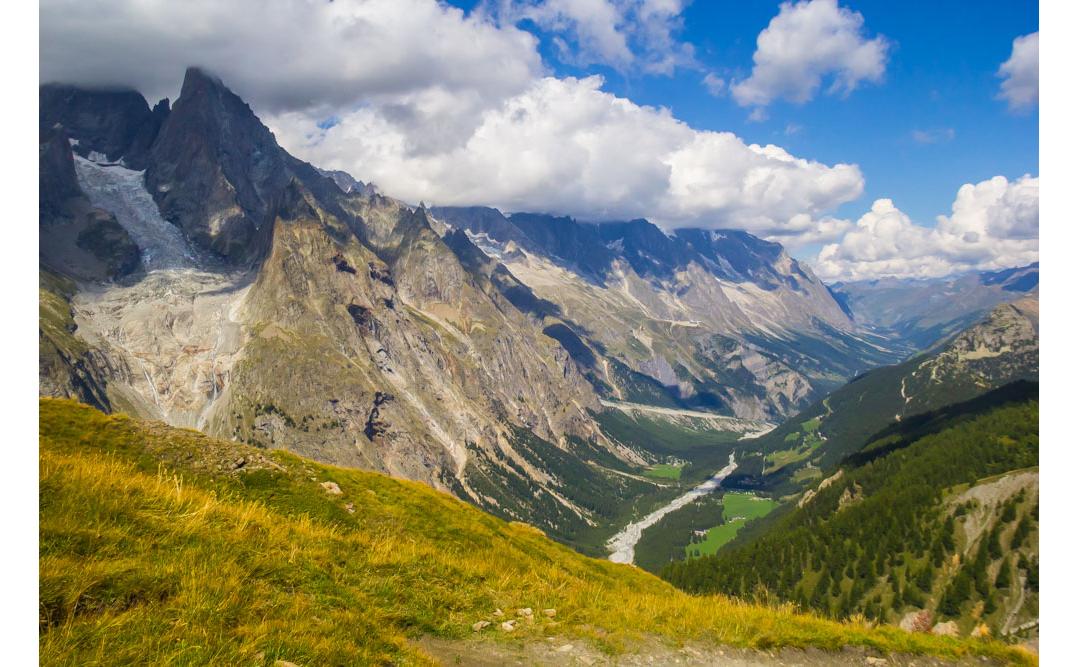 Day 6: Rest Day in Courmayeur
It's possible to take the Funivie Monte Bianco from La Palud to Point Hellbronner and then continue on to Aiguille du Midi. Amazing views of Mont Blanc. You can return to Courmayeur the same day.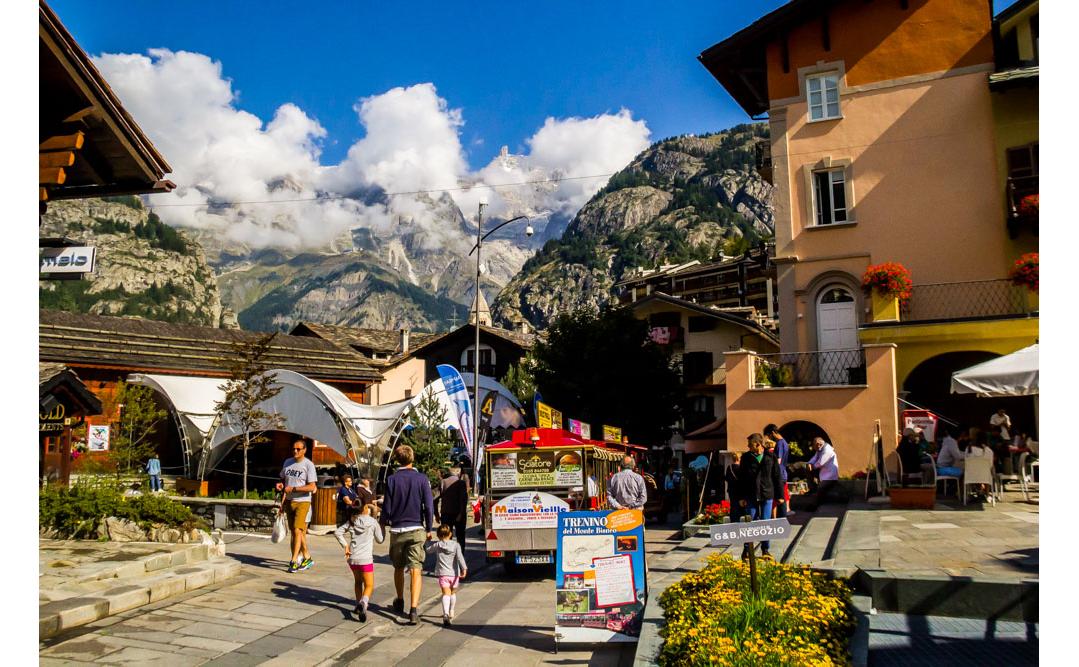 Day 7: Courmayeur to Refugio Bonatti
Distance: 4.5 to 7 hours / 7.4 miles, 8.7 miles or 10 miles depending on route
Height Gain: 2821, 4753 or 5239 feet / Height Loss: 2290 or 1804 by variants
Transport Options: Bus from Courmayeur to La Vachey
One of the prettiest stages of the tour, the flank of Mont de la Saxe and the glaciers of Planpincieux and Frebouze are on display throughout most of the day. Running beneath you is the Val ferret. Also, keep you're eyes peeled for blueberry, which can be found off to the side of the path. Today, you have the choice to follow the new main route to Refugio Bonatti, which takes a lower path that avoids a lot of elevation gain, or one the old TMB routes, which rise higher and give even more impressive views of the Mont Blanc Massif. The alternative higher routes push you to 8,280 feet, whereas the main route levels out around 6,600 feet. The high route travels along the Mont de la Saxe crest and has been regarded by many as one of the best viewpoints of the south side of the Mont Blanc range. For the weary hikers, you can also take a bus to La Vachey and hike steeply 1.5 hours up to Rifugio Bonatti.
Accommodation along route: Refugio Bertone (55 dortoir places, 14 beds / 2 hours)
Accommodation: Refugio Bonatti - 85 dortoir places plus double, triple and quadruple rooms with shared bathrooms.
Left: Blueberrys on Mont Blanc in between Courmayeur and Refugio Bonatti
Right: Mont Blanc Obscured by clouds and Glacier Planpincieux
Center: Looking back on the Val Ferret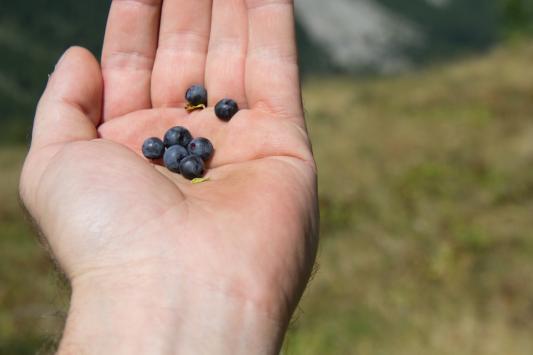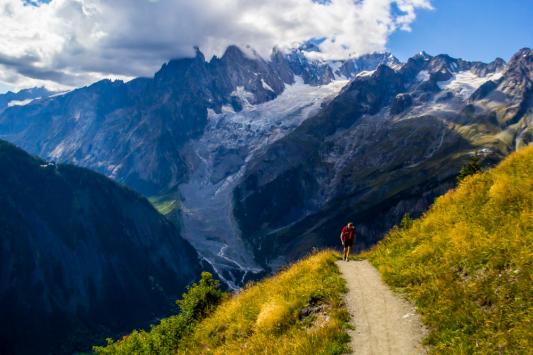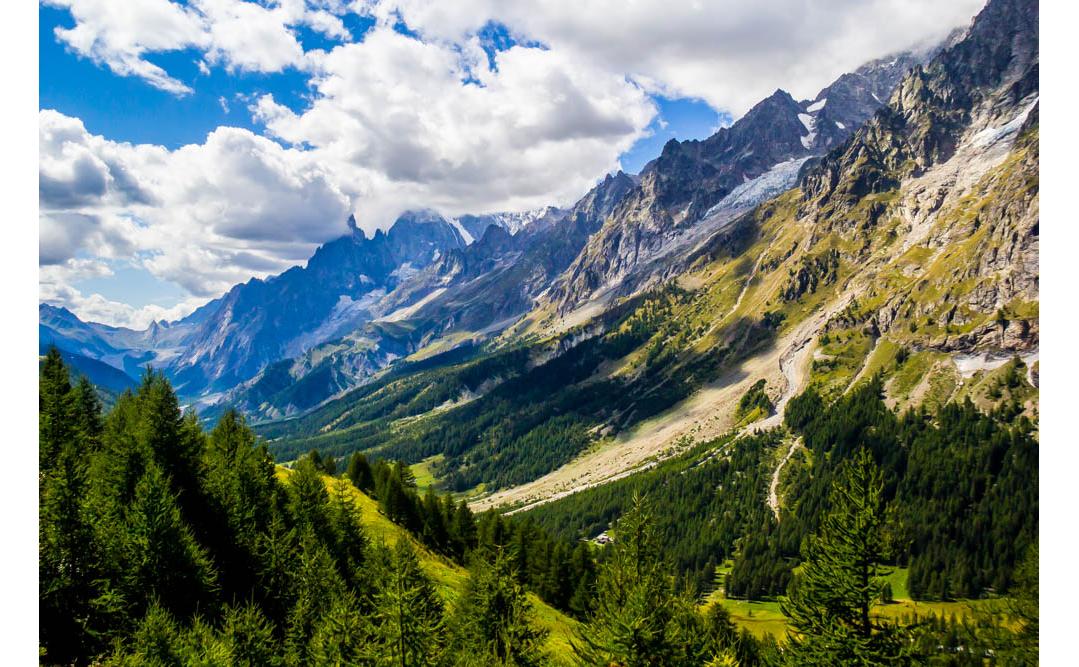 Day 8: Refugio Bonatti to La Fouly
Distance: 6.5 hours / 12.4 Miles
Height gain: 2,936 feet / Height loss: 4,625 feet
Transport Options: Bus from La Vachey to Arnouva, Bus from Ferret to La Fouly
Today will be a bit tougher than yesterday. You will say goodbye to Italy and finally arrive into Switzerland. The first stretch from Bonatti to Refugio Elena has some slight elevation change as you descend back into the Val Ferret and allows you to enjoy the sweeping views of the Massif and the Val Ferret. After Elena, you will start the steep ascent to the Grand Col Ferret; waiting for you on the other side is Switzerland. At 8,323 feet, the Col Ferret is about the same height as Col de Seigne a few days earlier. In Switzerland, the big mountain views are replaced by a pastoral and agricultural setting. There is a charm to the Val Ferret, with cowbells often heard and tiny villages that seem to be stuck in time. If you are getting tired towards the end, there is a bus that runs from the town of Ferret to La Fouly. It saves about an hour of hiking time. I don't recommend the first transport from La Vachey to Arnuva, because you would need to detour down into the valley to reach La Vachey, which has a lot of elevation change in a short amount of time.
Accommodation along route: Chalet Val Ferret (14 beds / 1.5 hours), Refugio Elena (128 dortoir places, 15 beds / 2.25 hours and a good place to enjoy a coffee and a view of Glacier de Pre de Bar and Glacier de Triolet), Alpage de la Peule (30 places / 5 hours), Gite de la Lechere (27 dortoir places / 6 hours) / Various accommodation in La Fouly including Chalet le Dolent, Gite Les Girolles & Auberge des Glaciers (6.5 hours)
Recommended Accommodation – Hotel Edelweiss has both dortoir and private beds with ensuite facilities. The hotel is a family affair and run by the Lonfat family. Excellent bar and restaurant, however keep in mind that the dortoir bookings eat separately from the private rooms.
Left: Refugio Elena and Glacier de Pre de Bar
Right: Wildflowers and the Val Ferret
Center: The Val Ferret from the Grand Col Ferret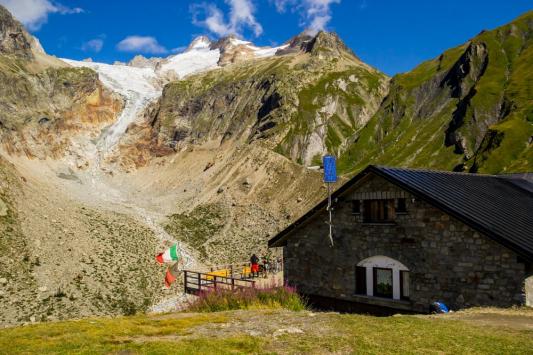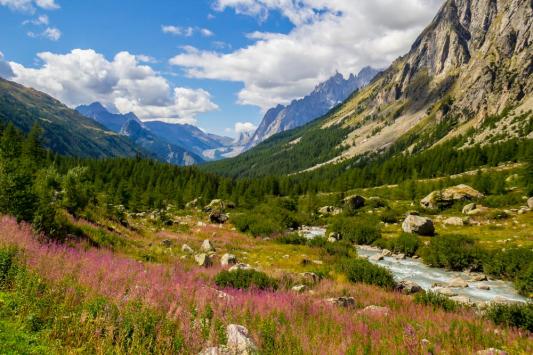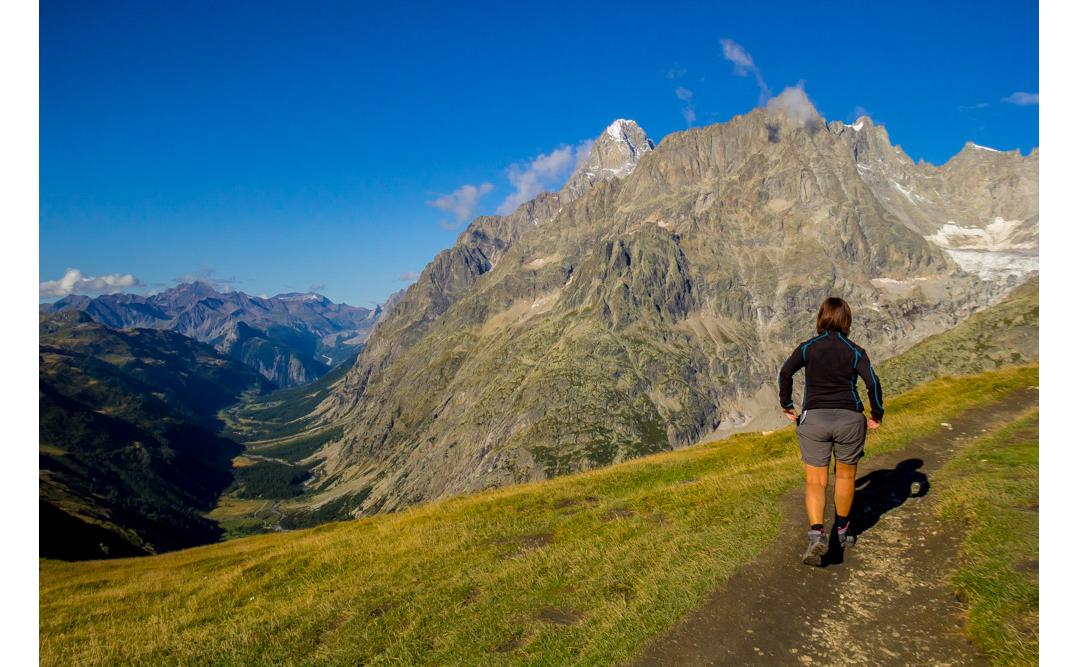 Day 9: La Fouly to Champex
Distance: 4.5 hours / 9.3 Miles
Height gain: 1,377 feet / Height loss: 1,853 feet
Transport Options: Bus from La Fouly to Champex
This will probably be the easiest day of your tour. There are no passes or cols to conquer and you will be traveling through a valley most of the trek. Although there are few big mountain views here, there are several charming villages to pass through. After leaving La Fouly, you will begin a slow descent, passing by Praz de Fort before arriving at the low point of the trek in Issert. Flowers, bees and butterflies make this tiny hamlet in interesting stop before your steady descent through a forrest laden with wooden gnomes and mushrooms leading to Champex. If you are in need of a break, there is a bus from La Fouly to Champex; but this shouldn't be a hard day to handle if you're still feeling fit.
Accommodation on Route: Chalet de la Deuve in Praz de Fort (dortoir and rooms / 2 hours), Several places in Champex including Pension on Plein Air (48 dortoir places and 25 beds), Au Club Alpin (25 dortoir places), Chalet du Jardin (8 dortoir places, 13 beds) and Camping Les Rocailles.
Accommodation – Hotel Splendide two interconnected rooms with ensuite in one room (the single room needs to share the bathroom with the double). Confirmed without deposit needed.
Left: Leaving La Fouly a waterfall dominates the mountain side
Right: Near Champex, many variations of wild mushrooms can be found
Center: The reflective waters of Lake Champex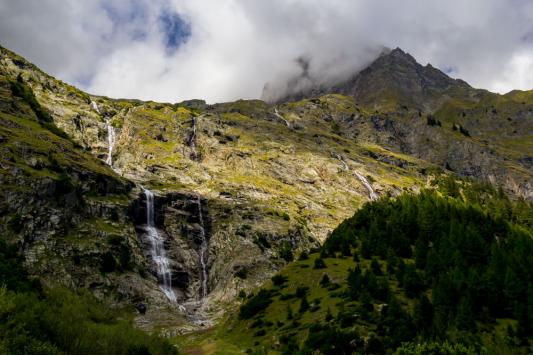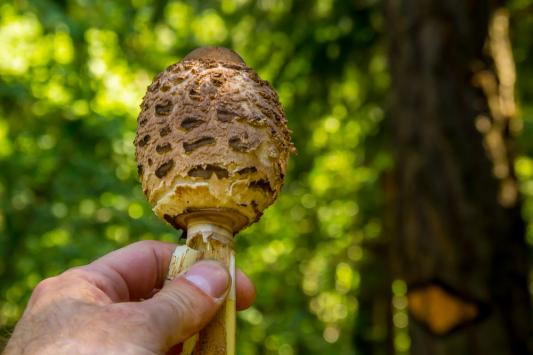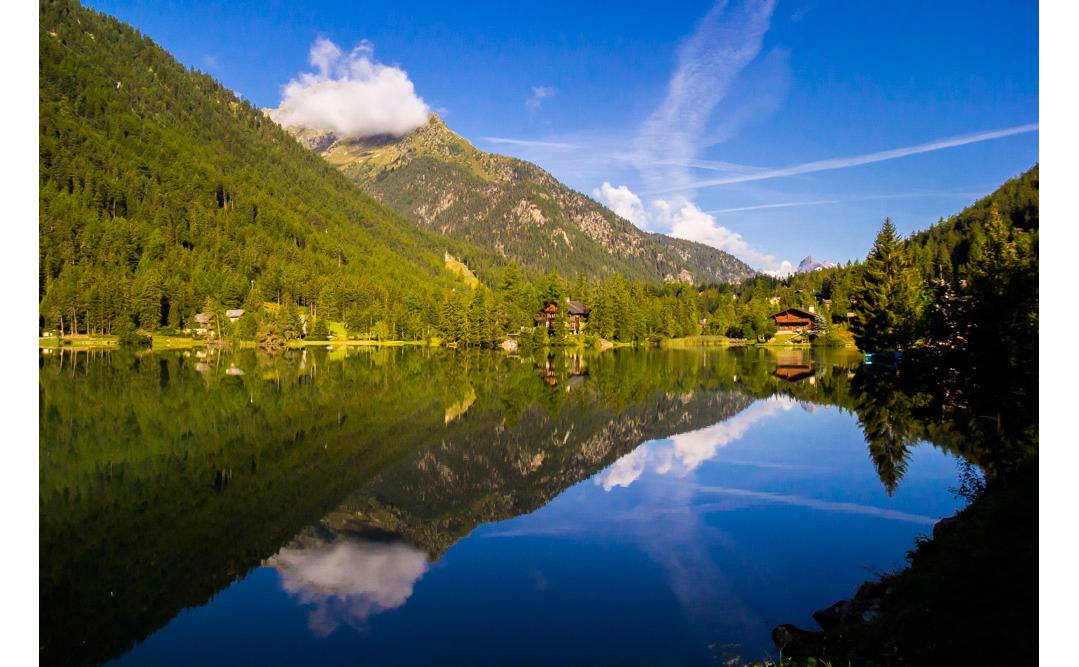 Day 10: Champex to Trient
Distance: 5.5 hours / 9.5 Miles
Height gain: 2,434 feet / Height loss: 2,237 feet
Transport Options: Postbus and Train (Champex – Orsieres – Martigny – Forclaz)
Hikers have two options reach Trient. The main route goes over Col de Forclaz (5,006 feet), and then ascends higher to "Alp Bovine", the highest point of the trek at 6,692 feet above sea level. Although perhaps not as spectacular as the alternative high route, the main route still impresses with views of the Town of Martigny which seems to be miles below. The path snakes its way across fields, meadows and forests and provides a good amount of elevation change and challenge. The higher route alternative, passing through Fenetre d'Arpette (8,743 feet) should only be attempted in good weather and without snow. It is the highest point on the TMB and there is some scrambling necessary at the top. Caution is advised. Still, the route has an amazing view or "window" onto a different landscape when you finally reach the top. Also, there is the view of Trient Glacier which is quite beautiful, although it is shrinking in size.
Accommodation along route: Auberge Bon Abri ( Our gite has one double bed room, 5 rooms with 6 beds and a large dormitory with 18 beds / 20 minutes), Alp Bovine (Emergency shelter, refreshments / 3.25 hours), Hotel de Forclaz (private rooms with and without ensuite bathroom / 5 hours)
Suggested Accommodation – Hotel la Grande Ourse has both dortoir and private rooms. Located in Trient. 5.5 hours.
Left: Alp Bovine refuge
Right: A twisting path leads through a forest in the Alp Bovine
Center: A cloud dangles over the Martigny Valley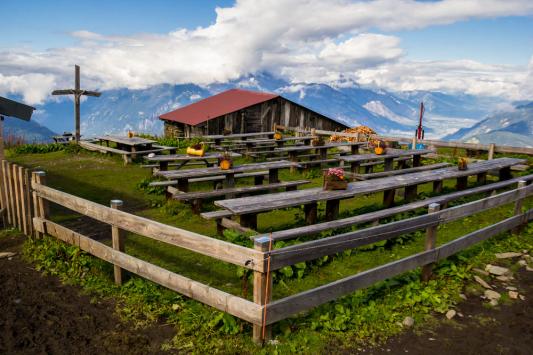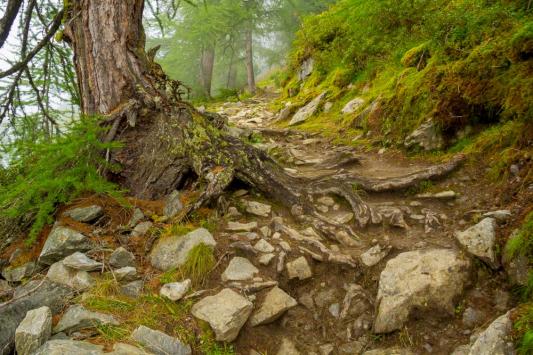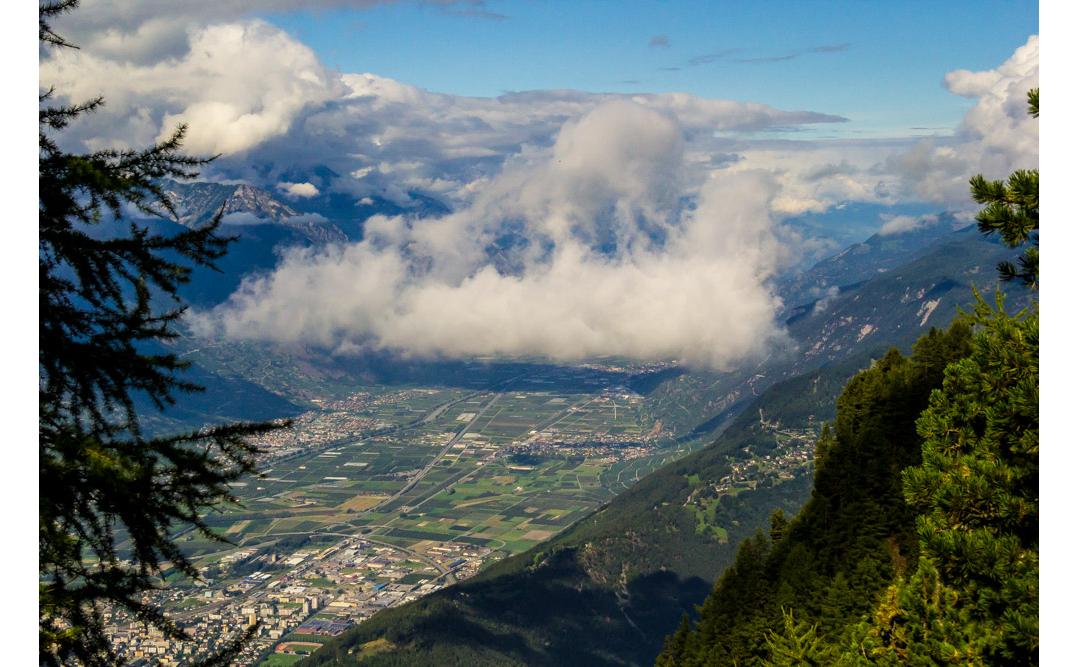 Day 11: Trient to Argentiere
Distance: 6 hours / 9.4 Miles
Height gain: 3,507 feet / Height loss: 3,864 feet (not including descent into Argentiere)
Transport Options: Taxi from Tre Le Champ.
Although there is a lot of elevation gain and loss, most of the trek, apart from the descent from Aiguillette de Posettes (7,221 feet), is at a relatively amicable angle. Today you will have the first glimpse of the Mont Blanc summit since leaving Refugio Bonatti. After passing Col de Balme, you will reenter France. If there is bad weather, head to Charmillion. If the weather is good, you can head north to Le Peuty. After reaching Tre le Champe, you can continue on to Argentiere if you desire private accommodation, a 25 minute detour off the main route. The Argentiere valley has a better infrastructure and more amenities. Alternatively, you could call a taxi from Tre le Champ and hitch a ride down to Argentiere.
Accommodation along route: Le Peuty (37 dortoir places / 30 minutes), Refuge Col de Balme is not a reliable place to spend a night; electricity often doesn't work and the place is in a sad state of affairs , Auberge le Boerne (32 dortoir places),
Accommodation – Hotel de la Couronne is great for families. It features a few layouts with accommodation for two parents and two children.
Left: Refuge Col de Balme sits pretty, however is not a reliable refuge
Right: Mont Blanc returns to view near Col de Balme
Center: Carins at the top of Aiguillette des Posettes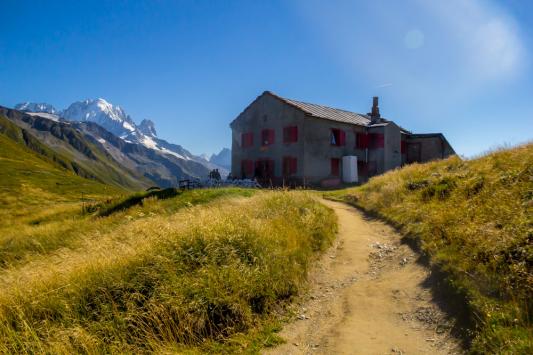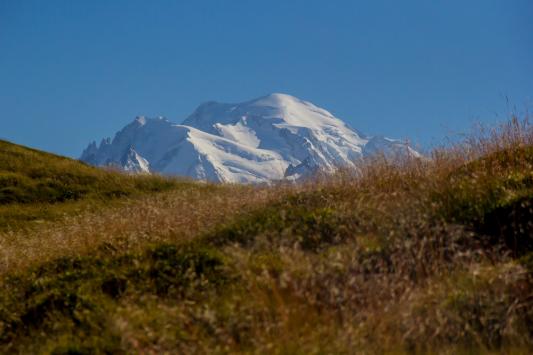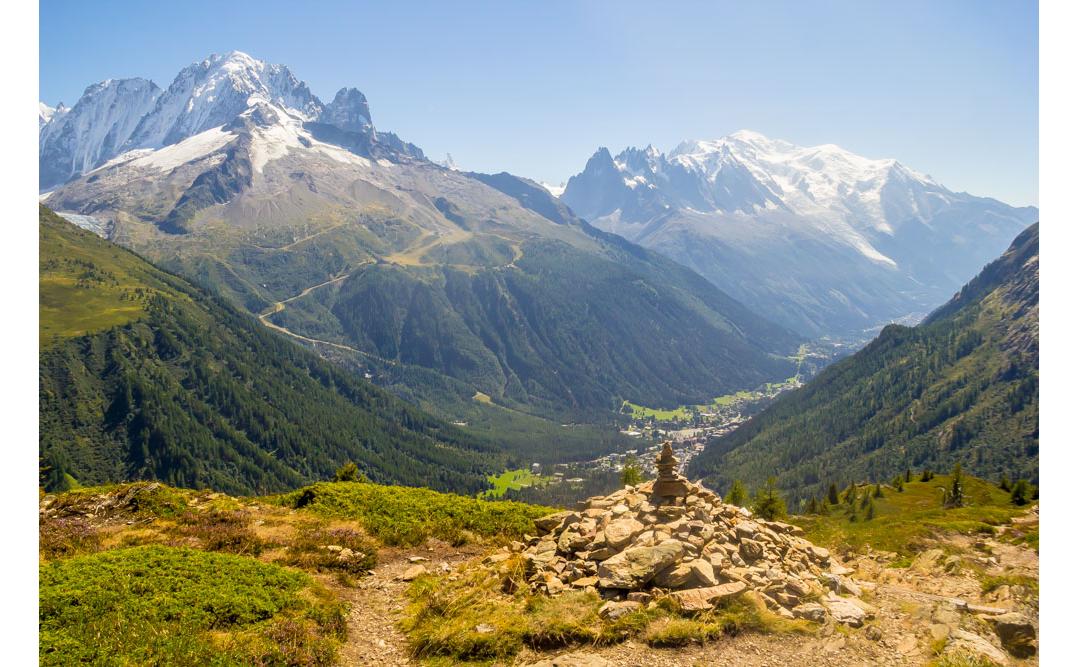 Day 12: Argentiere to Le Brevent
Distance: 8 hours / 10 Miles
Height gain: 4,937 feet / Height loss: 843 feet (not including descent into Argentiere)
Transport Options: Cable Car at Refugio Le Flegere, Cable Car at Plan Praz, Cable Car at Le Brevent
Today has some of the best views of the entire tour. The main route goes to Refuge le Flegere via a series of ladders and metal steps hammered into stone. None of the ladders are higher than 30 feet or so, but for those that wish to avoid this section, there is an alternate route that goes through Col des Montets. The alternate route is a bit steeper and gains elevation quicker than the main route. Soon after the two routes come together there is another detour that goes to Lac Blanc. The lake provides a picturesque view of Mont Blanc with the lake set in the foreground – a good spot for a picture of the peak reflecting off the shimmering blue water. The trip to Lac Blanc does take an extra 45 minutes and adds about 600 feet of elevation gain and loss. After reaching Refuge le Flegere, you then have a decision to make. You can take a gondola down to finish your tour or you can continue on towards Le Brevent. If you do continue, in approximately two hours, you will reach another opportunity to take a cable car down to Chamonix at Plan Praz. It's relatively flat from Flegere to Plan Praz, however afterwards the angle gets steeper on your final assent which takes an additional 2 hours. The final 200 meters is enclosed in a hollow where your vision is restricted (two ladders are on this section as well). You've seen the view from Le Brevent on the first day, and you will remember how stunning it was.
This route is designed so that you can have two chances to see Mont Blanc from arguably the best viewpoint of the tour. If the weather was bad on the first day, you have another chance today. Once you reach the top, you can take the gondola back down to Chamonix to complete your tour.
Accommodation – Le Morgane one superior room and one connected standard room for a single child (Bed and Breakfast)