Pygmy Elephant is a self-guided tour operator that has been in business since 2015. Every year, we help hundreds of people hike the Tour du Mont Blanc Self Guided. As the owner of the company, I wanted to create a page that centralizes the knowledge we have gained through out our years as a tour operator. I hope it helps to inspire you to hike the TMB and also provide answers to many of your burning questions.
The page is divided into sections, each of which contain links with even more in depth information. We cover the following topics:
Hiking the TMB - What's the attraction?
Hiking the TMB is at the top of many people's bucket list and for good reason.
The tour visits three countries: France, Italy and Switzerland. You can walk across three international borders in the matter of days using only human power. That type of access is rare, even in Europe.
During your hike around the Mont Blanc massif, you will have some awe inspiring views of glaciers, mountain tarns and aiguilles (spiky mountain peaks).
You will also be able to visit charming mountain villages that are not on most tourist's radar.
The infrastructure is also surprisingly good. There are gondolas, buses and taxis that can help transport weary hikers. The hut system is also extensive. If you want a private bed and a warm shower every evening, it's possible with the proper planning.
You can explore a few more reasons in our post on "Why hike the Tour du Mont Blanc"?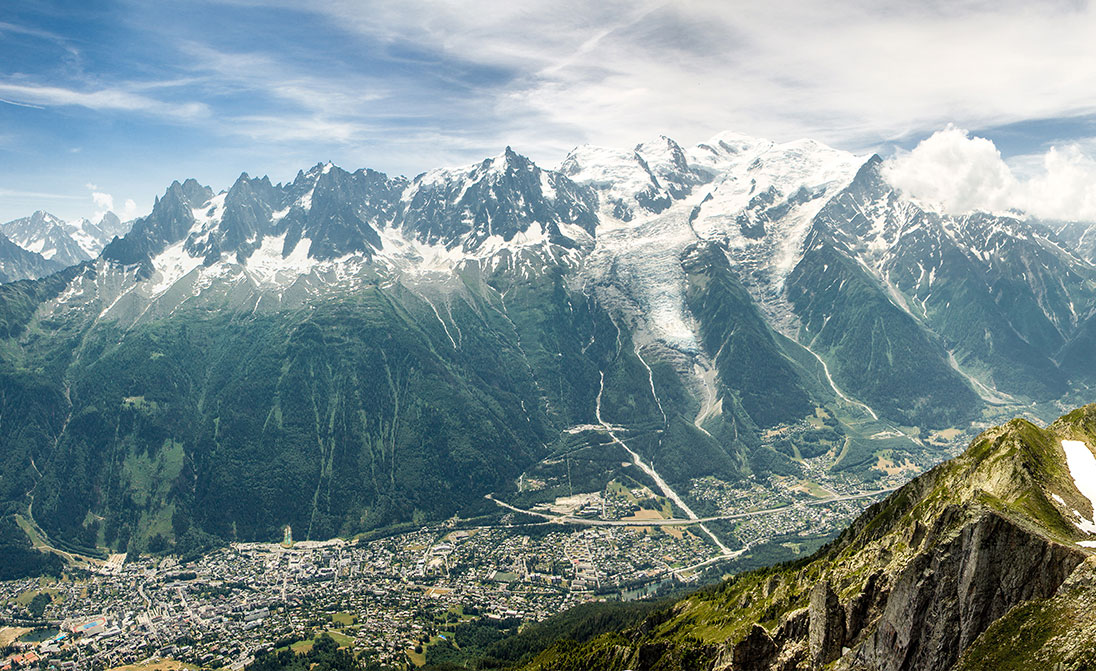 Planning the TMB
There are a few options for planning your tour. Most people fall into one of three categories:
Plan everything on their own. Make all reservations and hike without support.
Join a guided tour which takes care of all logistics, reservations and decision making while hiking.
Enlist the help of a self-guided tour operator who organizes the trip, makes the reservations and supports you while hiking.
As a self guided tour operator, we are obviously partial to this option. You tell us your preferences, budget and fitness, and we tailor a tour to meet your needs. We handle all of the heavy lifting including reservations, logistics and transfers. We also equip you with the tools needed to get the most out of your TMB. We include a first day briefing, a customized printed handbook, travel app, free access to GAIA GPS and GPX files, plus 24 hour customer service while you are on the trail. Check out some of our Self Guided Tour Itineraries below, all of which can be customized.
Accommodation on the TMB
The Tour du Mont Blanc accommodation is set up to suit every class of hiker. There are a number of options available depending on how you structure your trek.
Hotels - In the towns along the route - Chamonix, Les Houches, Les Contamines, Courmayeur, La Fouly, Champex and Argentiere- there are variety of hotels at your disposal. In particular, it's possible to stay at 4 and 5 star hotels in Chamonix, France and Courmayeur, Italy.
Mountain Huts - At higher elevation, mountain huts ("refuges" in France, "rifugios" in Italy) are there to provide shelter and meals to hikers and mountaineers. They vary in quality from the very spartan accommodation with large dortoirs (dormitories) with beds close together and shared bathrooms, to elegant mountain retreats with private rooms and ensuite bathroom facilities. Although some huts are quite rustic, the view onto neighboring peaks and the camaraderie you develop with fellow hikers staying at them, more than makes up for any discomfort.
Gites and Auberges - Somewhere between the comfort level of hotels and huts lie gites and auberges, which are similar to B&Bs and hostels. Normally family run, most offer both private rooms and dormitories.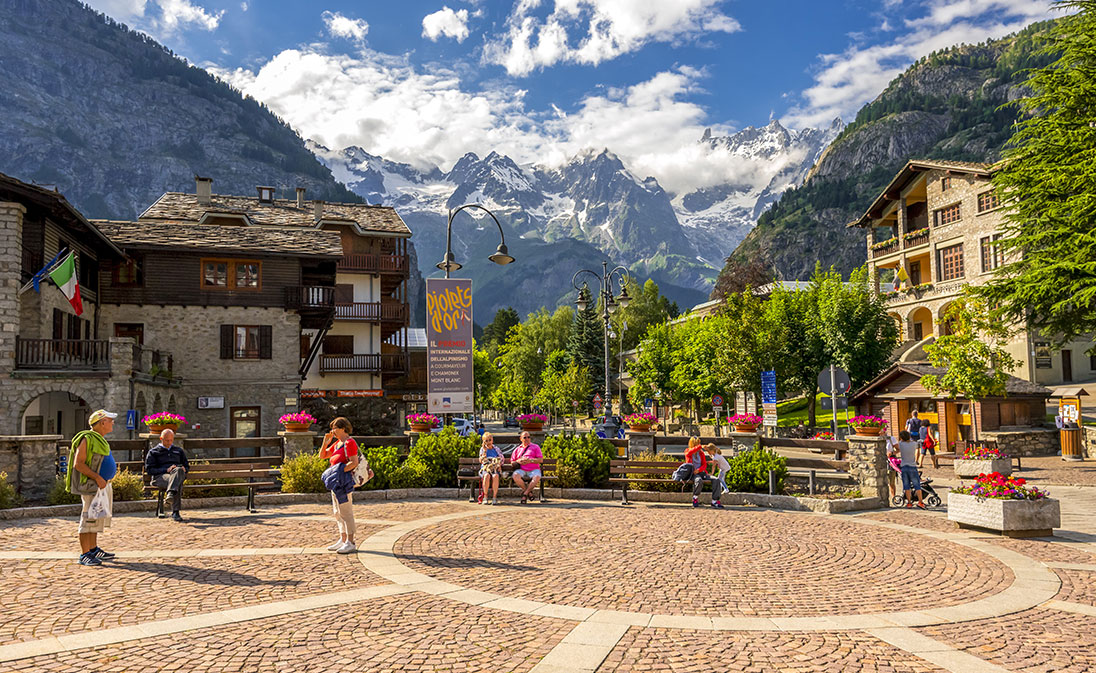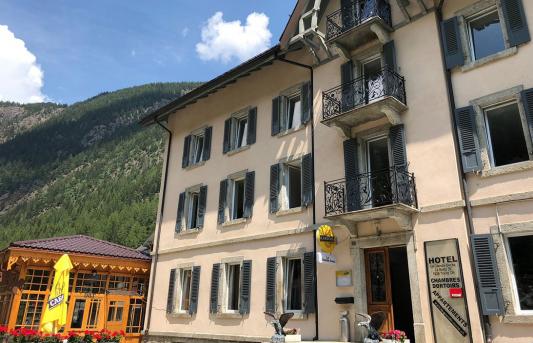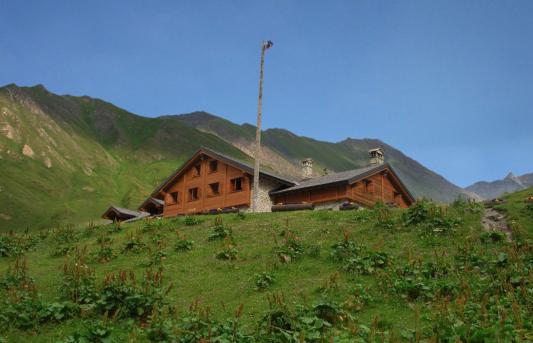 Food on the Tour du Mont Blanc
The food on the TMB is regional, with many hearty dishes filled with cheese and meat. No need to carry a weeks worth of food with you either. Most accommodation offer demi-pension, or half board, which means that they include both breakfast and dinner in your booking.
Dinners are normally three courses with plenty of food to go around, while breakfast, at least at the huts, is less to write home about. It normally consists of bread, butter, jam and coffee. Of course the quality varies, and some locations have better reputations than others.
For lunch, you can either source a packed lunch from your hut or hotel, or make your own picnic lunch by visiting supermarkets in the towns.
For those that have particular tastes or allergies, there are a few sections where no supermarkets are available:
from Les Contamines to Courmayeur (3 stages),
Courmayeur to La Fouly (2 stages) and
Champex to Argentiere (2 stages), although there is a small shop located at Col de la Forclaz.
If you are looking for local wine, the region that produces Beaujolais (near Lyon) is not far from Chamonix. If you are cheese lover, then go for the locally produced Beaufort cheese.
A few or our favorite Haute Savoie dishes you may find at dinner are raclette, fondue and la tartiflette.
If you want to dive deeper into the gastronomy of the region, you can read up on more options in our post on Tour du mont blanc food.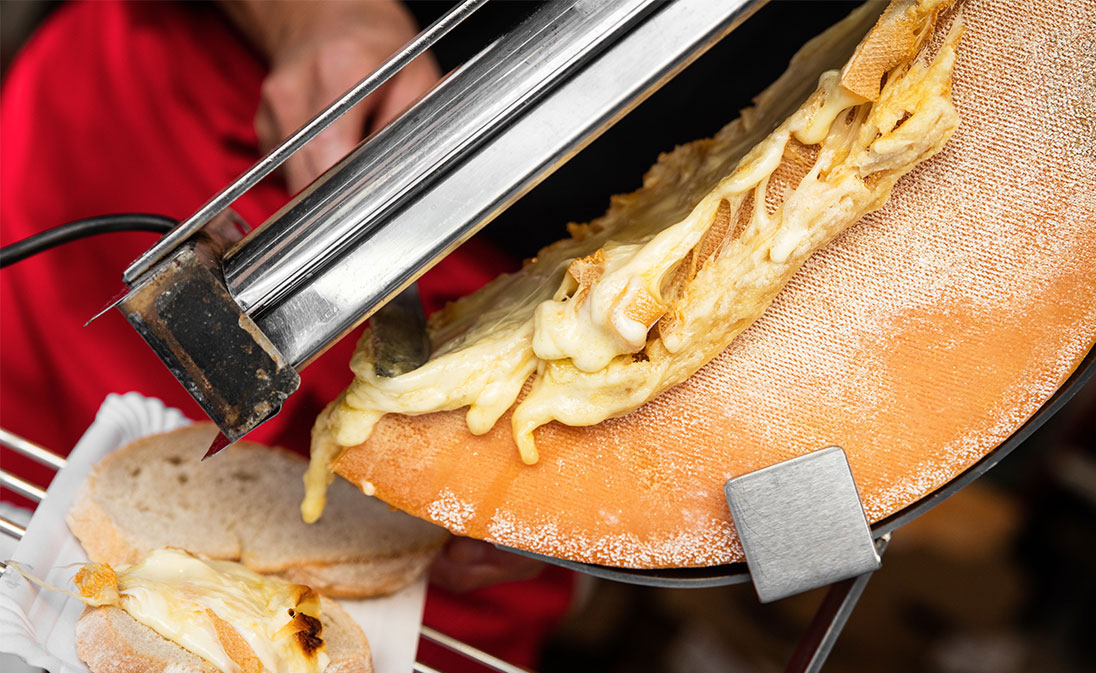 TMB Packing List
As with any long distance hiking trip, you'll need to carry some essential gear. At the top of most people's gear list are backpacks. Below are size recommendations for backpacks based on the type of tour you will be hiking.
With Baggage Transfers: If you are planning to have baggage transfers included in your tour, you will only need a day pack. We recommend 30 liters.
Without Baggage Transfers: If you are going to carry all of your clothing, toiletries and gear with you the entire 11 stages, then we recommend a 40 to 50 liter bag.
Camping: If you are camping and carrying your food, then you may need to go more than 50 liters, but try to keep it below 70 liters.
The weather on the TMB is variable due to the changes in elevation. On the cols, you reach 2,500 meters or around 8,200 feet. Furthermore, there can be snow storms in the beginning (June) or end of the season (September), and occasionally, there is a storm that brings snow during peak season as well. As such, you will want to utilize layers. Aim for a short sleeve base layer made of synthetic material (not cotton as it absorbs moisture), a mid layer fleece and a high quality, water resistant jacket.
If you are hiking when snow is still on the pass (June and early July), you will want to take along a pair of microspikes to ensure traction while hiking across steep terrain. In particular, the area near Col du Bonhomme, and the areas above the Val Veni and Val Ferret have some steep sections where you need to be careful.
As there is a lot of elevation gain and loss, we recommend hiking poles to lessen the strain on your knees. Even if you don't normally hike with poles, you should use them for the TMB. Again, if there is snow, they are not only recommended, but essential for safety.
This is just the tip of the iceberg, check out our tour du mont blanc packing list for a complete breakdown.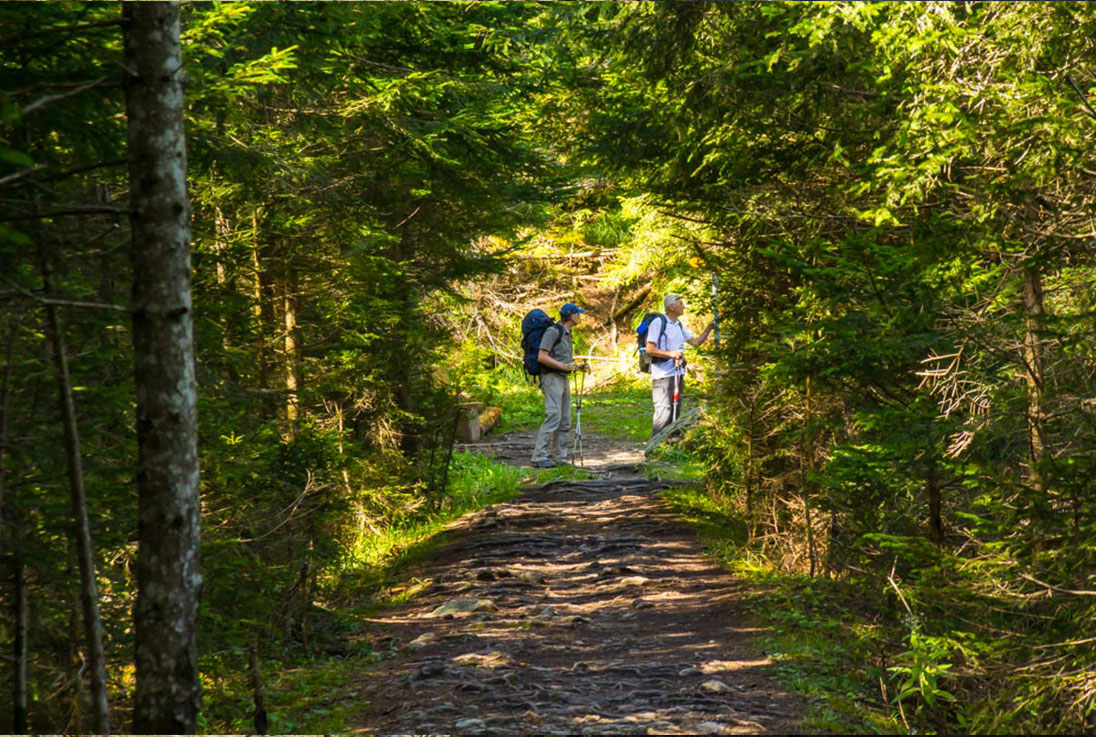 Tour du Mont Blanc Itinerary
The Tour du Mont Blanc is classically done counterclockwise in 11 stages. Most people start in the Chamonix valley, either in Chamonix itself or Les Houches, and end in the same location. The closest port of entry is Geneva Airport, about 1.5 hours via car away.
The 11 stages can be amended to fit your time, budget and fitness. It's approximately 170 km or 106 miles, to complete the tour. With an 11 stage tour, you'll average around 15 km or 10 miles a day. However, the real challenge lies in the elevation gain and loss, and not the distance. An average day has around 1,000 meters of elevation gain and elevation loss.
If you are quite fit, then an eight stage itinerary will provide a decent challenge while still allowing you to soak up what the region has to offer.
If you would like a more leisured pace, try 12 stages with two rest days interspersed in your itinerary.
If you want to see pictures and in depth information about each stage including distance and gain and loss, you can reference an example 11 stage Tour du Mont Blanc Itinerary.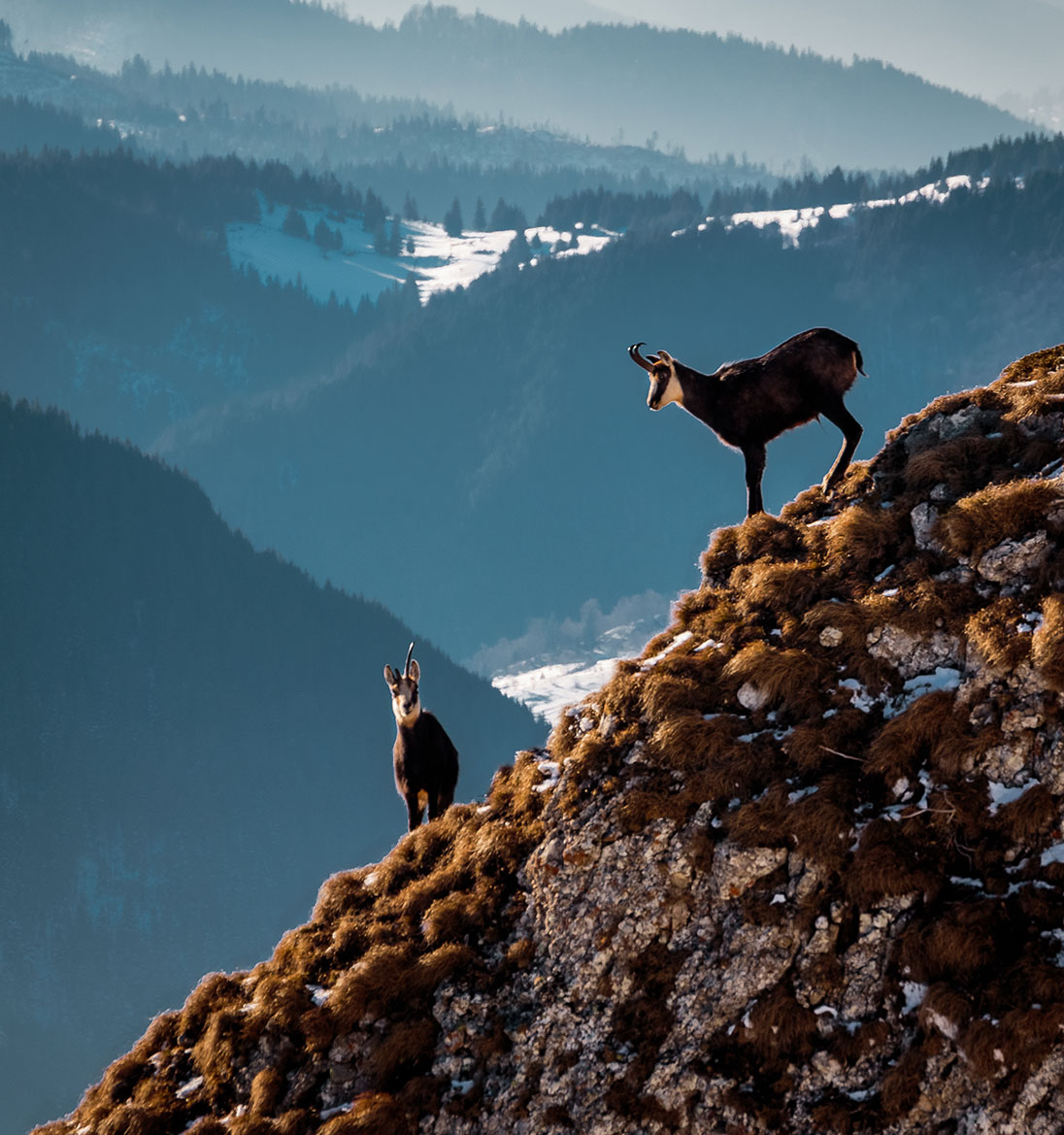 How difficult is the TMB?
Technical Difficulty
Let's first chat about the technical nature of the hike. During the summer, when the snow is free from the passes, the TMB is a straight forward hike.
The hike is popular and you will see many people on the trail. The signposting is quite good and you are never too far from a hut or village. Still, when bad weather rolls in, snow and fog have the potential to obscure trail signs. We recommend taking a GPS navigation, which can help in these situations.
However, technology can fail, so to be fully prepared, you should know how to use a compass and map.
In our TMB Tips post, you can find out the maps we recommend.
If you are going to hike in June or solo, we recommend previous alpine hiking experience. Although it's a well trodden trail, it is still the mountains and you need to respect the risks that are present.
For a comparison with another well known hike in the region, please view our post on the tour du mont blanc vs haute route.
Physical Challenge
In terms of physical fitness, you'll need to be in good shape.
As mentioned before, there is a lot of elevation gain and loss, over 35,000 feet in total and a total distance of 106 miles.
You'll need to walk at least an average of 10 miles per day and walk up a minimum of 2,000 feet.
On the tough days, you'll have more than 5,000 feet of elevation gain. For these ascents, you should prepare with cardio intensive workouts.
The descents can also be brutal. Again, some days will have you lose more than 5,000 feet, which can be tough on your knees. For the descents, core and leg workouts will help strengthen key stabilizing muscles.
For more, information on the topic including our recommended fitness routine, check out our post on mont blanc hike difficulty.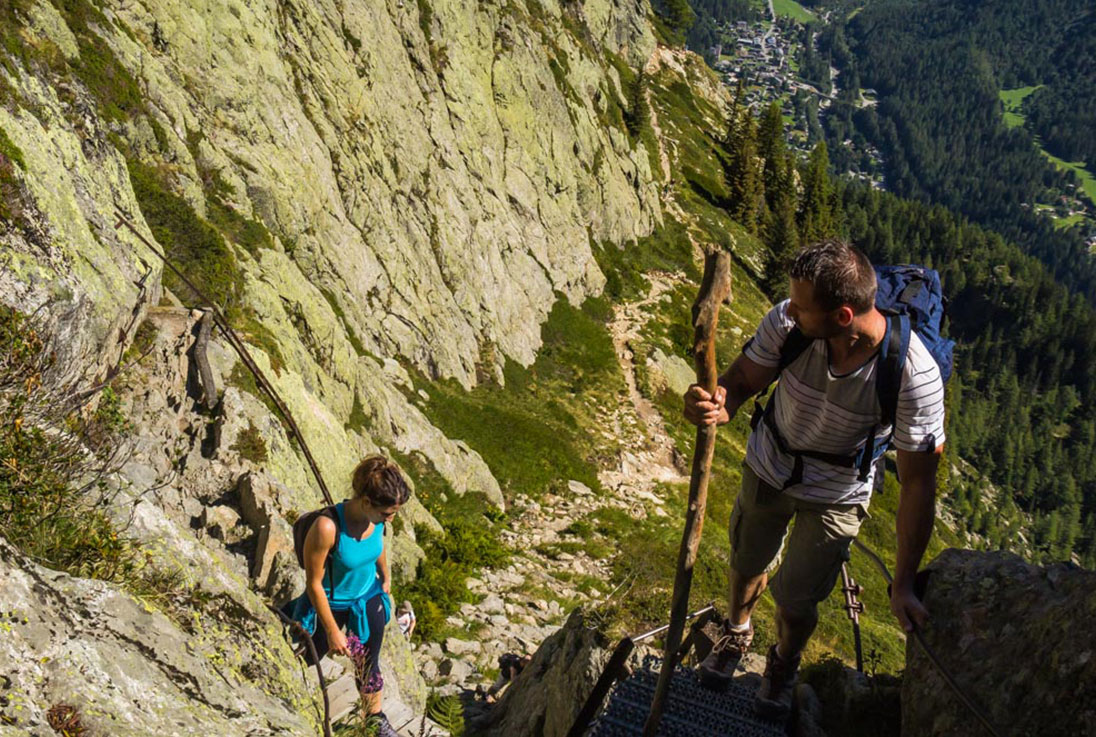 Choosing When to Hike the TMB
The TMB is typically hiked between June and September, however the peak time is in July and August.
In June, there is often snow on the passes. You should only plan on hiking then if you are experienced in alpine environments.
The beginning of September will have much milder temperatures and is often a lovely time to make the hike. Still, there can be colder weather and snow storms in September, so if you are looking for good weather, try July or August.
The last weekend in August there is always an Ultra-marathon on the Trail. Runners will circumnavigate the entire massif in less than 24 hours! It can be an exciting atmosphere in the towns around Mont Blanc, however it also means the trail will be busy.
For further considerations including a breakdown on temperatures, see our best time to hike tour du mont blanc post.