Just how difficult is the Tour du Mont Blanc? The difficulty of the trek largely depends on your itinerary, level of fitness, nutrition, and the time of year you begin your journey. Though the trail itself wraps around the mastiff of the tallest mountain in the Alps, you don't have to be an avid mountaineer to complete the hike.
But to fully enjoy the experience, our tour operators recommend hikers prepare with strength and endurance conditioning several months in advance. The Tour is well-marked and accessible to hikers, but solo trekkers who are not accustomed to long-distance Alpine hikes will get more out of their trip by training ahead of time.
Here are some basic ways you can physically prepare for the Tour:
1. Adjust your itinerary to your fitness level.
Each year, thousands of hikers set out for the Tour du Mont Blanc, but not everyone completes it in the same way. Some people complete 103 miles (166 kilometers) of the trail in 20 to 45 hours during an event called the Ultra-Trail du Mont Blanc.
The majority of hikers, though, walk the entire route in about 7 to 14 days. The versatility and accessibility of the trail allows people from nearly all levels of fitness to enjoy the beauty of Mont Blanc.
Seasoned long-distance hikers may prefer to complete the TMB in 7 or 8 days for an added challenge. For first-time hikers of the TMB, though, we recommend an 11-day self-guided tour for an enjoyable journey.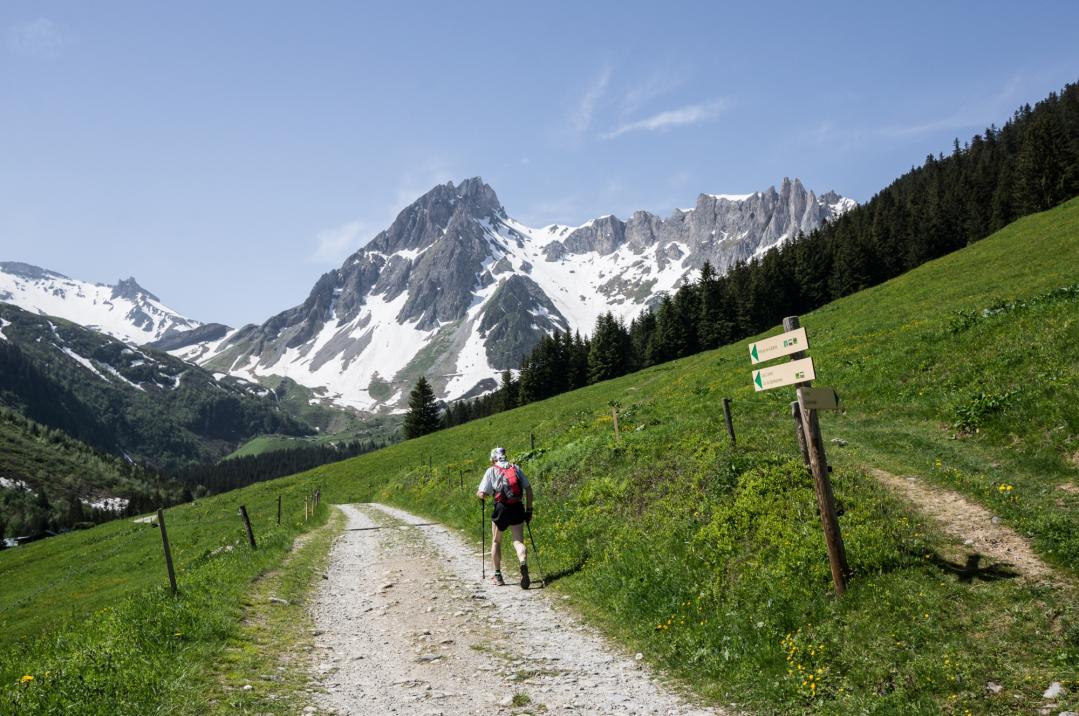 2. Tailor your workouts for strength and endurance.
While training for the TMB, an excellent mantra is, "Slow and steady wins the race." You need to condition your body to keep a solid pace for more than 4 hours each day. This requires endurance and patience, but you'll be rewarded with stunning panoramic views of France, Italy, and Switzerland throughout your trek.
During some of the days on the trail, you'll have to hike incredibly steep hills for at least 3 hours at a time. The best way to prepare for this kind of physical activity is to hike in an area with sizeable elevation gains and losses for extended periods of time. If you can make time for long- distance practice hikes over several days -- even better!
If you live in a flat area, you can still train for the TMB with cardio workouts and strength training. Mix activities like running, biking, and swimming with strength exercises that work the legs, core, back and shoulders.
On the last day of the TMB's counter-clockwise route, you'll encounter a series of ladders as you ascend to Tete aux Vents (the tallest ladder is almost 10 feet high). After more than a week of hiking, your body will be worn out and you'll need an extra burst of energy to conquer the ladders. During your training sessions, you can prepare for this by adding an upper body workout to the end of a long cardio workout.
Start breaking in your hiking boots and backpack at least two months before your tour. Wear your boots as much as you can to reduce pressure points where your boots rub into your skin (it's as painful as it sounds).
Training with your backpack will acclimate your back and hips to the places where they come into contact with the straps. Add weight to your pack (at least 10 pounds if you're using a luggage transfer service) to get as close to the full experience as you can.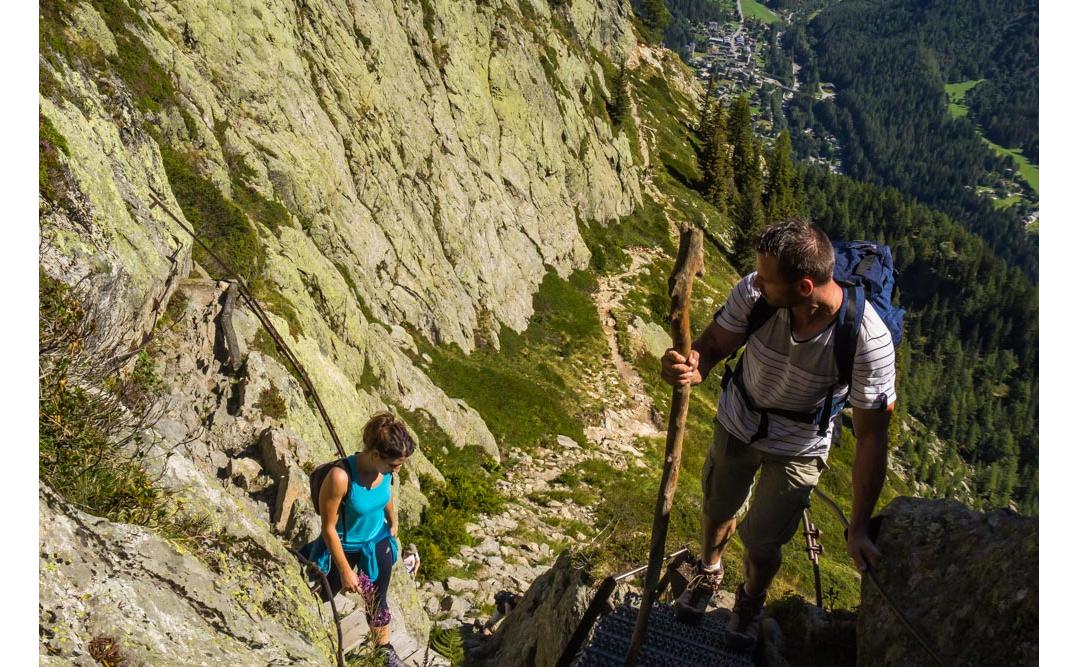 3. Eat foods that will fuel your body.
What you put in is what you get out. Eating the right foods will help your body recover from strenuous hiking and give you the fuel needed for endurance.
I can't stress enough how important it is to eat properly before, during, and after hiking. If you don't eat enough -- especially carbs, proteins, and fat -- in the morning, your muscles will give out sooner than usual. You'll feel pain and fatigue much faster than if you had eaten properly.
Some great snack options to stock up on include:
Bananas. They're great for long-distance hikes because they contain anti-inflammatory properties and help your body replace lost electrolytes.
Chocolate and cereal bars. Their sugar gives you power, and their carbs fuel your body for endurance. Often, if you're feeling the effects of fatigue, these will solve the problem and keep you from having to take painkillers.
Dried nuts and trail mixes. These high-protein snacks can help your muscles build and repair themselves after a long day of hiking.
At the end of a long day of hiking, you may feel like kicking off your boots and collapsing in bed. Before you do, try to eat a snack within the first 20 to 30 minutes after you've finished hiking for the day to help your muscles recover during the night.
Don't forget to stay hydrated! Instead of taking big gulps of water a handful of times throughout the day, sip water consistently and often as you hike. Fortunately, you'll have the opportunity to refill your water bottle or Camelbak in the small towns along the trail.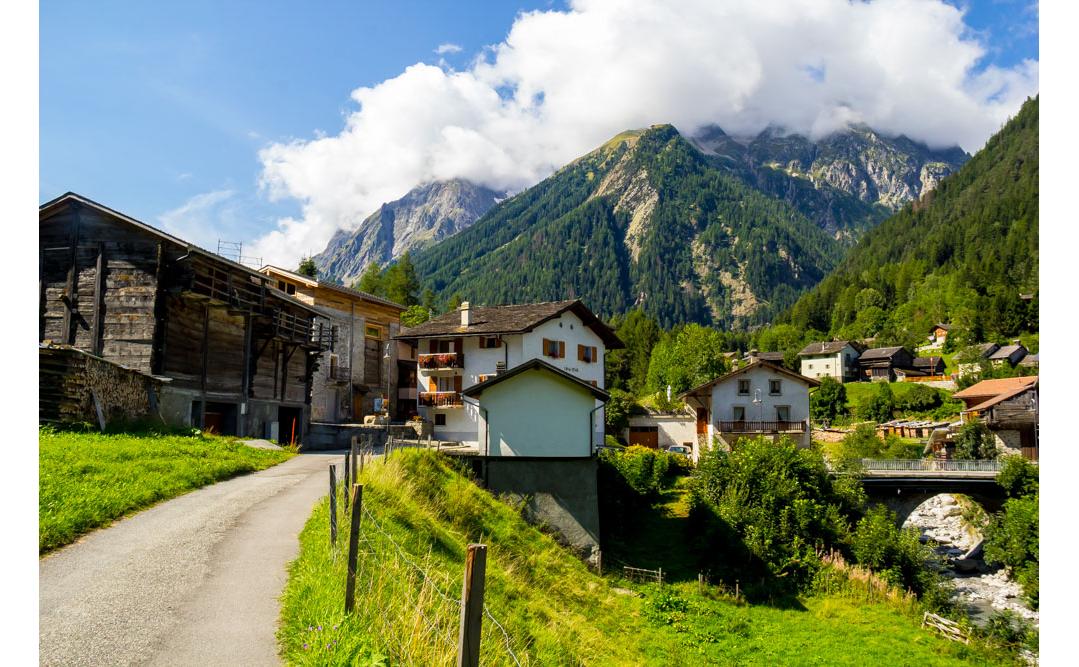 4. Choose the right time of year to begin your trip.
Truth be told, the best time to hike the TMB does depend on many factors. If you begin your hike in June, you may encounter some snow patches along the way. This can change your pace, the way you walk, and the amount of time it takes you to finish that day's hike. You'll have to use crampons on parts of the Tour if snow is present to reduce your chances of slipping. To avoid the snow, we recommend beginning your trip in the middle of July.
Afternoon thunderstorms are common on the TMB, and some areas become quite slippery when the weather is bad. Historically, September has the least rainfall than other months within the Tour's peak season, but there is a chance of snow storms if you wait this long.
For those who need extra assistance to enjoy the trail, public chair lifts are typically running in August when locals are on summer holiday. If you can hike without the use of the lifts, though, it's best to avoid them so you get the full Tour du Mont Blanc experience.
Temperatures can reach 90 degrees Fahrenheit, and as you climb in altitude, you'll be exposed to more UV rays. Because of this, it's vital that you pack (and use) sunscreen.
Based on these weather patterns, use your own health and level of fitness to decide which month is best for you. For example, if you have weak ankles, hiking in early June through snow-covered trails might not be the best plan for you. August might be a better option so you can minimize the impact on your ankles by using chair lifts.
Truth be told, the best time to hike the TMB does depend on many factors.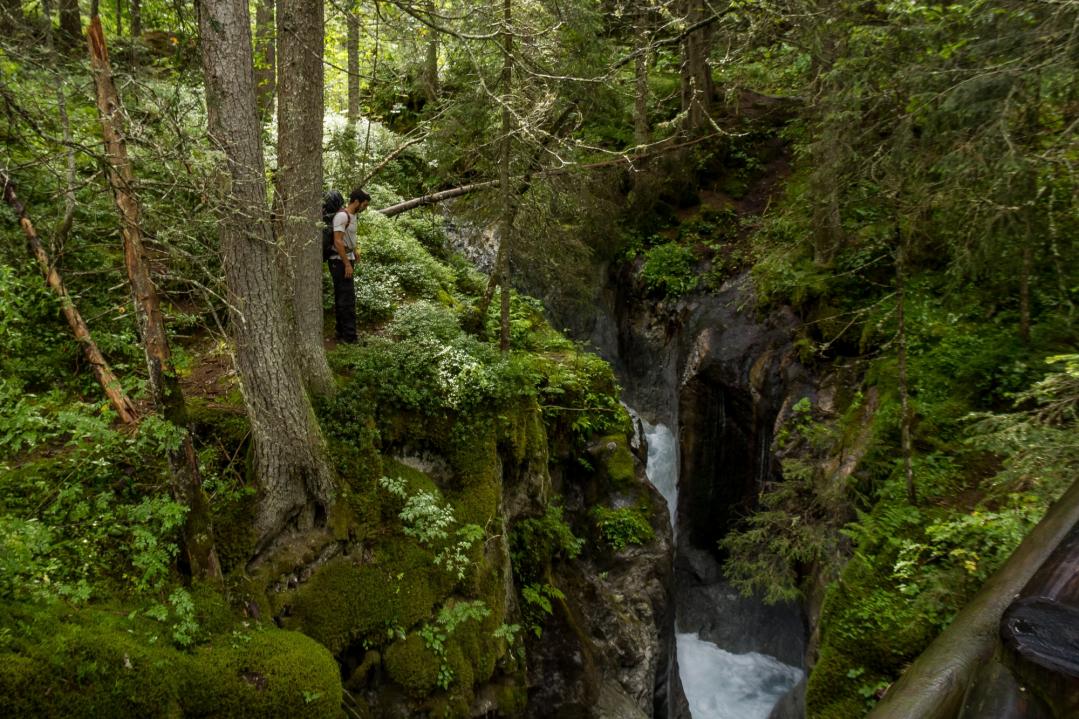 Customizing Your Training Plan
With these tips in mind, you can begin to put together a training plan for your first Tour du Mont Blanc. For the best results, consult someone who is experienced in long-distance hiking or, better yet, has hiked the TMB before. They can help you set fitness goals, pack the right foods, determine the best time to travel, and more.
Pygmy Elephant has a team of Tour du Mont Blanc experts that are happy to help you get on the right track and answer any questions you have! Shoot us an email or give us a call at 1-414-377-3555 for a free consultation.