Pygmy Elephant's Team was in Chilean Patagonia for its exploratory research during Torres del Paine Park's highest season. Our purpose was to reevaluate the entire W-Trek for our upcoming clients; checking out different hotels and hostels in the surroundings of the park. We saved Hotel Remota for our last night after conquering the W-Trek due to its comfort and accessibility. Remota is located right at the front door of Puerto Natales city, which is the main bridge to the immensity of Chilean Patagonia, the crossroad of all regional main attractions.
At first glance, the size and design of the whole building will impress you. It has tall windows and from a distance, you can tell it has a 'green roof'; Hotel Remota was built as a sustainable project. Open all year round demands a hotel with very low environmental impact, built with locally sourced materials using only local workers and paying special attention to the use of green renewable energies. The hotel follows strict rules for the protection of the environment, local cultures and practices. As part of its commitment with the local community, Remota aims to employ and train only local people.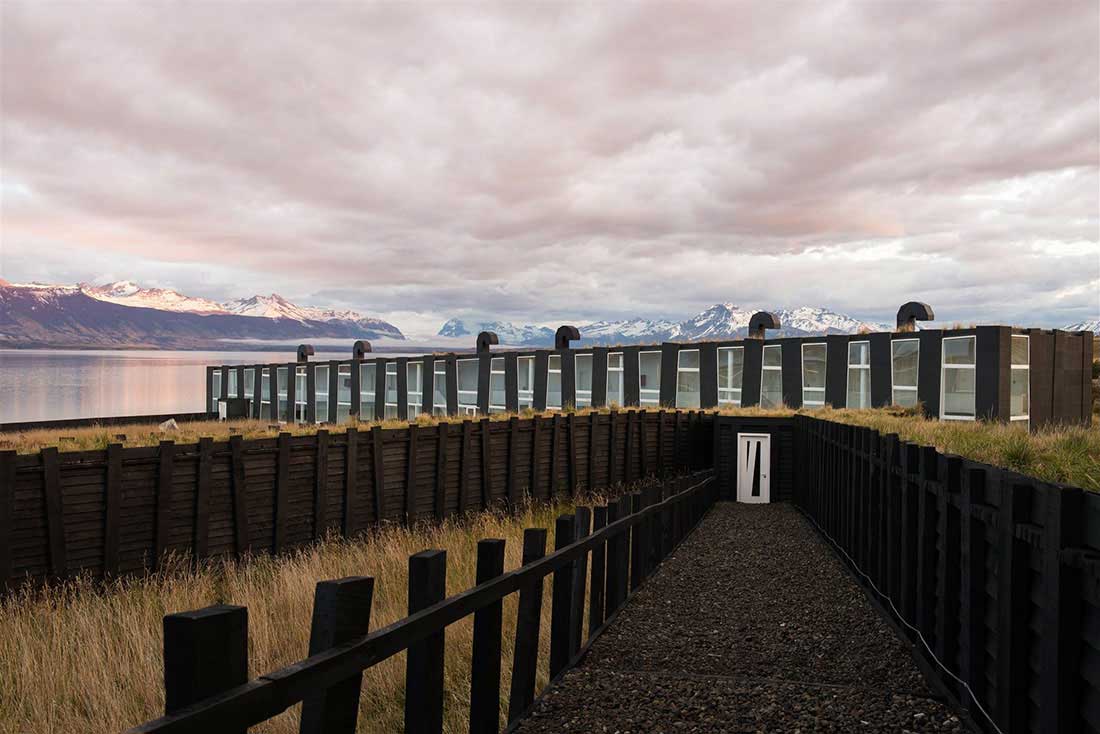 The view of Admiral Montt Gulf, and Fjord of the Last Hope from Hotel Remota, Chilean Patagonia
Hotel Remota
HOW TO GET TO HOTEL REMOTA
Arriving on Route 9 from Punta Arenas by car or by bus, you will lay eyes on Admiral Montt Gulf, and the small city of Puerto Natales at your left hand side. Founded in 1911 by the businessman Rodolfo Stubenrauch, it has always been a small fishing village since Patagonia was inhabited by tribes and wildlife. Today, it's a jumping off point to several landscapes of Southern Chile. Hotel Remota is located right in front of the gulf, where you will have the chance to watch ships docking at the ports and wildlife at its best from your window. It is close enough to the city if you decide to enjoy a little bit of urban life during your resting days as well.
You have also the option of flying from Santiago to Puerto Natales (Aeropuerto Teniente Julio Gallardo). The airport is 7 km away from the city and you can take a relatively inexpensive taxi to Puerto Natales for around 10 or 15 USD.
Although not in the heart of the city, you can still walk to Puerto Natales if you want to enjoy the view of the gulf and their local port along the way. Hotel Remota is located at 3,2 km from the city center. The walk will take around 45 minutes long.
FIRST IMPRESSIONS
At first sight, Remota gives you an impression of sophistication and quality. We were just back from a long day of hiking and also had drove an hour and a half back from Laguna Amarga, in Torres del Paine Park, we were definitely looking for a good rest to loosen our muscles.
Entering the lobby you will see some display cases with ancient fossils and pieces of Patagonian Indian Art (for example, ceramic objects and small arms such as slingers and arrows). Patagonia is famous for being home to at least eight different major tribes, and it's nice to see this piece of history in one place. A modern design mixed with historical pre-hispanic traces gives the guest a nice contrast of a sustainable building with a mix of history, nature and contemporary elements.
All surrounded by nice (and long) hallways with large floor to ceiling glass windows.
Those windows give you a 180º spread view of the Admiral Montt Gulf, part of the Cordillera mountain chain and also the very tip of Puerto Natales and its docking port.
The view from one of the rooms in the west part of Hotel Remota
Pampas and mountains around Puerto Natales
ROOMS & SUITES
After all the impactive decoration and ancient objects, not mentioning the good customer service, we were excited to see how the rooms looked like. And we weren't disappointed to be honest. In a top perspective of the building, Remota has a "c-shape", which allows impressive views of the surrounding landscape from all the rooms. They offer 72 very spacious rooms made of a mix of solid concrete walls and lenga wood providing you with a relaxing aroma.
The bathrooms have an interesting design made of lenga and stainless steel, particularly over the ceiling of the bath tube. One of the most interesting things is that they don't have TVs in those rooms, so you might enjoy more the isolation of Patagonia, the food, and of course, the people around you.
Every room allows you to include a child up to 12 years old.
King room
Twin Room
RESTAURANT
Remota's architectural project was made to rely not only on sustainability but also accessibility. The restaurant was built between the two blocks of rooms so you don't have to walk far, but actually they are pretty long and if you book the last rooms of the hallway you're gonna have to walk a little bit to get to the restaurant. Anyway, in the other hand you will be much closer to the sauna and the SPA at the opposite side of the restaurant.
One of the best meals we had since the beginning of the the trip was at Hotel Remota. Despite having not so big plates in terms of amount of food, their menu has a good variety of dishes with cuisine from the region like the Carpaccio de Guanaco (carpaccio made with Guanaco meat) and Ceviche (very fresh and raw fish cured in citrus juices), costing around 9,000 to 15,000 CLP. The menu goes from gourmet fish to lamb, always with a nice combination of ingredients and a good looking design identity.
Good food requires good company, and for this, they have a very complete wine menu featuring a selection of the best of Chile. The country is the fifth largest wine exporter of the world, and the seventh largest producer. You won't be disappointed.
The customer service was quite nice, however we felt the English language skills of the restaurant staff could have been better. Still, they always made an effort and when in doubt, brought over a staff member who could translate. Also, to balance that, they are very, kind and have a good spirit of service, efficiency, and a most cordial approach. The bar stayed open a little later than usual in our only night there, just for us.
SPA
If you're seeking relaxation, their SPA is located in an annex where you have access to it by walking down a nice wooden path that allows you to have a full view of the gulf and the Fjord of the Last Hope. They have a 8m long infinity swimming pool, Finish sauna, outdoor Jacuzzi and a massage parlour.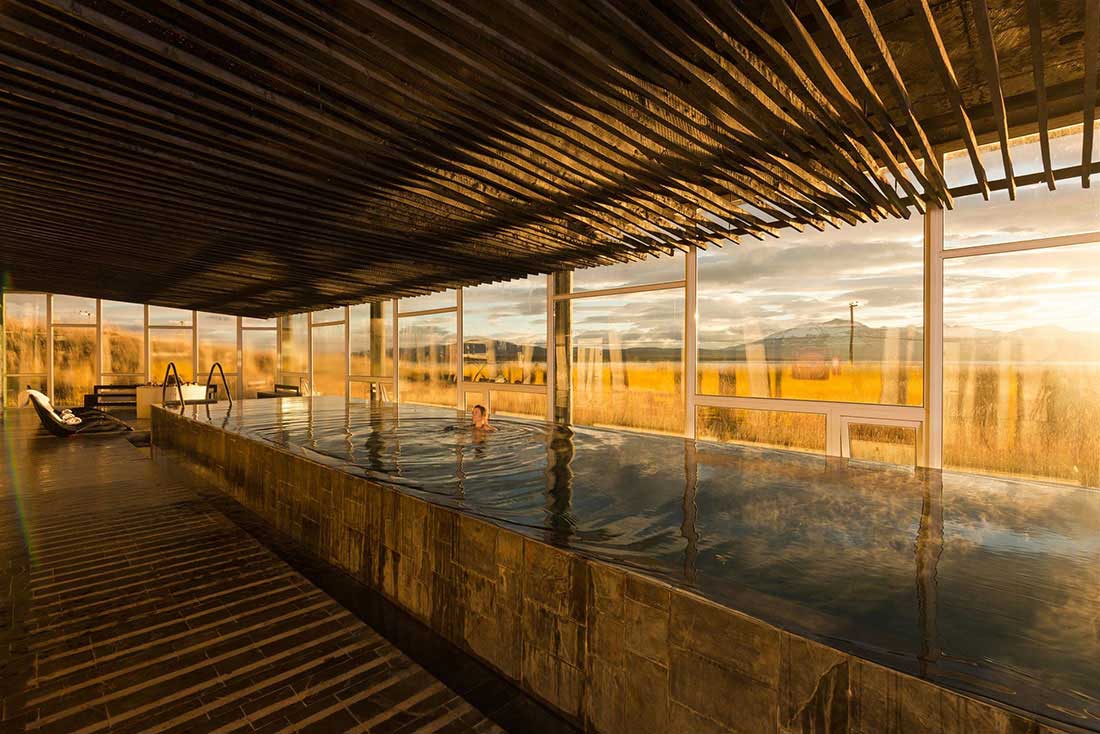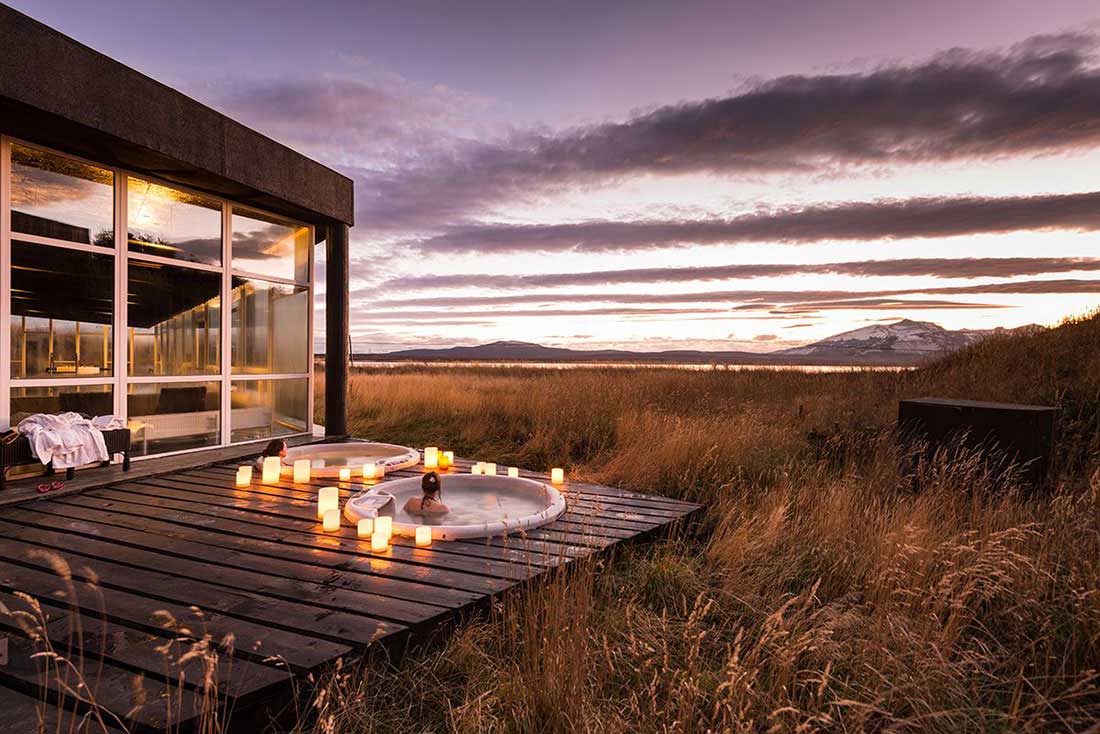 OUR FINAL IMPRESSIONS OVER HOTEL REMOTA
Overall, we consider Hotel Remota as a four star hotel and a good option for honeymooners, families and all those who would like to rest a day or two after a long hike.
It's located at a fair distance of the city, allowing you to walk or drive over to Puerto Natales without getting lost. A very comfortable and spacious hotel with nice and modern architectural design full of pieces of history and art. No T.Vs in the rooms, which makes the atmosphere even more attractive by the fact that you're obliged to seek entertainment outside of your room, like meeting other people and enjoying the bar. Their English Language skill is not so great but their customer support easily counterbalances it. Their restaurant is way better than we expected.
We returned home with a good sense of accomplishment and well spent money.