Overview on Gains and Losses for a customized itinerary
There are multiple itineraries for hiking the W-Trek. Depending on which you choose, the amount of elevation gain and loss will be different for each day of the hike. In this blog post, I've included the elevation gain and loss from a recent family's customized W-Trek (two adults and one child). Below is their rough itinerary.
Day 1: Arrival - They transferred in via private vehicle from Punta Arenas on the first day, staying overnight at Hotel Las Torres.
Day 2: The Towers - They hiked to the base of the towers and returned to stay again at Hotel Las Torres.
Day 3: Lago Nordenskjold - The clients hiked along Lago Nordenskjold and stayed overnight at the new refugio Dome Frances (another acceptable option for those looking for comfort are the cabins at Los Cuernos, which are private and include access to a hot tub).
Day 4: Valley Frances - The clients stayed at Paine Grande, in dormitories, after hiking up to see the mirador at Valley Fracnes.
Day 5: Glacier Grey - They then made the trek to Refugio Grey from Paine Grand and back. They stayed overnight in private accommodation at Hosteria Pehoe, just on the other side of Lago Pehoe and a short transfer by catamaran from Paine Grande.
Day 6: Departure - Departure via private transport from Hosteria Pehoe
Note on the itinerary: The clients wanted to stay two nights in a hotel to begin the hike. The only way to stay two nights in a row in a hotel, and complete the W-Trek in earnest, is to begin the trek in the Las Torres base area and hike east to west.
HOW HARD IS IT TO NAVIGATE THE W TREK?
Navigating the W-Trek is fairly easy and straight-forward. With the obvious directional advantage of tracing a "W" around the Paine Massif, you're navigation will surely be aided by the numerous fellow trekkers on the trail.
If you feel lost, stay put for 10 or 15 minutes, and it's likely that someone will come by to point you in the right direction. This blog post includes section details provided by Conaf, the park administrating body. You can also buy a map at the kiosk located out front of hotel las torres for under 5,000 clp. More useful will be the knowledge of distances, duration and elevation. All of which have been included below.
TREKKING ITINERARY AND MAP OVERVIEW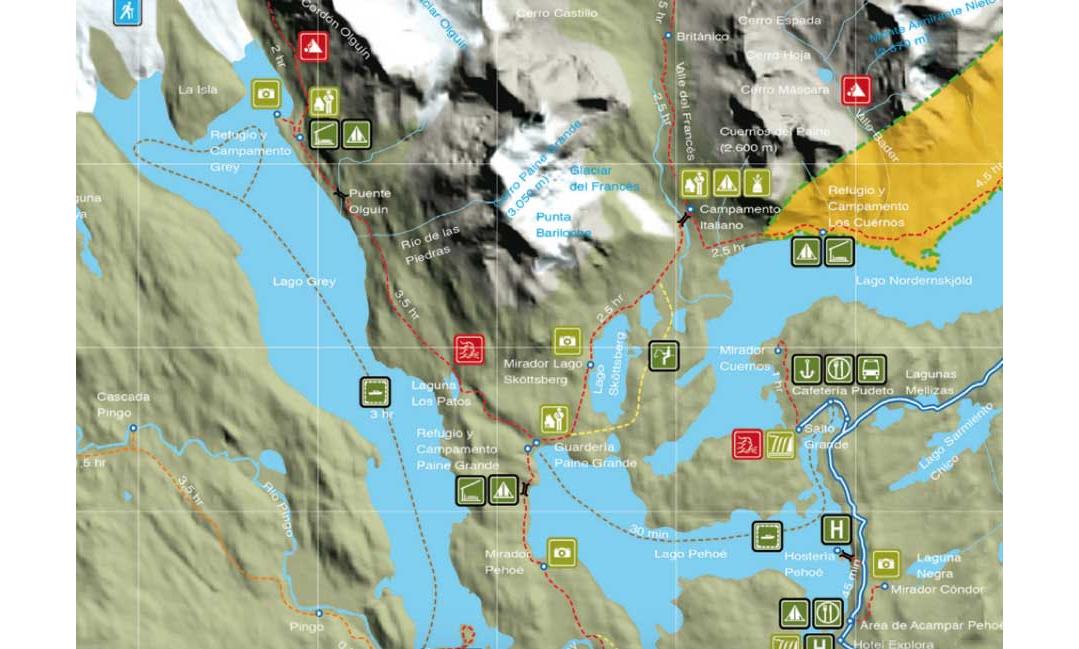 Day 1: Arrival
Today, you will arrive at the park. There is no hiking, however rest up... tomorrow is a big day.
Day 2: TOWER HIKE
Start your first trekking day off with a bang. Today you will be hiking to see the iconic Towers (the ones that the park are named after). It's a challenging hike, since you will need to do a bit of light scrambling up some rocky areas. If it's been raining (which it does a lot), then things can get very slippery. Take you time and travel with a partner. But it's all worth it once you reach the towers, which rise magnificently into the cold, chilean sky. After seeing the towers, head back down through Ascenscio valley to Hotel Las Torres.
Hotel Las Torres - Towers of Paine - Hotel Las Torres
8 to 9 hours - 11.8 miles
Highest elevation: 2,870 feet, Lowest Elevation: 443 feet
Way Points and Map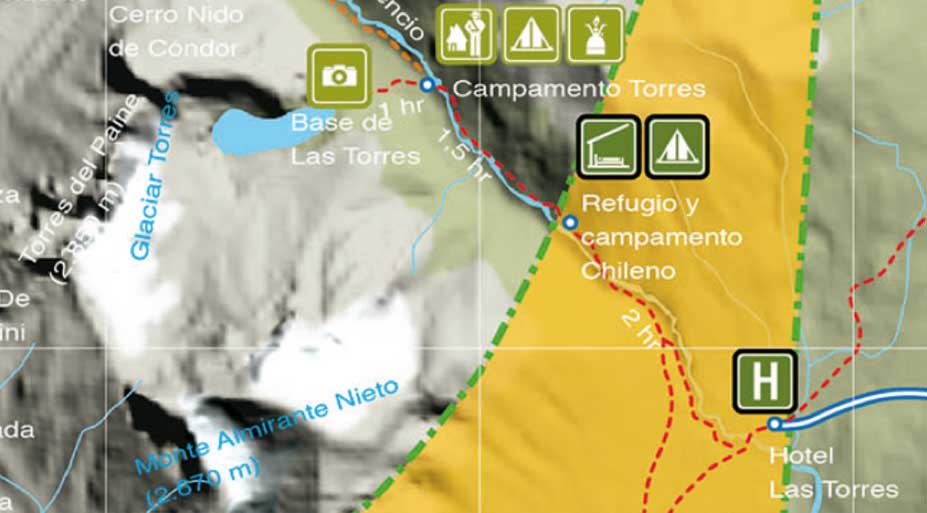 Elevation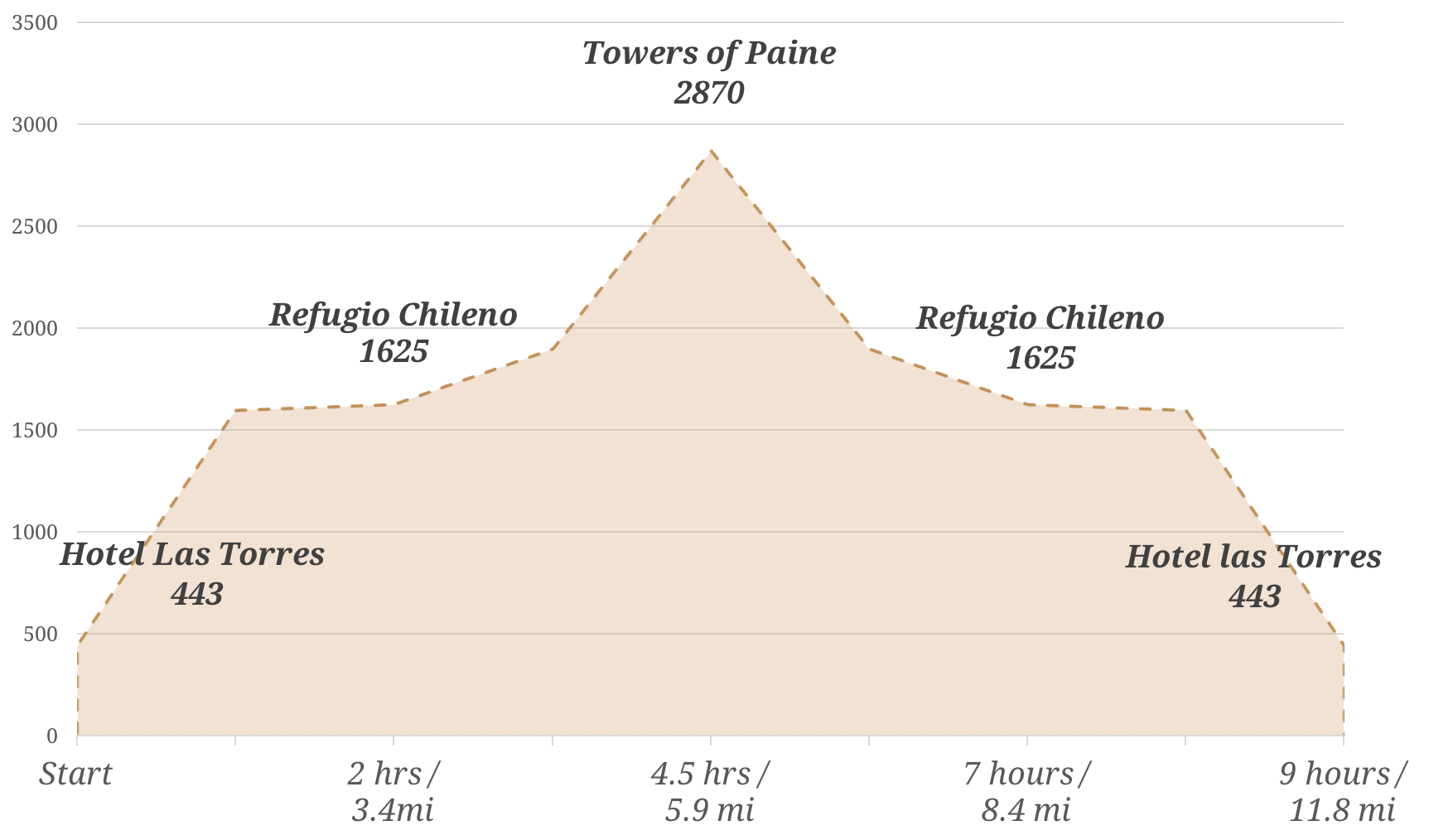 Day 3: Lago Nordenskjold Hike
This will be the easiest hike of your trip. After breakfast, you will head out across the stretching pampas, skirting the Southeast side of the Paine Massif. To your left are the milky waters of Lago Nordenskjold, and to the right the mighty Los Cuernos unfolds it's horns, jagged peaks and dreamy waterfalls. Once you reach Refugio Los Cuernos, take pause to enjoy your surroundings and perhaps a quick pick me up at the refugio. From Los Cuernos, it's only another hour or so to Dome Frances. Rest up and enjoy your epic view over Lago Nordenskjold; tomorrow will be a long day.
Hotel Las Torres - Dome Frances
5.5 hours, 8.1 miles
Highest elevation: 797 ft, Lowest Elevation: 295 ft
Way Points and Map

Elevation

Day 4: Valley Frances HIKe



On this section, you will tackle Valley Frances. It takes about 1.5 hours to reach the first lookout, high above Lago Nordenskjold. On your left hand side you will see Glacier Frances, where frequent small avalanches take place. The noise booms throughout the valley, although the ice that breaks away seems much smaller than it should considering the noise. After ducking in and out of the forest, with sporadic views of Rio Frances snaking down the valley below, you will eventually reach the look out point near Campemento Britanico. After hiking back to Campamento Italiano at the foot of the valley, you will hike another 2.5 hours through undulating terrain, stopping briefly at a lookout point above Lago Skottsberg, to arrive at Refugio Paine Grande.
Dome Frances - Campamento Italiano - Mirador Britanico - Campamento Italiano - Paine Grande
9.5 hours / 14 miles
Highest Elevation: 2495 ft, Lowest Elevation: 148 ft
Way Points and Map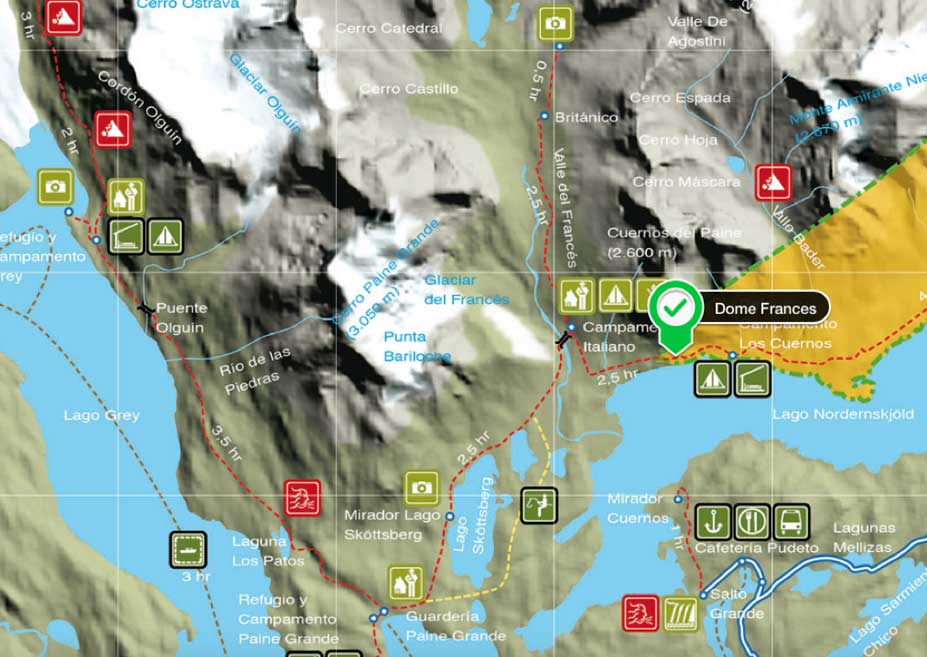 Elevation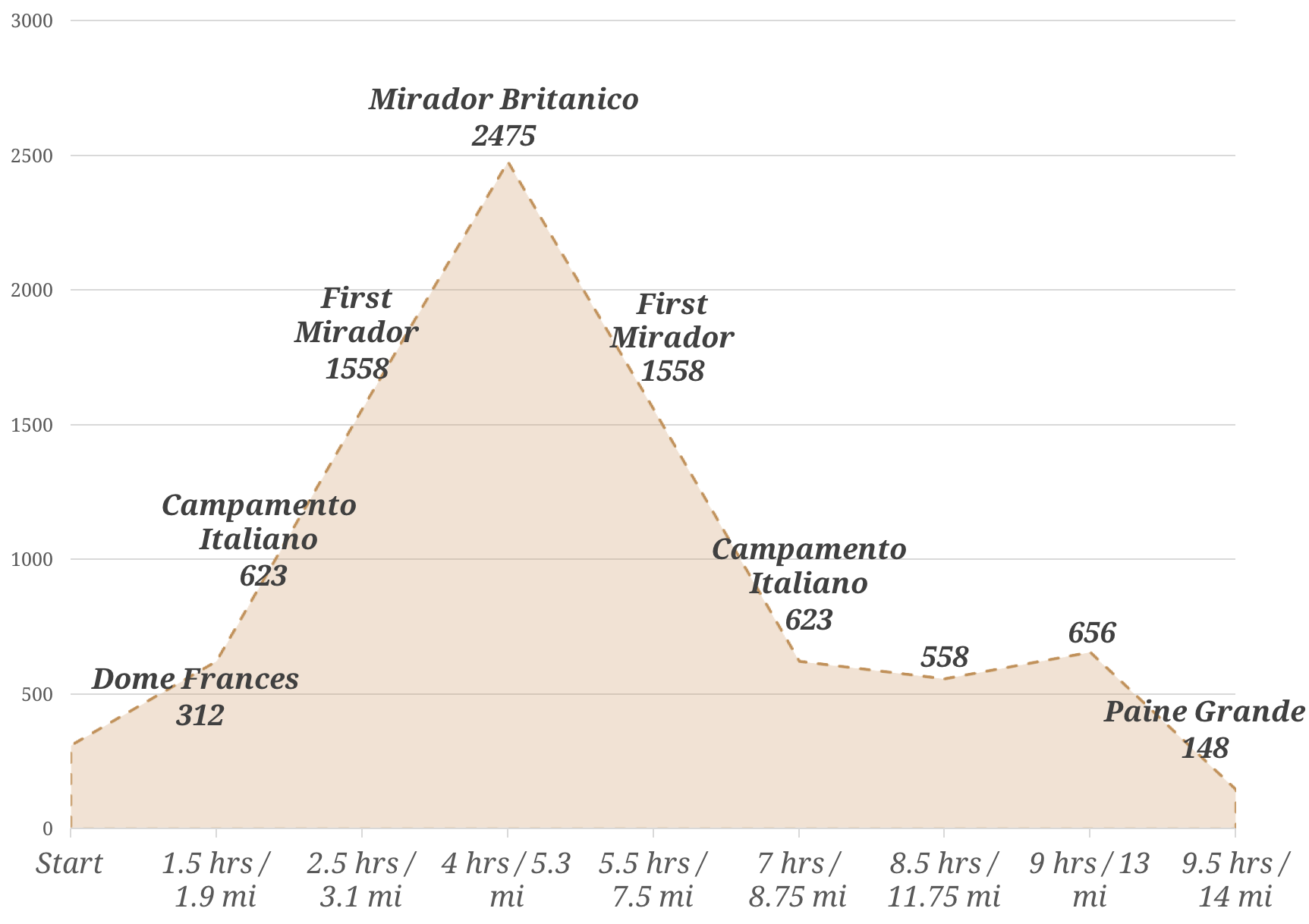 Day 5: GLACIER GREY HIKE



Today you will hike along the icy blue waters of Lago Grey. An easy hike than yesterday, there is still some elevation change, so you are not out of the woods yet. The mirador of Grey Glacier is thirty minutes past Refugio Grey. After lunch at Refugio Grey, head there to see the expansive and imposing wall of ice that feeds the lake of the same name. Afterwards, return on the same route back to Paine Grande to catch a catamaran across Lago Pehoe.
Paine Grande - Refugio Grey / Glacier Grey - Paine Grande - Catamaran - Transfer - Hosteria Pehoe
Hike 9.5 hours, 15 miles / Catamaran: 25 minutes / Transfer: 15 minutes
Highest Elevation: 820 ft, Lowest Elevation: 148 ft
Way Points and Map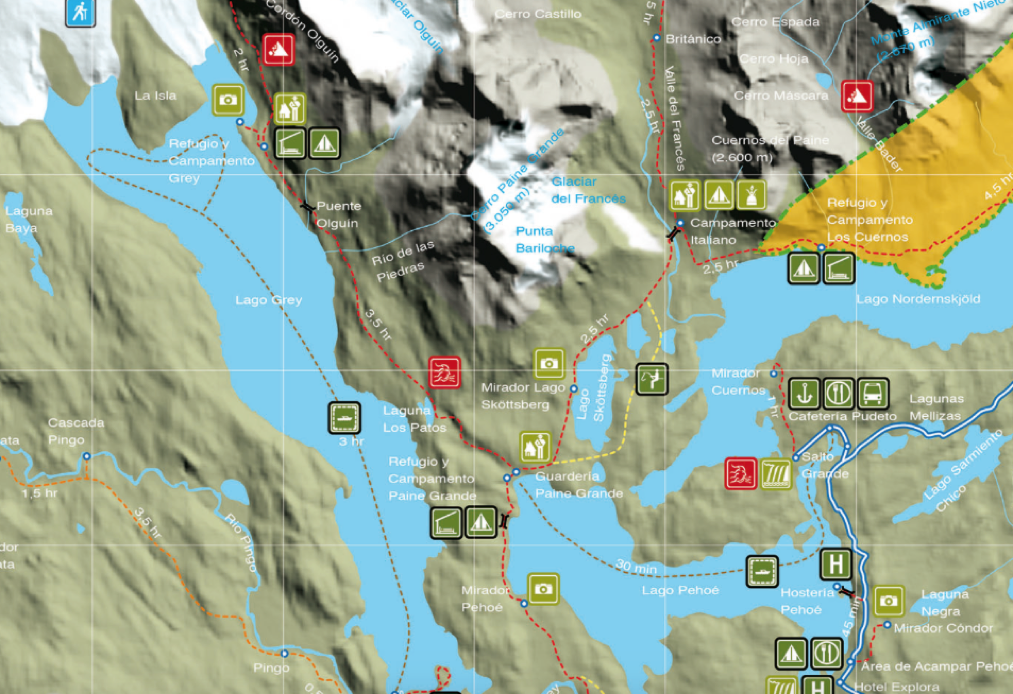 Elevation

Day 6: Departure
Departure via private transport from Hosteria Pehoe to Punta Arenas. Flight to Santiago in evening.