The Covid-19 pandemic has disrupted the lives of many. For those that are able to hike the Tour du Mont Blanc this season, you will most likely see far less people than normal, especially if you take alternatives to the classic itinerary.
In a way, you are lucky.
The trails will be far less crowded and you will be able to enjoy the stunning vistas with little interruption from other hikers.
Still, there are important points to consider if you wish to make the trek a pleasant and safe experience.
At Pygmy Elephant, we surveyed our local partners to find out what precautions they are taking AND what precautions you, the hiker, should take as well. We received 18 replies thus far, and will update the results as they come in.
If you are looking for our self-guided tour, please see our: TOUR DU MONT BLANC TRIP PAGE
A few Best Practices for the hiker:
Pack your own mask. Some places will have extras and you will be able to buy some in the towns of Chamonix and Courmayeur. Still, being prepared with your own stock, will take the burden off of searching for masks. Who want's to do that during a hike?
Bring, at a minimum, a sleeping bag liner, or sleeping bag, depending on when you will hike. Many places will still provide you with sheets and linens, however it is much better to take a liner just in case.
Bring your own slippers. Normally, slippers or "Crocs" are provided by huts so that you can leave your muddy boots outside. It's a better idea to bring your own, as some places will not provide them this year.
Wear your mask in communal settings. Most huts and hotels have made this a requirement when checking in or ordering food anyways.
Bring hand gel and alcohol wipes with you. Most places will have soap and water, however it makes for easy cleaning before and after you eat.
Have only one person check-in. This helps to reduce the number of people in confined spaces.
A few Best Practices from Accommodation:
Most locations are disinfecting more. Especially in common areas, we have been seeing that huts and hotels are cleaning and disinfecting more often.
Many huts are requiring and enforcing the use of sleeping bag liners, face masks and social distancing. Some are not enforcing these rules, so make sure to take it upon yourself.
Most huts are distancing the number of people sleeping in communal dormitories. For example, Refuge La Flegere is doing their best to isolate groups from each other in sleeping areas.
Some hotels will only provide housekeeping upon request, in order to limit transmission of the virus through touched surfaces. If you are staying a few days in Chamonix or Courmayeur, this is especially relevant.
Rules and Precautions from Huts, Hotels and Transport Companies on the TMB
Use the below links to skip directly to the supplier of interest: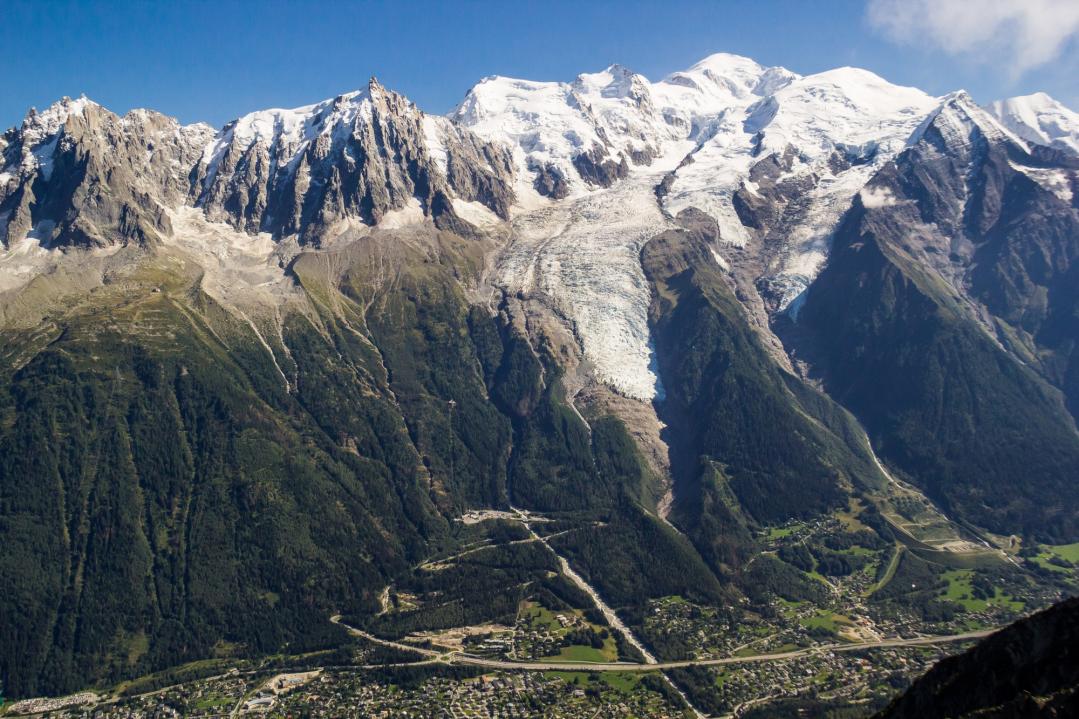 Hotel de l'Arve
DOWNLOAD THE COMPLETE SAFETY AND PRECAUTION MEASURES USING THIS LINK: HOTEL DE LARVE
Housekeeping only when requested to limit contact, Reduced linens and coverings in rooms.
Must bring and wear own mask in common areas. Staff will also be wearing masks.
For the buffet, you must wash or disinfect your hands before use. You also must wear a mask while visiting the buffet bar.
Hotel Les Campanules
DOWNLOAD THE COMPLETE SAFETY AND PRECAUTION MEASURES USING THIS LINK: HOTEL LES CAMPANULES
Cleaning of common areas twice a day.
Housekeeping on demand.
Protection kit on demand.
Breakfast in room on demand
Chambre du Soliel
NOTE FROM CARETAKER:
At the moment, we are doing as usual (clients are in private room), rooms are cleaned every day, sheets , towels, ... are clean. Like we are "hotel" and not "refuge" we keep the same services as usual.
Hotel Crampon:
DOWNLOAD THE COMPLETE SAFETY AND PRECAUTION MEASURES USING THESE LINKS: HOTEL CRAMPON AND HOTEL CRAMPON 2
Use mask in social situations
Maintain 1 m of distance
Wash hands frequently
No admittance if you have a fever
Hotel Lo Scoiattolo
DOWNLOAD THE COMPLETE SAFETY AND PRECAUTION MEASURES USING THIS LINK: HOTEL LO SCOIATTOLO
Sanitary Precautions:
In order to contrast the effects of COVID19 we have equipped our hotel of information about the social distance, different point of sanitizing gel. We have reduced the number of tables available at the restaurant, closed the restaurant and bar for external people which are not hotel guests. Moreover, at the check-in there is a plexiglass partition between the receptionist and the other people.
Requests for Guests:
use mask in the common areas (if you do not have it, you can buy it at the reception)
keep the safety distance of one meter.
do not place personal effects in the common areas.
use the lift one person at time, with the exception of families or cohabitants.
Sanitize your hands often with sanitizing gel available in the hotel
The minibar in rooms is empty, guests can ask to the reception any moment what they want and we will serve to the room without room service supplement.
Rifugio Bonatti
DOWNLOAD THE COMPLETE SAFETY AND PRECAUTION MEASURES USING THIS LINK: RIFUGIO BONATTI
AND THE DECLARATION SHEET HERE: RIFUGIO BONATTI DECLARATION SHEET
Requests for Guests
Bring Slippers, mask, plastic bag for potentially contagious material, paper napkins, personal readings, sleeping bag liner for dormitory
Additional Rules
access to reception: 1 person maximum (for couples or groups)
wear the mask in each common part of the refuge
the mask can be removed: - - -> sitting at own table - - -> in own room
disinfectant available, use when necessary
the library will not be accessible
the safety distance must be respected in all the common parts of the refuge (1 meter)
the full rules will be available at the refuge.
Chalet Val Ferret
DOWNLOAD THE COMPLETE SAFETY AND PRECAUTION MEASURES USING THIS LINK: CHALET VAL FERRET
Rooms and linens sanitized every day
Use Masks in communal areas
One person present at check-in per group
Use sanitizing gel as often as possible
Hotel Couronne
DOWNLOAD THE COMPLETE SAFETY AND PRECAUTION MEASURES USING THIS LINK: HOTEL COURONNE
Sanitation Procedure
We systematically disinfect the reception area of the hotel, as well as the keys and documents before handing over to customers.
The stair railings and the elevator buttons are disinfected several times a day
Our staff is trained to carry out reinforced cleaning of the rooms,
This cleaning is supplemented by disinfection measures, with the use of disinfectant liquid containing 80% ethanol for surfaces (tables, chairs, switches, remote controls for TV sets, door and window handles), with levuricidal, fungicidal and virucidal for bathrooms and toilets
The linen (sheets, pillowcases as well as the bath linen) is washed at a temperature above 60 ° Celsius,
The fabrics (armchairs, curtains) are regularly cleaned with steam,
The rooms are at least ventilated for 30 minutes every day.
The guest cards giving access to public transport in the Chamonix Valley are prepared with all the necessary hygiene measures before delivery to customers,
The payment terminal is systematically cleaned between two customers
Hydroalcoholic gel is made available to customers in the various areas of the hotel,
A list of healthcare professionals can be consulted in the hotel lobby, with addresses, opening hours and telephone numbers allowing you to make an appointment if necessary.
The public toilets of the hotel are cleaned and disinfected 4 times a day
Upon Arrival
Our reception staff are trained to remind if necessary the barrier gestures, the importance of hand washing and distancing measures to be respected.
Sanitation Procedure
All the places, materials and furniture are regularly disinfected by our team with recommended and certified products.
We had to remove all decoration items and commercial documentation in the rooms and common areas of the hotel.
Our linen (sheets, sponges, towels) is cleaned by an approved outside laundry and certified for infection control.
Your room has been kept disinfected for 24 hours before your arrival.
Distance rules and instructions are posted in all areas of the hotel, as well as ground markings have been positioned.
Our restaurant menu is available on your phone with a QR code.
All basic HACCP rules and careful disinfection are respected in the kitchen.
Pens and room cards are disinfected every time they are used.
Additional Rules:
Respect the displays and distance rules.
Favour our restaurant instead of room service for the consumption of children.
lunches and meals.
Accept that we do not come daily to your room for cleaning.
inter-stay. Unless you expressly request it (please inform us at least two hours in advance),
for a time slot when you will not be in the room)
Respect the use of elevators: occupants of only one room per elevator.
The staircase access doors will remain permanently open to facilitate the access to the stairs.
circulation
Use the angle of your room card to enter your parking code and to contact the
lift buttons.
Open your windows wide the last time you left the room.
The three R's are our guideline:
Respect for health and safety
Respect for our environment
Respect for the environment
Refuge La Flegere
DOWNLOAD THE COMPLETE SAFETY AND PRECAUTION MEASURES USING THIS LINK: REFUGE LA FLEGERE
Bring own sleeping bag and pillow
Bring own mask and use in public areas
Refuge will provide gel
Refuge also will try to distance members of different groups in dormitories
Hotel Du Bois
Note from Caretaker:
Basically, the actual French difference is the protection given by the staff i.e. the staff is wearing mask while exchanging with the guests, the reception has a big plexiglass, the housekeepers are wearing masks and gloves and they have some rules while cleaning, door handles as well as front desk, lift buttons etc. are disinfected as often as possible. What you can explain to the guests is that the French president has spoken yesterday and the new rule - effected in one week - is that wearing the mask in closed spaces is gonna be compulsory!
Mountain Drop-Offs
DOWNLOAD THE COMPLETE SAFETY AND PRECAUTION MEASURES USING THIS LINK: Mountain Dropoffs
Sanitary Measures
the vehicle will be deep cleaned before and after your transfer
your driver will open all outside doors
the vehicles need to be regularly aired, so the driver may open their window frequently
uou need to load and unload your own luggage
keep your important travel documents on your persons in case you need to show them at the border
your driver will advise you where to sit in the vehicle to adhere to the social distancing guidelines
you will need to wear masks
you are not permitted to eat in the vehicle, but you can carry your own soft drink for personal consumption
please remove any of your own rubbish
Besson Taxi
On our side we have a stock of facemask in case we have to transfer clients with the bags,
we also have washing-hands hydroalcoolic gel available in each vehicle.
We have no special requierment for the clients
we accept sleeping bags hung on the bag as long as it is well hung on the bag!
Health Charter
An association of Mountain Refuges and Auberges has put together a health charter. It describes the way hikers should act while visiting the huts while hiking the TMB. If you would like a printer friendly version of the charter, please click on Individual commitment charter for a stay in a safe mountain refuge.
Charter of individual commitment for a safe stay in a mountain refuge, for myself and for others.
In the health context of VIDOC-19, individual responsibility for limiting the effects of the pandemic is fundamental. This is also the case in the mountains, especially in mountain huts. The guards and refuge owners have adapted the organisation and operation of the refuges to welcome you in the best possible conditions.

The respect by each of the measures and protocols put in place is essential.

This is why, to confirm my obligatory reservation of my stay in a mountain refuge,

I hereby certify:
- To be aware that in the current health context, the functioning, the reception conditions and the services offered by the shelter will not be the same as usual;
- To be aware of the specific equipment that I must bring accordingly for myself and my group to be able to stay in the refuge (individual protection and disinfection equipment, bedding, duvet, personal linen...).
- Be aware that failure to respect the sanitary instructions may lead to the cancellation of my reservation by the caretaker in order to ensure the safety of the greatest number of people in the face of the epidemic.

I also certify that :
- Not to go up to the refuge if someone in my group or myself present potential symptoms of COVID-19 (cough, fever >37.8°C, diarrhea, nausea, cold, extreme fatigue, conjunctivitis, loss of taste or smell);
- To respect the conditions of my reservation (number of people, composition of the group, number of nights, type of service (bivouac or dormitory), arrival and meal times...) ;
- To wash my hands with soap before entering the refuge;
- To respect the barrier gestures (physical distance, hand disinfection, wearing a mask, direction of traffic in the buildings, ...) and the rules of life in the refuge which have been adapted to each refuge and presented in the specific sanitary protocol available on the refuge's website and presented by the caretaker on my arrival;
- To bring all the adequate material necessary for the sanitary safety of my group if necessary and of myself (hydro-alcoholic gel, mask,...) in addition to the classic material necessary for my safety in the mountains;
- When I leave the refuge, to take care of all the equipment used during my stay and especially the disposable protections used during my sleeping.

Date, name and signature.
Courtesy of https://www.montourdumontblanc.com/