The Basics
History
The W-Trek is a famous hike through the wilds of Torres del Paine Nationa Park. The beauty, remoteness and physical challenge of the park have been captivating tourists since the late 19th century, when Lady Florence Dixie described the towers as "Cleopatras Needles". The park was originally created in 1959 and today sees some 140,000 visitors a year.
Why the "W" Trek:
The trek traces a W from one side of the park to the other. The left of the "W" is a trek along Lago Grey and skirts the west of the Paine Massif, the middle is through Valle Frances, shooting up the center of the Massif and the right of the W is a trek to the base of the towers along Valle Ascensio on the east of Paine Massif.
Where is it located:
Torres del Paine is located in the southern Patagonian ice field of Chile. Most visitors that fly in arrive at Punta Arenas airport and transfer via bus, private shuttle or rented car to Puerto Natales, located 156 miles north. From Puerto Natales, it's another 70 miles to the first entrance of the park. Another popular way to arrive at the park is via a transfer from El Calafate, which is located on the other side of the border in Argentina, 160 miles northeast.
How do you get there from Puerto Natales:
There are number of ways to arrive at the park. For the budget hiker, buses leave for the park from Puerto Natales twice a day from the main bus terminal: at 7:00 (or 7:30) or 14:30. After dropping off their passengers, they return from Torres del Paine at 13:00 and 18:00 (from administration). A return bus ticket costs 15,000 CLP. You can also arrange for a private transfer for more flexibility, which helps when you are on a tight schedule.
How many days does the hike take?
The hike can take anywhere between 3 and 5 days. With the classic trek you will spend 5 days hiking and four nights in the park.
Should I go from West to East or East to West?
A very good question indeed. It really depends on what you want to get out of the trek. In my opinion, going from west to east has a few advantages over east to west. The hike to refugio grey along the western front of the massif is tiring, but less so than the treks to Valle France and to the towers. This allows a little warm up for your body to get used to the weather and physical exertion. Hiking west to east also saves the most iconic view for last, that of the towers. Most tour operators like to put something at the end of their trips that is especially remarkable because our brains are wired to remember the first and last things. You get to go out with a bang. Going from east to west on the other hand, puts the hardest hike first, that of trekking to the towers. East to west, does, however, allow you the chance to spend two nights in the las torres area (rather than one), which has a better standard of accommodation then the west side of the park. Hiike east to west if you want more comfort and west to east if you want to end on a high note.
A few more resources:
17 Things you need to know before hiking the W-Trek
What you should pack for the W-Trek
Elevation Gain and Loss on the W-Trek
Paine Massif (Pictured below) is the name given to the Paine mountain range which dominates the park.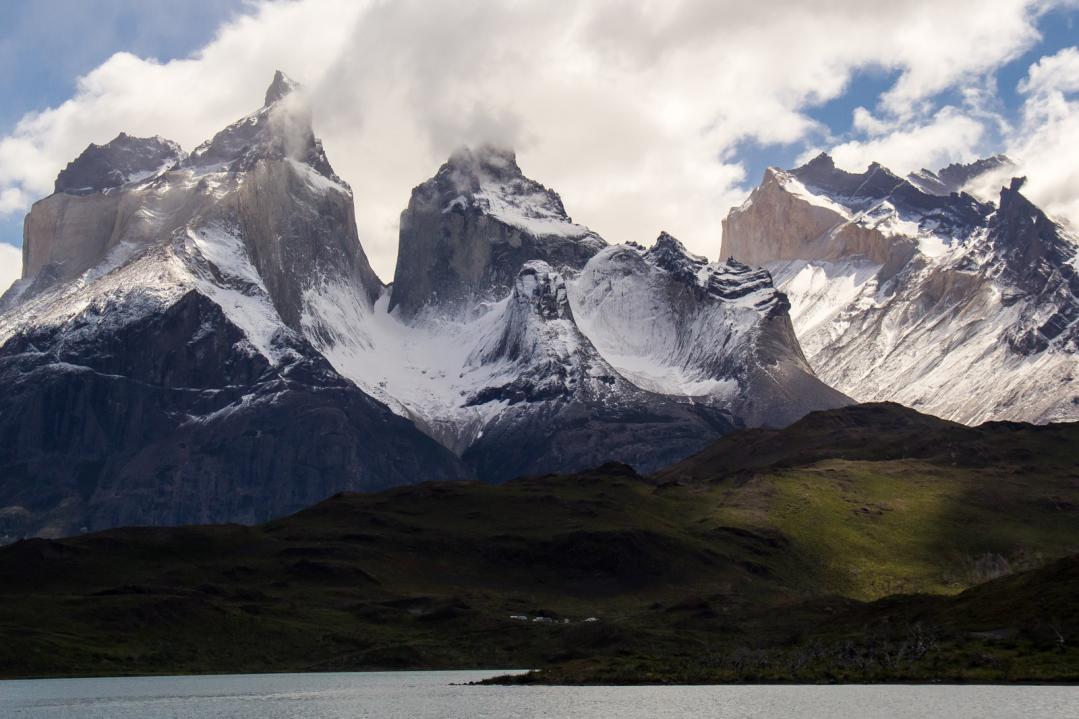 SAMPLE ITINERARY
Below is the itinerary that we use at Pygmy Elephant for our West to East self guided tour. It gets you in and out of the park within 5 days and with the highlight of seeing the sunrise at the towers.
DAY - 1 TRANSFER, CATAMARAN AND SHORT HIKE (3.5 TO 4.5 HOURS - 7 MILES)
Depart at 7:30 am by Bus to Torres del Paine national park. The trip takes approximately 3 hours and there are plenty of chances to spot wildlife along the way. Arrive at administration and receive park briefing. Continue to Lago Pehoe and board the catamaran. The boat trip lasts 30 minutes. You arrive at Paine Grande and begin your 3.5 hour trek to your first night of accommodation at Refugio Grey. At 5 pm, there is the option to go kayaking on Lago Grey to witness the icebergs up close and personal ($85 USD per person). If you do, please note that there is no time to delay once departing the Catamaran. (Bus from Puerto Natales, Catamaran and Dinner included)
DAY-2 REFUGIO GREY TO DOME FRANCES (7.5 TO 10 HOURS - 13.5 MILES)
Today you will head back along Lago Grey. After 4 hours, you will reach Paine Grande, a good place to rest and have a bit to eat. You will then head up and around the side of Lago Pehoe and then pass above the shimmering Lago Skottsberg. The terrain is undulating, but relatively easy to handle. You will then pass by Campamento Italiano (2.5 to 3 hours) and in 1.5 hours you will reach Dome Frances, a newly built refugio with 8 person domes that include personal outlets and reading lights. The view over Lago Nordenskjold is spectacular. (Breakfast, Lunch, Dinner included)

For the adventurous, an Ice Hike at 8 am on Day 2 is possible (extra cost of $135 per person). Instead of hiking all the way to Domos Frances, you will overnight in Paine Grande.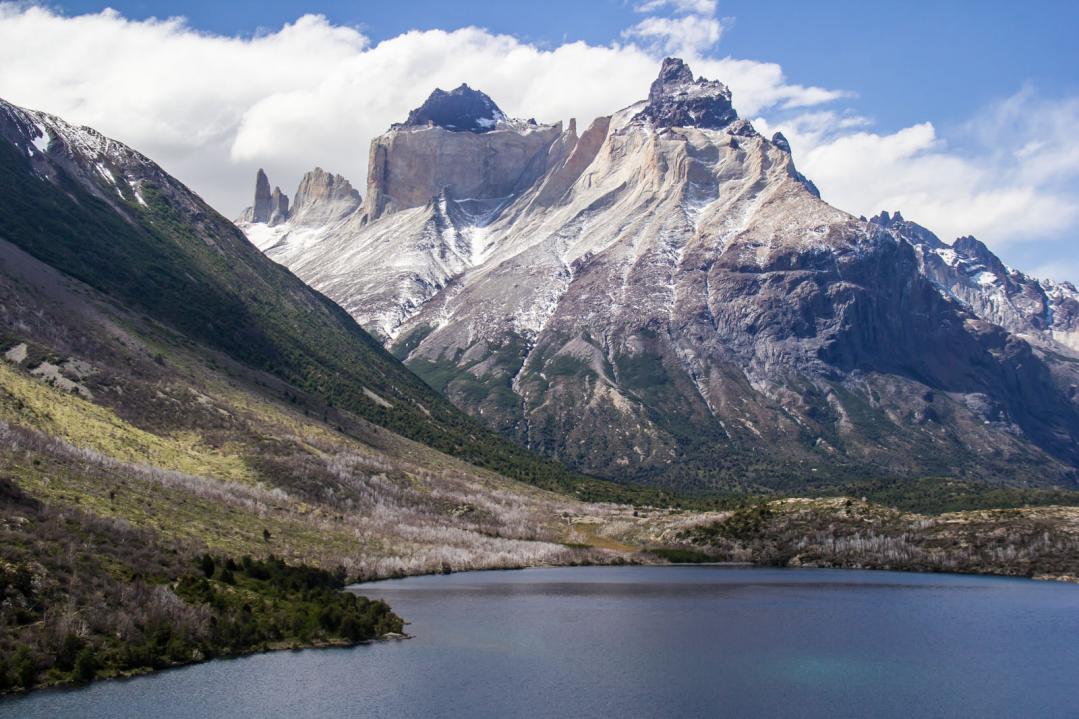 DAY-3 DOMOS FRANCES - MIRADOR BRITANICO - DOMOS FRANCES OR LOS CUERNOS REFUGIO (10 TO 12 HOURS - 11.5 MILES)
Today you will hike into Valley Frances. This hike is more challenging than either of the first two days. Luckily, you can leave your pack at Domos Frances. It take about 2.5 hours to reach the first lookout, high above Lago Nordenskjold. On your left hand side you will see Glacier Frances, where frequent small avalanches take place. The noise booms throughout the valley, although the ice that breaks away seems much smaller than it should considering the noise. After ducking in and out of the forest, with sporadic views of Rio Frances below, you will eventually reach Campemento Britanico. In another 25 minutes, you will reach the lookout point, which is a highlight of the trek. Return via the same track. (Breakfast, Lunch, Dinner)

Choice of overnight again at Domos Frances or continue on to Los Cuernos where private cabins are available (extra cost $40 per person, based on double occupancy).

If you chose to do the Ice Hike on Day 2, you will overnight in Domos Frances.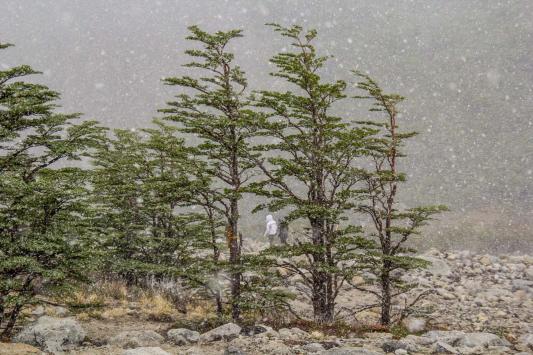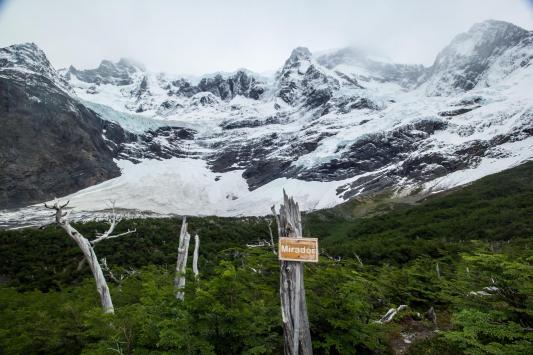 DAY-4 DOMOS FRANCES OR LOS CUERNOS REFUGIO TO REFUGIO CHILENO (7 TO 10 HOURS - 11 TO 13.5 MILES)
After yesterday's difficult hike, today starts off much easier. After leaving Domos Frances, you hike along the beach of Lago Nordenskjold, where the mighty Los Cuernos opens up to your left. After a brief refueling stop at Refugio Los Cuernos, continue another 7 miles watching as the might Paine Massif unfolds to your left hand side. Halfway through you will have the opportunity to take a shortcut that goes directly to Refugio Chileno, which knocks off 2 to 3 hours from your journey, or your can continue on to Hotel Los Torres for one of the better lunches available along the trek. From Hotel Los Torres, its a 2 hour uphill slog skirting Rio Ascencia to reach Refugio Chileno. (Breakfast, Dinner - recommendation to have lunch at Hotel Los Torres)
DAY-5 REFUGIO CHILENO - MIRADOR BASE LAS TORRES - HOTEL LAS TORRES (6 TO 7 HOURS - 8.5 MILES)
A highlight of the trip, you will need to wake up at least 3 hours before sunrise (ask for sunrise times when you inquire). It's also the most difficult hike of the W Trek. You will need to do a bit of light scrambling up some rocky areas and if its been raining (which it does a lot), then things can get very slippery. Take your time, travel with a hiking partner and bring a flashlight. But it's all worth it once you reach the towers. The morning hues of purple, pink and blue paint the three towers in a fantastic light. A tip: Bring a sleeping bag up to the top so you can stay warm - the weather is especially brutal up here. After seeing the towers, head back to Refugio Chileno for breakfast and then down to Hotel Las Torres. From here you will catch an internal bus (2,500 CLP) to reach Laguna Amaraga and the bus that will take you back to Puerto Natales.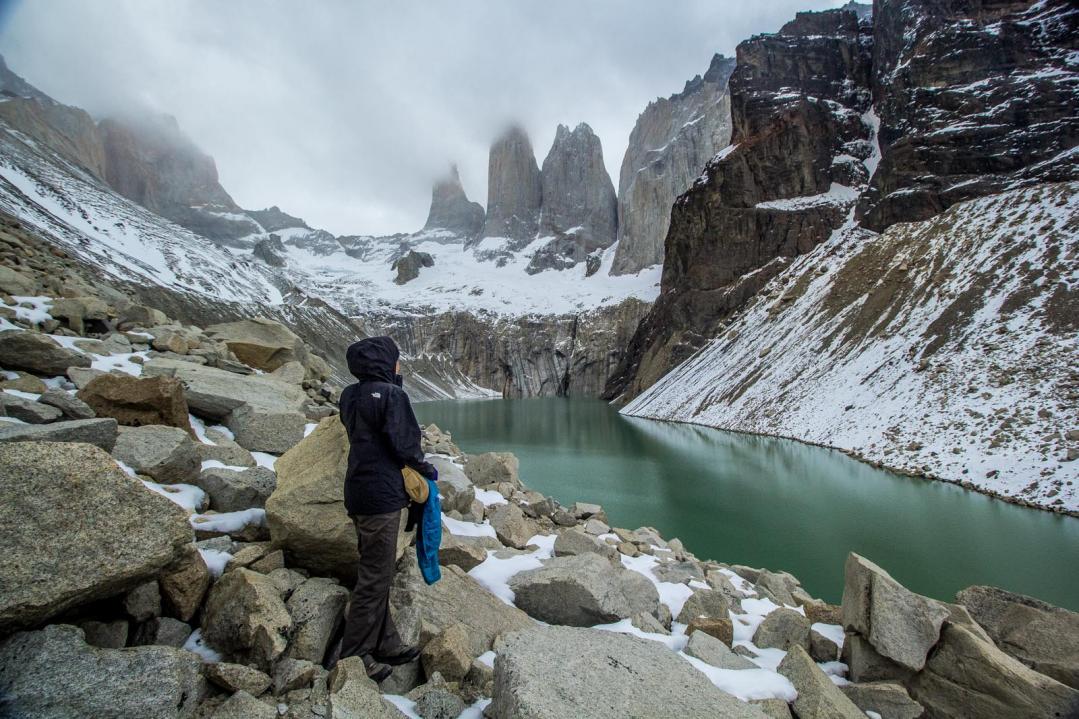 Where to stay:
There are a number of options available from camping out every night to staying in dorms in Refugios to completing day hikes from plush hotels, to a combination of all three. The options are listed below from West to East for only those accommodations located on the W Trek. For example, Eco Camp Patagonia is located in the park, but not actually on the W-Trek, so it is not included here.
REFUGIO GREY
One of the newest refugios, the lounge area in Refugio Grey is one of the nicest of the whole trek. Wood floors, comfortable leather couches and a bar that will serve you a pisco sour using ice from Glacier grey. The rooms are 4 to 6 people coed dorms with shared bathrooms with a total capacity of 60 people. Camping facilities available as well. If your muscles are aching, there is also a massage therapist on staff.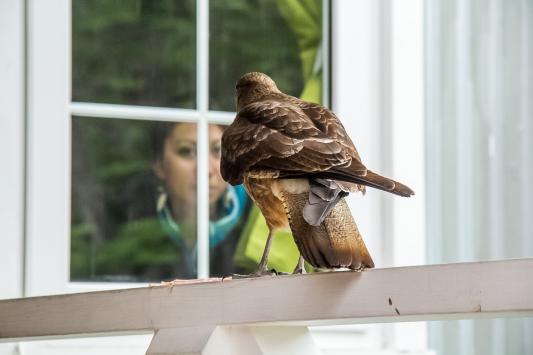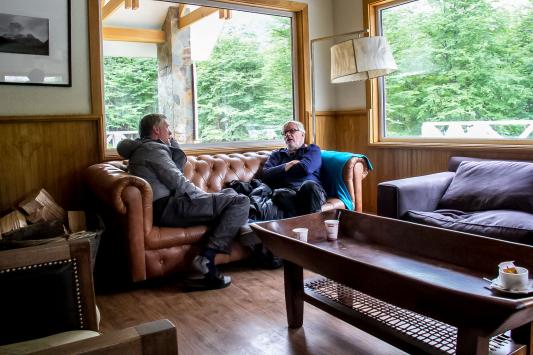 PAINE GRANDE
Paine Grande is located at the drop off point of the Catamaran on Lago Pehoe. The building can accommodate 100 hikers in 22 dormitory rooms with bunks for 6, 4 and 2 people. The refugio has a restaurant, bar, lounge and shop with camping supplies. This refugio is a good overnight option if you choose to do an Ice Hike early on Day 2.
CAMPAMENTO ITALIANO
Free Camping site with limited facilities. There are toilets, but no showers available, and a small warming hut.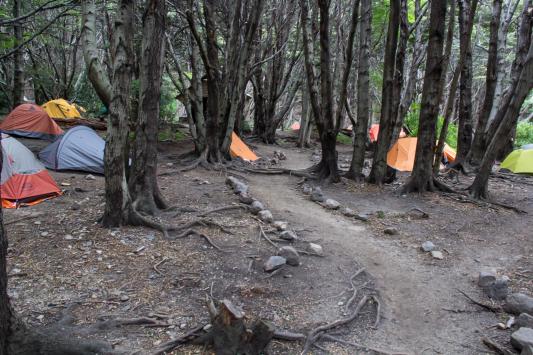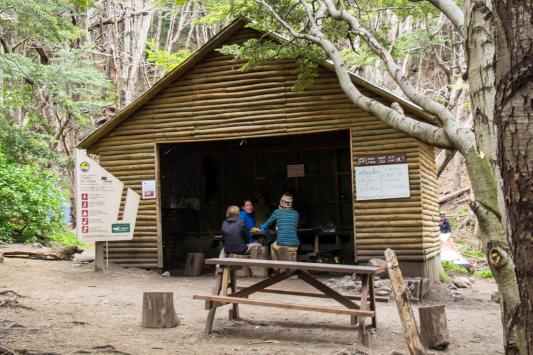 DOME FRANCES
Domo Frances is located approximately an hour west of Refugio Los Cuernos. It features 3 recently constructed domes with private bathroom for 8 people each (shared bathroom and dome). A nice feature of the domes are individual outlets and reading lights attached to each bunk. Also, the view of Lago Nordenskjold is perhaps the best view from any of the refugios.
Services available: Breakfast, Packed lunch and dinner.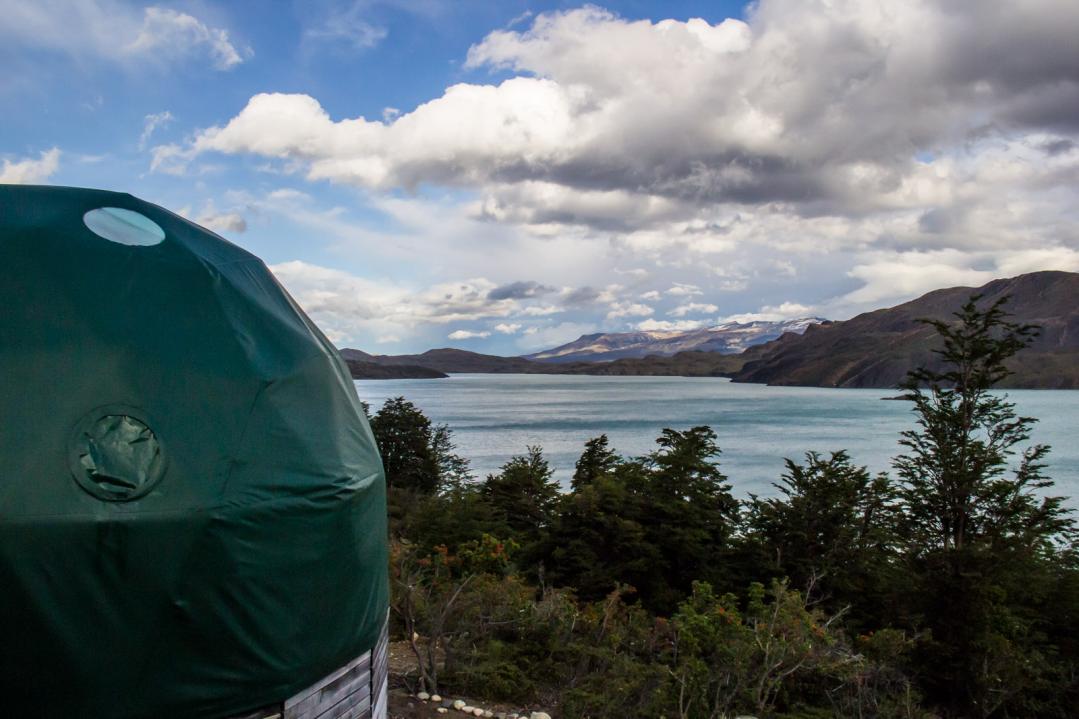 REFUGIO LOS CUERNOS
Probably the most popular and busy of all the refugios, Los Cuernos is located not from the beach of Lago Nordenskjold. It has a a capacity of 36 people - 4 shared-mixed dorms for 8 people each (3 bunk beds in each room). Dinner is served at communal tables in two shifts. For hikers looking for private accommodation, there are 8 double cabins that also provide access to a hot tub. There are also camping pitches available here. All bathrooms are shared by guests in that category. Meaning, Cabin guests share a bathroom with other cabin guests, refugio guests share with refugio guests and campers share with other campers.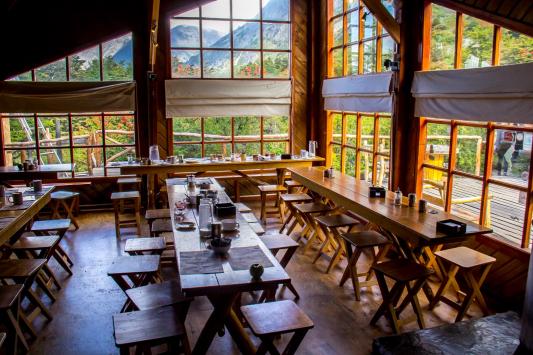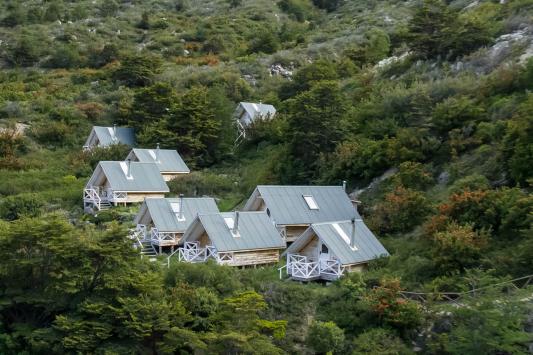 REFUGIO CHILENO
Located 2.5 hours from the base of the towers and 2 hours from Hotel Torres, Refugio Chileno is ideally located for those that would like to see the towers at sunrise, yet would like some creature comfort as well. The food is surprisingly good and there is quite a bit of it. There is capacity in the refugio for 32 people (4 shared and mixed dorms of 8 people each) and plenty more camping spots.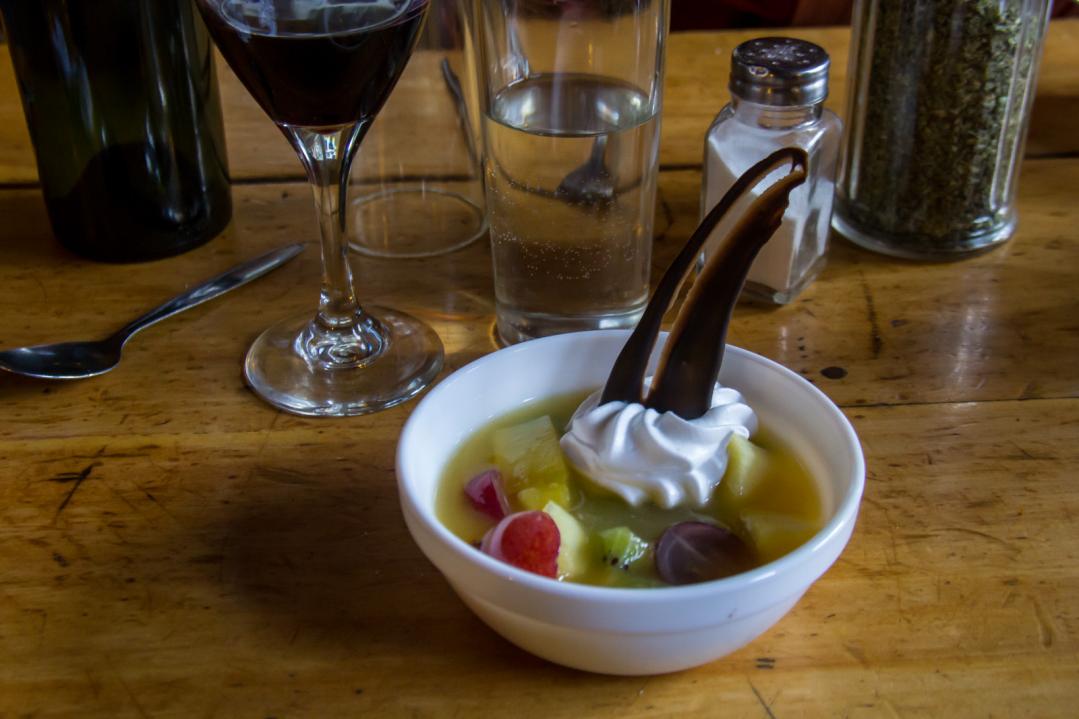 CAMPAMENTO TORRES
Free Camping site with limited facilities. There are toilets, but no showers available, and a small warming hut.
ECO CAMP PATAGONIA
For guests that would like more comfort and a unique overnight experience in private rooms, Eco Camp Patagonia can replace Refugio Chileno, however it is not a good option if you want to see the sunrise at the towers. Guests can fall asleep looking up at the star-lit sky from their cozy bed and wonder at nature's immensity as they hear the wind hurtling outisde. Each Superior Dome has comfortable queen-size or twin beds, a propane heater and a private bathroom with a sophisticated composting toilet. Electricity is very limited inside the domes, meaning hairdryers are not permitted, but laptops and cameras can be charged.
Read more