Discovering Eco Lodges
Eco Lodges are rapidly gaining in popularity as travellers look to help preserve the environment and contribute to the local economies, while minimizing their impact on natural environments and local populations. Traditional accommodation, hotels, hostels, and small inns, oftentimes leave a small, but collectively large, footprint on the earth environmentally. With the creation of eco lodges and green travel, travellers are now given the option to positively contribute to their environments while simultaneously experience the richness and beauty of nature. Discovering eco lodges around the world can be incredibly exciting and learning what each has to offer can open you up to a whole new way to live life each day in a responsible and sustainable way.
What is an Eco Lodge?
An Eco lodge is most simply described as an initiative that focuses on minimizing the negative effect lodging has on the environment, while positively contributing to local communities and / or conservation efforts. Eco lodges focus on using renewable energy sources to provide power to their properties as well as using energy efficient lighting and water preservation. They focus on recycling and often reusing in order to positively impact the environment. Initiatives such as the use of organic towels, non-toxic natural cleaning products, and locally sourced foods are often times used in eco lodges. Anything that can be washed and reused to serve the guests, and in turn help to sustain the environment, are used. In terms of location, eco lodges are often located in remote places including jungles, beaches, mountains, and forested areas. Since they are often located in remote areas, they tend to depend heavily on the surrounding environments, making use of our natural world in a positive way.
The benefits of Eco Lodges extend beyond the environment, to both travelers and the local communities that host them. In certain cases, tourism dollars allow local communities to remain on their native land, without stripping away it's precious natural resources. This not only has a positive effect on the environment, but the increased economic benefit to the communities also allows them to better control the future of their culture. For the traveler, staying in an eco lodge oftentimes help connect one more with the natural environment. Many eco lodges focus on preserving their surrounding environments, bringing awareness to nature, and helping to conserve wildlife. In many remote areas around the world, eco lodges are located close to indigenous tribes that have long inhabited the areas. Through eco lodges, travellers are educated about their surrounding natural environments, the local people who rely on living off the land, and about the flora and fauna of the surrounding regions. Many eco lodges will help to connect travellers with the local inhabitants, who in turn are positively impacted by these interactions. Both travellers and the locals are rewarded through learning about each others customs and traditions.
Why Stay at an Eco-Lodge?
Green and eco tourism is unlike any other travel experience. With the help of eco lodge owners, travellers are thrust into their surrounding environment and are led on a journey into an educational and incredible experience. Staying at an eco lodge helps travellers to learn about the local people, their environments including the flora and fauna, and how to live eco friendly and sustainable lives themselves. Choosing to stay at an eco lodge helps to ensure that you are travelling and positively contributing to your surrounding environment. Eco lodges are also beautifully and naturally constructed buildings and are an incredible place to spend a few days or weeks. In their remote locations on beaches, deep in jungles, and high on mountain tops, eco lodges ensure that travellers are located in some of the most beautiful and untouched places on earth.
Many travellers are becoming increasingly interested in staying at eco lodges in order to contribute positively to the world. Travelling and the tourism industry has been on a massive increase in the last few years and more people from around the world are able to see the beauty and meet its people. Choosing to stay at an eco lodge is like joining a positive movement. In recent years due to the noticeable negative impact humans are having on the environment, green and eco friendly movements are becoming a growing trend. However, unlike a trend that only lasts for a certain time, eco friendly tourism is becoming a way of life.
How to choose an eco-lodge suitable for you
Choosing an eco lodge can often be quite difficult as many travellers are concerned with false advertising and lodges claiming to be green and environmentally friendly, when in fact they are often times not. It is important to correctly do research on an eco lodge that is of interest to you in order to find out if they are having a positive impact on not only the environment but also on the local people and the wildlife in the area. Many eco lodges also offer different things and it is important to ensure that your visit to an eco lodge is going to suit your needs.
Eco lodges are in the business of positively contributing to the environment so preserving water and energy is a must. As a visitor to the eco lodge, you will be expected to help maintain the environment by ensuring you do not misuse water, energy, or other necessities. As you help to maintain this construct, it in turn will help to change your outlook on the world. Eco lodge owners also help to educate travellers by teaching them about sustainable ways. If you are looking to explore a certain region of the world while educating yourself, choosing an eco lodge that is going to help in your education is important. Contact the owners of a lodge in order to find out if they are in the business of educating their guests. Learning about how to conserve water and energy, reusing things including linens, towels, and dishes, and growing and eating locally sourced foods are ways that eco lodge owners help to educate their guests and open their eyes to making a positive impact on our beautiful world. As with any accommodations, it is important to ensure that you are capable of sleeping in the accommodations. Ensuring that you are going to be comfortable is important for your trip, since you are looking to create unforgettable memories. Keep in mind that the accommodations tend to be a lot more rustic and eclectic and are not going to be your run of the mill hotel room with air conditioning and a mini bar. Having realistic expectations is necessary. Still, there is a movement to bring eco-driven initiatives to the upscale market and some exciting new lodges, for example Tabacon, are popping up that provide a truly luxurious experience.
Researching specific locations is also important in finding the perfect eco lodge. If you are particularly interested in seeing a certain region of the world such as Patagonia or Africa, focus on looking into suitable eco lodges in those areas. If you are not looking to visit a particular region of the world, instead focus on choosing the environment you are looking to stay in. Many eco lodges are located in remote areas from beaches to mountain sides or deep in forests and jungles. Once you do some research, oftentimes a particular eco lodge will jump out at you and positively resonate with what you are looking for. Don't be afraid to contact the owners to find out more information about trips during your stay as well as learning about the local environments and the indigenous people.
How to Get the most out of your experience
On your first visit to an eco lodge, it is normal to not know what to expect. After all, a new experience is entering into the unknown. Keeping an open mind when visiting a new region and staying in an eco lodge is incredibly important. You are going to be experiencing a lot of new things and if you keep an open mind, the experience will be nothing other than amazing and unforgettable. Staying at an eco lodge is an incredible experience where you will be opened up to a world of sustainability and environmental preservation. Realizing that you can travel and make the world a better place is an amazing feeling. Most Eco lodges are not going to be luxurious accommodations complete with air conditioning, unlimited buffets, and all you can drink bars. Rather than the accommodation being the highlight, the focus is on learning about the environment, the local people, and the flora and fauna of the area. As with any travelling experience, it is important to deal with issues tactfully and creatively. Ensuring you can for-see some problems and fend them off before they arise can also help you make the best out of your experience. However with that said, it is important not to worry and stress about problems and simply go with the flow and keep an open mind about the experience.
As staying at an eco lodge is going to be an incredible new experience opening you up into the world of sustainability and a positive way of living and co-existing with the environment in the least harmful way possible, it is important to ask lots of questions and truly understand your experience. After leaving an eco lodge, you will be educated on ways to conserve our worlds natural resources, possibly be instilled with a desire to eat locally, and have learned about the local customs and traditions. You may also learn amazing skills including weaving, cooking, building, and foraging.
Cool Eco Lodges That We Like:
1) Sukau Rainforest Lodge, Borneo
Located in the lush rainforests of Borneo, the Sukau Rainforest Lodge is the perfect lodge to explore the natural wonders of Borneo. Known for its outstanding wildlife, beautiful rivers, and jungle hikes, the Sukau Lodge is an incredible place to stay. Although the accommodations are not luxurious, they provide guests with everything they need from comfortable beds and delicious locally sourced food, to wildlife safaris, guided jungle treks, and unforgettable associations with locals. Learn how to handcraft boats with the locals or take to the rooftop of the jungle on the boardwalks and discover the wildlife. With elephants, orang-utans, and thousands of different wildlife species and plants, the jungles of Borneo are an unreal place to explore.
From $195 per person per night, all inclusive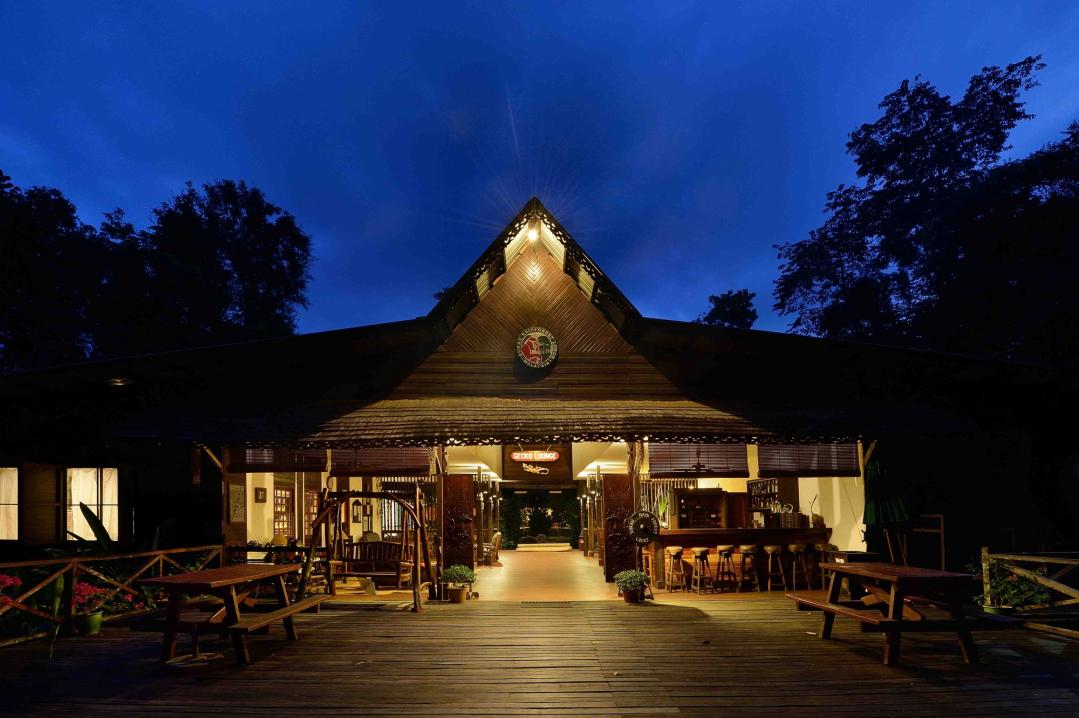 2) Daintree Wilderness Lodge, Queensland, Australia
Located in the incredibly lush rainforests of the northwest of Australia, Daintree Eco Lodge and Spa provides guests with an incredible experience in a beautiful and remote setting. The accommodations are built in the style of tree houses and are surrounded by medicinal plants and ferns. As the resort is run together with the local tribe of the rainforest, it is possible to stay at this eco lodge and become incredibly involved with the indigenous people of this area. From learning native songs and dances to eating delicious local foods, staying at this eco lodge is an incredible experience. Located close to waterfalls and fantastic hiking trails, the lodge is located in a magnificent area.
From $310 per night, Bed and Breakfast
photo: by Daintree

3) Refugio Ecologico Caiman, Pantanal, Brazil
Brazil is becoming an increasingly popular destination. The Caiman eco lodge is located on the wetlands of Pantanal and provides an incredible destination to explore the vast wildlife of Brazil. As a ranch style eco lodge, many activities are offered in this beautiful setting including hiking, horse riding, and learning about sustainability and eco friendly living. Safari's are also offered including both jeep and night tours. Canoeing, birdwatching, and biking are also popular sustainable activities and great ways to discover the beauty and nature of Pantanal.
From $785 per night, including full room, board and activities / safaris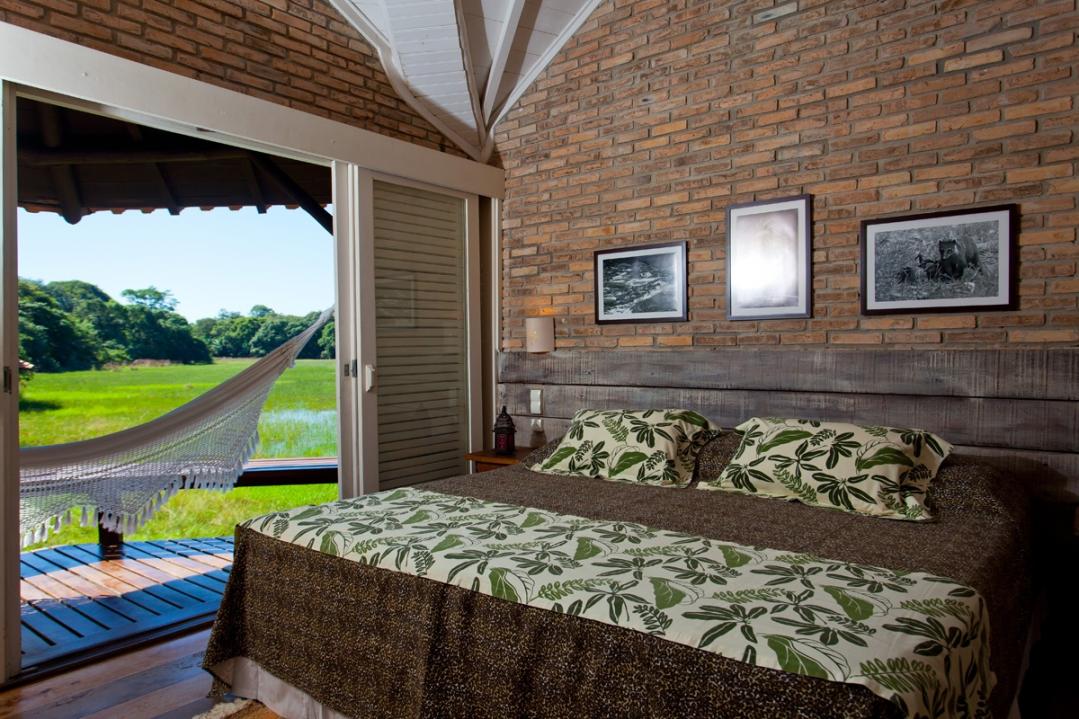 4) Kosrae Village Ecolodge and Dive Resort, Micronesia
Located east of the larger island of Palau, a small island known as Kosrae lies surrounded by the beautiful crystal clear waters of the south Pacific Ocean in the islands of Micronesia. This eco lodge is the only one located on the island with steep jade mountains and beautiful beaches. Surrounded by palm trees and located on the edge of the jungle, Kosrae eco lodge offers more than just accommodations. Guests are connected with the locals who will teach you their customs and traditions including weaving, dining, and fishing. With the beautiful clear waters of the Pacific, it is possible to help with coral monitoring in the region while gaining valuable, and incredibly enjoyable, diving experience.
From $139 per night
photo credit: Trip Advisor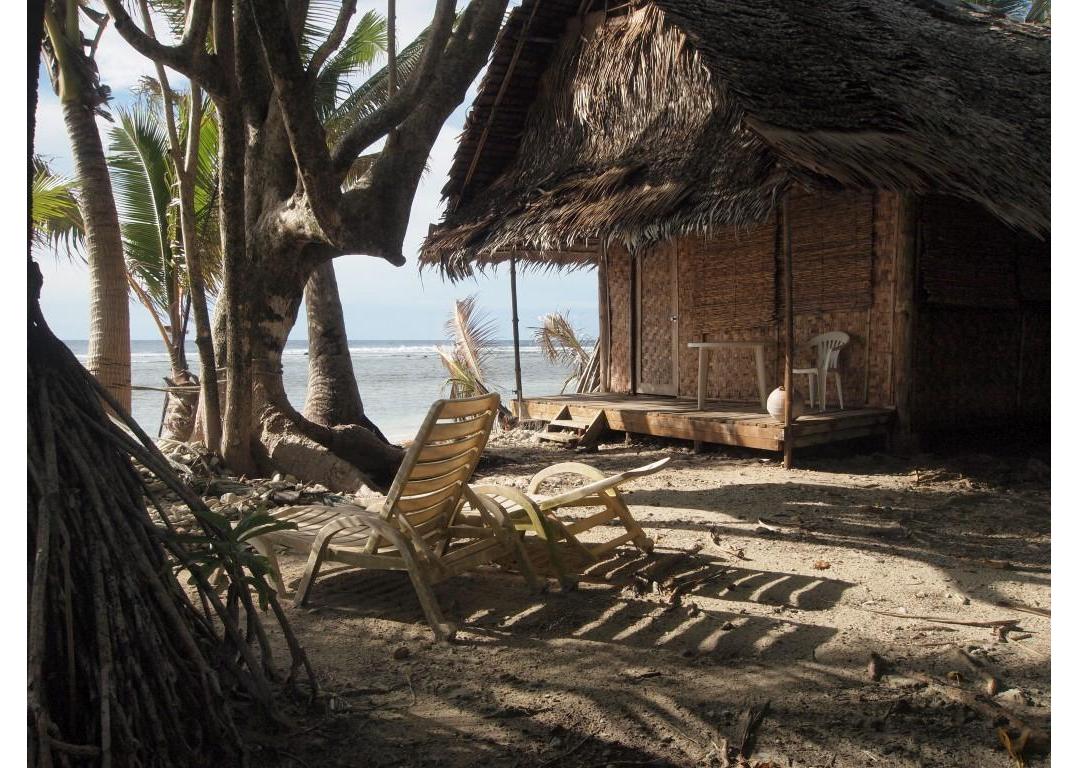 5) The Lodge at Chaa Creek, Belize
Deep in the jungles of Belize on a 33-acre organic farm, the Lodge at Chaa Creek offers guests a remote getaway in some of the most beautiful and secluded landscapes in Belize. With elegant rooms and villas, which are built on the ground and in treehouse style, the lodge offers everything from horse back riding to meeting the locals of the jungle and learning about their customs and traditions. Many epic jungle excursions are also held and since it is so closely located to the Macal River, it is possible to explore this stunning area of Belize as well.
From $180 per person, includes breakfast and access to some activities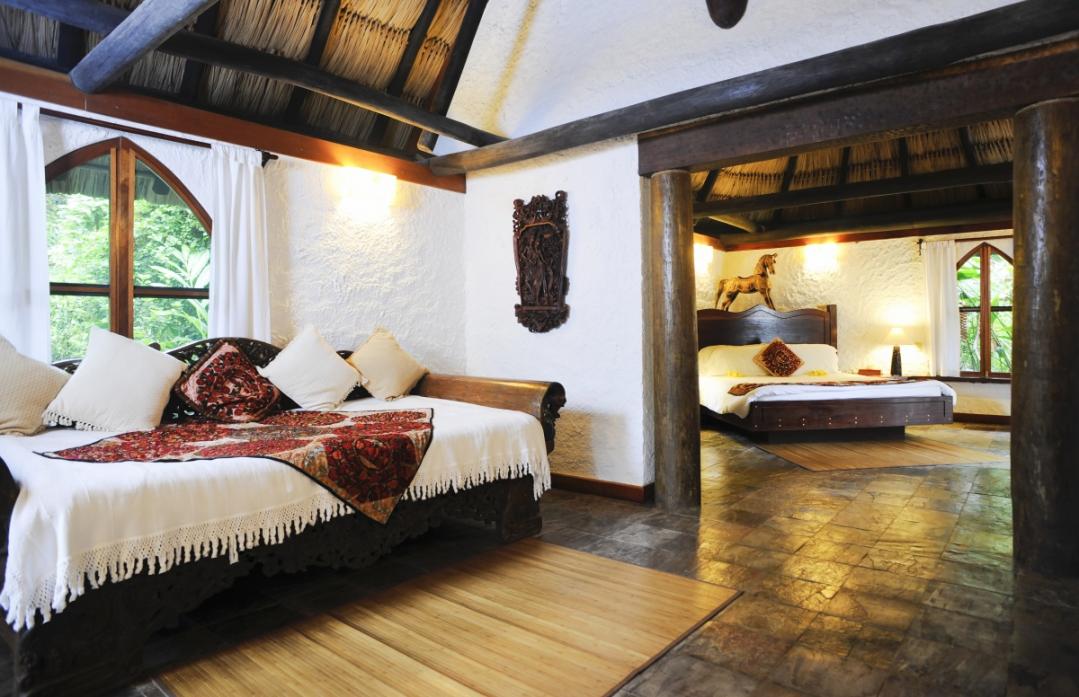 Whitepod is aptly named due to its geometric shaped domes that sit high on the Swiss Alps. These pods are definitely considered luxurious in terms of eco tourism and provide you with the ultimate views. For those looking to experience an action packed and adventurous experience, this may be the place. Inside each dome, there are wood burning stoves, chic furnishings, and even cow skin hides to keep you warm in the wintery conditions. Whitepod is definitely suited for snow lovers who enjoy skiing and snowboarding and the surrounding conditions will provide an almost private setting complete with ski lifts. It is also possible to paraglide, dog sled, and meet local people and enjoy the delicious and hearty Swiss cuisine around warm campfires.
From $365 per night (based on three night stay) with breakfast
Photo credit: Whitepod

7) Eco Camp Patagonia, Torres Del Paine, Chile
In one of the most stunning places in Chile, the Torres Del Paine National Park, the Eco Camp provides fully sustainable accommodation in the heart of this beautiful landscape. With mountains, forests, and lakes, this remote Eco Camp provides incredible hospitality and accommodations. With dome shaped ceilings, it is possible to fall asleep under the watchful eyes of the night sky. Completely untouched wilderness and a clear night sky ensure that this eco lodge is the place to stay in Patagonia. With plenty of hiking, wildlife excursions, and daily guided treks, it is possible to make the most of your learning experience in the beautiful Torres Del Paine National Park. No views often compare to those you see in this region of the world.
From $310 in non peak season, bed and breakfast rate