If you are looking for maps and elevation profiles for the Camino de Santiago, look no further. In this post, we will look at the second half of the Camino Frances, between Leon and Santiago de Compostela. So let's jump right in!
First, let's begin with the aggregate distances and elevation changes. From there, we will drill down to the individual stages.
The elevation gain and loss is taken from my 2018 Camino using GAIA GPS. Gaia is one of our partners that provides a free premium membership to Pygmy Elephant hikers.
Distance from Leon to Santiago de Compostela - 312 km / 195 mi
Total Elevation Gain from Leon to Santiago de Compostela - 15,044 ft / 4,585 m
Total Elevation Loss from Leon to Santiago de Compostela - 16,522 ft / 5,032 m
Highest Altitude - 4,996 ft / 1,522 m
Lowest Altitude - 807 ft / 245 m
Number of stages - 13, however can be increased or decreased depending on fitness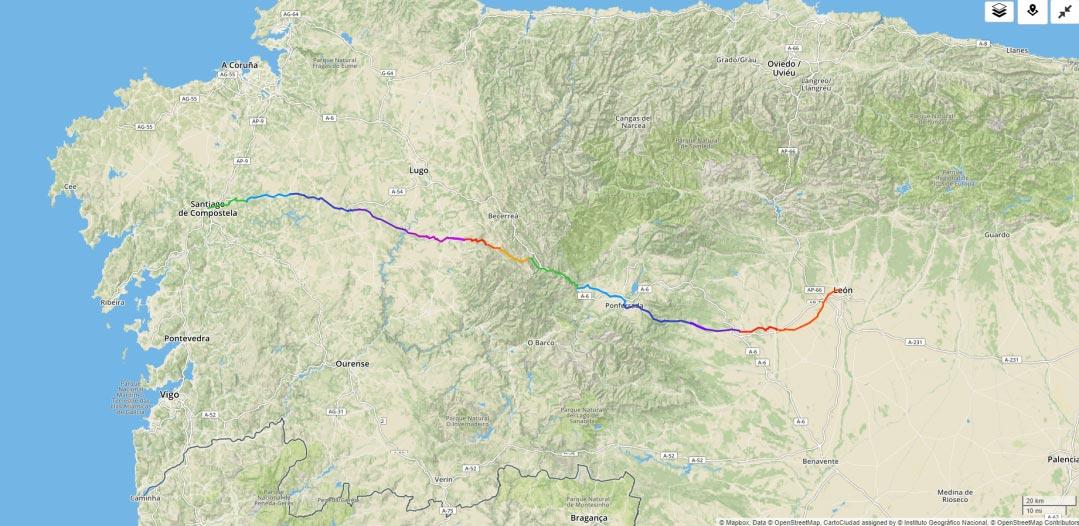 Leon to Villar de Mazarife
Distance: 26.02 km / 16.26 mi

Elevation Gain: 135 m / 443 ft

Elevation Loss: 97 m / 318

Min / Max Elevation.: 824 m (2,703 ft) / 907 m (2,976 ft)
Notes:
I recommend taking the alternative route to Villar de Mazarife, rather than the traditional hike that follows the highway to Villadangos del Parmo.
It's a relatively flat stage of medium distance. Those that have done the "Maseta" will be reminded of the long stretches from town to town, without much in between. Don't discourage! The camino increases in interest, but also difficulty, as you move forward. The journey of a thousand steps begins with just one.
There are not many refrehsment stops on the alternative route. You should find a bite to eat or something to drink in: La Virgen del Camino, Fresno del Camino, Oncina and Chozas de Abajo.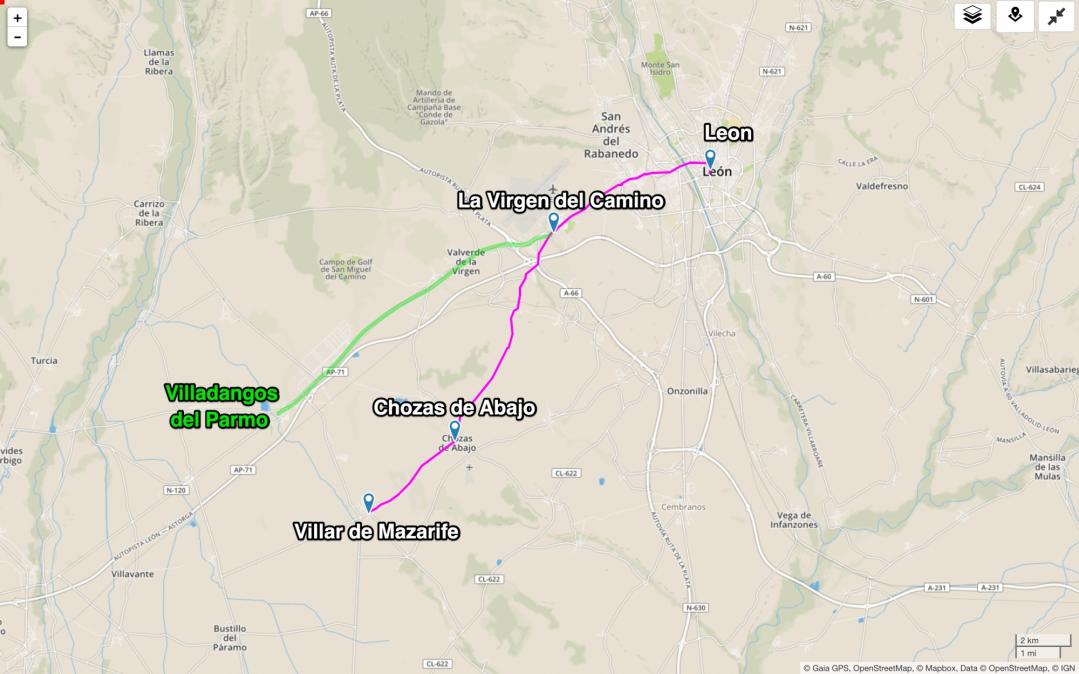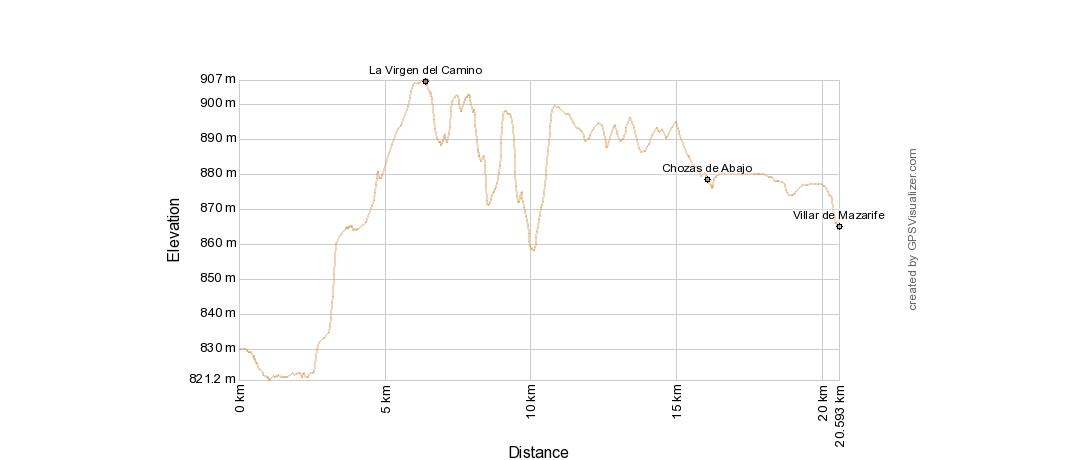 Villar de Mazarife to Astorga
Distance: 30.2 km / 18.9 mi

Elevation Gain: 149 m / 489 ft

Elevation Loss: 141 m / 462 ft

Min / Max Elevation.: 817 m( 2,680 ft) / 920 m (3,019 ft)
Notes:
This is a long day, so make sure to start early. Furthermore, make sure to stock up before leaving Villar de Mazarife. There is nothing but flat, gravel road for the first 10 km until reaching Villavante.
Finally, the camino starts to show flashes of pretty landscape. The walk between Santibanez de Valdeiglesias and the cross (Cruceiro) viewpoint is pretty, with sprawling fields of grass and lightly wooded areas.
Shortly before reaching the cross viewpoint, you will surely meet David. One of the many characters on the Camino, David left a life in the city years ago to live simpler life on the Camino. He provides food, water and juice to pilgrims passing by free of charge (although he does accept donations). He will also put up pilgrims at his makeshift Albergue. You'll sleep out under the stars so make sure to pick a night with good weather.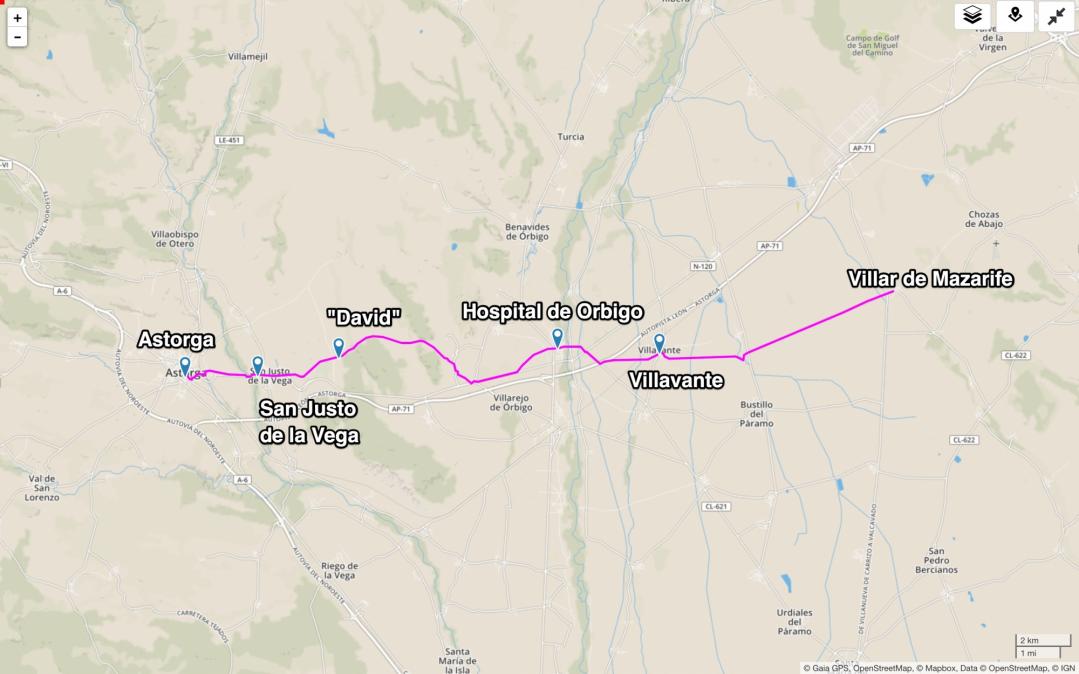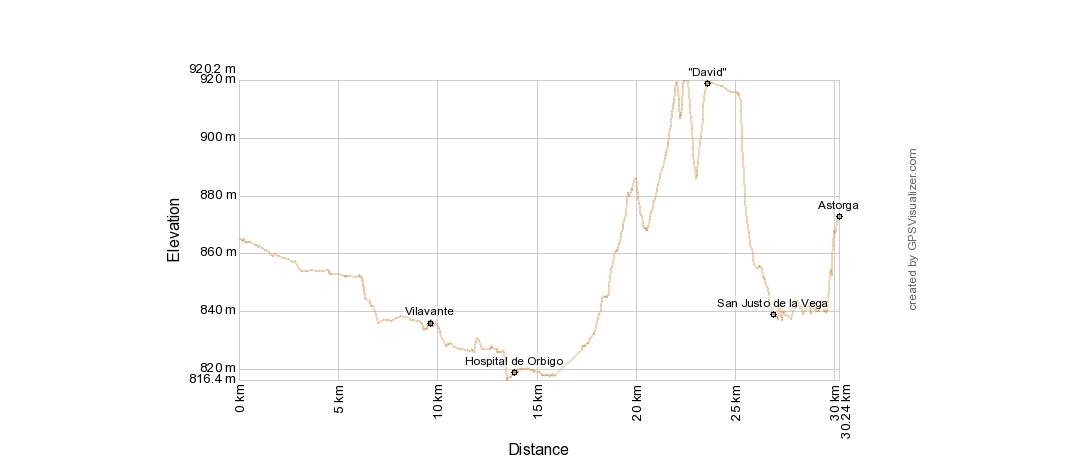 ASTORGA to rabanal del Camino
distance: 20.26 km / 12.66 mi

Elevation Gain: 304 m / 997 ft

Elevation Loss: 28 m / 91 ft

Min / Max Elevation.: 855 m (2,805 ft) / 1,149 m (3,769 ft)
Notes:
After leaving Astorga, the first village is Murias de Rechivaldo, which has a cafe / bar "Bar Cris".
Today has a steady climb. It's not very steep and the short distance allows you to make short work of it. In general, days of around 20 km can be done before lunch, if one is so inclined. But why? Why not take your time, stop on the side of the trail and relax. The camino is in no hurry for you to finish it.
Rabanal Del Camino is a well trodden stop on the camino, however there are only restaurants and no stores. The real call of this town, which can be heard at 19:00 and 21:30, is the Gregorian chant that bellows from the church of an order of monks originating from Germany. A classic camino experience not to be missed.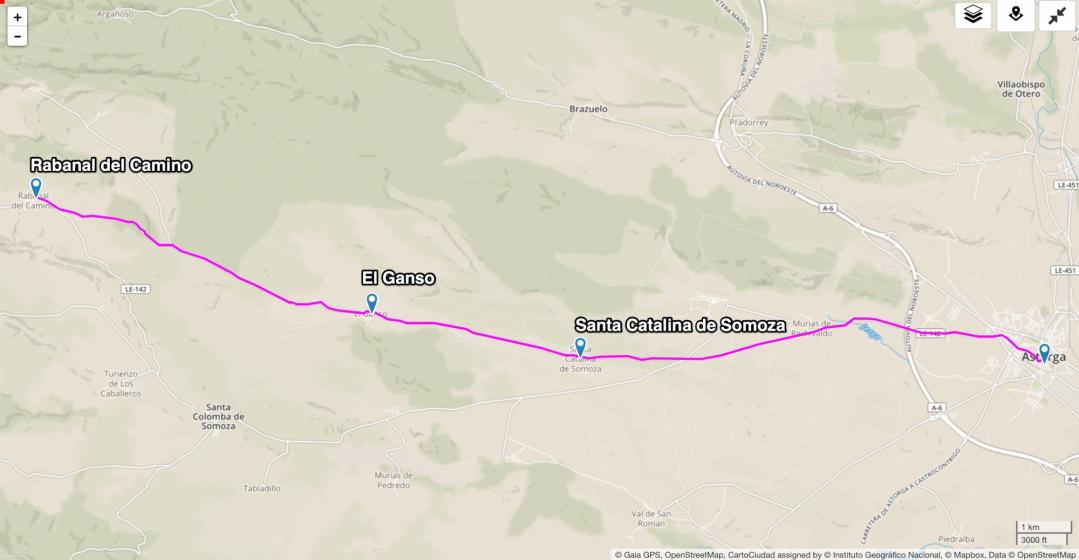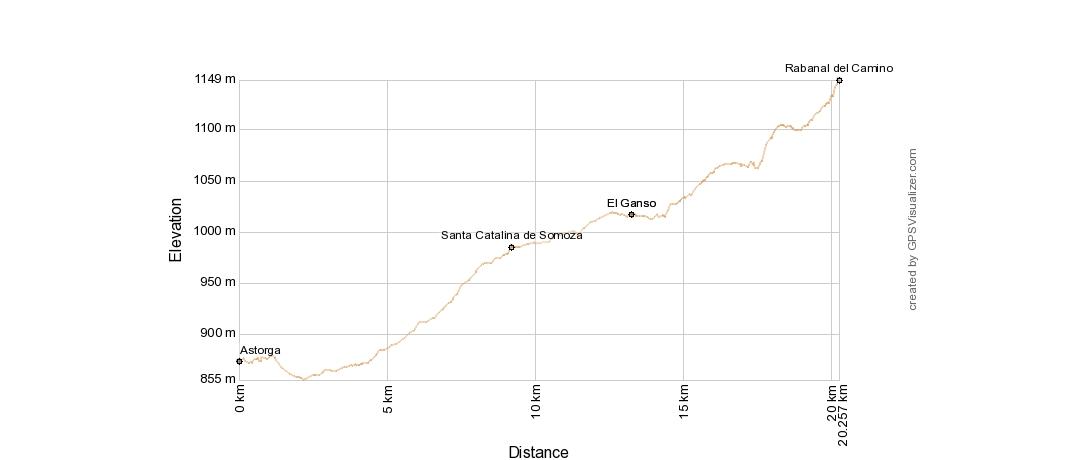 RABANAL DEL CAMINO to Molinaseca
distance: 25.34 km / 15.84 mi

Elevation Gain: 452 m / 1,483 ft

Elevation Loss: 1,018 m / 3,340 ft

Min / Max Elevation.: 584 m (1,916 ft) / 1,504 m (4,934 ft)
Notes:
Although you are reach the high point of the camino on this stage, it's not a particularly difficult ascent. You'll quickly reach Foncebadon, a crumbling village that is a real jewel of the camino. The local albergue is staffed partly by pilgrims who have left their previous life to live on the camino. Some may say it is hippy, but go inside, have a coffee and strike up a conversation. You may get another perspective on life and purpose!
Cruz de Ferro is often erroneously considered the high point of the Camino Frances. The high point actually comes a few km later, as you can see with the elevation profile. But for previous pilgrims, the 10 meters of elevation difference was not something to worry about. Hopefully you have remembered a stone for back home to place on the ever growing pile. Many pilgrims choose to memorialize loved ones with pictures, notes, poems and letters. Take time to look at a few and take in the power that the Camino has over people's lives.
The descent is the real killer of the day. A good 1,000 meters downhill on rocky terrain will test your knees. Take a few breaks and when you finally arrive in Molinaseca, the winding river that is frequented by pilgrims lazing by the side of it will be a sight for sore eyes.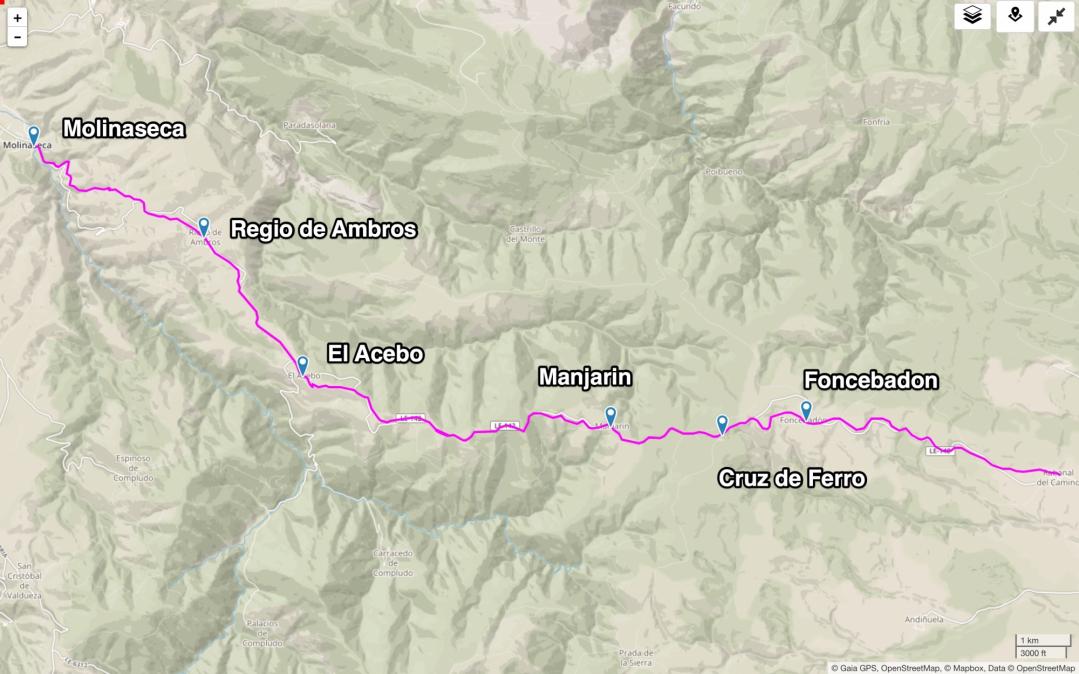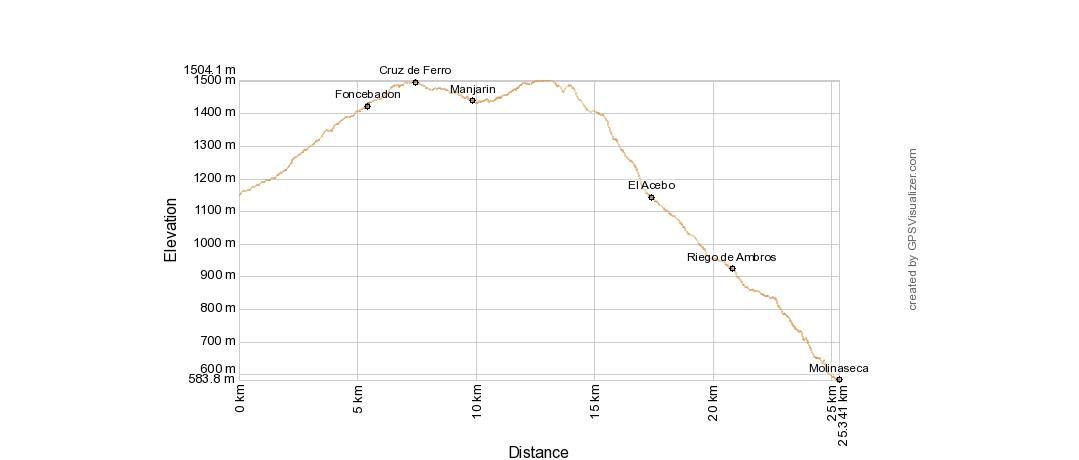 MOLINASECA TO CACABELOS
distance: 23 km / 14.5 mi

Elevation Gain: 164 m / 538 ft

Elevation Loss: 265 m / 869 ft

Min / Max Elevation.: 482 m (1,581 ft) / 615 m (2,018 ft)
Notes
There is very little elevation gain and loss today. Enjoy the break!
Today does have some road walking, so why not make use of the plethora of small bars and cafes you'll find along the way. Stop often for a coffee or fresh squeezed orange juice. You're in no hurry.
Ponferrada is one of the larger cities on the camino (pop 65,000), so if you are need of suppliers, it's a good place to explore. Furthermore, check out Los Templarios Castle, which has a moat, a drawbridge and also houses the knights templar library.
In our tour, we chose Cacabelos instead of Villafranca del Bierzo (+8.5 km) to allow you more time to explore Ponferrada. Furthermore, Cacabelos has a fantastic accommodation, with a restaurant that features wine from the region and food produced on locale.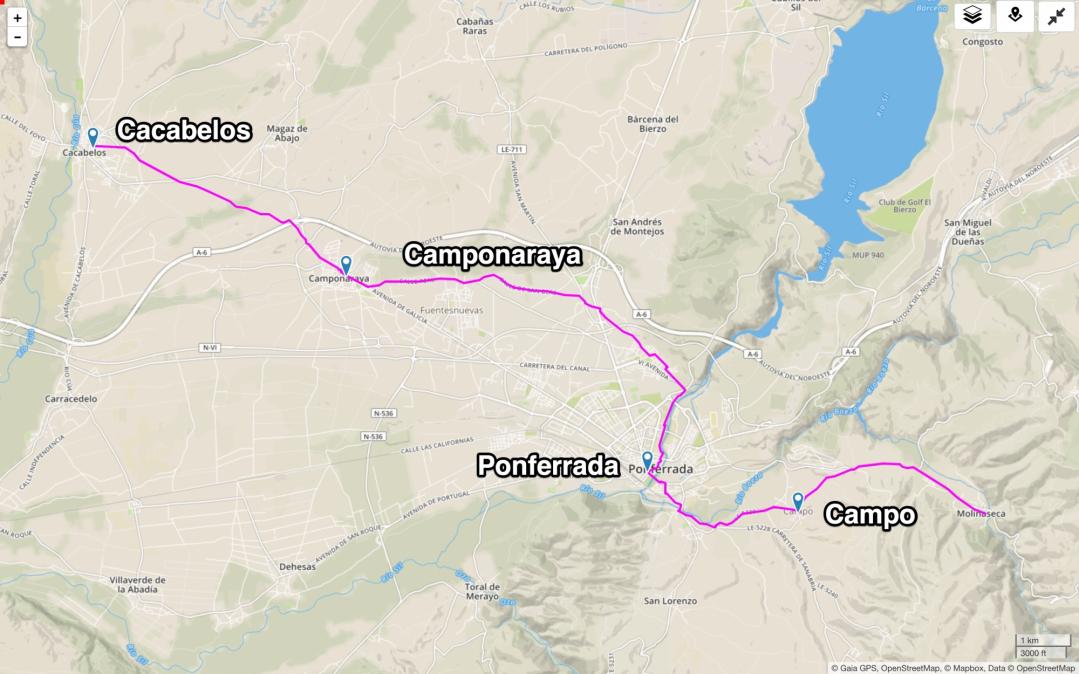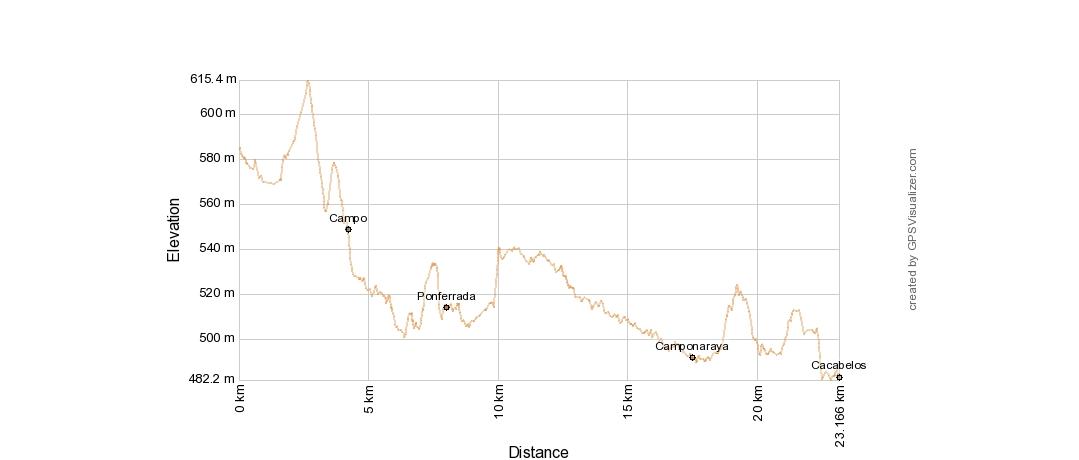 Cacabelos to las herrerias
distance: 19.5 km / 12 mi

Elevation Gain: 293 m / 961 ft

Elevation Loss: 190 m / 623 ft

Min / Max Elevation.: 473 m (1,552 ft) / 594 m (1,949 ft)
Notes
In about 8 km, you will reach Villafranca del Bierzo. It has a number of sites worthy of your time including the "Church of Santiago", "Castillo Palacio de los Marqueses" and "Monasterio de San Francisco". If you start early, you'll have enough time to explore the town.
If you are up for the challenge, there are two higher route options that will increase the hike time and difficulty of this stage. As you will stop near Las Herrerias, before the major climb to O'Cebreiro, they become more feasible for the confident walker. The easier of the two comes one km past Villa Franca and will add 1.2 km and 450 m gain / 370 m loss.
Paraiso del Bierzo is actually located a km before the small hamlet of Las Herrerias. The inn is well appointed and the restaurant serves local fare (at one point, it was a Michelin recommended restaurant) looking over a tranquil field.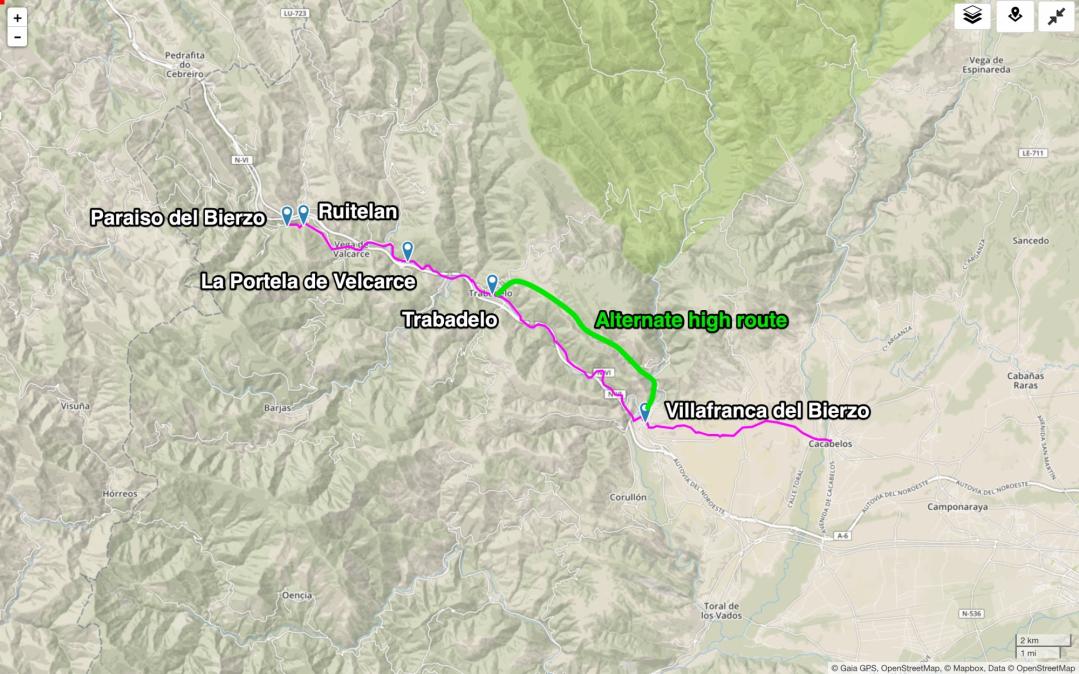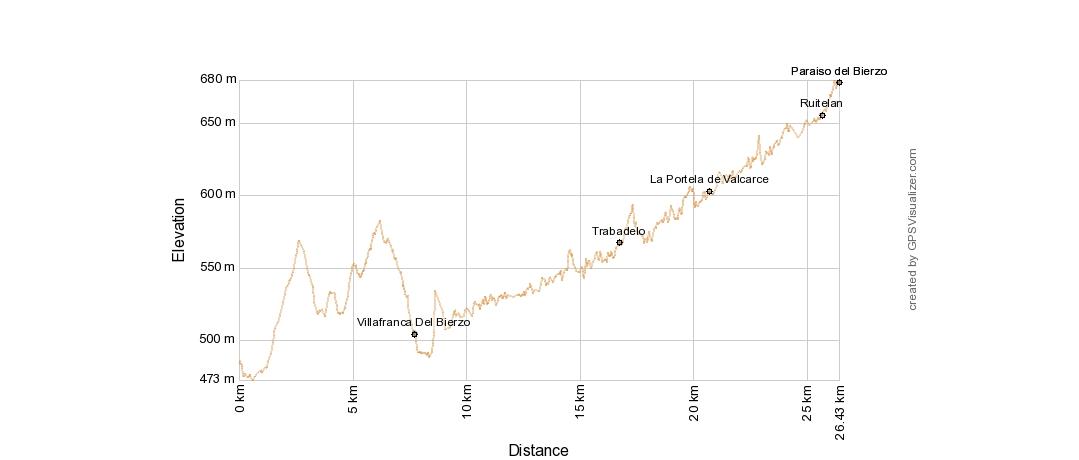 Paraiso del Bierzo to Triacastela
distance: 32.98 km / 20.6 mi

Elevation Gain: 1,002 m / 3,287 ft

Elevation Loss: 1,012 m / 3,320 ft

Min / Max Elevation.: 666 m (2,185 ft) / 1,365 m (4,478 ft)
Notes
Definitely a strenuous stage. A lot of elevation gain, loss and distance. Some people will prefer to split this stage into two and stay at the charming town of O'Cebreiro.
O'Cebreiro is a medieval looking town, with round thatched roof buildings and the "oldest" church on the camino. Early in the morning, there is often fog, and as the town enjoys a privileged position on the top of a hill, fellow green hills often poke out of the fog like little islands.
It's a beautiful stage as well, with rolling hills and panoramic vistas. Bring your camera :)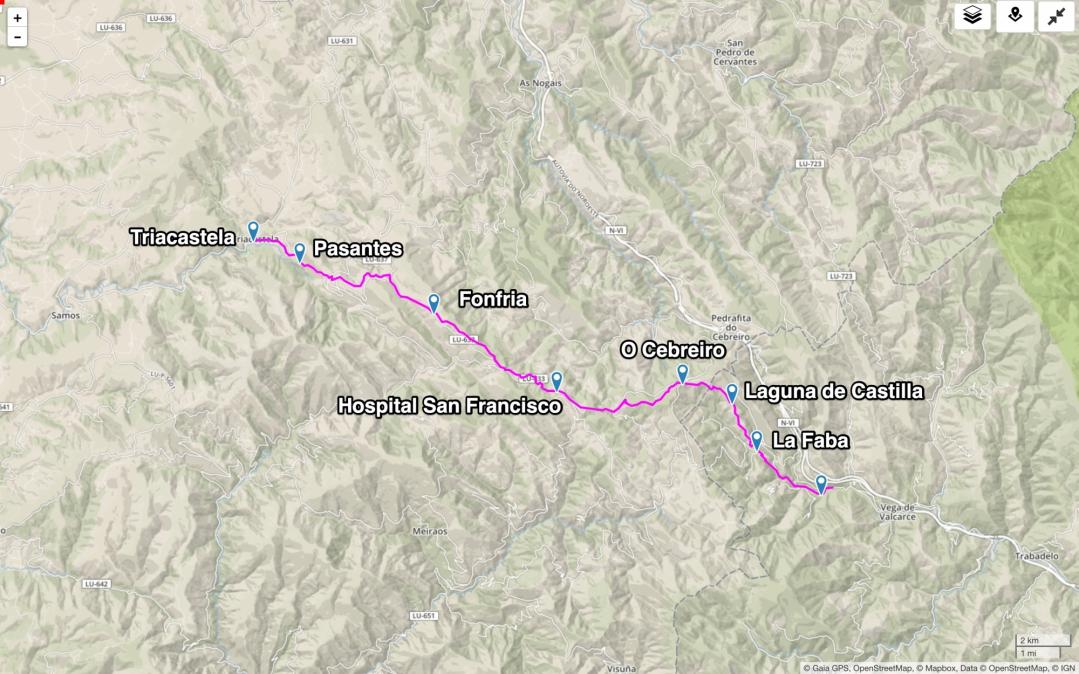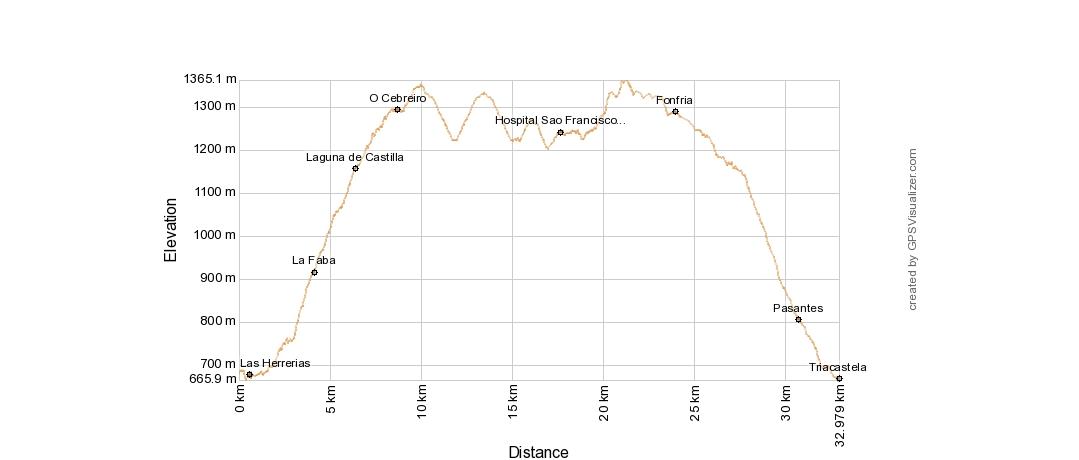 Triacastela to Sarria
Distance: 17.4 km / 10.9 mi
Elevation Gain:272 m / 892 ft
Elevation Loss: 518 m / 1,699 ft
Min / Max Elevation:420 m (1,377 ft) / 897 m (2,942 ft)
Notes:
You have two routes to choose from on this day. You can either head to Samos, to see one of the oldest and largest Benedictine Monasteries in Spain, or go via the more direct, nature driven route with more elevation gain via San Xil. If you decide to take the detour to Samos, add on an additional 6.4 km to your day's hike.
The path travels through some forrests and also along the side of the road. It's actually a more relaxed hike than your guidebooks suggests.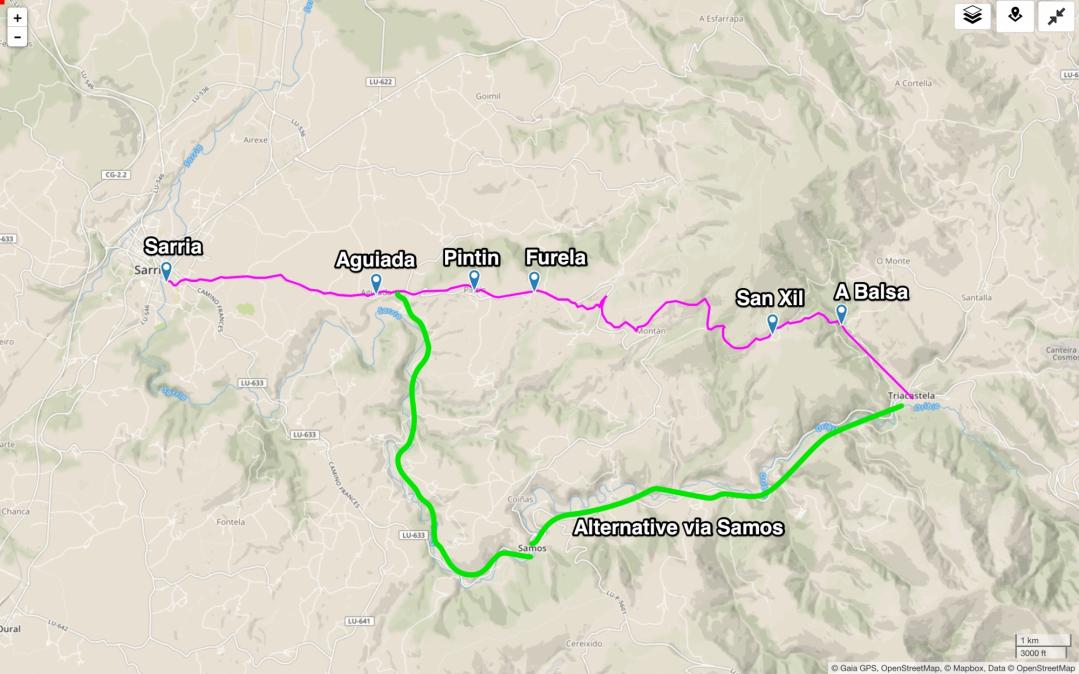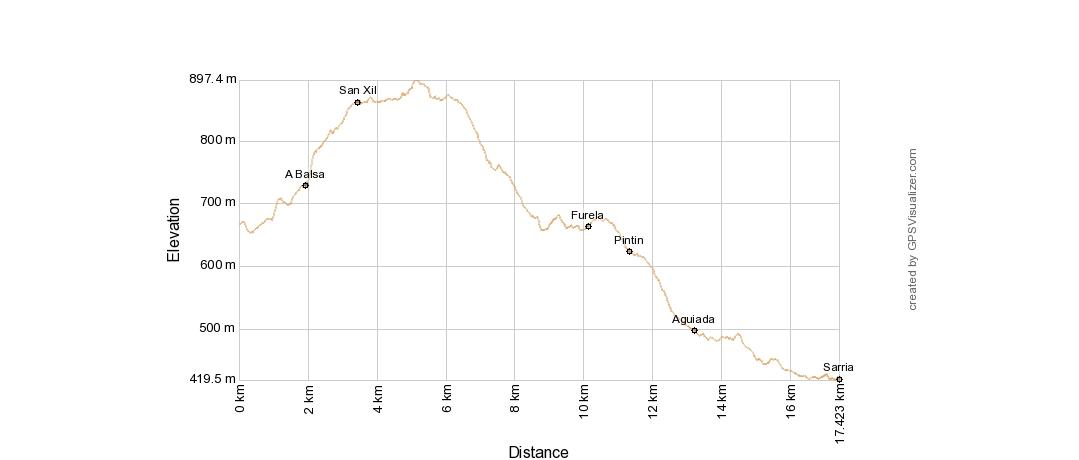 Sarria to Portomarin
Distance: 22.2 km / 13.8 mi
Elevation Gain: 354 m / 1,161 ft
Elevation Loss: 416 m / 1,364 ft
Min / Max Elevation: 344 m (1,128 ft) / 665 m (2,182 ft)
Notes:
Today you will see a marked increase in peregrinos. For it is the last day that you may begin your hike and still receive the Compostela. Officially, you must walk 100 km to receive official recognition of the pilgrimage from the church. The 100 km mark lies near Ferrieros, halfway through the day's walk.
The path on this stage meanders through forests and tree lined streets in small villages. You'll have protection from the sun, which can be a force in itself on the camino.
The walk into Portomarin is on a long bridge over Embalse de Belesar. The town offers a view of the surrounding area, which some hotels and restaurants have taken advantage of to provide views with their offerings.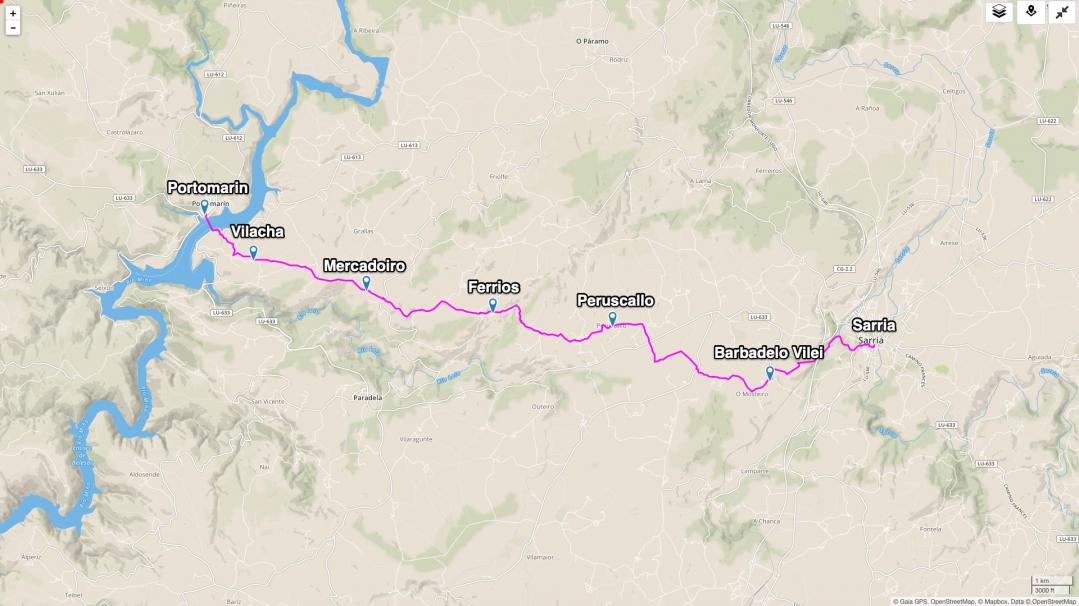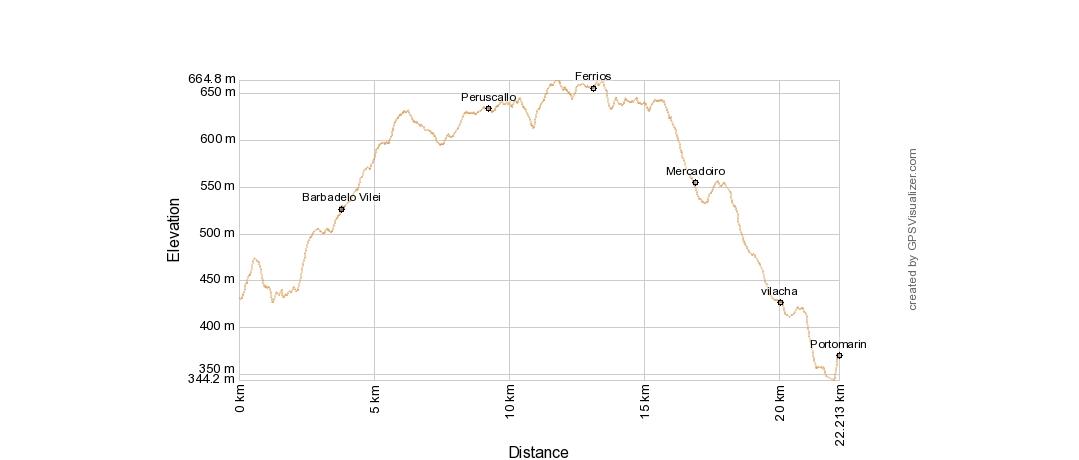 PORTOMARIN to Palas de Rei
Distance: 24.5 km / 15.3 mi
Elevation Gain: 480 m / 1,574 ft
Elevation Loss: 277 m / 909 ft
Min / Max Elevation: 343 m (1,125 ft) / 726 m (2,381 ft)
Notes:
At the beginning of the walk, you can take a shortcut through the forrest to avoid some road walking.
There isn't much for the first 8 km before reaching Gonzar. As such, Gonzar can be quite busy.
A recommended detour of 150 m is recommended near Castormaior, to visit the ancient Roman ruins of Castor.
Another detour is possible to Vilar de Donas, a church that is a national monument and ancient seat of the Knights of Santiago. Look for the expressive faces in the effigies of knights.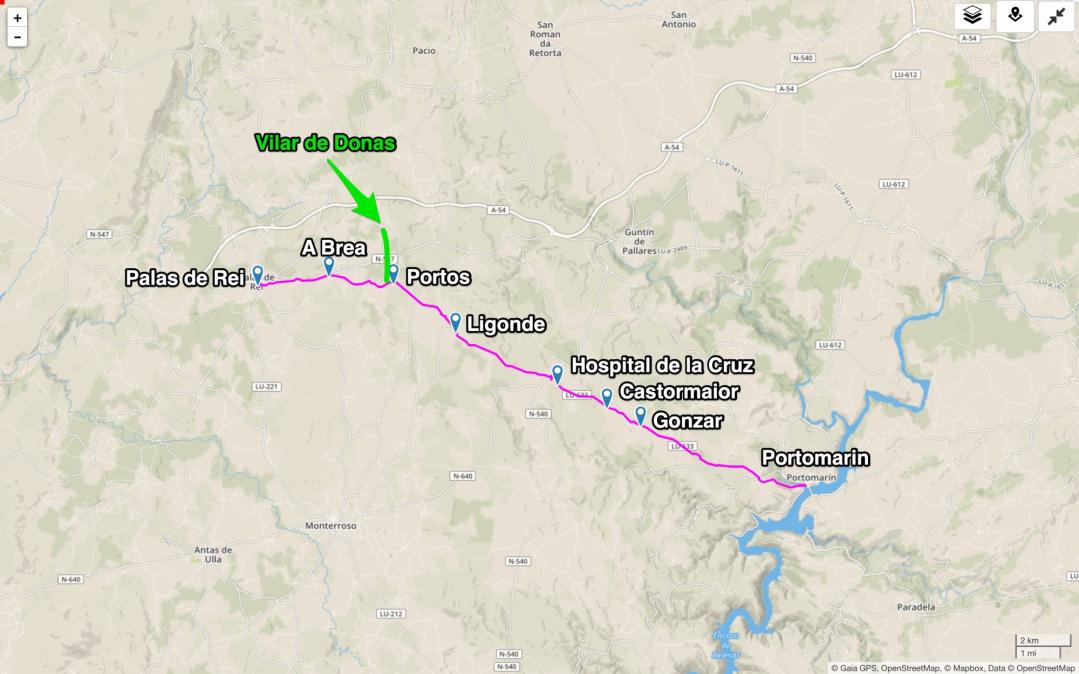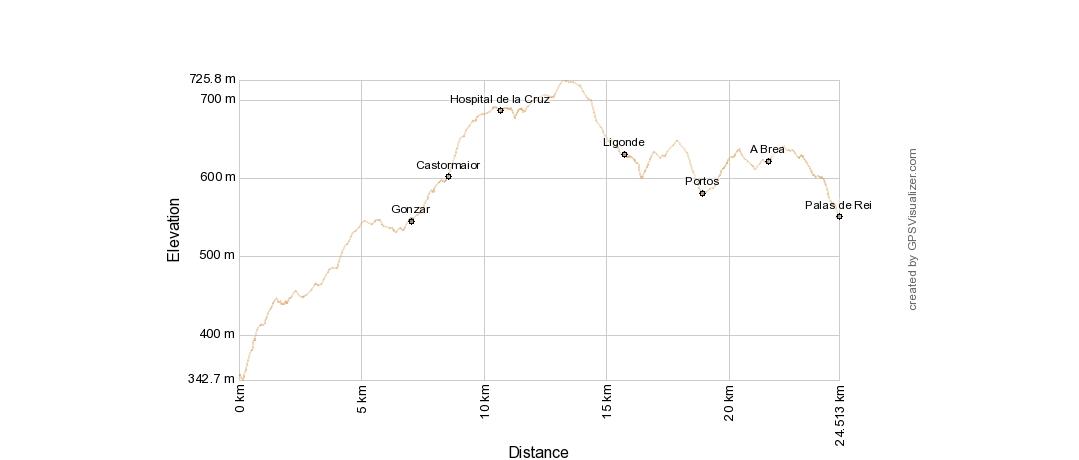 Palas de Rei to Arzua
Distance: 28.1 km / 17.6 mi
Elevation Gain: 480 m / 1,574 ft
Elevation Loss: 641 m / 2,103 ft
Min / Max Elevation: 305 m (1,001 ft) / 550 m (1,804 ft)
Notes:
The path is undulating today, however there are no long ascents or descents to deal with.
This is a long stage. Some people prefer to break it up into two stages, stoping in the middle at Melide.
Make sure to stop in for some "Pulpo" (octopus) at Pulpería Ezequiel. Look for the cook with the large octopus tattoo.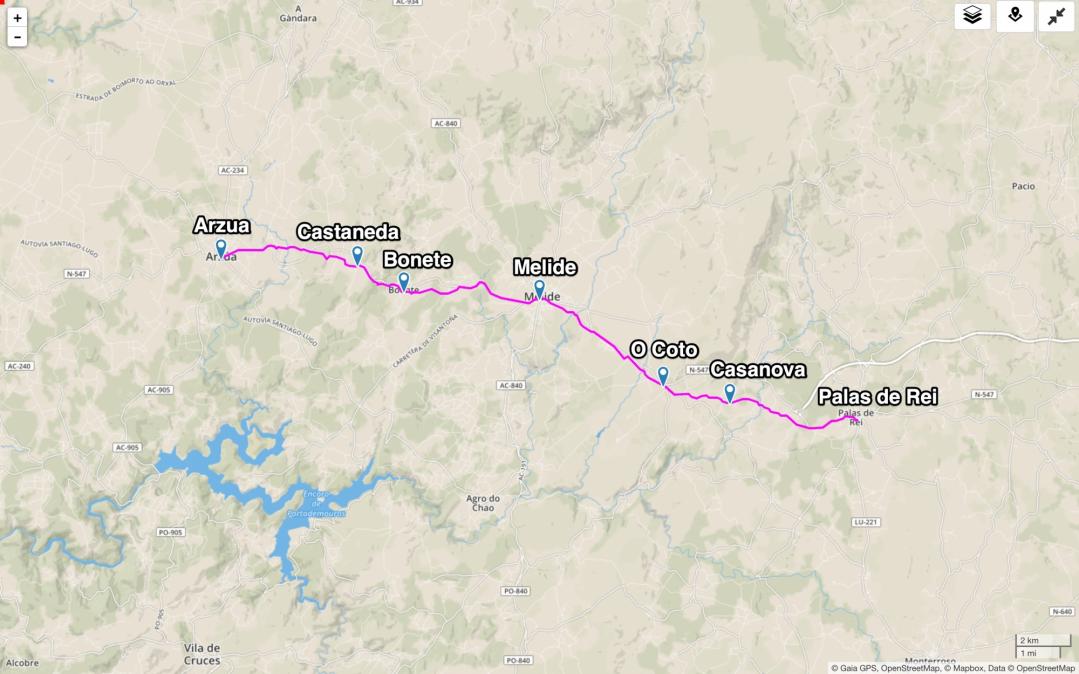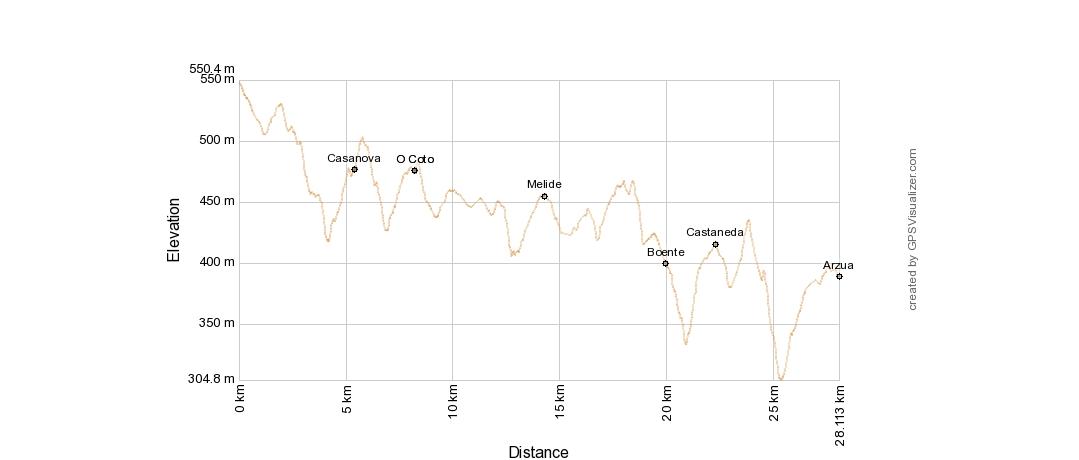 Arzua to O Pedrouzo
distance: 19.50 km / 12.18 mi

Elevation Gain: 284 m / 932 ft

Elevation Loss: 395 m / 1,296 ft

Min / Max Elevation.: 258 m (846 ft) / 414 m (1,358 ft)
Notes:
Similar to the day before, there are no long climbs or descents; but the path is undulating and you do end up with a moderate amount of elevation gain and loss. In the grand scheme of the camino, it's an easily tackled day.
One of the first spots to have a bite to eat is in A Calzada. As it is a good 5k from Arzua, you may find yourself in a queue.
This is the final evening before you make your glorious arrival in Santiago. O Pedrouzo is a sleepy town, however there are quite a few restaurants and even some stores that cater to pilgrims. Make the most of it and say hi to some pilgrims you haven't spoke to before it. It may be your last evening to make a connection with a stranger on the camino.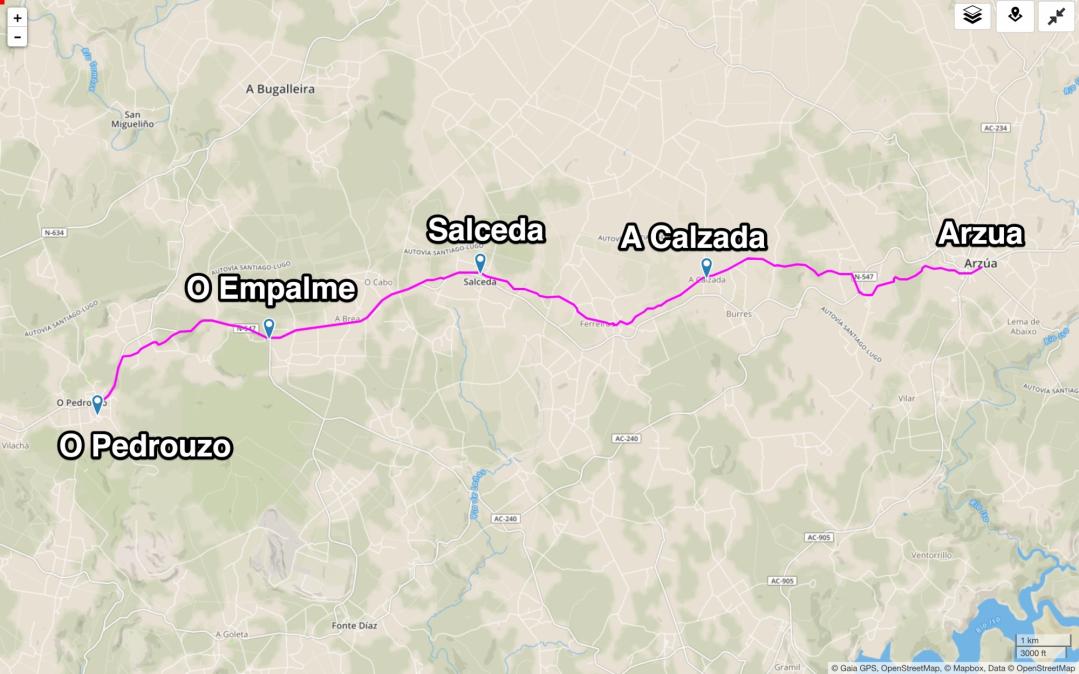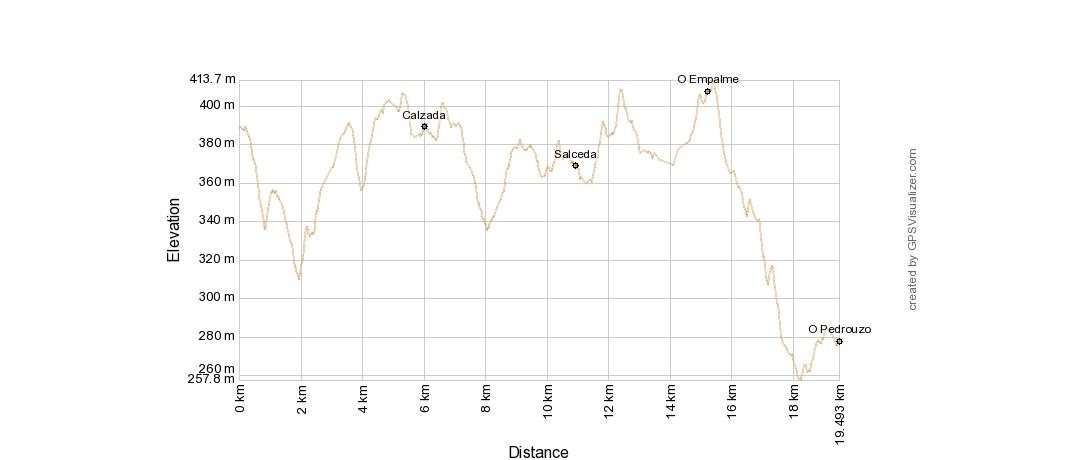 O PEDROUZO to Santiago De Compostela
distance: 18.59 km / 11.62 mi

Elevation Gain: 239 m / 784 ft

Elevation Loss: 392 m / 1,286 ft

Min / Max Elevation.: 245 m (803 ft) / 392 m (1,286 ft)
Notes:
Today is short, primarily so you can make it to the cathedral for the 12:00 pm pilgrims mass.
If you are lucky, or you are willing to shell out some extra cash to ensure that the event takes place, the botafumeiro is a fascinating ritual. A giant incense burner is hoisted high in the air, and swung from one side of the cathedral to the other.
The line for the compostela can be long. Early in the day the line tends to be shorter, however as the day wears on and more pilgrims file in the wait can be in the hours. If you have arrived late and you have the time the following day, you may wish to delay getting your compostela until the following morning.