Pilgrims on the Camino de Santiago are welcomed with open arms in the numerous hotels and guesthouses along the Way of Saint James. Among the many options in accommodation, perhaps the best-known is the albergues de peregrinos, literally "pilgrims' hostels," which are characteristic of the Camino and intrinsically linked to its history.
For our main itinerary on the Camino Francés, we've opted for a mix of private accommodation for our clients: family businesses that we trust, guesthouses with excellent service, and hotels entrenched in Camino history and tradition. We of course hold the humble albergue in high esteem. The historical significance of the albergue as an institution is tremendous, and for those that do not mind shared accommodation, we think they can offer an additional depth of experience to your camino.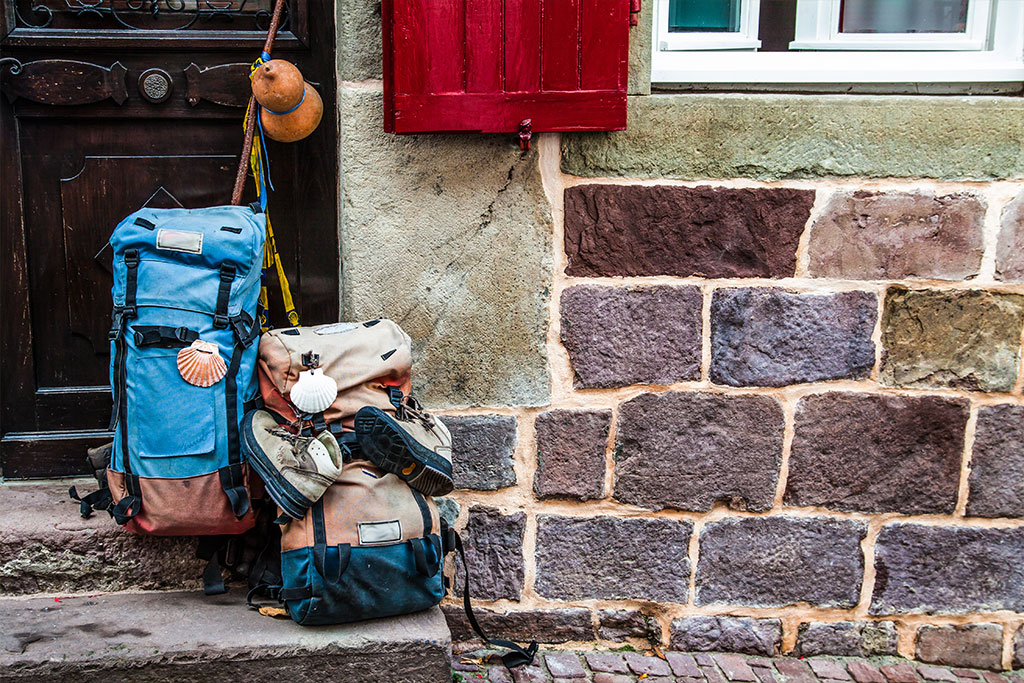 CAMINO ACCOMMODATION, PYGMY STYLE
All of our itineraries are completely customizable, and accommodation on the Camino is no exception. When planning your perfect Camino Francés trip, we can help choose what's right for you. But for our standard itinerary, we've chosen a mix of hotels and guesthouses that offer a sublime blend of old-world history, new-world comfort, and timeless charm.
Hotel Real Colegiata de San Isidoro

, León
The Hotel Real Colegiata is a fantastic way to step straight into the historical riches of the Camino de Santiago. The hotel shares a plaza with the Basilica of San Isidoro, and guests are treated to daily free tours of the massive building complex, including the cloisters, Roman Wall, and refectory. The Basilica traces its history back to the 10th century, and was built on top of a Roman temple dedicated to the god Mercury. Pilgrims are also just a stone's throw away from Gaudí's Casa Botines and the Cathedral of León.
Pro-tip: Pilgrims already in León can collect a Credencial at the Museum of St. Isidoro.
Albergue San Antonio de Padua

, Villar de Mazarife
The Albergue de San Antonio is a small and intimate hostel in the equally small and intimate town of Villar de Mazarife, home to just over 350 Leonese. The recent boom in Camino tourism has brought welcome financial relief to the town and its albergues, and pilgrims are welcomed warmly. Enjoy a communal meal here and meet some of your fellow pilgrims.
Hotel Via de la Plata

, Astorga
The Hotel Via de la Plata is yet another reminder of the ancient influences on the region. Like the Real Colegiata, Hotel Via de la Plata is built on Roman ruins, and this handsome building houses an impressive spa and sauna facility. For those that still have free time after relaxing in the steam bath, Gaudí's Episcopal Palace is a short walk away.
Casa Indie

, Rabanal del Camino
This charming hotel in rural Rabinal, Spain is in a 400-year-old maragata house renovated by the Sardinero family for the modern traveler. Guests are welcomed by sister and brother Alba and Israel who have built a hotel that combines new-world amenities with old-world timelessness.
Hotel Palacio

, Molinaseca
Another family-owned enterprise, the Hotel Palacio has been welcoming pilgrims to Molinaseca for more than 25 years. The building was the former casona, or mansion, of Don Pelegrín, a much beloved clergyman from Laredo, Spain. It's also said that Queen Doña Urraca, daughter of Ferdinand I the Great, stayed on the premises on her travels through the region. Take advantage of the hotel's wine cellar while you're here.
Moncloa de San Lazaro

, Cacabelos
The Moncloa de San Lazaro is another converted historic building, this time from hospital built in the 13th century. The stone and dark wood of the hotel are at once warm and welcoming, and diners in the restaurant are treated to typical regional food made with locally-sourced ingredients. Make sure to stop by the hotel shop, which sells a variety of local products.
Paraiso del Bierzo

, Las Herrerrías
When even little towns are too much, you can escape to Paraiso del Bierzo, a little piece of paradise nestled the in rolling hills of the Spanish countryside. The hotel restaurant is recommended by the Michelin Guide, but many guests are content just sitting on the terrace and taking in the view. Some guests say that you can catch a glimpse of otters in the nearby river, if you're lucky.
Casa Pacios

, Triacastela
Casa Pacios is another peaceful oasis found far away from the hustle and bustle of the modern world. This nearly 450-year-old former manor house is surrounded by chestnut and oak forest, and spaces that were formerly for agricultural use have been transformed into the bedrooms and common spaces of the hotel. Take a dip in the pool and cool off after a long day's hike.
Hotel Alfonso IX

, Sarria
The Hotel Alfonso IX is one of the biggest and finest on our itinerary. This four-star hotel boasts dozens of rooms, fully-outfitted suites, meeting and banquet halls, a café, and the restaurant "A Ponte Ribeira," which serves traditional Galician cuisine. The modern luxury of the Hotel Alfonso IX is a treat for all travelers.
Pazo de Berbetoros

, Portomarin
The modest exterior of the Pazo de Berbetoros belies its elegant, sophisticated interior. One of only two buildings moved stone by stone from the old town of Portomarin, the hotel offers its guests luxurious beds and showers, excellent breakfasts, and attentive staff. Some rooms come with private terraces for a bit of alone time, or guests can relax outside in the hotel garden.
Casa Leopoldo

, Palas de Rei
Casa Leopoldo takes its name from the owners' grandfather, Leopoldo, who lived in this unassuming Galician house. The owners, three sisters, have transformed their former family home into a tiny, exquisitely decorated six-bedroom hotel that might have the best breakfast on the Camino Francés. Guests are regularly blown away by the incredible interiors and attention to detail during their stay.
Pazo Santa Maria

, Arzúa
The Pazo Santa Maria is less of a singular hotel and more of a sprawling complex of buildings situated on a lush, green property. This manor house was built in 1742 for María Micaela de la Rua and Gregorio de Barrio y Figueroa, both from noble families of Galicia. The owners have taken painstaking care to maintain the history and architecture of these buildings, and it really shows.
Santaia,

Pedrouzo
This hotel is called the Casal de Calma, literally the "House of Calm," a restored 19th century farmhouse. The house embodies the calm of a traditional Galician village where pilgrims can have a peaceful night before the final stretch to Santiago de Compostela. And the attached restaurant is a great place to have that last meal on the trail.
Hostal dos Reis Católicos

, Santiago de Compostela
The name of this hotel translates to the "Hostel of the Catholic Kings," and here you will feel like a king. The Hostal is also called the Parador de Santiago as it is part of the Parador network, a Spanish state-run chain of luxury hotels. These are usually built in converted monasteries, castles, or other historic buildings, and in the case of the Parador de Santiago, a 500-year-old royal hospital. Located just across Obradoira Square from the Cathedral of Santiago de Compostela, it might be the best way to end your Camino.
Pro-tip: Take part in a centuries-old tradition and get a free meal from the Parador.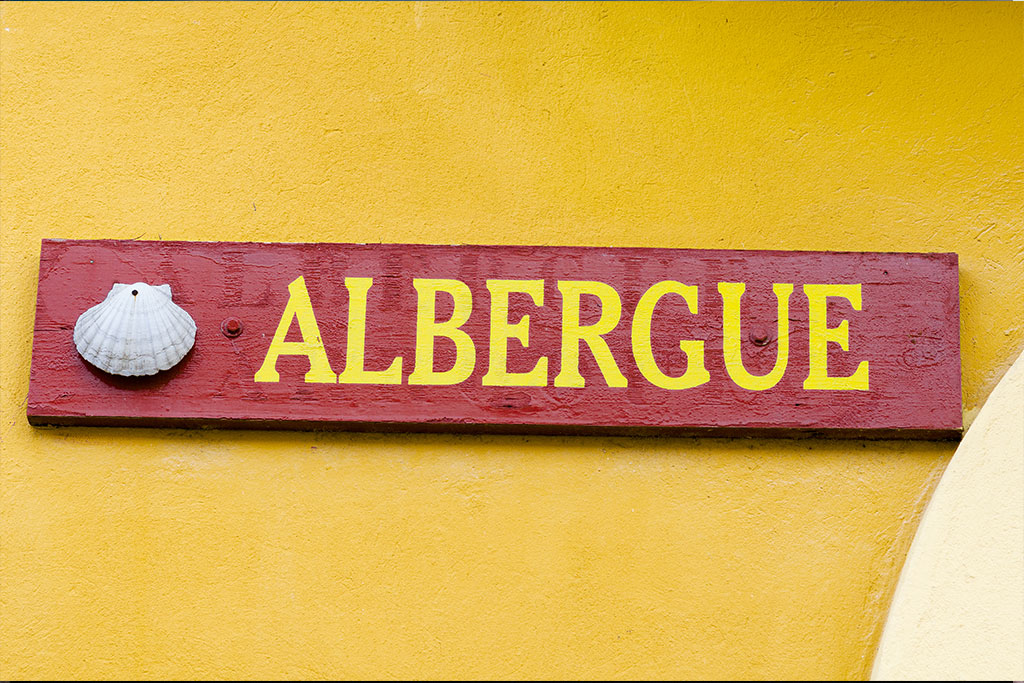 ALBERGUES: PILGRIMS ONLY
When we talk about albergues, it's important to make the distinction between the public albergues and private albergues which have increased in number in recent decades. For the sake of this post, we only discuss public albergues.
The origin of the albergues is impossible to confirm. As with anything, they sprang up wherever there was a demand. In this case, the demand came from the steady streams of pilgrims who started arriving in the 9th century from across Europe.
The claim to oldest albergue is highly contended. Some say it's an albergue in Ribadiso, or Albergue Ave Fenix, or Albergue de Trinidad de Arre. There's no way to know. The hospitality culture on the Camino is too old and too diverse for accurate records.
Pilgrims who were tired, hungry, and looking for refuge from the Camino's weather could find simple yet welcome refuge in these albergues. After a long journey on the road, even a straw bed, basic meal, and (mostly) watertight roof seemed fit for a king.
Today's albergues retain much of this simple nature, but now offer sprung mattresses, modest kitchen facilities and common rooms, support from local staff, and other amenities expected in modern hostels.
As it goes with hostels, albergues have their upsides and downsides. The greatest benefit by far of is the opportunity to socialize with other pilgrims. Those who have already taken long-distance hikes, like our Tour of Mont Blanc, can confirm this fact. Like the TMB, the Camino attracts hikers from all over the world, and some say the best part of the Camino was the people they met along the way.
Another benefit of albergues is cost. An overnight stay is in the range of €6 to €10 (around $7 to $11 at the time of writing), and sometimes includes shared dinner or breakfast — great for pilgrims traveling on a shoestring budget.
Unfortunately, fellow pilgrims can also be the worst part of an albergue stay. Anyone who's stayed in a hostel understands. There are the pilgrims with way-too-early wake-up times (4 a.m., really?), hiking boots with their own unique "flora and fauna," or albergue-rattling snores (there's always that one guy).
Many albergues have operating hours that laid-back pilgrims might not find suitable. The staff expect you to get back on the road, which can mean 8 a.m. check-out times, no entry until afternoon, and a limit of one night's stay. For most pilgrims, however, this shouldn't be a problem.
Staying in albergues could also mean carrying a sleeping bag and a sleeping mat. Beds are assigned on a first-come, first-served basis, and those who arrive late to a busy albergue might be offered floor space instead.
The most important detail to remember about public albergues is that they are strictly for pilgrims only. Pilgrims must present a current and valid Credencial, or Pilgrim's Passport, to enter and stay the night. No Credencial, no albergue.

Getting a count of albergues on the Camino de Santiago is, as with determining their origins or the oldest among them, impossible. If you're curious, CaminoGuide.net has a great list of Camino Francés albergues, and the Xunta de Galicia provides a searchable database of public hostels.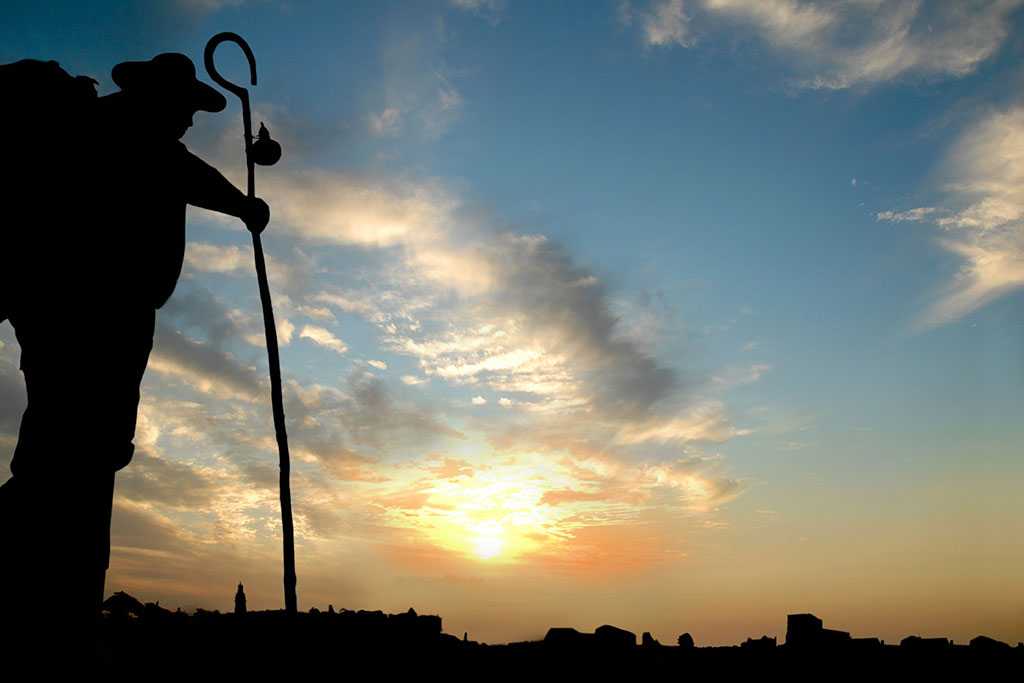 PLANNING YOUR CAMINO
What started out as a religious journey for those who wanted to worship at the feet of St. James has transformed into a life-changing experience for anyone, religious or not. We know that no matter your reason for walking the Camino, you'll come away with treasured memories and (very likely) great friends. We want to help you get the most out of your time on the wonderful Camino Francés and truly make it an experience of a lifetime. That's why we're happy to answer any questions you might have about where to stay, what to see, how to plan, and what to expect. Contact us at any time by email, or give us a call at 1-414-377-3555 for a free consultation. We look forward to hearing from you.
Buen Camino!