While most long-distance hiking meals consist of dried nuts and dehydrated food packets, hikers on the Tour du Mont Blanc enjoy to a wide variety of hearty European dishes. The region is brimming with cured meats, cheeses, and breads for visitors to feast on.
But because the tour runs through a mix of large, urbanized towns and small, rural villages, hikers don't have constant access to local foods. It's vital that you familiarize yourself with the types of food that are available in the region and where you can find them so you receive enough calories to sustain yourself. In a standard itinerary, you'll be hiking anywhere from six to twelve miles every day, so knowing where to find your next snack or meal is important for staying energized throughout the trip.
The Tour du Mont Blanc travels through parts of Europe that are known for delicious food, such as the Haute-Savoie region, so you'll have the opportunity to try many new and exciting dishes. First-time hikers often ask us what kinds of foods they can expect to find during their hike, so we're serving up this comprehensive guide to help you plan.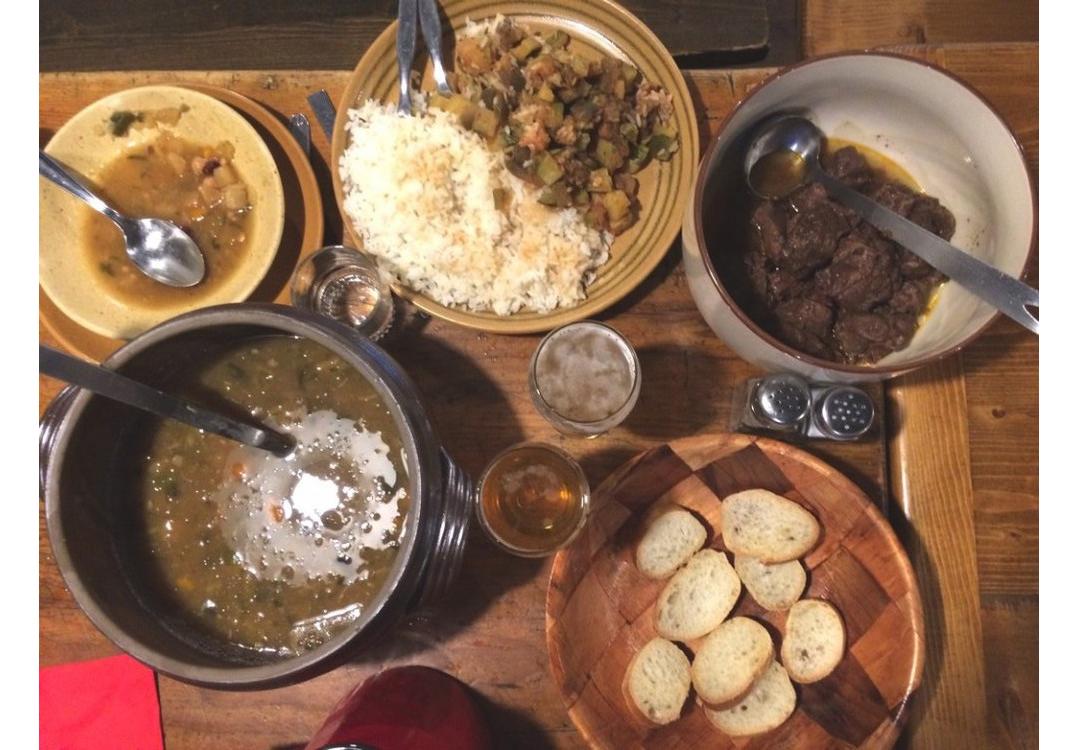 A typical mountain hut meal (Image Credit)
In our experience, mountain hut breakfasts aren't anything to write home about. They usually consist of modest breads, butter, jam, cereals, yogurt, cheese, or fruit. This is where bringing your own supplementary snacks like trail mix and energy bars comes in handy. Each ranges in the amount and quality of the food you receive, but you can check sites like TripAdvisor to see what past hikers have received as lunch options.
Pro-tip: Be careful not to overeat at restaurants or refugios during lunch time. A meal that's too heavy could cause you to become sluggish and increase the amount of time it takes you to reach your nightly accommodations.
PURCHASING FOOD AT SUPERMARKETS AND RESTAURANTS
In the Alps, you'll find supermarkets and restaurants in only some of the towns along the route, such as Chamonix, Les Houches, Les Contamines, Courmayeur, La Fouly, Champex and Argentière. Sausage, cheese, fresh fruit, and chocolate are popular food items that you can buy along the way, and you may even find some wild blueberries along the path. If you decide to pick up chocolate as a snack, opt for dark chocolate which has more calories per ounce than milk chocolate.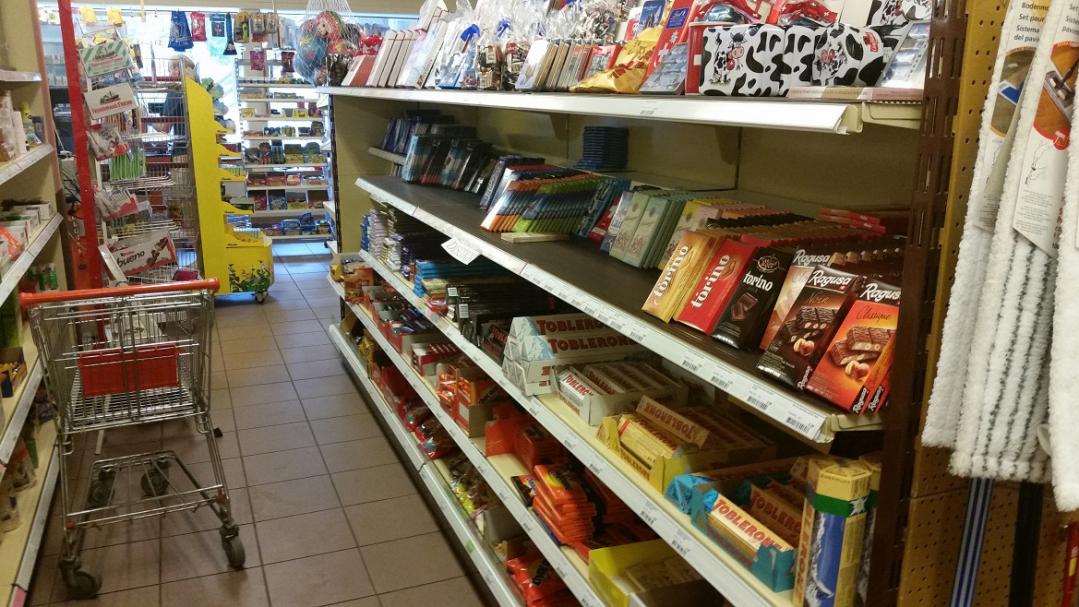 A selection of chocolate bars at a village supermarket (Image Credit)
But there will also be several days along the route where you won't find any large food markets. You'll want to pack some additional snacks, like energy bars, trail mix, or dried fruit in case you don't have access to a store. It's especially helpful to hand these items close at hand for when you come upon large ascents and need an extra boost of energy. You may also want to consider bringing powdered electrolyte-replacement drinks to mix into your water.
Pro-tip: Be conscious of the time of day you are planning to stock up. Most food markets in small European towns are closed on Sundays for social, cultural, or religious reasons. Make sure you have enough food to get you through Monday morning.
ACCOMMODATING FOOD ALLERGIES AND PREFERENCES
Meats, cheeses, and breads are some of the most abundant foods on the Tour du Mont Blanc, so hikers with a restrictive diet--such as gluten-free, vegan, vegetarian, or non-dairy--will need to do a bit more planning. It's important to have enough safe foods to sustain you during your journey. If you don't plan ahead of time, you could become too weak to push through steep inclines before you reach the next food market.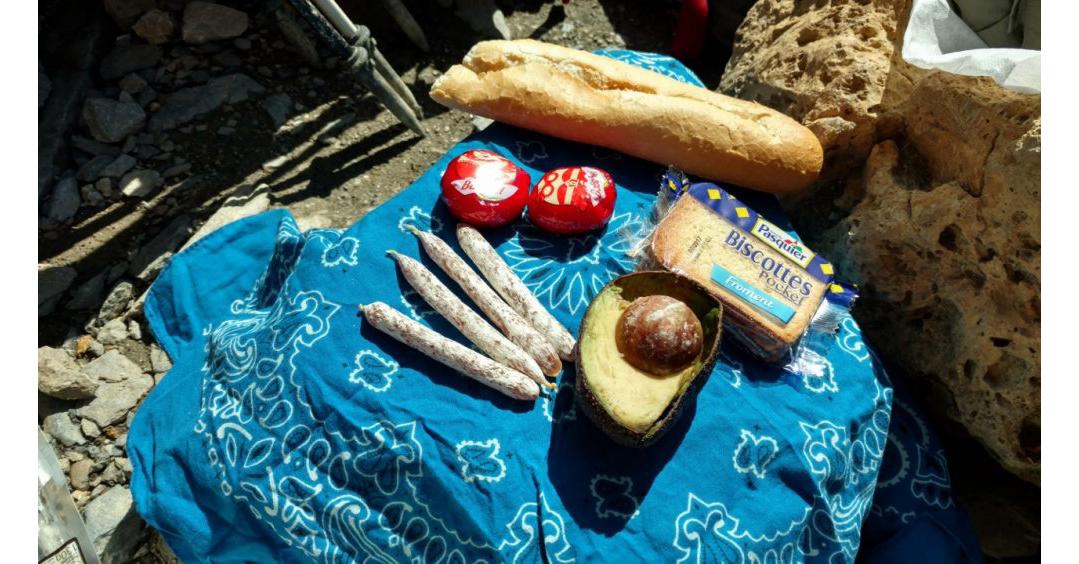 A simple picnic lunch of local meat, cheese, breads, and fruit (Image Credit)
As mentioned above, most refugios and inns include breakfast and dinner in the cost of the accommodations, and some cater to vegetarian, vegan, and gluten-free food preferences. If you choose to partner with our team to plan your self-guided tour, we'll coordinate with your hotels and refugios to ensure that you have access to the right foods during your stay.
Pro-tip: Plan to pack more than a day's worth of snacks and non-perishable foods with you than a person without a food allergy or preference. Your tour coordinator will be more than happy to help you plan your meals ahead of time and know what to look for along the trail.
Staying hydrated during your hike
There are many opportunities to refill your water bottles and hydration packs along the route (we recommend using Camelbak hydration packs if you don't already have one). If you choose a stream or other natural water source, filter and treat your water before drinking it. Otherwise, you can refill at mountain huts, inns, restaurants, and public water fountains. You may keep one to two liters on you so you can stay properly hydrated, but be careful not to bring too much water since extra weight can slow you down. We recommend each person only carry a maximum of three liters of water to keep their pack light.
The amount of water you need to drink while hiking depends on the weather, the distance, and your own body's needs. As a general rule of thumb, aim to drink one liter of fluids every one to two hours. A portion of the water can be mixed with a sports drink powder if you wish. And be sure to start hydrating before you set out in the morning. Pre-hydration is important since you'll start to lose fluids as soon as you start your hike.
Pro-tip: Not sure if you're getting enough water each day? Check your urine's color (yes, you read that right). Pale yellow urine is an indicator that you're well-hydrated.
LEARN MORE ABOUT WHAT TO EXPECT ON THE TOUR
You're going to be burning a lot of calories and losing fluids during your hike. Having enough food and water will keep you alert, healthy, and motivated to take on one of Europe's most beautiful hikes.

Have questions about food and nutrition on the Tour du Mont Blanc? Our team of experts can give you detailed information and tips about what meals are available along the route. Email us anytime or call 1-414-377-3555 for answers to your questions and personalized help planning your trip. Alternatively, check out our Tour du Mont Blanc Self Guided tour to see if it's right for you.