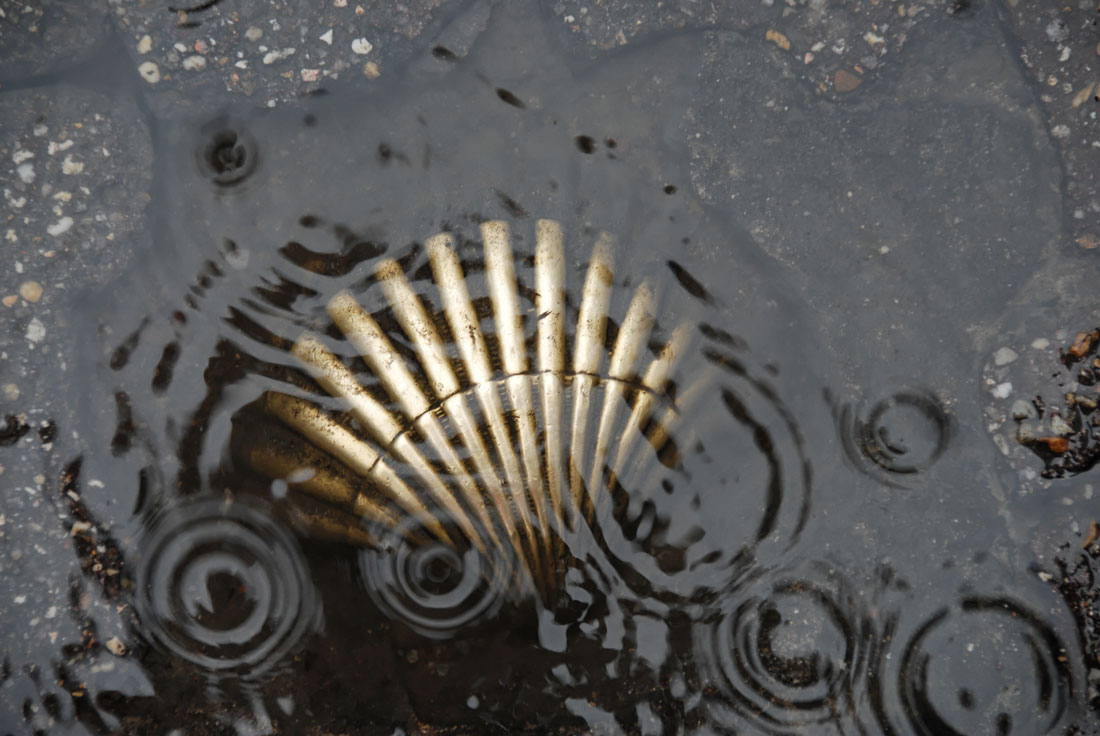 FIRST IMPRESSIONS
The Spanish countryside evokes images of rippling hillsides of grape vines bathed in warm sunlight and mild, clear nights where one can enjoy a glass of wine while watching the stars. Generally, people don't consider trudging through sticky mud and snow, dodging rain, navigating through fog, or trying to escape a heat wave, but on the Camino Francés all of these things are possible.
To be fair, the weather on the Camino is pretty forgiving. Unlike Mont Blanc, it can be hiked at almost any time of the year. We recommend somewhere between March and October, when weather is at its friendliest. In the winter months, the trail can be cold and wet, which makes for an unpleasant pilgrimage.
Our favorite months are April and September, because they provide a nice balance of mild temperatures and relatively low precipitation. July and August are the hottest and driest months, but that also means they're the most popular. This past August, the Pilgrim's Office in Santiago received a shocking 60,000 pilgrims. In comparison, only 1,600 made the pilgrimage in January. The summer months are a great time to meet and make friends with people from all over the world, but for those who prefer quiet hiking, we recommend skipping the summer.
The weather on our two-week itinerary can best be broken up into the two regions it runs through: Castilla y León and Galicia. Castilla y León is part of the Meseta Central, the inner plateau of Spain ringed by protective mountain ranges. Temperatures in this region have a larger range, but are accompanied by more sun and less rain. Galicia, on the other hand, has no mountains to protect it, and the climate here is subject to the effects of the Atlantic ocean. Galicia doesn't get as hot or as cold as Castilla y León, but it receives much more precipitation on average.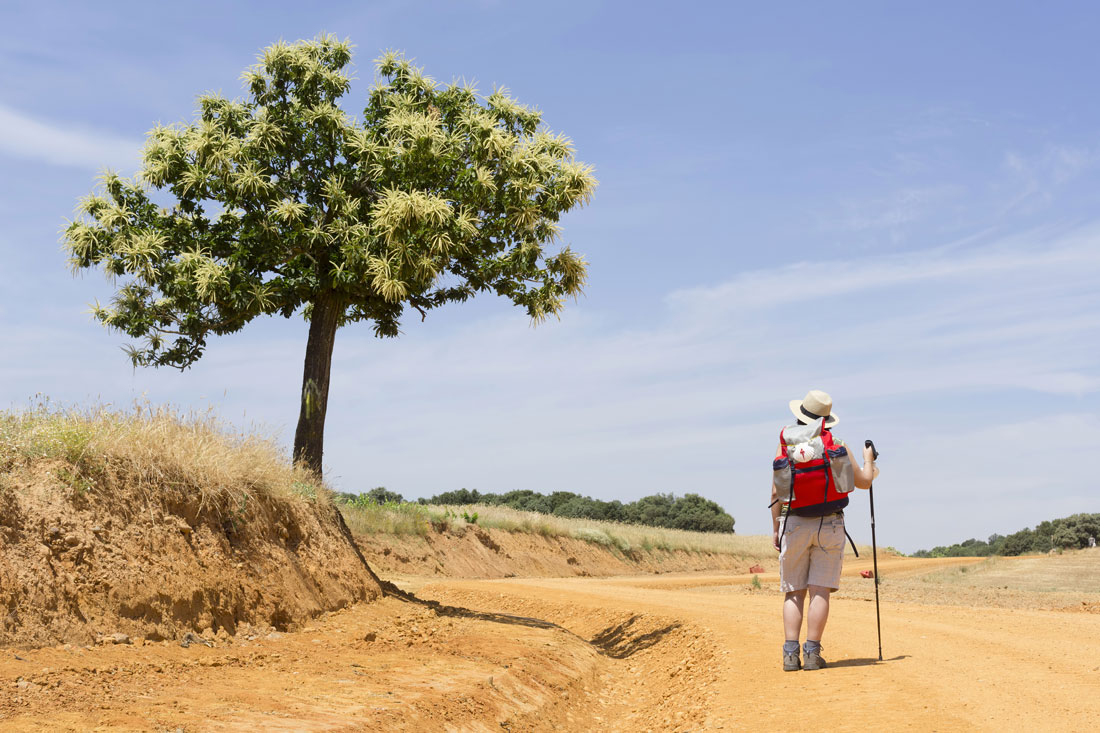 A clear and sunny day near Astorga
PART 1: CASTILLA Y LEÓN
The first half of our Camino itinerary, from León to Las Herrerías, promises easy-going weather. Temperatures in summer usually top out between 80-85º F (26-29º C), and go no lower than 55º F (12.5º C). In the deep winter months, there's a high to low range from 49º F to 31º F (around 0° to 9° C). Regarding our favorite months, you might see April temperatures as high as 65º F or as low as 38º F (18º C, 3º C); in September, 78º F or 50º F (25º C, 10º C).
Don't expect to see much rain here. The rainy season runs from October to January, with a surprise return of precipitation in May. You'll generally see up to around nine days of rain in these months. April brings about a week's worth of rain, and September around four days. High summer is hot, sunny, and above all dry. Rainfall levels are in large part negligible, even in the rainy season, with total rainfall reaching about three inches (7.5 cm) per month.
PART 2: GALICIA
The climb from Las Herrerías to Triacastela takes you into the region of Galicia and a different climate. O Cebreiro marks the halfway point of the pilgrimage and the end of the protective cover of the O Courel mountains, which isolate Galicia and hold back the moisture rolling off the Atlantic ocean. From here until Compostela de Santiago, weather will be noticeably wetter.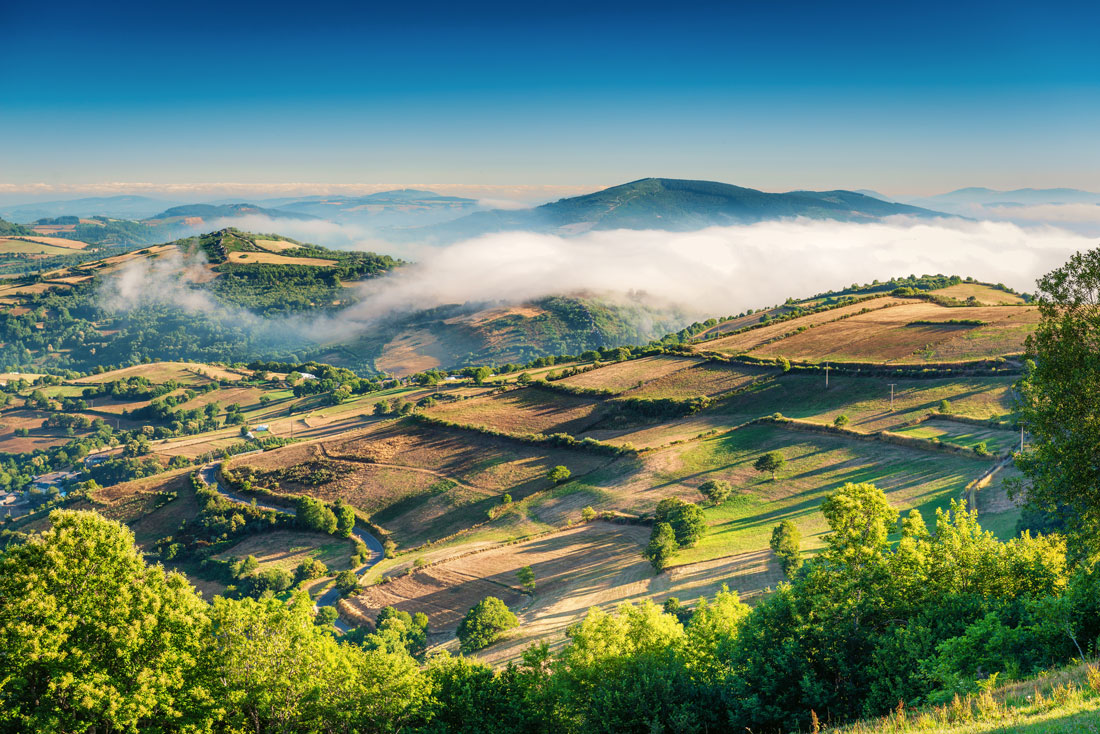 The fog rolls into Galicia
Because of the added moisture and the lower elevation, temperatures in Galicia stay within a smaller range than in Castilla y León. Low temperatures in July and August are similar to the first half of the Camino, and highs don't go above 77º F (25º C). Winters usually don't reach the freezing point, and closer to the coast might only be as cold as 40º F (4.5º C). High temperatures in this season hang around 50º to 55º F (10º to 12.5º C), warming towards Compostela. In April, expect temperatures from 40º to 60º F (4.5º to 15.5º C), and in September a very pleasant range of 50º to 74º F (10º C to 23º C).
As with the first half of the Camino, summer months don't bring much rain. However, the winter months are especially wet and can make hiking difficult. It's not uncommon to see about two week's worth of rain each month from October until May, the wettest months again being January and February.
From Triacastela all the way to Palas de Rei, maximum rainfall level in January and February is around five inches (12.5 cm) per month. From Palas de Rei to the endpoint in Santiago de Compostela, however, that amount is almost double at around 10 inches per month!
Despite our favorite month April falling in the wet season, maximum rainfall is a manageable three to five inches (7.5-12.5 cm) in this region. September sees about a week of rain and no more than four inches (10 cm) total.
A CHANGING CLIMATE
Unfortunately, temperatures have been rising in recent years, which is something we must come to terms with. Spain and Portugal were gripped by a heat wave in August 2018, and in July 2017 Spain saw a new record high temperature of 116º F (46.9º C).
With higher temperatures also comes an increased risk of forest fires. The region of Galicia battled a number of forest fires in the fall of 2017, and forest fires raged in Portugal this past summer, albeit in the South and far away from the Camino region. If you are concerned about fires, NASA provides this excellent tool to track forest fires in real-time worldwide. For health concerns, the CDC has a lot of helpful tips.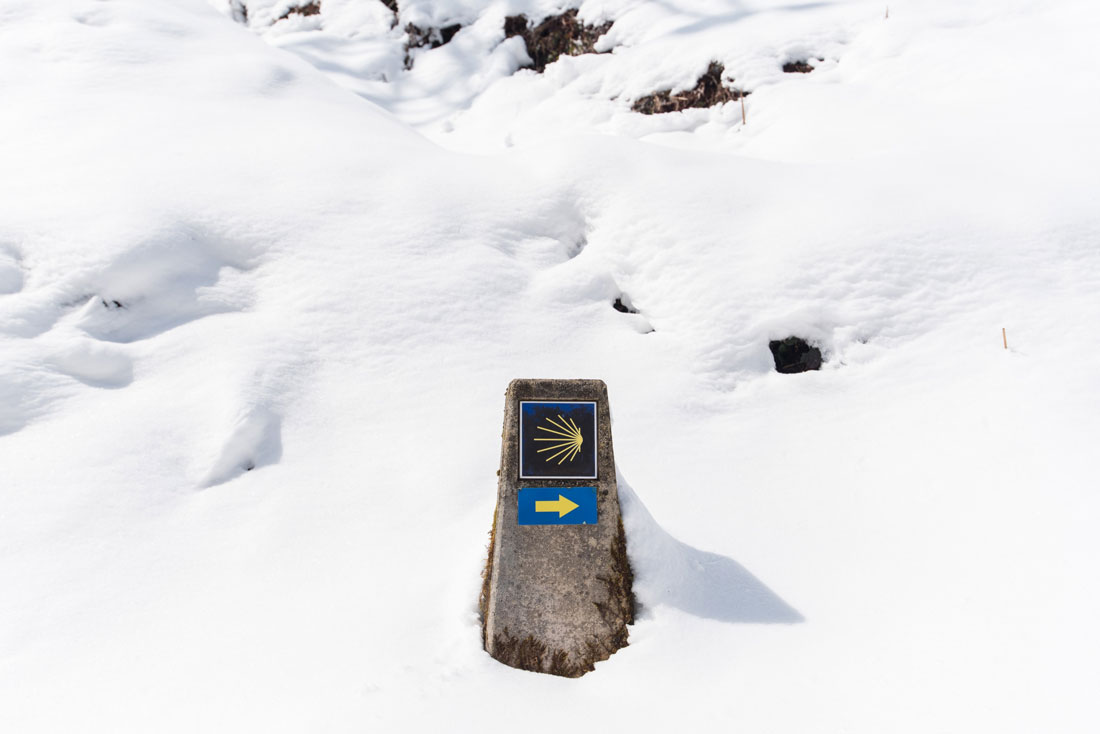 Snow isn't common on the Camino Francés, but it is possible
PLAN YOUR PILGRIMAGE
There can be quite a bit of variation on the Camino de Santiago, even between cities. The weather you wake up with may very well not be the weather you go to bed with. This is especially true for stretches like Rabanal del Camino to Molinaseca, which drops almost a kilometer in elevation in one day, or the single-day climb and descent from Las Herrerías to Triacastela. Despite this, there's really no need to feel nervous about attempting the Camino Francés. Thousands of people of varying ages, experience, and fitness levels complete the Camino de Santiago every year in all types of weather.
Want to make sure you're prepared for the weather on the Camino? As the old saying goes, "there's no such thing as bad weather, only inappropriate clothing." Wear a hat during the summer, bring warm and waterproof layers in the cooler months. An umbrella is a great idea at any time of year. With a little bit of planning and a little bit of our help, you'll be ready for anything. Send us an email or call us at 1-414-377-3555 — our team of experts is ready to help you plan out your perfect pilgrimage.