1) That you shouldn't miss the Gondola ride(s)
At 12,604 feet, Aiguille du Midi Cable Car station allows you to see Mont Blanc in all its glory. Most people know that you can reach the station via Chamonix in France, however you can also take the "Skyway Monte Bianco" from Courmayeur to Point Hellbronner (11,371 feet). From there, you can cross over to Aiguille du Midi via the "Panoramic Mont Blanc Gondola". In fact, it's possible to travel from Courmayeur to Chamonix using only gondolas.
2) THAT YOU don't have to carry food
The system of Refuges (France) or Rifugios (Italy) is quite extensive. They offer hikers a half-board option that includes a three course dinner in the evening and breakfast in the morning. The distance between accommodation is rarely more than 6 miles, so there is no need to carry your day's ration with you, if you don't want to.
3) THAT you can see wildlife on the hike
Western Europe has been cultivated, civilized and densely populated for more than a 1,000 years. That's left a long time to exploit it's natural resources. Although Western Europe is not a typical Wildlife destination, along the Tour du Mont Blanc it's possible to see some unusual, dare I say, exotic animals. You are almost guaranteed to see an Alpine Marmot, which can only be found in Europe. It's like a prarrie dog, but more social and reminds one greatly of the gopher from Caddyshack. A good location to see marmots is in a rocky outcropping right before Rifugio Elisabetta (going counter clockwise). The second animal, which is a bit more rare, is the ibex. It looks like a cross between an antelope and a goat, although officially it is recognized as a wild goat.
4) What the best maps to use are
I recommend the IGN Maps 3630 OT and 3531 ET. Together these maps capture the north and south area of the tour. They are at 1:25,000 scale and are available in waterproof editions.
5) TO make sure you don't need a visa
Europe is friendly to tourists. All three countries visited on the tour belong to the Schengen Zone of the EU. Included here are the countries who do not need a visa to enter EU and those countries who do need a visa to enter EU.
6) Le Brevent gives you one of the best views of the Tour
Le Brevent is located above the Chamonix Valley. At 8,284 feet, Le Brevent providers an unobstructed view of the west side of the Mont Blanc Massif. The first mountaineers that ascended Mont Blanc, were said to have used the Le Brevent vantage point to study the best route to reach the summit.
Photo: View of the Mont Blanc Massif from Le Brevent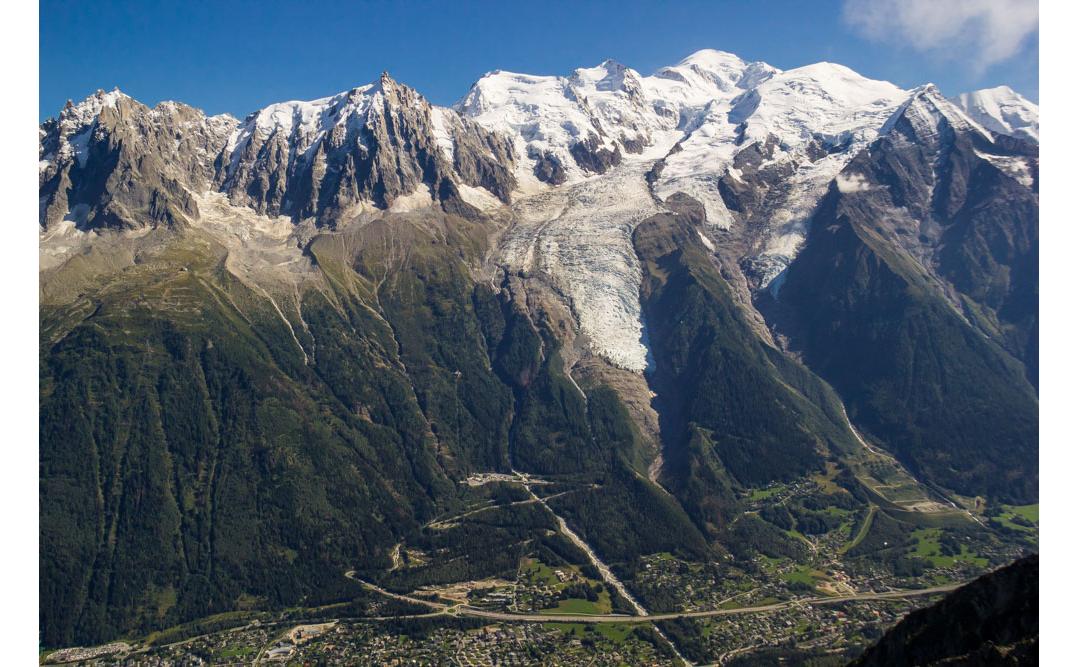 7) THAT YOU NEED TO WEAR SUNSCREEN
Sorry for being your mother, but in the summer, the sun can get quite brutal and it's not uncommon to see hikers that turn tomato red after hiking a day in shorts and a t-shirt.
8) THAT Refuge Les Mottets features the newest rooms
Les Mottets's four person rooms, private double rooms with shared bath and private double rooms with ensuite are newly refurbished. Staying at this mountain hut in the Valley of Glaciers can be quite a comfortable affair, provided you book far enough ahead of time.
9) BUT Les Mottets DOES HAVE ITS DRAWBACKS
If you don't make reservations, you will probably end up in the communal dortoir, which is actually a converted barn. Hikers will sleep in tight quarters, with little space between them.
10) THAT YOU SHOULD BRING EAR PLUGS FOR THE REFUGIOS
and thank me afterwards.
11) WHERE TO Start your hike
The most popular places to start your Tour de Mont Blanc are Les Houches, Chamonix (by accessing the area near Le Brevent with a cable car), Courmayeur and Champex in Switzerland. If you start your hike at the top of Le Brevent, you will have two chances to see Mont Blanc from the famous viewpoint; in case there is bad weather that obscures the massif on the first day, hopefully you will have more luck when you come full circle on your last day.
pictures from lesmottets.com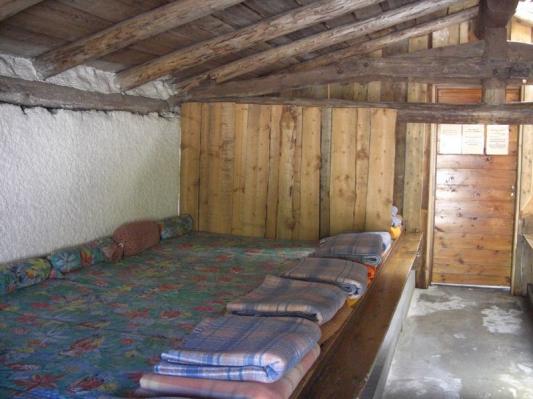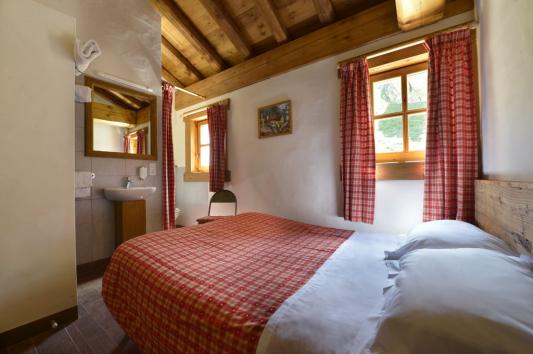 12) What snacks and food you should Try
The food on the TMB is one of the biggest draws of the tour. Chocolate, trail mix, fruit and jerky are great snacks to use as energy boosters. Still, make sure to leave room for charcuterie in France, sliced meats and cheeses that are drawn from the region, raclette in Switzerland, often featured on the dinner menu of the Le Peuly hut in Switzerland and sourced from their own dairy cows, or blueberries found along the trail near Courmayeur in Italy. You might even see some industrious locals out collecting blueberries to bake a pie. The food on the TMB is a major draw.
13) HOW to do the trek on a BUDGET
Camping is by far the cheapest option. However, if you would like to enjoy the atmosphere of the mountain huts and have a warm shower and a hot meal, then staying at the Mountain Huts will be the next best option. The huts will be less expensive than staying at hotels in the valleys. That means, you should avoid Les Houches, Les Contamines, Courmayeur, La Fouly Champex, Argentierre and Chamonix. Furthermore, if you are a solo hiker, the price for a dorm spot is more economical than reserving a single room at a hotel. The price for half board (dinner and breakfast) at a mountain hut is between €40 - €60 in France and Italy and €60 - €80 in Switzerland. Those looking to further reduce costs should speed up their hike in Switzerland, which is the most expensive of the three countries.
14) OR HOW TO DO IT IN LUXURY
The appeal of the Tour du Mont Blanc is not limited to its amazing scenery. Another draw is the fact that you can stay in private accommodation for almost the entire trek. Certain huts provide private rooms on a very limited basis; some even with ensuite facilities. Booking early is essential in securing these rooms. I don't mean to toot my own horn, but consulting a professional can unearth these rooms that you may not have known existed.
15) HOW TO LIGHTEN YOUR LOAD
Local taxis and specialized baggage companies can transport your pack between many of the hotels and huts along route. Hiking with only a day bag can relieve some stress on joints, so this is a popular option for hikers with bad knees. There are a few exceptions, for example between Les Mottets and Rifugio Elisabetta and Courmayeur and Rifugio Bonatti, however most stages of the TMB are covered by transport companies that will lighten your load, up to 15kg.